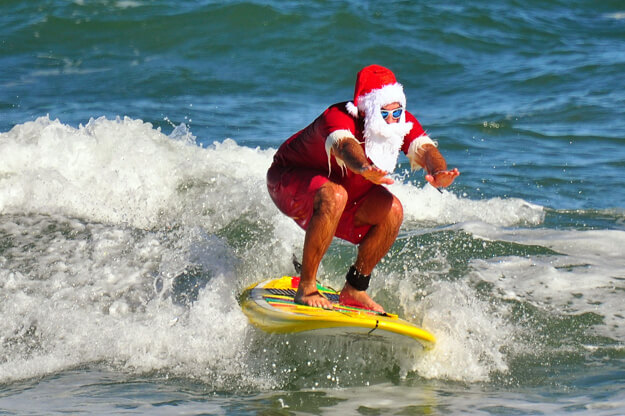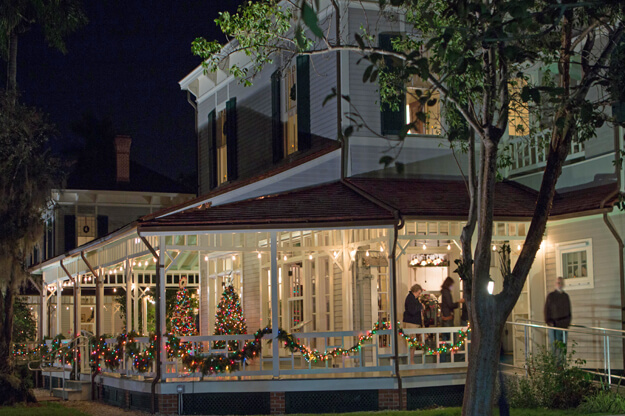 12 Authentic Florida Holiday Happenings You Won't Want to Miss 
Let the season sparkle with these 12 Authentic Florida Holiday happenings you won't want to miss to create memories that will last a lifetime.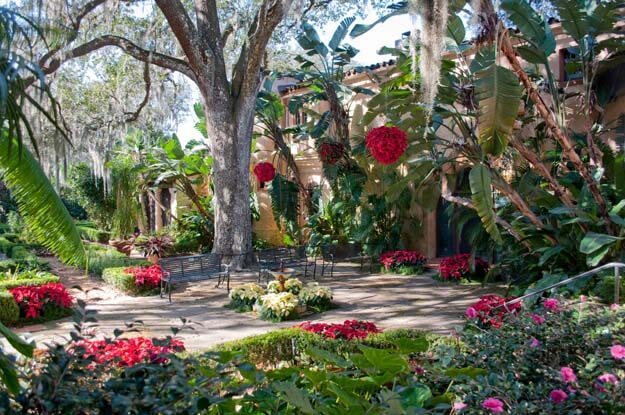 Holiday Home Tour, Pinewood Estate, Bok Tower Gardens, photo courtesy, Bok Tower
Happy Holidays, Authentic Floridians!
Although many people may have trouble thinking of Florida as a Winter Wonderland, we beg to differ. Now is the time to fully embrace our state's unique holiday traditions and slide into the holiday spirit. We may do the holidays slightly different down here in Florida in our flip flops, shorts and sweatshirts, but the opportunities to make fantastic memories with the people we love are endless. And, bonus, no one has to battle hypothermia to embrace the Sunshine State's authentic holiday traditions.
There are an incredible amount of events and celebrations throughout Florida that appeal to everyone. From couples looking for a romantic getaway or fun date night to families who prefer educational and historical attractions, you will never hear a Floridian complaining that there's nothing to do this time of the year. While the large theme parks go all out with their over-the-top glitz and glamour (and charge an arm and leg for admittance), some of us yearn to find holiday happenings that reflect simpler, less commercial times that resonate deep within our soul … while other people seek out events that are just flat out fun and quirky … or a combination thereof.
Here are some authentic holiday things to do that span throughout our incredible state:
St. Augustine (Florida's Historic Coast, St. Johns County)
Nights of Lights, St. Augustine – Now through February 3, 2019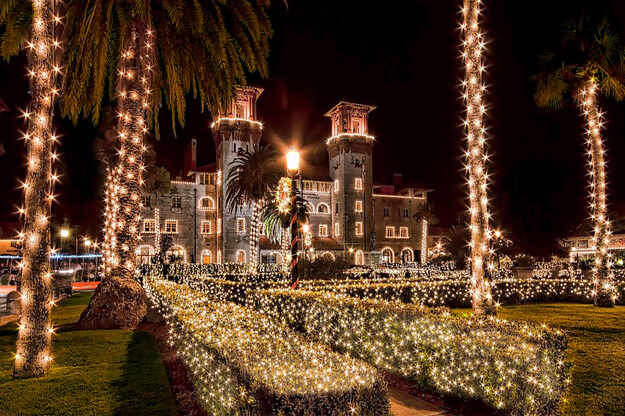 The Lightner Museum, St. Augustine Nights of Lights, photo courtesy of Florida's Historic Coast
For 21 years, St. Augustine, the oldest city in America, glows with celebratory magic throughout the holiday season. Until the beginning of February, the Ancient City's historic district is aglow with millions and millions of twinkly white lights. It's no wonder people travel from all over the globe to experience St. Augustine during the holidays. In fact, Nights of Lights has been proclaimed one of the best light displays in the world by National Geographic.
The Nights of Lights' spectacular lighting display reflects the city's 451-year history. Illuminating the beautiful city, its origins are traced to the Spanish tradition of displaying a white candle in the window during the Christmas holidays.
Historic buildings, museums, local businesses, the Bridge of Lions, the city's bayfront walkway, hotels, bed & breakfast inns and private residences are all lit from the ground to the rooftops. Beginning at the Plaza de la Constitución, with its stunning holiday tree in the center and oaks strung with lights, and stretching out to illuminate all of St. Augustine, it's a truly magical experience taking it all in.
Many local attractions offer special tours during Nights of Lights. The St. Augustine holiday experience can be enjoyed on foot, by bicycle/pedicab, on the Old Town Trolley's Famous Nights of Lights Tour or the Ripley's Red Train, or by horse and carriage.
In our opinion, the best way to experience Nights of Lights is to plan an overnight stay so you can seriously soak up the sparkly, festive atmosphere and enjoy all the dining, tours, and entertainment this award-winning holiday celebration has to offer.
If you're not a fan of big crowds, we suggest visiting mid-week or after the holiday season since the lights continue to shine throughout the month of January until February 3, 2019. If you do decide to venture out on a weekend, please keep in mind that traffic and parking can be a bit more challenging than usual. All metered spots on the street are free after 5pm. There's also a parking garage located near the Visitor Information Center. Additionally, the City of St. Augustine offers a free park and ride shuttle on Saturdays through the end of December 2018 from 1pm to 11pm.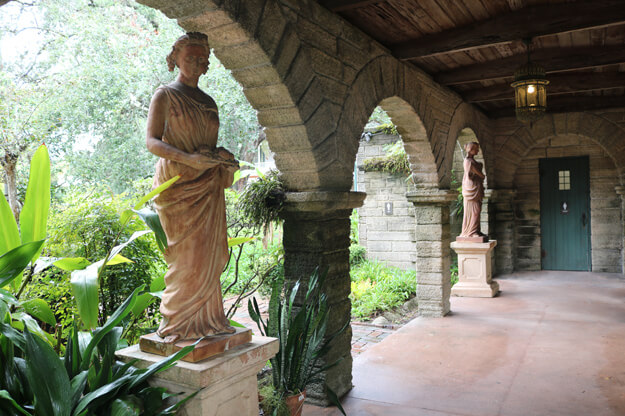 "Coastal Christmas" is an event that features a tour of Inns, including the Oldest House Museum
As an extra bonus, If you're a fan of bed and breakfast's (B&B's), you'll definitely want to visit St. Augustine December 8 or 9, 2018 . The St. Augustine Historic Inns will be presenting its very popular 25th annual holiday tour of 25 downtown B&B's. Participating inns will be decorated according to this year's theme, "Silver Jubilee Tour."
By the way, the St. Augustine Historic Inns give a portion of the tour proceeds to not-for-profit charities in the St. Augustine area. This year, the selected recipients are the Field of Dreams, a specially designed baseball field that will allow mentally or physically handicap kids the opportunity to play baseball; Community Hospice, with a range of services; and www.staugustineinns.com, a place to share their unique history.
The Bed and Breakfast Holiday Tour usually sells out early, so don't delay if you want to attend.
Christmas, Florida (Orange County)
40th Annual Cracker Christmas at Fort Christmas Historical Park — December 2 & 3, 2017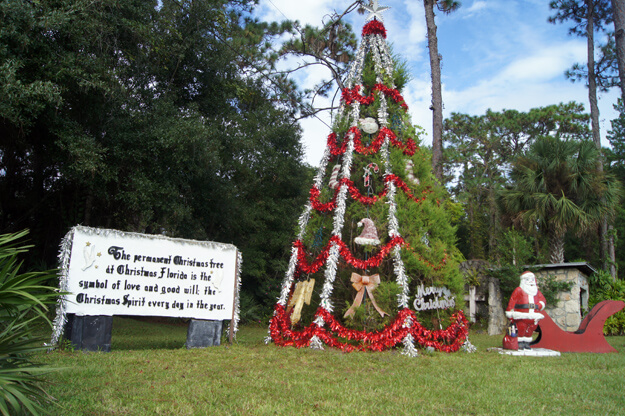 Christmas, Florida's welcome display on SR 50 just east of Orlando
"The permanent Christmas tree of Christmas Florida is the symbol of love and good will; the Christmas Spirit every day of the year."
The quote noted above is printed on the sign that greets visitors to the town of Christmas, a quaint community located between Orlando and the Space Coast. Let's face it, how can you not get into the holiday spirit in a town named Christmas? It's always Christmas in Christmas. And in case you might inquire, this unincorporated area of Orange County was named for a historic fort completed there on Christmas Day in 1837.
Although it's Christmas in Christmas 365 days a year, we encourage visitors to put the 40th Annual Cracker Christmas event on their holiday TO DO list.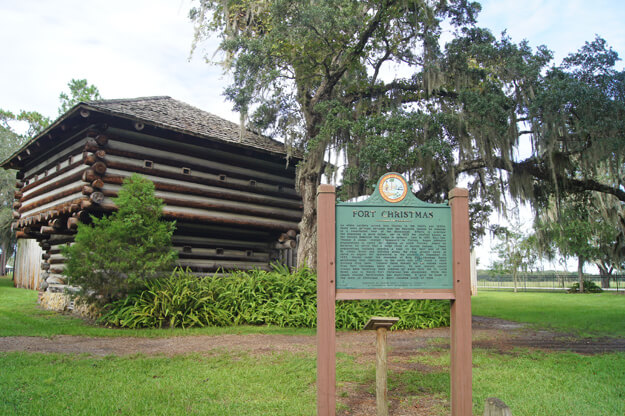 Fort Christmas, Christmas, Florida
The 40th Annual Cracker Christmas is a truly authentic event that offers a glimpse into the lifestyle of Central Florida's earliest settlers. This free festival has been celebrating pioneer history for 40 years. This year's edition runs from 10am to 4pm on December 2 and 3 at the Fort Christmas Historical Park (1300 Fort Christmas Road, Christmas). The festivities includes a large craft fair with over 150 crafters with handmade items, lots of delicious food (baked goods, barbecue, chicken filets, gator meat, stews, biscuits and more) as well as a plethora of interesting Cracker Christmas activities. If you plan to attend, be sure to bring a toy to donate to Mayor Teresa Jacobs' toy drive to help Orange County youth!
On these two days in December, guests can experience Florida's historical past through live displays — sugar cane grinding and syrup making, heritage arts of spinning, weaving, lace making, broom making, wood carving, and blacksmithing.
A Civil War camp and a cow camp will be set up along with displays of antique farm equipment and tractors.
If you can't make it to Cracker Christmas, the local post office in the heart of Christmas has a drop off box and handles more than 300,000 pieces of mail each year during the holiday season, so you can drop off your holiday cards there any time.
Cross Creek (Alachua County)
Marjorie Kinnan Rawlings Home, Cross Creek — Now through January 5, 2018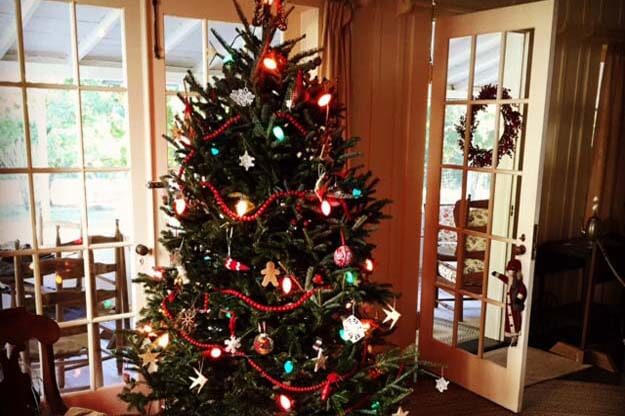 Marjorie Kinnan Rawlings State Park, photo courtesy of MJR State Park
Author Marjorie Kinnan Rawlings's cracker-style home and farm is located between Ocala and Gainesville in the tiny community of Cross Creek. While living there, the Pulitzer Prize winning writer wrote many books including The Yearling and Cross Creek – two books that depicted life in rural Florida during the early 20th century. it's hard to believe, but this year marked the 75th anniversary of the publication of Cross Creek as well as Cross Creek Cookery.
The homestead is now part of the Florida State Park system and is open to the public. The home is a wonderful representation of Florida cracker architecture with a raised floor, high ceilings, and many windows and doors ideal for cross ventilation in warm weather living. An old wood stove provides heat during cool weather. The well-preserved home is furnished with simple period furniture and reminders of times past.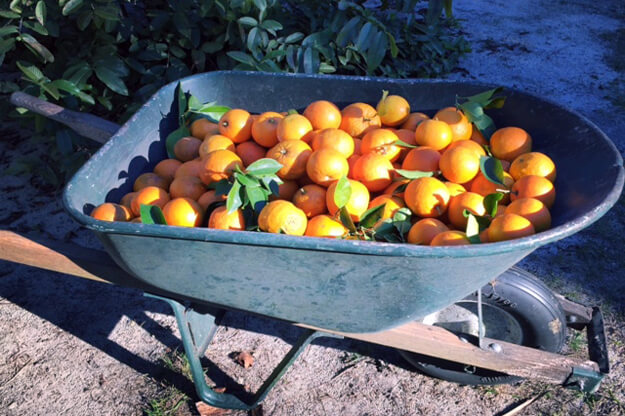 The MKR State Park decorates authentically for the holidays, photo courtesy of MJR State Park
A visit here is truly a step into Florida's past and enjoyable any time of year, but it is especially festive during the holidays.
Park volunteers and staff go all out to create an historical holiday theme. Fresh from the surrounding garden, evergreens, pinecones, candles and oranges are collected by volunteers to create a Florida themed setting. Mistletoe hangs over the doorways along with grapevine wreaths decorated with holly berries. Each fireplace mantel is adorned with fresh arrangements of boughs of pines, magnolias and palm fronds.
Park Manager Carrie Todd explains, "We also get a live tree and use old fashioned light bulbs that would have been used in the 1930s-40s. Then we use lots of handmade ornaments, and even place presents under the tree wrapped with vintage paper."
Cinnamon and cloves heated on the wood-burning stove in the kitchen permeate the air throughout the homestead along with aromas of coffee, a stew or cornbread, wafting through the house.
White Springs (Hamilton County)
Stephen Foster Folk Culture Center Festival of Lights — December 1 – 24, 2017

Stephen Foster Folk Culture Center, photo courtesy of Stephen Foster Festival of Lights
Located on the banks of the Suwannee River in the small quaint Florida town of White Springs, Stephen Foster Folk Culture Center State Park goes all out for the holidays. The park transforms into a Winter Wonderland during its annual event. The 2017 Festival of Lights flips the switch on Friday, December 1, 2017 and will be aglow this holiday season until December 24, 2017. The Festival of Lights has grown over the years and it's no wonder it has been named a Top 20 Event in the Southeast United States for almost a decade.
Opening night for the Festival of Lights on December 1 includes a parade, bonfire, free hot cocoa, popcorn and marshmallow roasting, craft activities, snow flurries, train display, Gift Shop, music in the Tower and, of course, Santa!
Every night throughout the holiday season, the park features alternating events, or the opportunity to just drive your car through the park and admire the dazzling display lights. Load up the family and enjoy the beautiful light displays at your leisure. We encourage you to park and walk through the lights, spend time with your family, take photos and make memories without the hustle and bustle that is part of the Holiday Magic Nights experience. The trains will be open on Thursdays and the North Pole Café will be open all week! 
Be sure to check the schedule on the park website or call ahead. Also, as the Festival of Lights has grown, so has the demand for extra hands. Park staff and volunteers have been pulling double duty the past few years working hard to make visitors smile. They are always looking for volunteers to help out. If you are interested in helping to decorate or volunteering during the Festival, please give them a call at (386) 397-2733. They would love to have you!
Lake Wales (Polk County) 
Christmas at Bok Tower Gardens — Now through January 7, 2018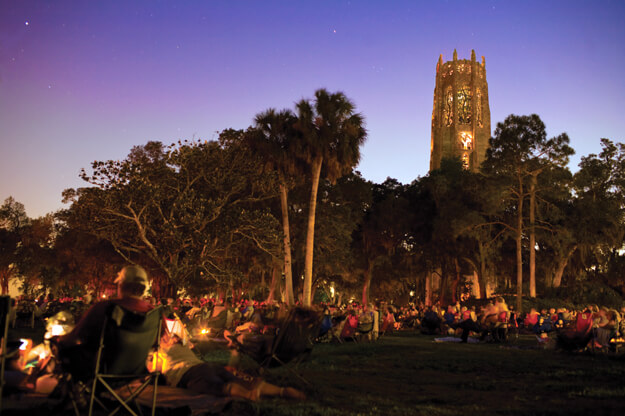 Bok Tower holiday concert, photo courtesy of Bok Tower Gardens 
Bok Tower Gardens is a favorite Authentic Florida destination any time of year, but at Christmas-time there is a special magnetism that draws you in and helps make the holidays an out of the ordinary experience. Located in the heart of Central Florida, between Tampa and Orlando near Lake Wales, Bok Tower Gardens includes 157 acres of luscious gardens and a 205-foot art deco Singing Tower carillon.
The gardens are alive with colorful holiday poinsettia, bromeliad and amaryllis displays and the Singing Tower carillon resonates with carols of the season. There are concerts, including a Sunset & Symphony Holiday Concert with the full Orlando Philharmonic on December 2; winter walking tours, decorating workshops, educational programs and plenty of family activities.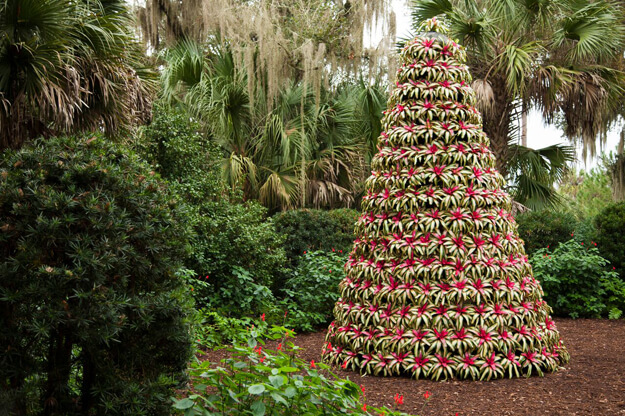 Bok Tower Bromeliad Holiday Tree, photo courtesy of Bok Tower Gardens
One of Bok Tower's highlights is the 23rd anniversary of the ever-popular Holiday Home Tour of Pinewood Estate. Visiting the 20-room, 1932 Mediterranean-style Pinewood Estate is like taking a step back in time. It offers visitors a glimpse of how families might have authentically celebrated the holidays during its early existence. This year the Holiday Home Tour will take a musical theme, celebrating Charles Austin Buck's passion for music and American music of the 1930's.
Bok Tower is stunning any time of year, but it's especially beautiful during the holidays and the home tour is well worth the additional entrance fee.
Cocoa Beach (Florida's Space Coast, Brevard County)
9th Annual Surfing Santas' Extravaganza — December 24, 2017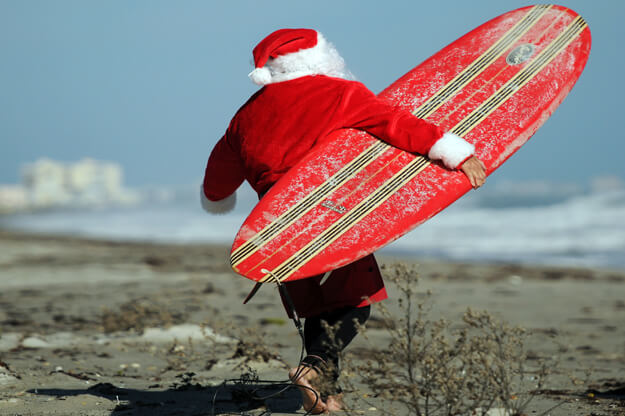 Surfing Santas, Cocoa Beach. Photo by Amanda Stratford
We're going to fill you in on a little secret. Before Santa gets ready for a long night of delivering toys and gifts all over the world, he makes a pit stop at the East Coast Surfing Capital of the World, Cocoa Beach! That's right, the morning of Christmas Eve, Santa and a bunch of Santa enthusiasts and friends, wax up their boards and hit the waves. Whether you surf or just want to observe the zany action, it doesn't get much more authentically Florida on Christmas Eve than to spend your morning on Cocoa Beach.
What started out as a small, family day in Cocoa Beach, has turned into somewhat of a global phenomenon. The first, very unofficial Surfing Santas event took place in 2009, when, on Christmas Eve, George Trosset and his son, George Jr., and daughter-in-law Britteny thought it would be a kick to go surfing in South Cocoa Beach dressed up as Santa Claus and his elves. When a photo of their antics hit the front page of a Florida newspaper, others wanted to join the fun. Since then, the number of Surfing Santas – as well as the size of the decked-out beachside audience, which is usually a sea of red and green – has grown exponentially each year.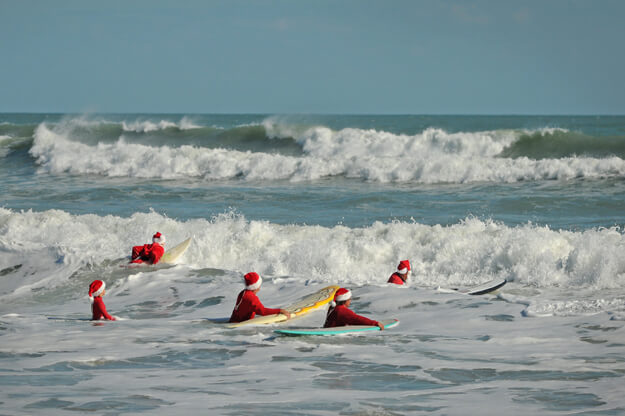 Surfing Santas hit the waves, photo courtesy of SurfingSantas.org
Last year, nearly 650 Surfing Santas showed up to catch some of Cocoa Beach's finest waves along with a beachside crowd estimated at more than 8,000 folks. The surfers were dressed as Santa Claus, Christmas elves, Frosty the Snowman and other holiday characters.
The 2017 event begins unfolding at 8am along the beach near Minutemen Causeway (where the causeway intersects with N. Atlantic Avenue, also known as Florida Route A1A) and is expected to continue until early afternoon. Plenty of parking is available and numerous area restaurants will be open to serve Surfing Santas participants and spectators.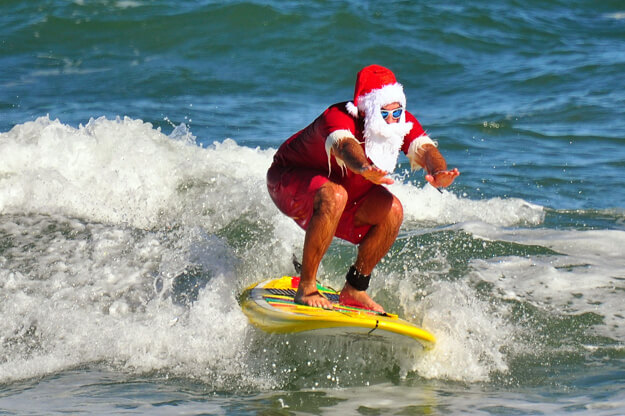 Surfing Santa, Photo by Ross Cruden
It's definitely a very kitschy and fun way to spend Christmas Eve morning. Plus, all the beachy holiday merriment is not just for kicks and giggles … it's also for a good cause. Proceeds from donations and sales of official Surfing Santas' Swag (say that 10 times fast) commemorating this free event benefit two wonderful local nonprofit organizations: Grind for Life and the Florida Surf Museum.
Grind for Life is a cancer support group whose mission is to provide financial assistance to cancer patients and their families when they travel long distances to visit doctors and hospitals.
The 17-year-old Florida Surf Museum preserves and documents all aspects of the unique history and culture of Florida surfing, exposing visitors to the heritage and traditions of the surfing community.
Since anyone of any age can participate as a Surfing Santa, exactly how many Santas will descend on Cocoa Beach this Christmas Eve remains to be seen. The only requirement is to show up with your board and be dressed as Santa, one of his helpers or any other character depicting the spirit of the season. Organizers point out there are no rules about costumes as long as everyone remembers that this is a family oriented event.
Speaking of costumes, an actual costume contest has been added to this year's happening. The contest is open to the public and anyone in the crowd may participate by dressing up in a winter-themed outfit, (i.e., Santa or Mrs. Claus, a snowman or gingerbread man, elves, reindeer, etc). The top prize in each division – men's, women's and children's – is a new, custom surfboard.
Weeki Wachee (Florida's Adventure Coast, Hernando County)
Weeki Wachee's Winter Waterland –— December 8-9, 15-16, 7pm – 11pm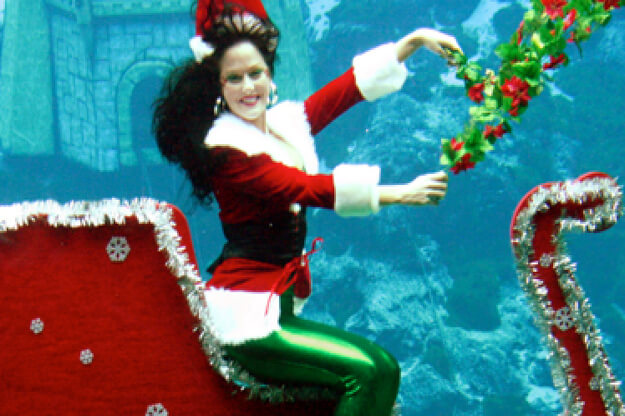 Weeki Wachee's Underwater Winter Wonderland, photo courtesy of Weeki Wachee 
Weeki Wachee is one of Florida's oldest roadside attractions that has been entertaining audiences since 1947. If you are looking for a unique holiday experience, an evening at one of the deepest, naturally formed underwater caverns in the USA should rank high up on your TO DO list.
This year's Winter Waterland will take place on four different nights. The holiday events sell out fast, so make sure you plan accordingly. Let's face it, it's the most wonderful time of the year to visit the park, nosh on some s'mores and enjoy the lights and holiday festivities. Without a doubt, Weeki Wachee Springs State Park is one of Florida's most legendary and unique family destinations. And the only City of Live Mermaids!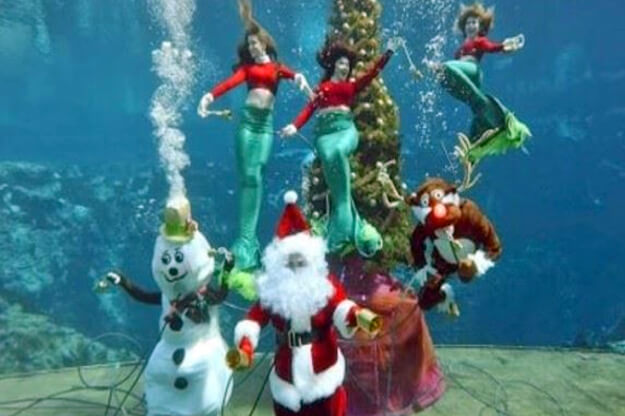 Weeki Wachee's Winter Wonderland Show, photo courtesy of Weeki Wachee
Here's a bit of a history lesson. "Weeki Wachee" was named by the Seminole Indians. It means "little spring" or "winding river." The spring is so deep that the bottom has never been found. Each day, more than 117 million gallons of clear, fresh 74-degree water bubbles up out of subterranean caverns. Deep in the spring, the surge of the current is so strong that it can knock a scuba diver's mask off. The basin of the spring is 100 feet wide with limestone sides and there, where the mermaids swim, 16 to 20 feet below the surface, the current runs a strong five miles an hour. It's quite a feat for a mermaid to stay in one place in such a current. Flowing from the spring, the Weeki Wachee River winds its way 12 miles to the Gulf of Mexico.
If you love Weeki Wachee as much as we do, please consider becoming a Friend. The mission of the Friends of Weeki Wachee Springs State Park is to promote the use, preservation, and enhancement of the Weeki Wachee Springs State Park. There are three levels of membership to enjoy one of Florida's most treasured attractions.
Largo (Pinellas County)
Florida Botanical Gardens "Holiday Lights in the Gardens" — Now through December 31, 2017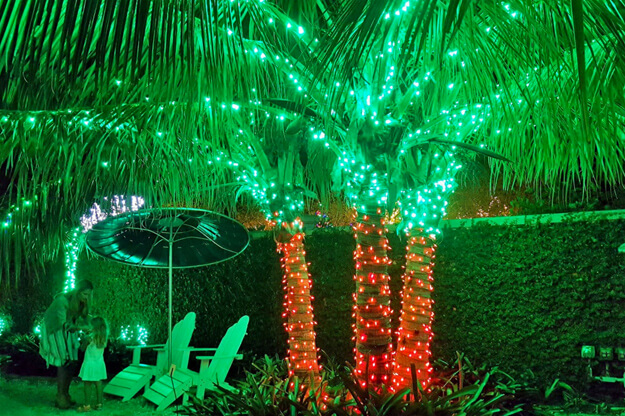 One of our favorite must-see holiday traditions is a visit to the 35-acre botanical treasure, Holiday Lights in the Gardens, at Pinella's County's Florida Botanical Gardens. Known as an "urban oasis", the Gardens are a welcoming escape from city life year round. During the holiday season, spectacular lights transform the Gardens into a stunning wonderland filled with favorite seasonal and Florida-style displays around every bend.
This family-friendly event is celebrating its 18th year of offering visitors a magical way to experience the holidays. The Gardens are open every night until Sunday, December 31 from 5:30pm to 9:30pm. This year, theme nights are held every Monday, Tuesday, and Wednesday evening. Grab your four-legged fur babies because Monday evenings are Paws Nights. Visitors may bring their pets decked out in their holiday best to stroll the Gardens. Tuesday evenings are Tripod Tuesdays. Photographers, both professional and amateur, can capture the lights and are encouraged to share their best photos on their social networks. Wednesday evenings are Wacky Wednesdays. Visitors are encouraged to come dressed in their wackiest holiday sweaters, ties, hats, and socks and pose for selfies among the holiday lights.
Get your move on groove on! New this year is the addition of a synchronized light and music display with dancing lights. If you feel compelled, join in and burn a few extra holiday calories. Some volunteer entertainers also perform dances, sing carols, and play music. Plus, Santa Claus makes nightly appearances through December 23.
The event is the largest fundraiser for the Gardens and depends on volunteers, sponsors, and donations to reduce the cost of offering this holiday tradition in Pinellas County. More than 450 volunteers and generous sponsor donations make the Holiday Lights a success. A donation of $4 per person (ages 13 and over) is suggested, with all proceeds go towards fund the maintenance and upkeep of the Gardens year-round.
Deland (Volusia County)
Stetson Mansion Holiday Christmas Tour — Now through January 15, 2018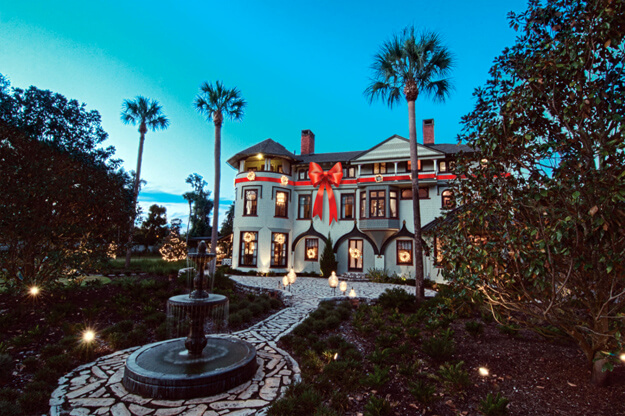 DeLand's Stetson Mansion hosts a Holiday Home Tour, photo courtesy of Stetson Mansion 
The enchanting city of DeLand, located between Orlando and Daytona Beach, is one of the state's small town treasures and reminds holiday visitors of Florida's past. John B. Stetson, creator of the iconic Stetson cowboy hat, built Florida's first luxury estate in DeLand where he wintered for 20 years. The spectacular 1886 High Victorian style "Gilded Age" mansion, listed on the National Registry of Historic Places, offers "Christmas Spectacular" tours displaying unique and dramatic holiday decorations every year. Akin to a designers showcase, this home has some of the most elaborate holiday decorations found anywhere in Florida, often using fresh local greenery for decorations.
The spectacular 1886 High Victorian style "Gilded Age" mansion, listed on the National Registry of Historic Places, offers "Christmas Spectacular" tours displaying unique and dramatic holiday decorations every year. Akin to a designers showcase, this home has some of the most elaborate holiday decorations found anywhere in Florida, often using fresh local greenery for decorations.
Each year's decorations are always different. Designer decorations from around the world adorn the Mansion. A few of this years room themes include: "A Victorian Christmas and The 200 Anniversary of the Bicycle," "Arrival of the Christ Child," "A Tribute to Elves," "Snowbabies," "Friends of Stetson," "A Salute to the Five Branches of Service," "A Stetson Prairie Christmas" and "Pretty as a Peacock."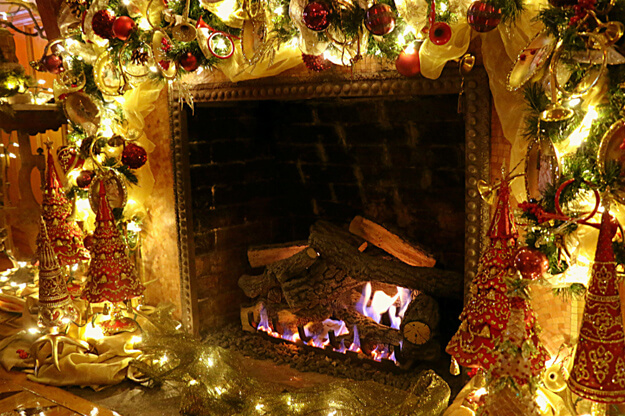 Fireplace at the Stetson Mansion, photo courtesy of Stetson Mansion
The Victorians are credited with beginning the modern Christmas traditions incorporating holiday trees and gift giving. In fact, the Stetson mansion was one of the first homes in the world to have electric Christmas tree lights sent directly from Thomas Edison, a friend of Stetson.
Tickets and reservations are required. Guided tours are offered three times per day, 10:30 am, 1:30 pm, 5:00pm, excluding Sundays. They accept cash only. Adults are $25 + tax. Anges 6-22 are $15 + ta. The tour is not recommended for infants or toddlers. Tours typically last 75 – 90 minutes. If you come for a Christmas tour and you may come back for a regular tour unlimited times for free (Feb-Sept 2018) when you bring a paying guest! 
Additionally, in Deland, the West Volusia Historical Society hosts a tour of historic homes on December 2 & 3. Visitors will tour the home styles of the early 1900's and the 1920's and hear stories about the neighborhood and the people who lived in this thriving cultural district. Tours happen from noon to 4pm each day.  $20/person in advance. Tickets may be purchased by calling the West Volusia Historical Society.
Ft. Myers (Lee County) 
Edison & Ford Holiday Nights — Now through December 31, 2017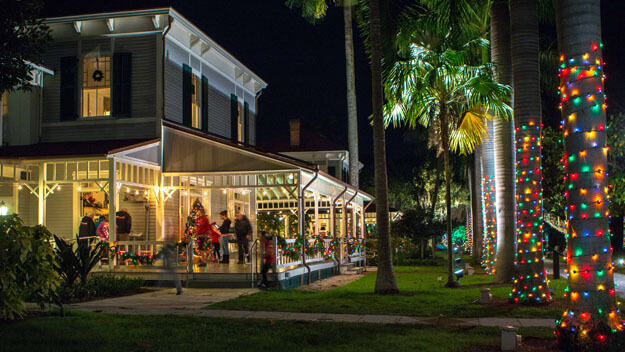 Edison & Ford Estates for the Holidays, photo courtesy of Edison & Ford Estates 
The 42nd annual holiday celebration returns to the Edison & Ford Winter Estates. Over a century ago, Thomas Edison created the first strand of Christmas lights, so it's no surprise that the holiday lights sparkle and decorations glimmer at Florida's Ft. Myers Edison & Ford Winter Estates.
The winter homes, gardens and historic buildings of Thomas Edison and Henry Ford are decorated with thousands of lights and decorations. Visitors can enjoy the holiday festivities and peek into the lives of Thomas Edison and Henry Ford, legendary American icons who lived on the 20-acre property in the early 1900's.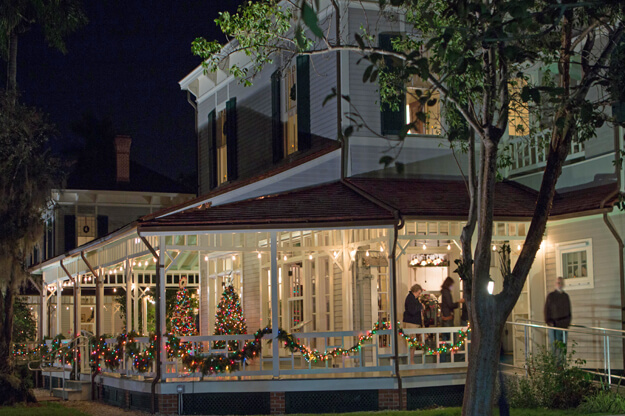 Edison & Ford Holiday Nights, photo courtesy of Edison & Ford Estates
Step back into an old-fashioned Florida holiday celebration while admiring the historic buildings, huge banyan trees, tropical and botanical gardens. The homes and gardens of the Edison and Ford families are seasonally decorated with thousands of lights and historic decorations and visitors can enjoy nightly entertainment, special tours, and returning again this year is Waltzing Waters, a lighted liquid fireworks display with this year's theme, "A Star Spangled Holiday," features red, white and blue lights and decorations. Other attractions include holiday carolers strolling the grounds, appearances from Santa Claus (on select nights), and guided tours. Also, there's an activity called "Patriotic Postcards" where visitors can create and decorate postcards to be mailed to active-duty military personnel.
Recognized by USA Today as one of the 'Top Ten Historic Holiday Sites' in the nation, along with the White House, Mount Vernon, and the Biltmore Estate, a trip to Edison & Ford Holiday Nights is definitely on our annual must-see list.
Admission is $20 ($10 for ages 13-19, $2 for ages 6-12, free for younger). They are closed Christmas Eve and Christmas Day.
Treasure Coast (Martin, St. Lucie & Indian River Counties)
Holiday Lighted Boat Parades — December 9 and 16, 2017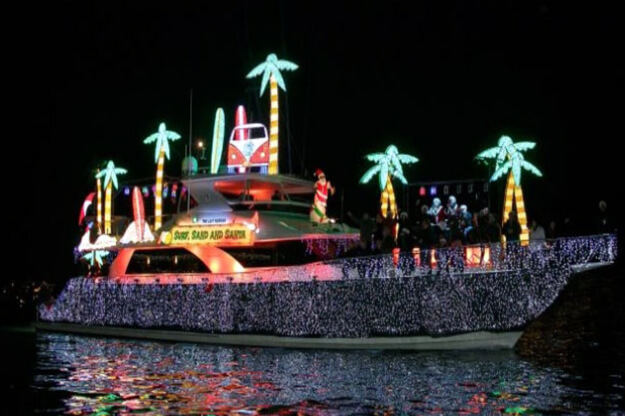 Holiday Boat Parades, photo courtesy of Marine Industries Association, Treasure Coast
The holiday season comes alive in the Florida with authentic warmth and cheer. All over the state from the Florida Keys to the Panhandle, the 2017 holidays are sprinkled with an array of holiday lighted boat parades.
We decided this year to focus on a few in the Treasure Coast, an area throughout the 125-mile-long island chain. Decorated boat parades include all kinds of crafts – from lights on outriggers to sailboats and cruisers decorated with lights that shimmer on the water creating a tropical floating carnival parade.
Guests may view the parades from land, bridges, bars, restaurants, or boats or become part of the festival decking out their own vessels.
The public is invited to walk along the docks, bring lawn chairs and blankets to view the boats and crews. By the way, all three boat parades we are highlighting below are free for spectators.
Martin County Boat Parade — Jensen Beach, Stuart and Port Salerno, Florida — Saturday, December 9, 6pm – 7:45pm
The 37th Annual Martin County Parade, begins at the Jensen Beach Causeway at 6pm and will proceed to Sandsprit Park and into the Manatee Pocket and end at the Twisted Tuna at 7:45pm at which time the winners will be announced. The judge's boat will be located near the Evans Crary Bridge.
St Lucie County Boat Parade — Fort Pierce, St. Lucie, Florida — Saturday, December 9, 6pm – 7:45pm
The 27th Anniversary of the Fort Pierce, St. Lucie Christmas and Winter Holiday Boat Parade begins at Taylor Creek near Harbortown Marina at 6:30pm, proceeds past the South Beach Causeway turning around at the Fort Pierce Inlet at 7pm then continues back to the Fort Pierce City Marina and Original Tiki Bar and Restaurant at 7:45pm where winners will be announced and prizes awarded.
Indian River County Boat Parade — Vero Beach, Florida — Saturday, December 16, 6pm – 7:45pm
The Vero Beach boat parade starts at 6pm in the intracoastal waterway between the two bridges and finishes at the Vero Beach City Marina. The best places to view the parades are the Royal Palm Point and Vero Beach City Marina.
Ocala National Forest (Marion, Lake, Putnam, & Seminole Counties)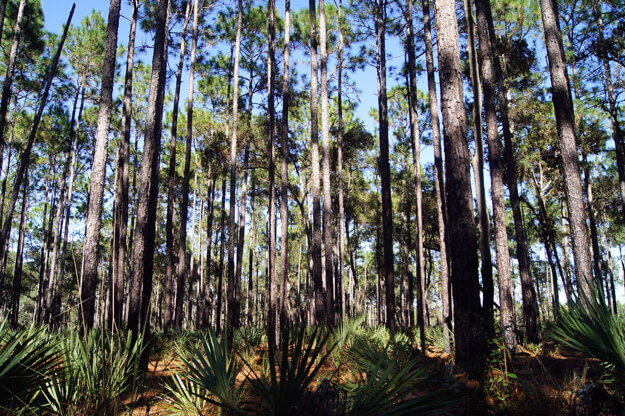 Ocala National Forest issues permits to get your own Christmas tree

It doesn't get much more authentic than visiting the Ocala National Forest around the holidays and getting to cut down your very own Christmas tree. Talk about a real way to create lifelong memories.
You will need a Christmas-tree permit if you want to choose your own tree from the forest. Permits may be purchased from 7:30am to 4pm through December 23. People wishing to obtain a permit are urged to do so as soon as possible by calling the Lake George Ranger District office at 352-625-2520 or the Seminole Ranger District office at 352-669-3153.
Permit holders will receive directions and maps to the designated tree-cutting area. The cost is $7 per tree.
Forestry officials suggest that when you make the trip to pick a Christmas tree that you take full advantage of mild Florida weather and consider spending the day exploring the forest via a hike or a picnic.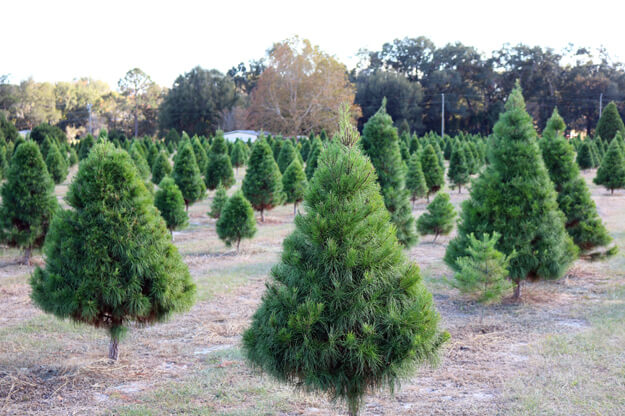 Nicholas Christmas Tree Farm, 14260 SE 80th Ave, Summerfield, Ocala Marion
In addition to the Ocala National Forest, there are many Florida farms that plant, harvest and sell Florida grown trees. Look for these varieties: Red Cedar, Virginia Pine, Sand Pine, Spruce Pine, Arizona and Leyland Cypress. All thrive in our Florida climate.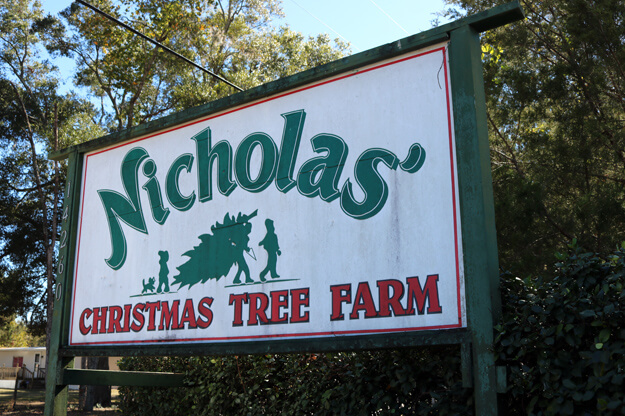 The experience of venturing out to find the family Christmas tree is a fun adventure for the whole family – and good for Florida. Did you know Christmas tree farms provide beautiful greenbelts, consuming carbon dioxide and reintroducing oxygen to the air, thus cleansing the air? Buying a Florida tree also means that less fuel is used to truck in the out-of-state trees, helping the local economy and supporting our tree farmers.
Here is a list of Florida Christmas Tree farmers where you can get a fresh cut Florida tree.
If there is not a Christmas Tree Farm in your area, most locally owned plant nurseries have potted smaller trees for sale that you can purchase, then plant in your own yard or give to a friend as a holiday gift.
To receive Authentic Florida's free ENEWs, featuring travel and living updates, delivered weekly, sign up on the home page Authentic Florida, named Blog of the Year and Best Travel Blog at the Orlando Sunshine Awards.    
---
Comments are closed.