Rocket launches. Missions to Mars. Manned flights to the moon. There is plenty of space history in this area. But beyond the Space Program there is more to discover including "real" Florida, natural Florida, and historic Florida.
The Space Coast stretches 72 miles along the Atlantic in Brevard County, anchored by Titusville to the north, Melbourne Beach to the south, with Port Canaveral and Cocoa Beach in between.
Miles of beaches, vast wilderness areas, and a mosaic of waterways, make the Space Coast a leader in Florida eco-tourism. There's a major wildlife refuge, sanctuaries, parks, and one of Florida's primary sea turtle nesting grounds. But the Space Coast is also a surfing mecca with a collection of charming beach towns and wide expanses of sandy beaches. All of this, combined with being home to America's space program, provides plenty of reasons to explore.
Whatever you choose, there is a wealth of "authentic" Florida fun on the Space Coast. Here are some ideas for your next visit:

Merritt Island National Wildlife Refuge
Take a Magical Kayak Ride
Titusville's Day Away Kayak Tours features an evening kayak paddle where living lights dance in the water. Called bioluminescence, the water sparkles with emerald green flashes caused by tiny organisms that glow when stirred up. Darting fish create glowing trails, and paddle strokes produce eerie wisps of mesmerizing nightlight. Tours run from May through September at the Merritt Island National Wildlife Refuge. After your adventure, stop at Titusville's Dixie Crossroads restaurant for its legendary rock shrimp dinner.

Florida airboat ride
Glide on By
Skim over the St. Johns River on an airboat to enjoy the area's beauty and get an up-close view of wildlife. The St. Johns River, one of the few rivers in the United States that runs from south to north, originates on the Space Coast and is home to plenty of wildlife including bald eagles, blue herons and alligators.
Try family-owned Airboat Rides at Midway, located halfway between the Atlantic and Orlando in the town of Christmas. You'll experience the beautiful St. Johns River Conservation area and the cypress forest of the Tosohatchee Wildlife Management area. Or, in the town of Cocoa, Lone Cabbage Fish Camp features 30 to 90 minute airboat rides. The Camp restaurant serves a "sampler" of fried catfish, frog legs and alligator. If near Melbourne, consider the Camp Holly Airboat Rides featuring eco-rides, night tours and Indian artifact expeditions.

Space Shuttle Atlantis, Kennedy Space Center
Blast Back and Watch a Rocket Launch
No Space Coast trip is complete without a visit to the Kennedy Space Center. Plan for a full day at the Center, which stops just short of being a "theme park."  The Kennedy Space Center chronicles more than 50 years of space history, including some of America's proudest moments.
Highlights include a walk through the exhibit of space exploration's early days, meeting an astronaut through the Astronaut Encounter, and experiencing the new Space Shuttle Atlantis immersion exhibit with its compelling story of the shuttle program. You can try a simulated shuttle launch, watch a Space Station IMAX 3-D movie, and see real rockets up close and personal in the Rocket Garden.
And don't miss the Apollo/Saturn V Center detailing the Apollo Program, featuring an authentic representation of the 1960's Apollo 8 launch. Afterwards, walk under and around a restored Saturn V Rocket – a one-of-a-kind experience.
If you want to experience an actual launch, visit Space Coast Launches for dates.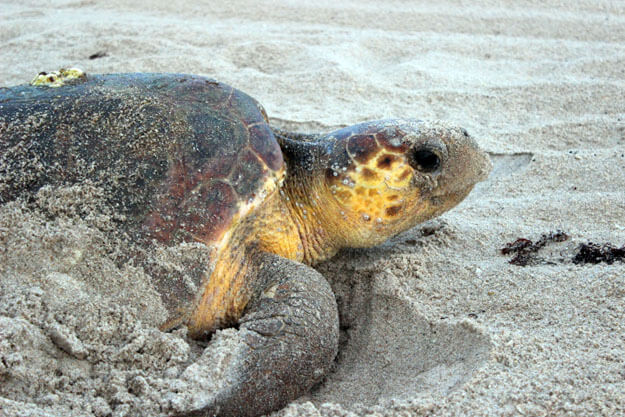 Photo courtesy, Edward Perry, Sebastian Inlet State Park
Join A Sea Turtle Walk
A most magical delight is an evening beach walk during sea turtle nesting season. From May through October, mother sea turtles lumber onto shore to carefully dig nests and deposit eggs. The turtles sit in a trance-like state while depositing the eggs, so they are not bothered by observers. Carefully managed by local conservation groups, guided walks (primarily during the summer) let us personally witness Mother Nature at work.  Sebastian Inlet State Park, the Sea Turtle Conservation Society or the Canaveral National Seashore provide organized summer walks. 
If you don't get a chance to join a sea turtle walk, consider a visit to the Melbourne Beach Barrier Island Sanctuary. Located within the Archie Carr National Wildlife Refuge, the Sanctuary, with 20-plus miles of beach, is the most significant area for Loggerhead sea turtle nesting in the Western Hemisphere. The museum features conservation exhibits regarding sea turtles, local habitats and conservation.
Tuckaway Shores, Indialantic
Stay Retro
The Space Coast has many accommodations, from ultra-modern to old-fashioned. Some have a 1960's retro-feel, usually simple and basic – yet comfortable. Indialantic's Tuckaway Shores is a favorite for those seeking relaxation on the beach. Visitors return every year for the comfy, clean lodging. Or opt for the plush, historic Parrish Grove Inn in Cocoa Village, owned by the Parrish family for generations. This elegant refurbished 1885 bed and breakfast is a charming haven with antique furnishings and polished pinewood floors.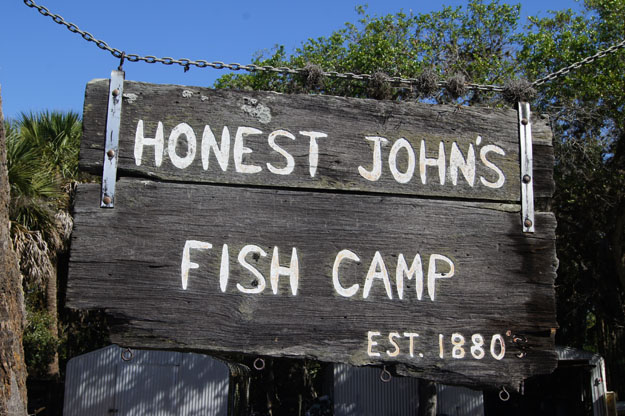 Honest John's Fish Camp, Melbourne Beach
Discover a Real Fish Camp
Located on the Indian River Lagoon in south Melbourne Beach is Honest John's Fish Camp . Homesteaded in 1887, it is still run by the descendants of the pioneer known as Honest John. 
Over a century ago, brothers Robert and Charlie Smith homesteaded the property and as farmers raised sweet potatoes, collard greens and citrus. Robert later bought out his brother's interest, married and had eight children. Honest John was the third child and while not interested in farming, he loved to fish. His daughter Barbara learned how to fish as a youngster and really took to it, growing up to become an award-winning fisherwoman. The original home still exists on the property and Barbara's three children run the camp.
Consider renting a boat, kayak or canoe. Bait and tackle are available. Guided eco tours of the Indian River Lagoon are offered.
Keep it Healthy
Family owned Rockledge Gardens on south U.S. Highway 1 in Rockledge began as a roadside stand. Daughter Theresa Riley, her husband Kevin and their kids operate the garden center and hydroponic farm. If you want to learn from experts and are looking for healthy produce while traveling, stop at the garden center. Produce is sold across the street at the Rockledge Garden Farm on Saturdays. Up the road, Harvey's Groves is one of the few remaining old-timey citrus operations open from late October through April.

Canaveral National Sea Shore
Beach It
Want to avoid massive beach crowds, and find "off the beaten path" sandy spots? Try Picnic Tables Park at Patrick Air Force Base off Highway A1A, or Melbourne Beach's Ocean Avenue, or even further south, Juan Ponce de Leon Landing Park. And to really escape the crowds, head north to the pristine, undeveloped Canaveral National Seashore east of Titusville.

Bird watching, Limpkin
Birds, Birds, Birds
The Space Coast is one of the premier Florida birding locations in all of North America. Located on the Atlantic flyway, more than 300 species of birds can be found. Visit the Merritt Island National Wildlife Refuge for a comprehensive look at area birding. Take Black Point Wildlife Drive and be sure to stop the car to enjoy the beauty of the preserved area. For the more adventurous, try a guided kayak ride to Bird Island in the Refuge. Day Away Kayak Tours will get you near this major bird nesting island.
Also for your list, and gaining wide recognition among birders, is the Ritch Grissom Viera Wetlands, a series of connected ponds with observation areas filled with birds, even some notably rare species.
During January, the Space Coast Birding Festival is one of the best places to be if you love our feathered friends. The birding world's most highly regarded speakers present during the festival hosting workshops and field trips.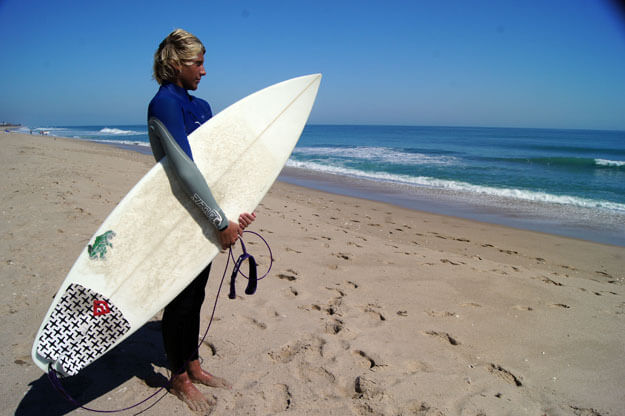 Surfer, Sebastian Inlet State Park Beach
Ride the Waves
From novice to pro, the Space Coast is one of the best places around for Florida surfing. In Cocoa Beach is the historic Cocoa Beach Pier, an iconic backdrop to Florida's east coast surfing capital. You'll want to visit the world-famous Ron Jon Surf Shop where you can learn to ride the waves at their acclaimed surfing school. Some favorite surf spots are the Picnic Table Beach across from Patrick Air Force Base, the nearby Second Light (for longboarders), and Playalinda at the Canaveral National Seashore. For advanced surfers, try the Sebastian Inlet State Park beach.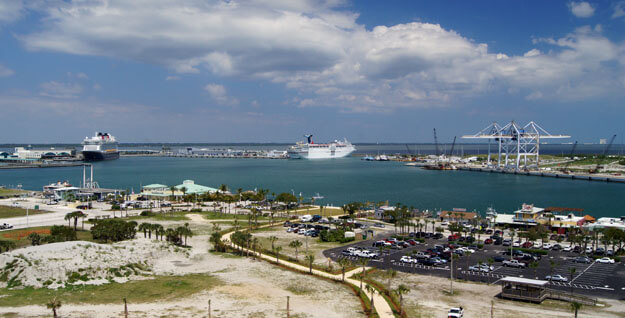 Port Canaveral
Check out the Port
Get a fascinating view of the second busiest cruise port in the U.S. at Port Canaveral.  Cruise ships, cargo tankers, fishing and pleasure boats navigate the waterway. For a full view of the area, check out the new seven-story Exploration Tower featuring Space Coast exhibits, Port history and culture, plus a lobby display of marine life which features recycled materials – much collected from local beaches. 
Eat Florida Seafood
The Atlantic Ocean beckons us to eat fresh seafood. Get dock-fresh seafood from local favorites such as the Seafood Atlantic, Rusty's, Fishlips or Grill's Seafood. Dine and watch the boats cruise by. If you are in Cocoa Beach, try the Fat Snook or the Pompano Grill.
Ride Through History
An easy way to experience the charm of an authentic Florida beach town is to rent a bike and ride through the historical downtowns. Melbourne, Cocoa Village and Titusville all include charming revived downtowns. In Titusville, visit a local "fave" – the U.S. Space Walk of Fame Museum – displaying memorabilia, such as photos, hardware and flight suits from personal collections of space workers. Also, stop at the Titusville North Brevard Historical Museum chronicling the experiences of descendants before the arrival of the Kennedy Space Center.
To receive Authentic Florida's free ENEWs, featuring travel and living updates, delivered weekly, sign up on the home page Authentic Florida, voted 2015 Blog of the Year and 2015 Best Travel Blog at the Orlando Sunshine Awards.
---