Florida Lobster
There are some who will debate whether the taste of Florida lobster rivals the touted reputation of New England lobster, but few can argue that fresh lobster is the best  – no matter where it comes from. The tasty sweet meat freshly caught from the aqua blue shimmering water is one of Florida's most delightful seafood treats.
And that is why Florida lobster season, and especially the two-day sport season, has become an annual ritual for thousands who live here or are visiting. It is commonly referred to as catching "bug fever", an addictive and enjoyable Florida sport.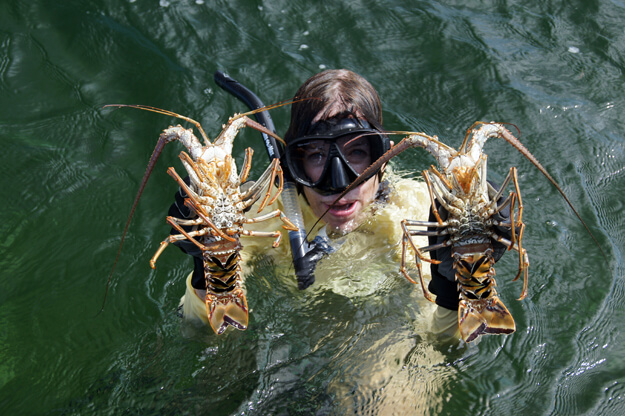 Bringing in the lobster catch
Season Begins
This week the frenzy of Florida Spiny Lobster Season begins with the July 27 & 28 two-day mini-season. According to Tom Matthews, Researcher and Scientist with the Florida Fish & Wildlife Conservation Commission (FWC), "This two-day event draws 38,000 recreational divers" who will begin the hunt for the unsuspecting lobsters (after a four-month seasonal break). The mini-season precedes regular lobster season, which begins August 6 and runs through March 31, 2017.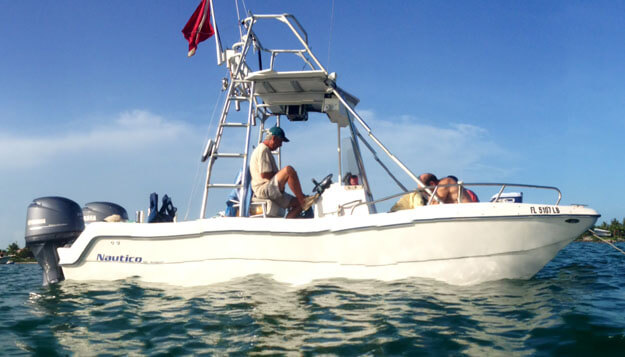 Diver Steve Ferrise parks his boat over his favorite lobster hole
Bug fever has become a long-standing tradition for many, and the "thrill of the hunt" is what inspires most divers. Years ago, Floridian Steve Ferrise moved to the Florida Keys and has fine-tuned his annual plan. He parks his boat over his favorite hole the night before season begins, and prepares for his dive at the light of day. "It gives us a real advantage and then we let the fun begin".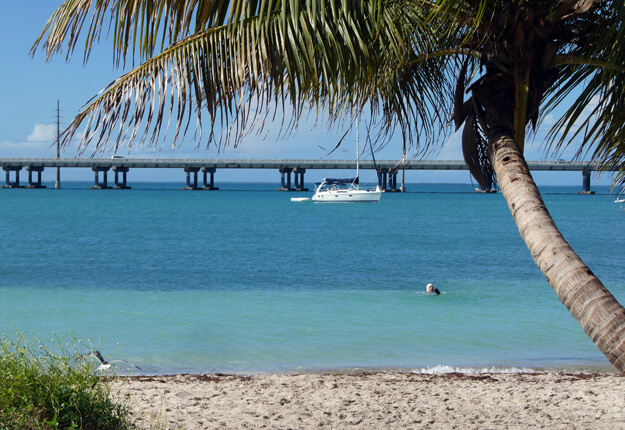 Crystal blue water, Bahia Honda State Park, Florida Keys
Since Florida is nearly surrounded by water, being on or under the crystal clear water is one of the best parts of living or even visiting the state. Diving for lobster is an added bonus. Once you catch your first lobster, or "bug", you'll be smitten, because the thrill of catching your own is like no other. And savoring Florida's sweet, succulent lobster is an unforgettable experience.
The Florida Keys
Monroe County, encompassing the Florida Keys, holds the reputation as prime lobster territory and is where most of the state's crustaceans are caught. But if the insane frenzy of crowds from opening day is too much for you, there are other areas of Florida you can dive for the delicious bugs. Lobsters can be found up and down the coasts of Florida, from Miami Beach north to St. Augustine. You can also find lobster on Florida's west coast, often hiding in artificial reefs, ledges and rock pilings.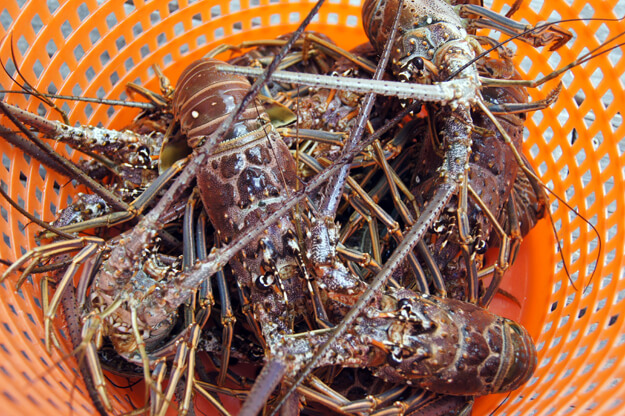 Basket of Florida lobsters: the limit is 6 per person
But there is a difference between finding lobster in the Keys versus along Florida's coastline. According to FWC Officer Bobbie Dube, who has been working Monroe County's lobster season for decades, "The Florida Keys is primarily clear, shallow water and ideal for finding lobster, especially for the novice diver." This distinction separates Florida's east and west coastline, which requires more dive experience and scuba gear. The reefs are deeper and the current is often stronger. But the bonus for the deepwater divers is that the lobsters are larger because they can hide and have a chance to grow larger with less competition vying for them.
What To Expect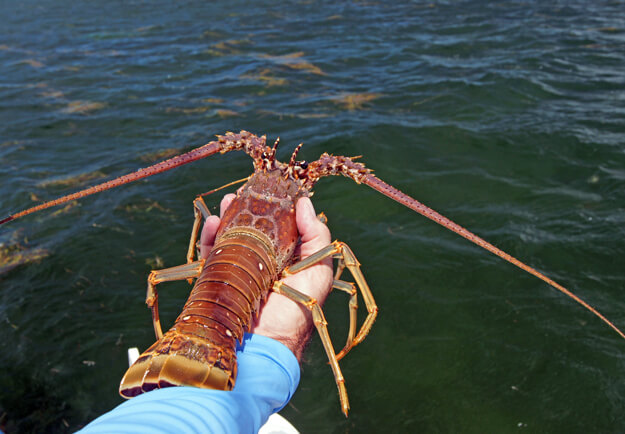 Live Florida Lostster
If you are trying to determine if this is for you, here's a word of caution. It is fun but there is also some work to the sport. Whether you snorkel the shallows or wear dive gear to go deeper there are two common issues when it comes to lobsters: finding and catching them. Lobsters forage for food at night but during the day they find shelter under ledges, in reefs, holes and grass beds so the first challenge is locating their hidden spots. The second challenge is coaxing them out and into your net. That's where a tickle stick comes in.  Tickle sticks, essentially two-foot rods with a curved end, are handy tools to entice the animal out of the hole into your net. If it is in a one-way hole, the stick can be used to get behind the lobster to nudge it out. It takes a little practice but once you get the hang of it you'll quickly get your limit, which is 6 per person per day (12 per person outside Monroe County and Biscayne National Park). Ah, but being outdoors enjoying the beautiful marine world down under doesn't get much better.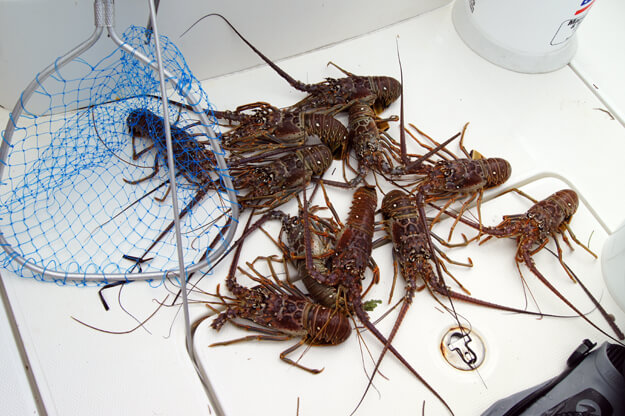 Florida lobsters and tools to dive with 
Water depths can vary from one foot to more than 130+ feet along Florida's coasts but usually average around eight feet deep in the Florida Keys. Families who have frequented the Keys for years have "secret" holes and destinations, also known as "hidy" holes.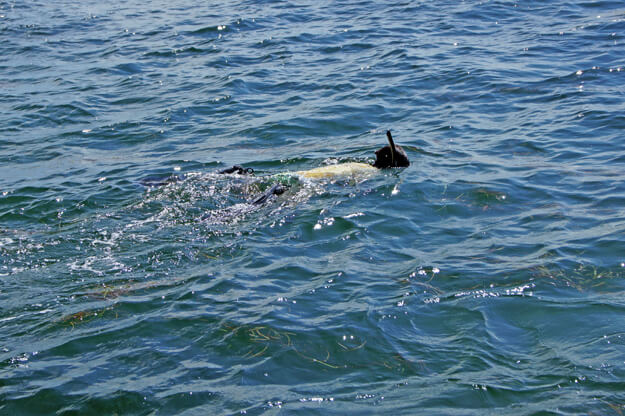 Snorkeling for Florida lobster
To cover more territory, boats often cruise slowly along the edge of a reef or ledge with a towline streaming in the rear, allowing divers to hang on, survey good spots while the boat is moving and then drop off and make their dive when they spot a lobster. Diving for lobster is often in the form of a "free" dive using a snorkel while holding your breath for around 30 seconds. Divers also use "hookahs" or air hoses attached to an air tank or compressor with a regulator to increase bottom time, and many divers use scuba tanks allowing them to get to the deeper spots.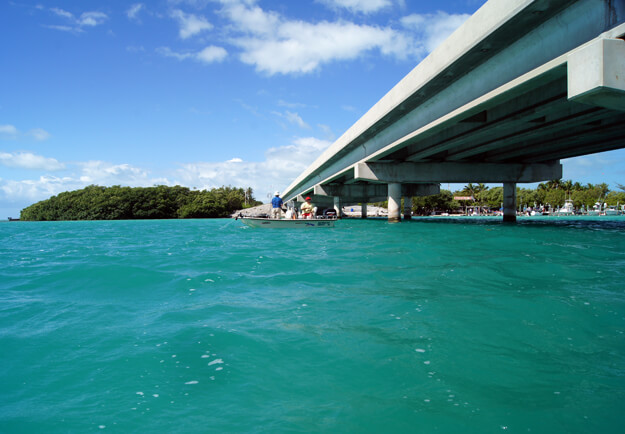 Florida lobsters can be found around bridges in the Florida Keys
If no one in your party is experienced in the lobster hunt, or you don't have a boat, consider swimming from the shore to nearby reefs or under bridges where the pilings offer plenty of lobster crevices.

Charter Captain, Jack Carlson, Two Conchs Charters, Marathon Key
Also, consider hiring an experienced guide. A guide knows where the lobsters are, plus they will help you. Some guides have on-board spotters who do the reconnaissance work in search of the lobster antennae poking out of the crevices. This saves a lot of energy and time for beginners. Also, a good captain always provides the proper guidance and safety instructions to make your day a memorable one. If you plan a trip with others or ask the captain to plan a day where costs are shared, it will be more affordable. A half-day trip can cost around $500.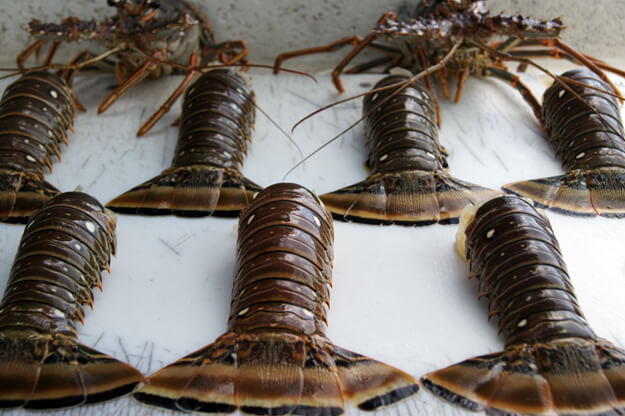 Florida lobster tails ready to cook after cleaning
And one final note, according to FWC's Tom Matthews, "Be patient. There is a learning curve to catching lobster. But don't despair, there are six million lobsters swimming around the Florida Keys at the start of season, and only 330,000 are caught during the two days – so there's a few left over."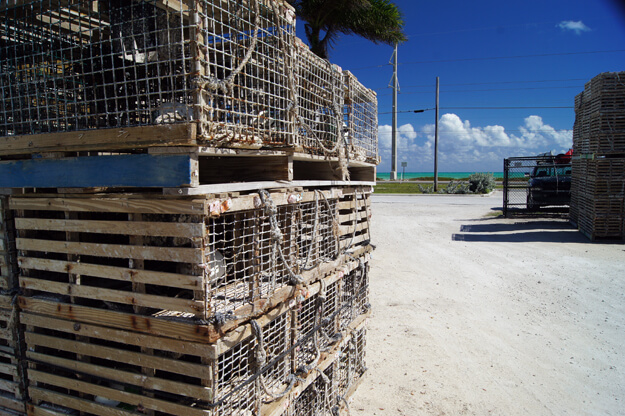 Florida commercial lobster traps
Try "Bug Festival", Lauderdale-By-The-Sea
On Florida's east coast in Broward County, Lauderdale-By-The-Sea celebrates the mini-season with a "Bug Fest" from July 26-July 31 celebrating the Florida Lobster. The festival also features fun events, seminars, cookouts and contests. While there, check out the authentic lodging of the Windjammer Resort and Beach Club. 
I Just Wanna Eat Lobster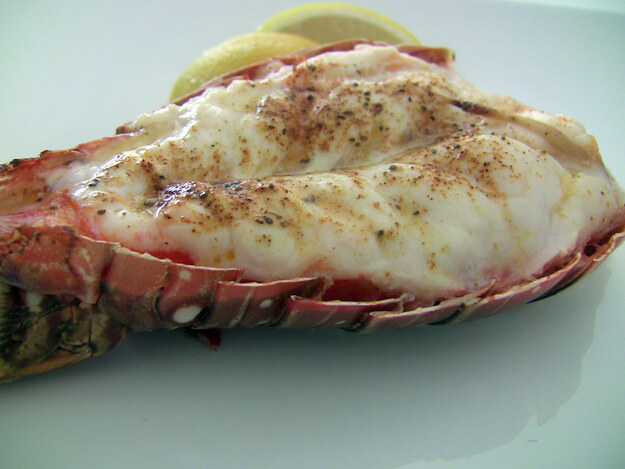 Freshly broiled Florida lobster
If you decide that diving for Florida lobster is not your thing, take heart. After regular season opens on August 6th, just head to your favorite seafood shop, and pick up some fresh Florida lobster. The good news is that you don't have to do much to enjoy it at home. Broiled, baked or grilled with a little butter, lemon and salt is all you need.  Just ask your seafood shop to prepare it ready to cook. They will even give you a few cooking tips. 
For planning your Florida lobster trip consider going to Key West and the Florida Keys.
Authentic Florida Accommodation (Middle Keys): Try the charming and authentic Pine and Palms Resort, Islamorada. It has lovely accommodations on the Atlantic side. We also cooked our lobster and had everything we needed from the fully equipped kitchen.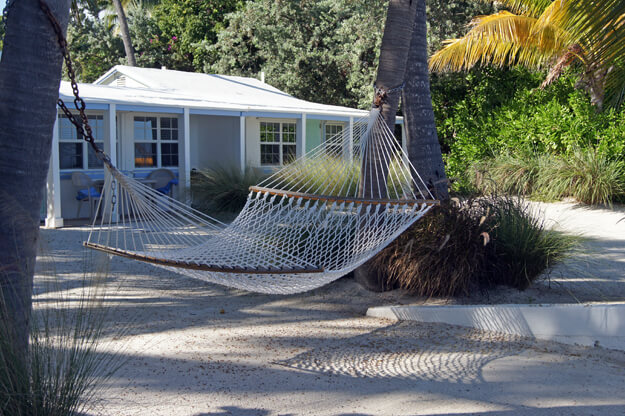 Pines and Palms Resort, Islamorada for authentic lodging
Lobster Charters (Middle Florida Keys)
Two Conchs Charters, Marathon
Curly's Dock, Marathon
Tilden's Scuba Center, Marathon
Dive Duck Key, Duck Key  
Note: Many restaurants, for a fee, will cook your lobster but be sure to call first. 

Fresh Florida lobster on ice
Important information for your lobster dive trip:
Lobster Limits: In Monroe County and Biscayne National Park, mini-season and regular season are the same in terms of the lobster limit, which amounts to six lobsters per day per diver. However, during mini-season, diving at night is off limits. Outside Monroe County, it's the limit is 6 lobsters during mini season but 12 lobsters per diver during the regular (season).
Lobster Size limit: For measuring the lobster size, use the measuring gauge to determine the minimum length of three inches from the forward edge to the rear edge of the carapace, which is the area between the tail and base of the antennae.
Need A License: It is required that each diver have a valid Florida saltwater fishing license with a current lobster stamp available at tackle shops, dive stores and online at the Florida Wildlife Commission (recreational license page).
Diving Tools to Take: Map of area, dive flag, mask, snorkel, fins, lobster net, snare, tickle stick, gloves, mesh bag, and a lobster gauge (required to measure lobster while in the water)
No Take Zones: According to the Fish Wildlife Commission (FWC), the areas you cannot dive for lobster or "no take" zones are: John Pennekamp State Park, Everglades National Park, Dry Tortugas National Park, Florida Keys National Marine Sanctuary and the Biscayne Bay/Card Sound Lobster Sanctuary.
To receive Authentic Florida's free ENEWs, featuring travel and living updates, delivered weekly, sign up on the home page Authentic Florida, voted Blog of the Year and Best Travel Blog at the Orlando Sunshine Awards.  
---