With so many species of birds and wildlife in Florida, and such a welcoming climate, there are many compelling reasons to become more knowledgeable about our natural environment. For starters, the state is among the best locations in the country for observing birds and wildlife. And fortunately there is a top-flight festival for seasoned and amateur birders and wildlife enthusiasts, or for those with a passing curiosity. Recently named one of the Top 20 Events by the Southeast Tourism Society, the 20th annual Space Coast Birding and Wildlife Festival will be held January 25-30, 2017.
So, why is Florida such a prime location? Not only is Florida rich in native populations of many varied species of wildlife and birds, but it is also on a busy route for birds as they migrate and even stop for the winter to avoid the cooler northern climates. A second reason for Florida's plethora of birds is that the state has a wealth of protected wildlife habitats.

American White Pelicans
During the state's cooler months, Florida's Space Coast is one of the best birding locations in the United States. Brevard County is situated at the convergence of two zones – temperate and tropical – creating a natural diversity of unique habitats that attract varied bird species.

Florida is a haven for birds
And it is blessed with an abundance of water from the St. John's River and its adjacent lakes, marshes and swamps. They provide a welcome haven for birds; additionally the Banana River, and the Mosquito and Indian River Lagoons, provide more protected areas that draw the feathered friends.
The festival will be based at a central hub, the Eastern Florida State College in Titusville. Naturalists, photographers, ornithologists, artists, authors and scientists, and those wanting to learn, will gather all over the region, for field trips, seminars, hands-on workshops, speakers and exhibits.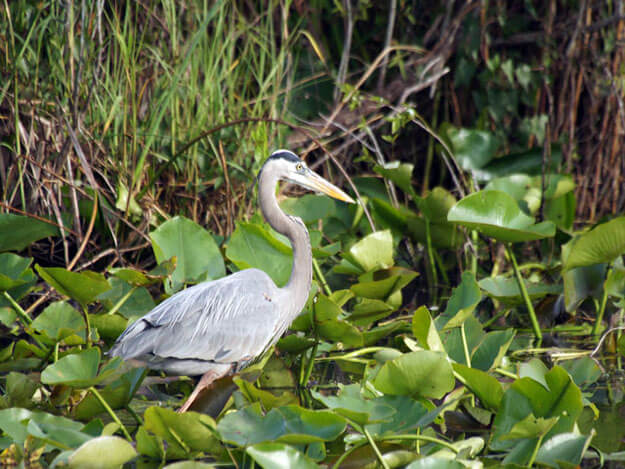 Great Blue Heron
"There is no other event in Florida where you have a chance to experience so many and such a varied array of wildlife encounters with access to the foremost experts in the business. If you want to immerse yourself in birds, plus experience all of the wildlife, flora and fauna in our area, this festival is for you," shared Space Coast Birding and Wildlife Festival Chair, Laurilee Thompson.

Merritt Island National Wildlife Refuge
A special component of this event is that it gets attendees out into the field. According to Thompson, attendees gear up and disperse throughout the region to areas such as the Merritt Island National Wildlife Refuge, Canaveral National Seashore and water reclamation areas such as the Viera and Blue Heron Wetlands.
 Viera Wetlands, one of the Festival birding locations 
Enthusiasts will enjoy first-hand encounters with many bird species including coveted Florida Scrub-Jay, Crested Caracara, Painted Bunting, Roseate Spoonbill, Bald Eagle, Limpkin, Snail Kite, Red-cockaded Woodpecker, and even the Peregrine Falcon.
But many agree that the best part of this birding extravaganza is being outdoors. While participants traipse through fields, walk around marshes, hammocks, flatwoods and scrub, they may see more than birds – and that includes alligators, gopher tortoises, bobcats and butterflies.

American alligator
"One of the significant advantages to attending the Space Coast Birding & Wildlife Festival, aside from the camaraderie of nature and wildlife enthusiasts, is that we provide participants with special access to conservation land that is not available throughout the year," commented Laurilee Thompson.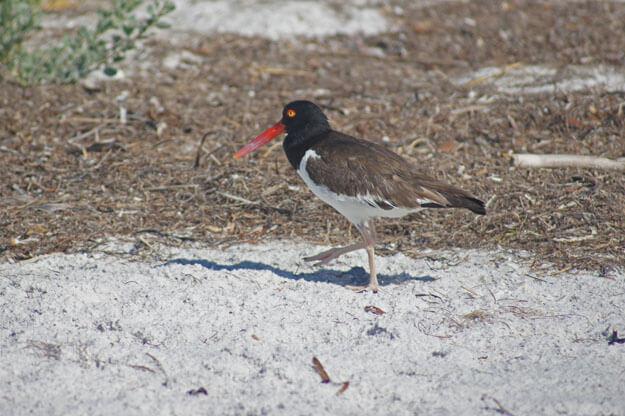 American Oystercatcher
Space Coast Festival attendees can expect to learn, interact and grow their appreciation for the wonderful world of Florida wildlife. They will be able to choose from a wide range of field trips such as a Florida Scrub Jay Hike; Owls, Bats & Nocturnal Birds; A Kayak Tour to the Cocoa Beach Thousand Islands; A Family Wildlife Scavenger Hunt; Sea-birding from Shore; A Trip to St. Sebastian River Preserve State Park; Gull Fly-In at Daytona Beach; Advanced Shorebirds by Impression; and for beginners: Wings Over Florida.
Festival organizers say this year's event is shaping up to be one of the best. "But be sure to register early because the events will fill up," shared Laurilee Thompson.
And with the combination of world-renowned experts, ever-popular field trips and classes guided and taught by the "best" in the business, and it's no wonder why.
If you have ever had more than a mild interest in Florida's unique environment and its wildlife – and are interested in learning more – you'll enjoy this special event and it is sure to take your appreciation to another level.
Additional information
What to bring:
Many attendees come prepared with binoculars, high-powered scopes and cameras while others are content to enjoy the experience of being in nature.  Wear comfortable and rugged shoes for getting up close and personal with the birds and wildlife on the field trips. And be sure to bring sunscreen, hats and the usual preparations for being outdoors.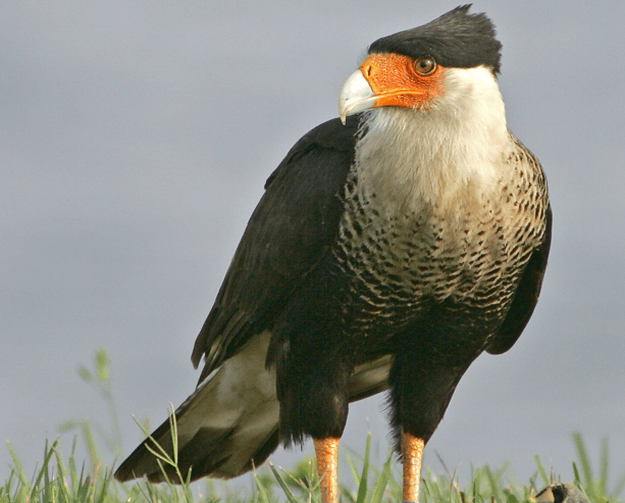 Crested Caracara, courtesy Space Coast Birding & Wildlife Festival
How to Register:
Pre-registration is required for all field trips, classrooms and keynote presentations.
For more information and registration, consult the 2017 Space Coast Birding & Wildlife Festival.

Kennedy Space Center, Titusville
Where to stay:
Fairfield by Marriott in Titusville is the host hotel for the festival. Rooms have been set aside and special discount rates apply until 12/31/15. Make sure you say you are attending the festival when you make a reservation.
An Interview with Laurilee Thompson, 2017 Space Coast Birding & Wildlife Festival Chair
Native Floridian Laurilee Thompson, founder and chair of the 2017 Space Coast Birding & Wildlife Festival, is a birding enthusiast, a former fishing captain and owner of Dixie Crossroads, the popular Titusville seafood restaurant. In her other life, Thompson chairs the Brevard County Tourist Development Council.

Laurilee Thompson
How did the Space Coast Birding Festival get started?
I grew up in the area with an inbred passion and appreciation of the beauty and natural environment of Brevard County.  Eventually, I left the area for ten years and worked as a fishing captain. After being away, I discovered that what I had grown up with – a flourishing Indian River Lagoon ecosystem – was now in precipitous decline. Where I had once admired soft coral in the Lagoon, I found there was none left. Fish kills and algae blooms were now commonplace.
To say the least, I was horrified with my discovery.  But I wasn't sure how I could make a difference.
Soon after, the President of the local Audubon Society recruited me to the board of directors. As a novice birder, I had read bird magazines while on the fishing boat, but as I became involved, birding opened another world for me. I found I could be outdoors while also enjoying Florida's stunning wildlife.
So, over time I learned more about birds, the ecosystem and habitats. But as a business owner, I also wanted to promote ecotourism. At the time, there were no birding festivals in the southeastern United States. I then met with Rick Fleming of the Titusville Chamber of Commerce armed with economic impact statistics regarding eco-tourism. Convinced, he promptly gave me a desk and staff support, and the Festival was born. That was in 1997.
What tips do you have for the novice bird watcher?
If you are interested in learning about birds, go to your local Audubon Society, Sierra Club, or Native Plant Society and sign up for a field trip. They are usually free and you will learn plenty. For a quick overview of birding and Florida's wildlife come to the Space Coast festival and get a crash course – not only about birds, but about the full "flavor" of Florida, its plants and wildlife. Birding is much like a treasure hunt, you never know what you are going to see and there is always something new to discover.

Roseate Spoonbills
What makes this area so unique for birders?
Our area is situated in ideal climate zones for a broad diversity of birds. We also have lots of water courtesy of our wetlands, estuaries, swamps, lagoons, an ocean, marshes and rivers presenting a full range of choices for birds.

Limpkin
What tips do you have for someone wanting to attend the Festival?
Sign up early. Our field trips are small and intimate to enhance the experience. Our birding guides are leaders in their areas of expertise.
Also, if you only have a few days, sign up for the Friday and Saturday events that include classes and field trips (some free) on fascinating topics, even beyond birds such as whales, sharks and sea turtles.
To receive Authentic Florida's free ENEWs, featuring travel and living updates, delivered weekly, sign up on the home page Authentic Florida, voted 2015 Blog of the Year and 2015 Best Travel Blog at the Orlando Sunshine Awards.
---