3 Summer Adventures for Cooling Down on the Nature Coast
Florida's Nature Coast is one of the best spots to kick your summer into full gear with 3 cool adventures including pristine barrier islands, scenic paddling trails and fun scalloping excursions.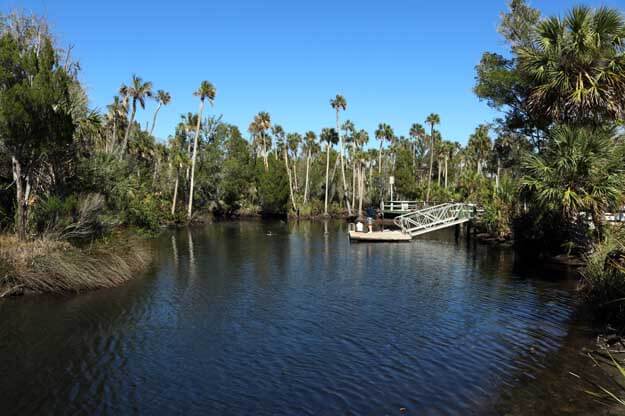 Florida's Adventure Coast
Summer is always a fun time to enjoy Florida's outdoors, especially on the water where we can cool down and enjoy the laid-back season. North of Tampa, Florida's Nature Coast is one of the best spots for a refreshing, natural escape for summer fun.
Officially, Florida's Nature Coast includes eight coastal counties that form Florida's Big Bend, the area bordering the Gulf of Mexico as the state curves from panhandle to peninsula. The three counties at the bottom of the bend – Pasco, Hernando and Citrus, offer many unique ways to turn up the good times – especially on the water.
Pasco County is the southernmost of the Nature Coast. It is an inviting destination for a range of outside adventures including a trip to the spectacular and pristine barrier island called Anclote Key. Next up is Hernando County (also known as Florida's Adventure Coast). Famous for the mermaid shows at Weeki Wachee Springs State Park, there is plenty of natural adventure here too. Newly opened is the Bayport Kayak trail, an adventure you'll want to paddle for a spectacular ride through a salt marsh. And then there is Citrus County, with the largest gathering spot for manatees on Florida's West Coast, but also heralded as a prime destination to experience something unique – summer scalloping.
Soak up the Sun on Anclote Key Preserve State Park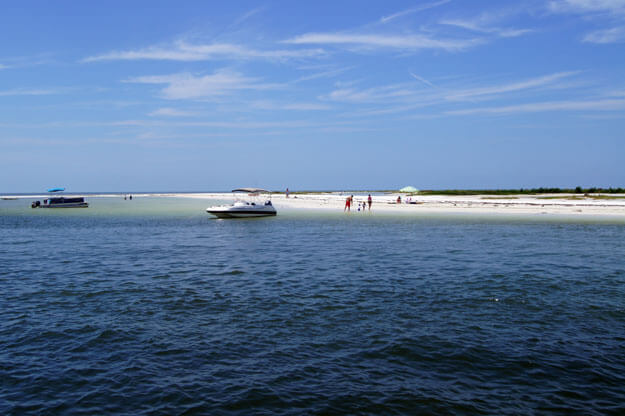 Anclote Key Preserve State Park
Drive 30 minutes north of Tampa or St. Petersburg and you'll cross into Pasco County. Here you will discover an offshore destination that is one of Florida's most famous Gulf barrier islands — Anclote Key Preserve State Park.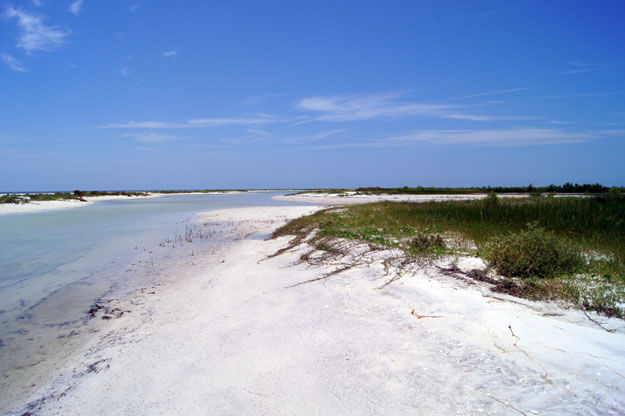 Walk the beaches at Anclote Key Preserve State Park 
Accessible only by boat, the island is surrounded by stunning turquoise waters with stretches of sandy beaches providing visitors the opportunity to soak up the sun, walk the seashore, shell and swim.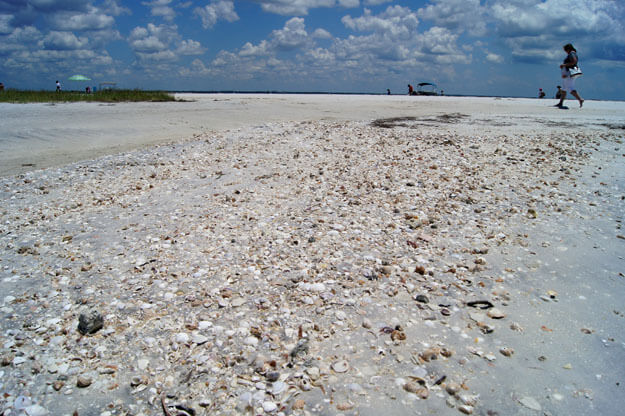 Abundant shelling at Anclote Key Preserve State Park
Charters from Pasco County run out to the island on a regular basis and pontoon boats can be rented so that visitors can navigate their way to the island on their own. Anclote Key is the northernmost island of a chain of four barrier islands that include North Anclote Bar, South Anclote Bar and Three Rooker Island.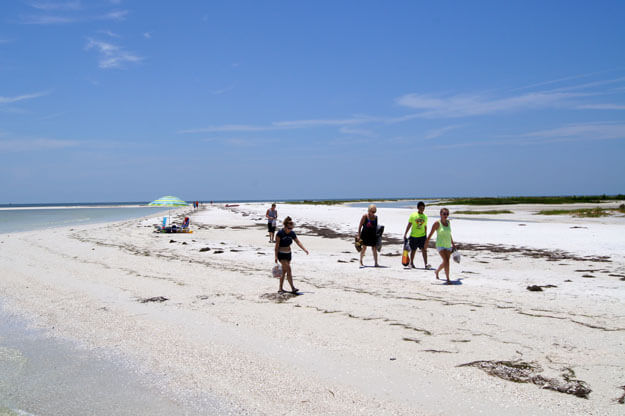 Miles of beaches to walk at Anclote Key Preserve State Park
Adventurers join other boaters as they swim and snorkel in the clear shallow waters, picnic and visit with newfound friends. The Gulf side of Anclote Key is where visitors can stroll mesmerized by the secluded pristine beaches set under deep blue skies. If you are fascinated with shells, you'll love the abundance of brightly colored specimens that the island is known for. Or hike to Anclote Key's historic 1887 lighthouse that frames a picture-perfect background.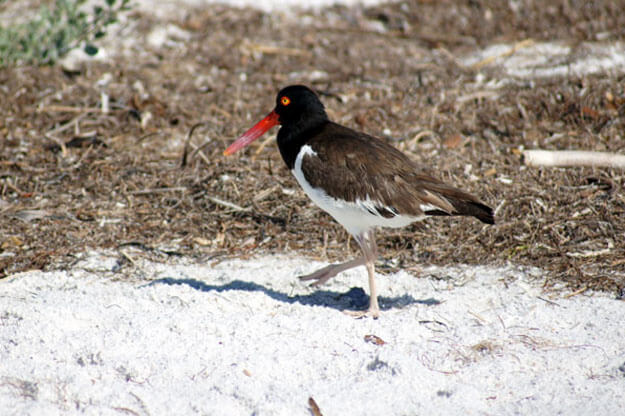 American Oystercatcher 
Since it is accessible only by boat, the island attracts more than 40 species of birds and is a popular destination for our feathered friends including the American Oystercatcher, Bald Eagle and Piping Plover.
And on your return trip, you might be escorted home by a family of dolphins surfing the boat wake while jumping in and out of the waves.
Ferry service from Pasco County: Island Paradise Charters and Windsong Charters (charters are also available from Tarpon Springs)
Where to rent a boat: Gil Dawg Marina, New Port Richey
Where to eat: Gil Dawg Tiki Bar and Grill, New Port Richey
Florida's Adventure Coast New Coastal Paddling Trail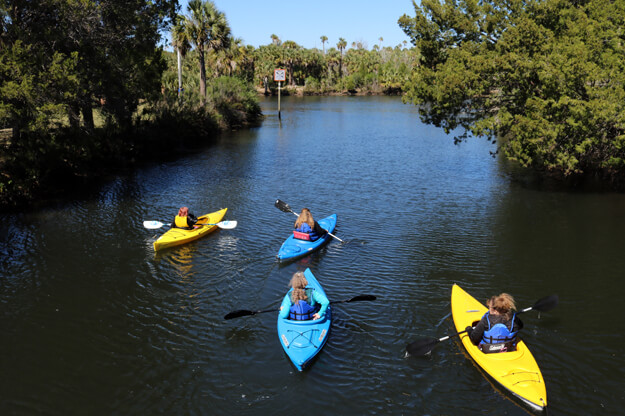 Florida's Adventure Coast new paddling trail
Pasco County's northern neighbor is Hernando County, aka Florida's Adventure Coast. It embodies everything Florida – from kitsch to the natural outdoors – with beautiful mermaids, endearing manatees, and rural living among emerald green rolling hills dotted by farms and forests.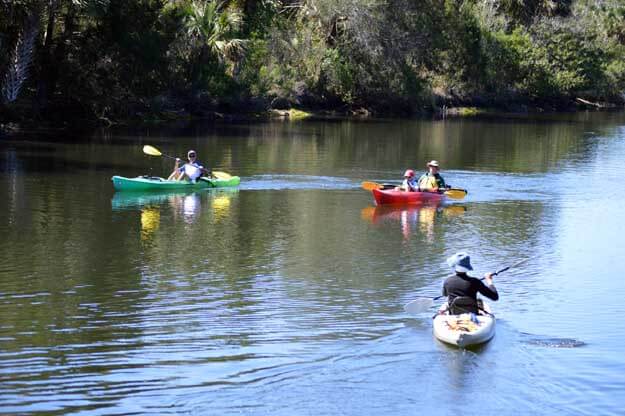 Bayport – Linda Pedersen Park kayak trail, photo Florida's Adventure Coast
Florida's Adventure Coast recently unveiled a new coastal paddling trail at the Bayport Park that is not only an enjoyable adventure but provides a scenic trip through a salt marsh ecosystem. The beauty of this adventure is the immersion into the natural surroundings of a tidal estuary, where fresh water from springs meets the salt water of the Gulf of Mexico. The paddling trail connects Bayport Park to Linda Pedersen Park with a navigable waterway that winds through inlets of cordgrass, cabbage palms and mangroves.
This labyrinth of wetlands characterized by shallow water and oyster bars provides a haven for wildlife where ospreys and bald eagles soar overhead and shorebirds, wood storks and herons stalk the water's edge.
The newly renovated and expanded Bayport Park sits on the Gulf of Mexico at the west end of State Road 50 (Cortez Boulevard). A fishing pier, boat and kayak ramps, parking and restrooms provide a range of amenities in addition to picnic and barbecue pavilions and a boardwalk with panoramic Gulf views.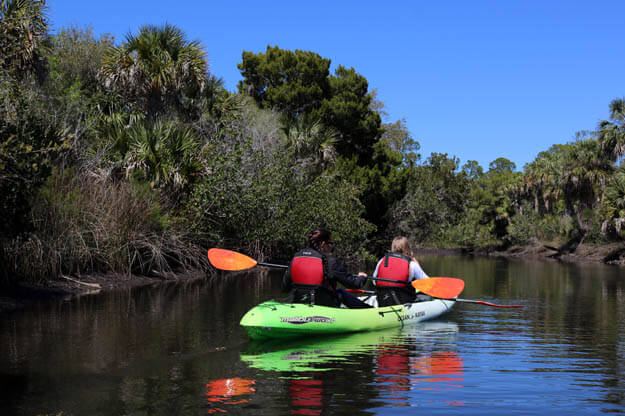 Kayakers paddle the new trail 
The paddling trail is a 1.7-mile blue-way from Bayport Park to Linda Pedersen Park via Jenkins Creek with signs leading the way. Launch your adventure by bringing your own kayak, canoe or stand-up paddleboard, or contact an area outfitter to meet at the park with your equipment (and they can possibly meet you at Linda Pedersen Park for a return trip to Bayport Park). For additional side adventures, explore the 1.4-mile Redfish Bayou Loop.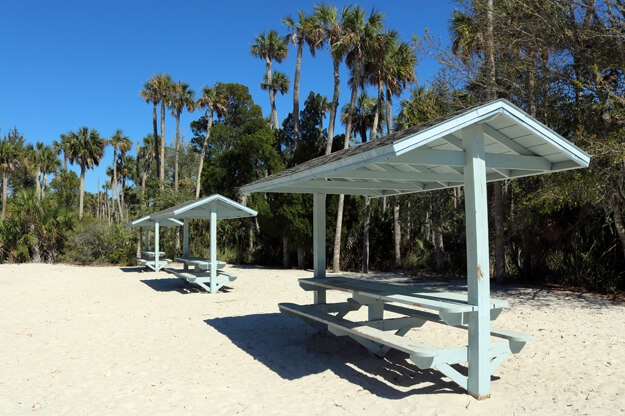 Linda Pedersen Park, Florida's Adventure Coast
Linda Pedersen Park is your final destination and well worth the trip. The park is fully accommodating to kayakers with several pullout/launch points. Picnic facilities provide an enjoyable place to savor lunch and local springs feed into the waterways giving manatees a place to congregate.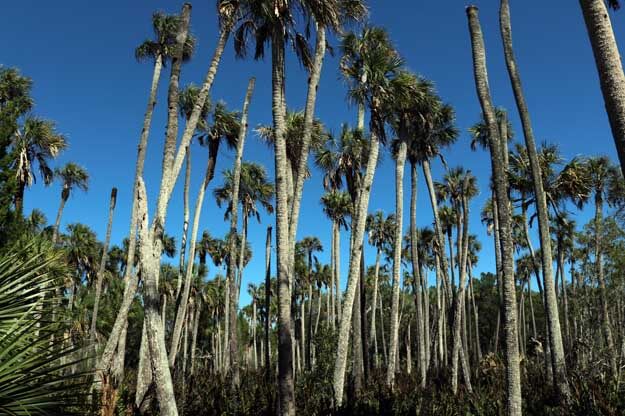 Sabal Palm Forest, Linda Pedersen Park
Don't miss the breathtaking and thick Sabal Palm forest that borders the sandy (beach) park, an amazing spectacle of coastal wilderness.
Where to Stay: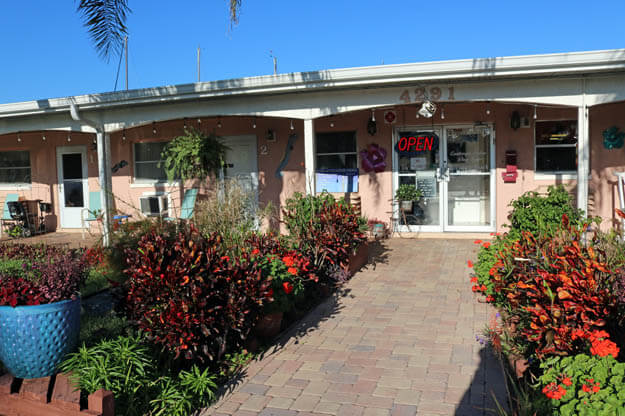 Hernando Beach Motel
In nearby Hernando Beach, the Hernando Beach Motel offers a charming place to stay during your visit. Fully furnished rooms are situated on the waterfront that is accessible to the Gulf of Mexico. Boat slips are available where guests can enjoy the waterfront ambiance while dolphins and manatees swim by. The motel offers boat and kayak rentals.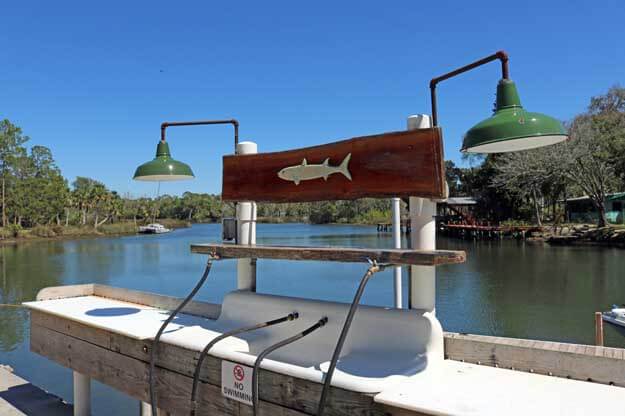 Mary's Fish Camp 
Nearby, Mary's Fish Camp, nestled in the community of Bayport, has been a landmark fishing spot for more than 70 years. Mary's is equipped with three furnished cabins with kitchens and 17 RV sites for campers. Canoes, kayaks and paddleboards are available for rent.
Kayak Outfitter: Kathy Oleson, Kayaks and Attractions (352)942-3236
Where to Eat: BeckyJacks Food Shack, Weeki Wachee
Summer Scalloping is a Feast for the Whole Family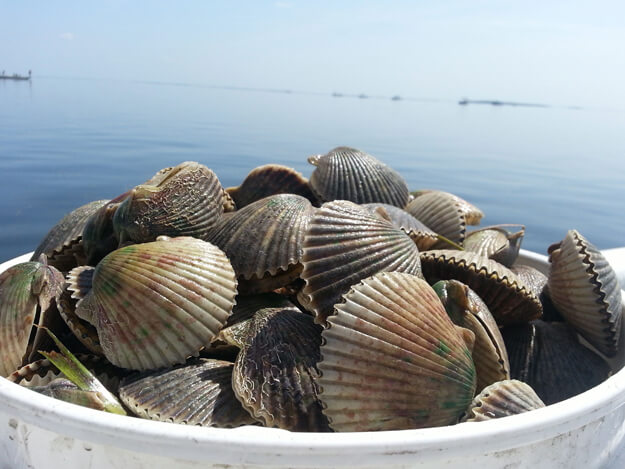 Buckets of scallops, Discover Crystal River
The third adventure on the Nature Coast is set in Citrus County (known as Discover Crystal River) north of Hernando County. This is where the annual Florida scalloping season kicks off on July 1. Pack up the family for good times and a delicious seafood feast where the towns of Crystal River and Homosassa shift into full swing. The area is known year around for its abundance of fresh Florida springs, but during the summer it is one the most popular scalloping destinations on the entire Gulf Coast. The 2017 summer scallop season extends through September, and has become a tradition for many Florida families.
Out on Crystal Bay, acres of shallow grass flats provide fertile scalloping grounds. One of the reasons this area is an ideal home for scallops is the abundance of fresh water flowing from the springs to the salty Gulf of Mexico, creating ideal estuary conditions.

Florida scallop
Scallops are grayish (or orange) in color, with neon blue eyes popping through the opening. Size-wise they fit perfectly into the palm of a hand and are round with ridges.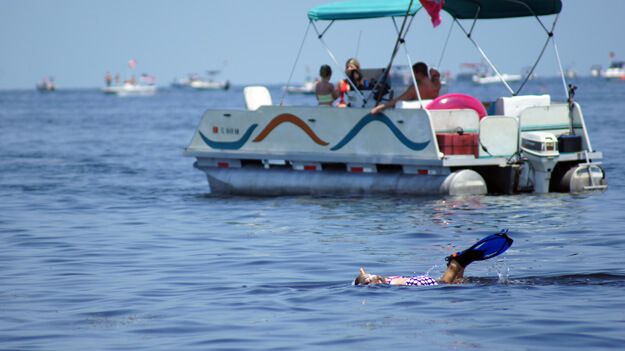 Scallop hunters swim along the surface in search of the mollusks
To enjoy this experience, scallopers bring or rent a boat, or go with a scalloping guide. For your first time, consider a trip with a guide who is familiar with the area. Many boat captains carry several families on one trip, so the costs can be shared.
Scallop hunters bring masks, snorkel, fins, mesh dive bags and gloves to prepare for the adventure. Once outfitted, snorkelers swim on the water's surface looking for scallops below. The crystal clear water provides a view of nature's aquarium, as pastures of manatee grass sway amongst patches of sand. Scallops often hide within the grass but are also found floating on top of the grass in depths of four to six feet.
Once out at the scalloping grounds it is much like a saltwater tailgate party. The sounds of summer fun are in the air among slews of boats while music plays and families cheer on swimmers to find more scallops.

Swimmer enter an underwater marine museum
But the joy of this experience is more than finding scallops. Sea grass beds are very productive ecosystems that support an abundance of sea life. Swimmers enter an underwater marine museum where starfish, coral, seahorses, turtles and fish of all kinds – needlefish, pinfish, sea trout and minnows add to the experience. Manatees swim by munching on the grasses on their way to a local spring.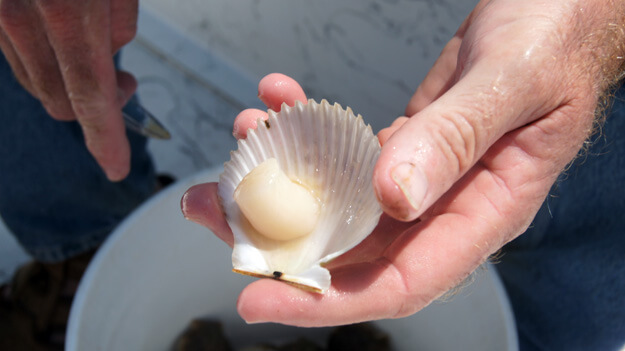 The white meat of the scallop is removed and placed on ice
Once scallops are brought to the boat, they are placed on ice and cleaned. An oyster knife is used to pry open the scallop and remove the precious white meat.
Back on shore, many local restaurants will cook the scallops (for an extra charge) and some families pack grills and cook outside their hotel rooms.
But one thing is for sure, catching and enjoying fresh scallops is a meal you'll never forget on Florida's Nature Coast.
Where to Book a Guide: Homosassa Guides Association 
Where to Stay: The Plantation on Crystal River (call for scalloping packages)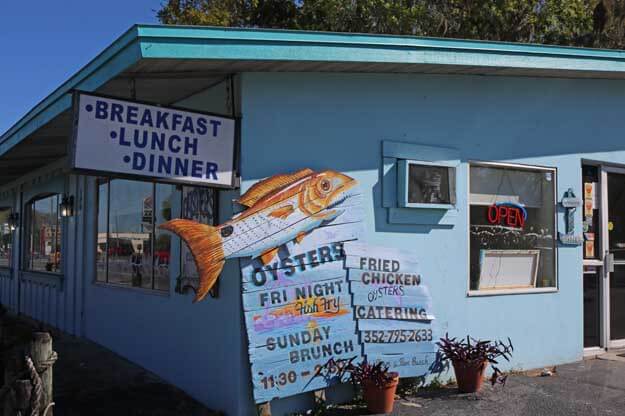 Oysters Restaurant, Crystal River
Where to Eat: Oysters of Crystal River; Peck's, Ozello
The Freezer, Homosassa (5590 S. Boulevard Dr); Wild Sassa (food truck), Homosassa
To receive Authentic Florida's free ENEWs, featuring travel and living updates, delivered weekly, sign up on the home page Authentic Florida, voted Blog of the Year and Best Travel Blog at the Orlando Sunshine Awards.   
---
If You Go
For more information visit: