Beach walkers, Bahia Honda State Park, the Florida Keys
One of the best-kept secrets and true bargains for those traveling to the Florida Keys lies in its state and national parks. An escape to the Florida Keys may be just what you need to relax and let life become what it was meant to be.
It's a tropical destination where the feeling is definitely Caribbean. Palm trees and ocean breezes welcome the weary, and the underwater treasures of the Florida Reef offer soul-renewing world-class fishing, diving, snorkeling and boating. If you like seafood, there's no fresher "catch" anywhere. Accommodations range from quaint to luxurious and your choices are limitless for the perfect tropical getaway.
Distanced from urban congestion, its remote charm does not require a passport but it does make costs higher and demand greater. As a result, hotels and restaurants often trend to the "pricier" side.
So you need to know the secret, especially if you are a budget conscious traveler. True bargains can be found in the Florida Keys by taking advantage of its parks. There are plenty to choose from, but we share some of our favorites for the "real" Florida Keys experience.
Starting at John Pennekamp State Park off Key Largo, you'll find an underwater aquarium of beautiful marine life amongst ocean blue water. Traveling mid-way through the Florida Keys, the Indian and Lignumvitae Keys off Islamorada provide history, archeological sites and natural beauty, both available by boat. Heading to the lower Keys, travel to Bahia Honda State Park, which boasts the most beautiful beaches. And finally, an often over-looked jewel will be found at the Dry Tortugas National Park west of Key West.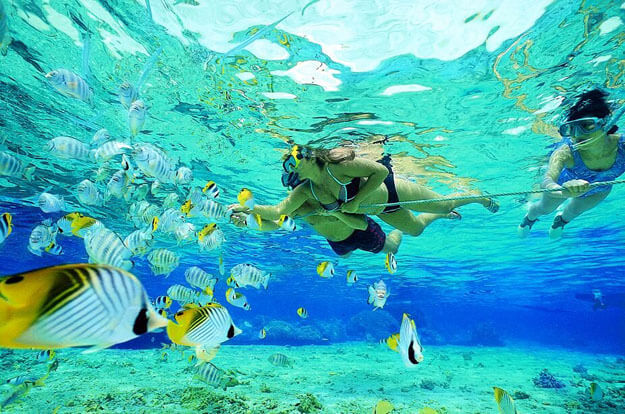 John Pennekamp State Park, photo courtesty of Bayside Key Largo
John Pennekamp Coral Reef State Park, Key Largo
No trip to the Keys is complete without a trip to this park. The John Pennekamp State Park was the first undersea park created in the United States. It protects the only living coral reef in the continental U.S, serving as an important habitat for marine plants and animals. Approximately six miles offshore, the underwater museum is home to vibrant coral, sponges, sea grasses and a dazzling array of over 600 species of fish, crabs, lobster, shrimp and turtles.
The John Pennekamp Park and Visitor Center, at Mile Marker 102.5, hosts an aquarium with engaging exhibits. Pennekamp also offers snorkel, scuba and glass bottom boat tours. Local, private outfitters offer trips as well. Call ahead for reservations and consider a park tour or a private dive operator for your initial visit.
   
Indian Key State Park, The Florida Keys
Indian Key State Park, Lower Matecombe Key
The ten-acre Indian Key is located less than a mile from the shore of Lower Matecombe Key. It is only accessible by water, so consider renting a boat or kayak, available at Robbie's Marina, Oceanside, Mile Marker 78.5 at 305.664.9814, or travel with a private operator. It's an easy 20-minute kayak paddle over shallow water. Dockage and kayak landing is accessible on the west and south sides. An easy, self-guided tour circles the island with a wooden lookout tower featuring a panoramic view. The first island inhabitants were the Indians, followed by fisherman. Eventually "wreckers" took over the island as "wrecking" became a way of life in the Keys. The shallow reefs just offshore posed a hazard to shipping. Spanish vessels, caught in storms or shipwrecked on the shallow reefs carried prize cargo from the Maya, Inca and Aztec empires.
Over time, commercial seafaring ships, plying the shipping lanes from the Caribbean, Central and South America to the eastern United States added to the wreckage, making the lucrative salvage industry a top industry in the Keys. Indian Key became home base for Jacob Housman, an entrepreneurial salvager ostracized by a colony of Key West wreckers. He created an entire tiny island town with a store, hotel, cisterns, warehouses and wharves.  Most of the buildings were later destroyed by an Indian attack, but archaeological signs and markers remain denoting the significant landmarks.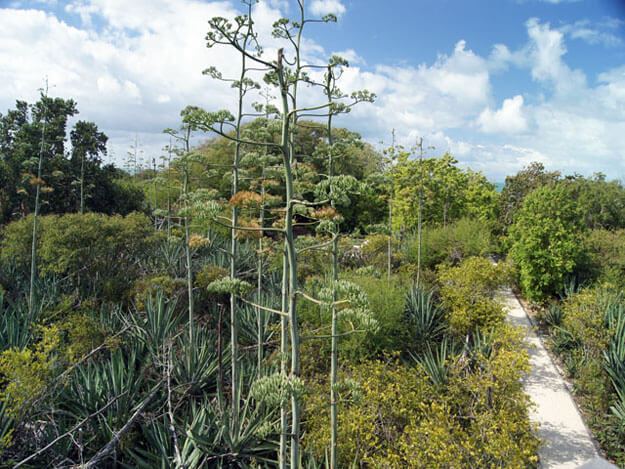 Indian Key State Park, the Florida Keys 
Lignumvitae Key Botanical State Park
This state park is also situated near Lower Matecombe Key, not far from Indian Key on the north side (bay side) of the Overseas Highway, at Mile Marker 78.5. Wild and natural, Lignumvitae provides a rare snapshot of how the Keys once looked, and how islanders lived. On the key is the last remaining example of the virgin tropical hardwood forest that was typical of many islands in the Keys. The Lignumvitae tree (Latin for wood of life) is a dense, tough wood used for ship hulls and propeller shafts during WWII.
Unique tropical trees such as gumbo limbo, strangler figs, Jamaican dogwood and mahogany inhabit the island. William J. Matheson from Miami purchased the island in 1919 and built a house complete with a water catchment cistern for capturing rain from the roof runoff and a windmill to supply power. The home (refurbished after various storms) is still standing and serves as the park's visitor center today.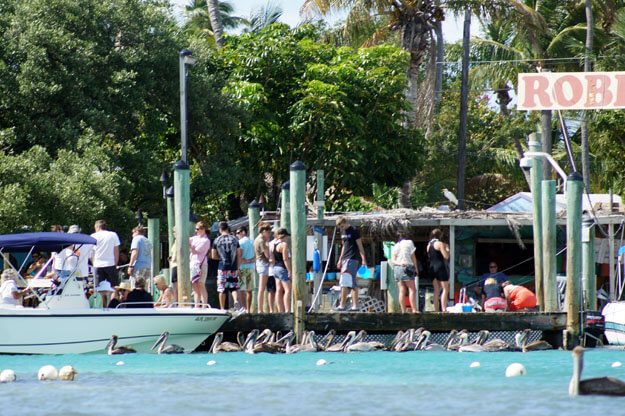 Robbie's Marina, location to board or rent boats to Indian or Lignumvitae State Parks
Ranger-guided tours are offered twice a day, Friday through Sunday. The park can be accessed via boat tours departing at 8:30 a.m. Friday-Sunday from Robbie's Marina. Call 305.664.9814 to reserve your space. If going on your own, dockage and kayak landing is on the east side of the Key. Mosquitoes can be a bother, depending on the time of year, so it's a good idea to bring bug spray and to wear long sleeve shirts and pants. 

Bahia Honda State Park, the Florida Keys
Bahia Honda State Park, Bahia Honda Key
After crossing the Seven Mile Bridge, you'll see Bahia Honda State Park at Mile Marker 37.  It's well known for some of the best beaches in the Keys, such as the lovely Caribbean-like Sandspur Beach where emerald green water gently laps the white sandy shore. On the park's west end Calusa Beach faces the deepest natural channel in the Florida Keys with a roped swimming area and a small marina. Nearby, the majestic old Flagler Bridge is an historical reminder of days gone by, where Henry Flagler's Overseas Railroad has long since been replaced by the Overseas Highway.
The park's nature trail has a rare collection of marine plants such as silver palms, yellow satinwood and gumbo limbo. Canoes and kayaks can be rented at the concession stand and the park offers snorkeling tours to Looe Key National Marine Sanctuary. Modern cabins face the bayside and plenty of campsites are available. 

Dry Tortugas, Walking the moat surrounding Fort Jefferson
The Dry Tortugas National Park 
Seventy miles west of the Florida Keys lay a cluster of small coral islands called the Dry Tortugas. Surrounded by clear turquoise water and rimmed with crystalline sandy beaches, the islands were discovered by explorer Ponce de Leon in 1513 who found the area filled with sea turtles, thus calling it Las Tortugas (The Turtles). The "dry" designation was added to warn newcomers that it was uninhabitable due to a lack of fresh water.
Today, this rare combination of a marine wildlife refuge, a national park, and a 19th century historical fort in a tropical, exotic setting make it a trip you don't want to miss while visiting the Florida Keys. As the southernmost point along the maritime U.S. shipping lanes, the Dry Tortugas became a natural location for a military outpost, the primary reason Fort Jefferson was built.
There are a few ways to get to the Dry Tortugas. From Key West the National Park Ferry, Yankee Freedom, a 110-foot catamaran, will take you on a full day excursion. Private tour operators will get you there too – either by seaplane or private boat.
The outbound trip to the island lasts two and one-half hours. You'll pass the Marquesas Islands, Boca Grande National Bird Sanctuary, and deep sunken shipwrecks while admiring dolphins and sea turtles. Upon arriving, the ferry will dock for the day, while you get to choose from a wide assortment of things to do.  Hiking the fort, snorkeling the spectacular waters, relaxing on the beach, birding for rare and unique species are just a few of the enjoyable ways to spend your day. Primitive camping is offered for those who want to stay longer.

Fort Jefferson, Dry Tortugas National Park
Fort Jefferson
More than 16,000 red, handmade bricks make up the hexagonal (6-sided) fort. Thick eight-foot wide walls towering 45-feet high form one of the nation's largest masonry forts ever built.
Surrounded by a moat, this intimidating fort never actually saw active combat, but was home to thousands of soldiers as well as civilian workers who lived in the remote setting. Walking through the fort, you'll gain an appreciation for life over 150 years ago.
Designated as a national park in 1992, it was designed to protect the national treasures, the endangered turtles, birds and marine life.  Migrating birds use the Dry Tortugas as a key stop over so don't forget the binoculars.
Finally, whether visiting the Florida Keys for pure relaxation, the tasty seafood or the wide array of water activities, you'll enjoy a getaway filled with fun. But don't forget to stop at the state and national parks. They make the tropics even more memorable and you just may have a little change left in your pockets.
To receive Authentic Florida's free ENEWs, featuring travel and living updates, delivered weekly, sign up on the home page Authentic Florida, voted Blog of the Year and Best Travel Blog at the Orlando Sunshine Awards.  
---