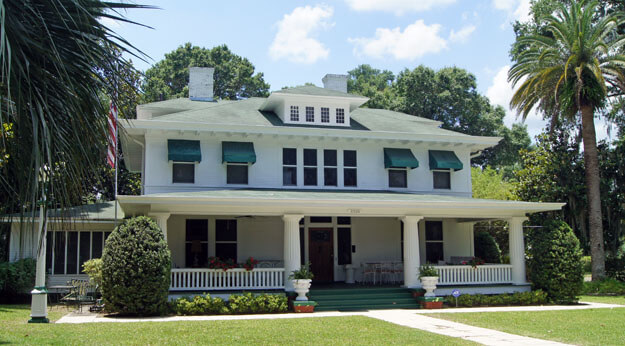 Amidst green hills and pastures, an hour north of Tampa and a little over an hour west of Orlando, you'll find Dade City and lots of groves dedicated to Florida's "golden gem," also known as the kumquat.

Freshly picked Florida Kumquats
Dade City, an unhurried, laid-back Florida town with an immense southern charm that combines history, hospitality, and farm-to-table cuisine, delivers visitors a tasty dose of authentic Florida. It's truly one of our favorite destinations.

Historic Dade City Courthouse
There are lots of places to visit and things you won't want to miss. The centerpiece of the town square is the classic 1909 revival-style beautifully restored courthouse. On the National Register of Historic Places, the courthouse's neoclassical dome and its clock proudly proclaim the city as the County seat.

Downtown Dade City is known for its antique shops
Adjacent to the square, visitors can browse the local antique shops including Antiques on Main, specializing in folk art and primitive antique treasures, Ivy Cottage Antiques & Wine Shop.
Charming local gift shops include The Dade City Magnolia House and Lori Ann's and for another quaint experience, stop in at Quilts on Plum Lane.

Kumquat Refrigerator Pie
Historic downtown Dade City is also the place to take advantage of the excellent restaurants. Consider starting your gastronomic tour at a local classic, Lunch on Limoges. This southern restaurant, gift shop, and women's clothing shop offers chalkboard menu items with a southern flair as ladies lunch and also catch up on the town news. The gastronomic display of cakes and pies including the seasonal kumquat cake will tempt anyone who loves old-fashioned, homemade desserts.

Lunch on Limoges is a classic for good southern food
Consider starting your gastronomic tour at a local classic, Lunch on Limoges. This southern restaurant, gift shop, and women's clothing shop offers chalkboard menu items such as Pecan Chicken, Pecan Grouper, or their signature Chicken Salad, plus an array of sumptuous, seasonal desserts.
Kafe Kokopelli is another local favorite. Once a Model T salesroom for the Florida Motor Company, the restaurant is adorned with old Florida relics, photos, and art. Chef Steven Queen offers a sumptuous dining menu including local Florida favorites of fried green tomato napoleon, fried gator, catfish sandwich, and also mixed organic salads.
Another favorite, off the square, especially for down-home cooking, is Steph's Southern Soul Restaurant (14519 5th St.) with a local fresh menu of fried chicken, meatloaf, ribs, greens, and also fresh fruit desserts. Dade City (and nearby communities) most definitely serves up a cornucopia of good food.

Dade City Pioneer Museum & Village
And for some fascinating history on the area head north of Dade City to the Pioneer Florida Museum & Village. This walking village portrays a complete real-life look at Florida pioneer "Cracker" living. Actual buildings, many saved from demolition, were also brought to this site to create a living history exhibit. Visitors can experience a wide range of old Florida life through this experience while walking into Florida's past.

Joy-Lan Drive-In Theatre in Dade City
At night, Dade City is home to one of just a few remaining drive-in movie theatres in the Sunshine State. The Joy- Lan screen is the largest digital screen in Pasco County and shows first-run movies. The refreshment center is also authentically decorated with photos of their staff and guests over the years. You won't want to miss a night out at the movies … old school style.
 
Lunch on Limoges homemade Kumquat Cake
All it takes is one interesting small fruit, farm-to-table dining also mixed with small-town charm, and you'll have all of the ingredients for an authentic Florida adventure in Dade City.

AuthenticFlorida.com was named Best Travel Blog at the 2018 Sunshine Awards. 
To receive Authentic Florida's free weekly ENEWs, sign up on our Authentic Florida home page.
To inquire about partnerships/advertising, please contact melanie@authenticflorida.com 
Proud Member of: 

---
Comments are closed.