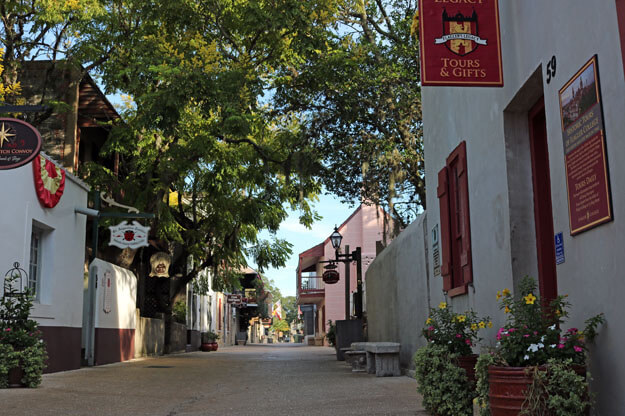 A Romantic Weekend Away in St. Augustine
For a weekend away, try some old world charm in St. Augustine, ideal for a romantic destination. This centuries-old town is a great getaway for those wanting a change of pace combining historical landmarks, beautiful beaches, eclectic dining, fresh seafood and locally inspired farm to table restaurants.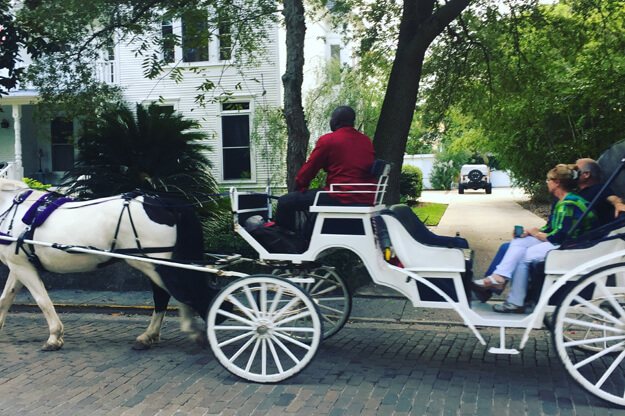 Try a romantic carriage ride through St. Augustine 
Adventure through old neighborhoods, walk along brick-paved streets and meander down hidden alleyways. At sunset, join lovers and families as they walk the waterfront promenade from the Bridge of Lions to the Castillo de San Marcos, the centerpiece of St. Augustine's historic district. Consider a romantic carriage ride under the stars or even a moonlit evening champagne toast at the top of the St. Augustine Lighthouse.

A set of marble lion statues sit at the base of St. Augustine's Bridge of Lions 
For foodies, St. Augustine offers an endless selection of places to dine. Eat your way through the city's multi-cultural history by dining on dishes with Spanish, British, French, Greek and Minorcan flavors. Many independently owned restaurants and taverns flourish in this town where you can sample the locally harvested datil pepper with its signature sweet burn, a bowl of flavorful Minorcan clam chowder and plateful of local shrimp.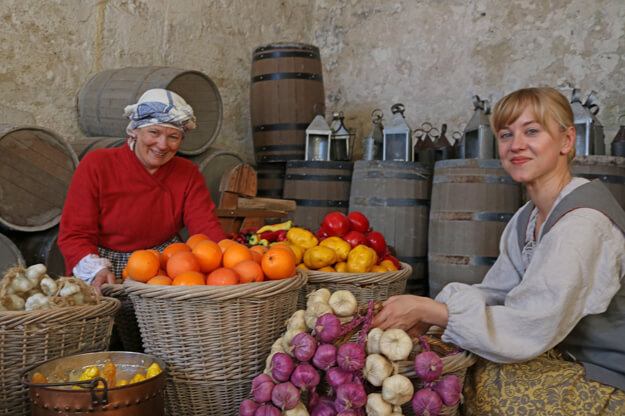 Locals bring St. Augustine history to life (Castillo de San Marcos) 
Settled by Spanish explorers in 1565, the "Historic Coast" is known for its history and the charming touristy vibe. Trams circle historical landmarks as drivers regale visitors with stories noting its antiquity. Tours of every kind are available here – historic, food, wine and even ghost tours – all uncovering the layers of the town's enduring history. You may even chance upon a random archaeologist excavating a new chapter of St. Augustine history.
To make your weekend extra special – one that will be packed with memories, here are some ideas to help plan your next visit.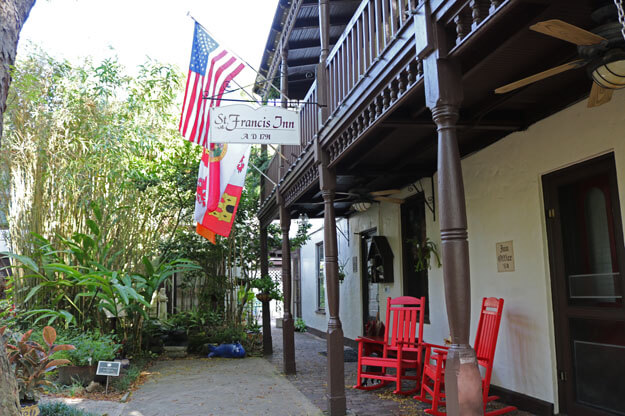 The St. Francis Inn is St. Augustine's oldest inn
It all begins with a romantic Bed & Breakfast Inn.
There are many to choose from but St. Augustine's oldest Inn, the St. Francis, a charming bed & breakfast, dates back to 1791. This quiet retreat traces its beginnings from the Second Spanish Colonial period with 17 quaint rooms, appointed with unique antiques in relaxed comfort.
Situated in a quiet neighborhood within easy walking distance to most everything and steps away from St. Augustine's Oldest House, the Inn includes a buffet breakfast, social hour and late night desserts that can be enjoyed in an intimate European courtyard. Added amenities include a swimming pool, parking and complimentary bicycles.
The next morning rise and shine to a delicious homemade breakfast and be on your way for your St. Augustine discoveries. 
Bike through St. Augustine History

Chocolate covered datil peppers
Many of the St. Augustine inns have bikes available including the St. Francis Inn. Find a bike, slip on a backpack, grab a map, or your phone, and venture through the scenic neighborhoods of the old city. Make your first pit stop on Cordova Avenue at Hot Shot Bakery & Café to pick up lunch. If you missed your morning Joe, you may even want to sample a few unique drinks including the Minorcan Moccha or the Datil Smoothie. Order a handcrafted panini or wrap, and select from the signature datil pepper baked goods or try the chocolate covered datil peppers. With lunch in hand, bike through the historic district on Hypolita Street to the waterfront and ride north along the sidewalk that parallels Avenida Menendez.

Castillo de San Marcos is the oldest masonry fort in the continental U.S. 
Next stop, Castillo de San Marcos. Take in a magnificent morning view at the Castillo de San Marcos, the oldest masonry fort in the continental U.S. Created from locally sourced coquina, a mixture of shell and limestone. The indestructible fortress took 23 years to build, and played a key role in protecting the Spanish when they ruled St. Augustine during the 17th and 18th centuries.

Castillo de San Marcos 
Walk the grounds and meet the volunteer re-enactors who bring the fort to life. Hike to the top of the fortress and breathe in the fresh air under royal blue skies as you take in the 360-degree panorama. You'll soon know why the Spanish built this immense fortress with a commanding view of the harbor. Capture the quintessential St. Augustine "selfie" standing inside one of the turrets or next to a cannon.

Shrine of Our Lady of La Leche
Continue pedaling north along Avenida Menendez (becomes San Marco Avenue, A1A) to the Mission Nombre de Dios. The landmark will be the towering 208-foot Great Cross overlooking the Matanzas Bay. This location marks where Pedro Menedez de Aviles first landed claiming the area for Spain and the location of the first Catholic mass. But it's a charming reconstructed chapel known as the Shrine of Our Lady of La Leche dating back to the 1600's tucked away within the shady park that makes it worth the stop. Enjoy some peaceful contemplation, find a bench and enjoy your lunch.

Fountain of Youth Franciscan Mission de Nombre
Just a few blocks away will be your next stop. Situated in a quiet neighborhood, the Fountain of Youth Archaeological Park is the original site of the nation's oldest city. Located in the area first explored by Juan Ponce de Leon in 1513 and settled by Pedro Menendez de Aviles in 1565, this "old Florida" property includes the original "spring" or mythical "fountain of youth" and a mix of reconstructed settings that bring St. Augustine's history to life.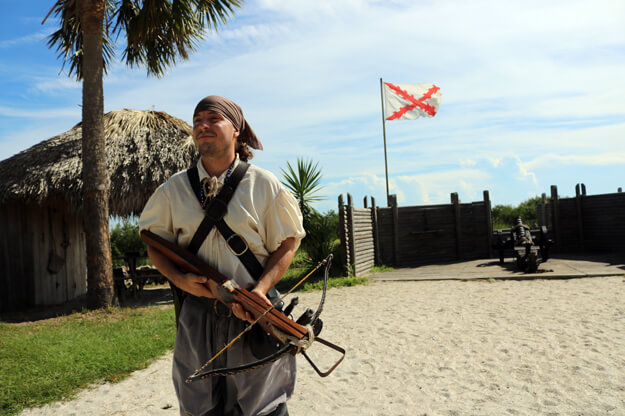 Fountain of Youth weapon demonstration
Walk through a Tumucua family compound representing life in the Timucuan capital of Seloy, designed to recognize the Native Americans who inhabited the region thousands of years before the Spanish. Enter a reconstructed thatched 1587 Franciscan Mission Nombre de Dios that began the Spanish mission system in the new world; observe a blacksmith demonstrating the tools of the trade over a hot fire; walk to the waterfront to see the replica of a Chalupa, a 16th century Spanish utility boat; witness a 16th century cannon create a deafening boom as it is fired; and climb the Spanish watchtower overlooking Matanzas Bay designed as an early warning system for enemy attacks. Visit with the costumed re-enactors – a Franciscan friar priest, a Timucua interpreter and weapons demonstrators – all happy to share stories and tales of the period.
If you didn't bring lunch, enjoy one of the best secrets in St. Augustine, the onsite Fountain of Youth Five Flags Café run by Chef Brian Whittington, a James Beard award finalist. Tempt yourself with the Cuban sandwich and the black beans and rice.

St. Augustine's St. George Street 
By now, you'll be ready to relax over some noshes and cocktails so cycle back to historic Old Town. Park your bikes before walking the pedestrian-only St. George Street where shops, restaurants, pubs, wine bars, sidewalk cafes line the street. Find a place to relax and enjoy some people watching. You'll be amazed at the eclectic personalities that walk St. George Street including local pirates, winches and colonial soldiers, some from the Colonial Quarter exhibiting three centuries of Spanish (and British) colonial life.

St. Augustine Ice Plant Bar
From there, deciding where to plan a St. Augustine dinner will be your biggest challenge. Seafood? The list is endless: But favorites for the fresh local fare include Schooners Seafood House, Creekside Dinery or the classic Barnacle Bills for starters. If you are hungry for a plate of shrimp and grits, try the Floridian Restaurant known for its seasonal and sustainable southern dishes. For Cuban food, the Columbia Restaurant dishes up real, authentic cuisine. But if you are in the mood for fine dining consider the latest sensation, Preserved Restaurant (call ahead for reservations) for French-inspired southern cuisine or head to the Ice Plant Bar, for hand crafted adult beverages and farm raised food for a younger, hip vibe, that shares the building with the St. Augustine Distillery.
Salty Freshness: Farmer's Market, Beaching It & A View from Above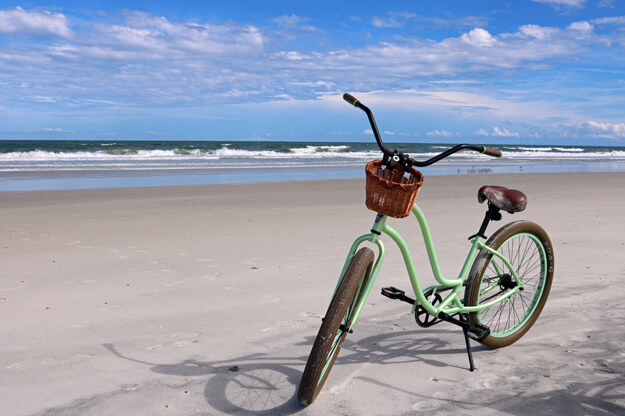 Anastasia Beach State Park
Another planned day takes you over the St. Augustine Bridge of Lions to Anastasia Beach, to the Farmer's Market and for a majestic view from high above.
The "oldest U.S. city" draws most travelers because of its rich history, but after visiting St. Augustine's attractions you may be ready for a walk on the beach, and the local Anastasia State Park has one of the best. Miles of gorgeous, wide-open beaches are accessed by long, wooden walkways across towering sand dunes. It's a perfect and picturesque place to take in a view of the vast blue Atlantic as you breathe in the fresh salt air. Nearby is Salt Run, a tidal salt marsh with an upland hammock where you can observe coastal birds and wildlife.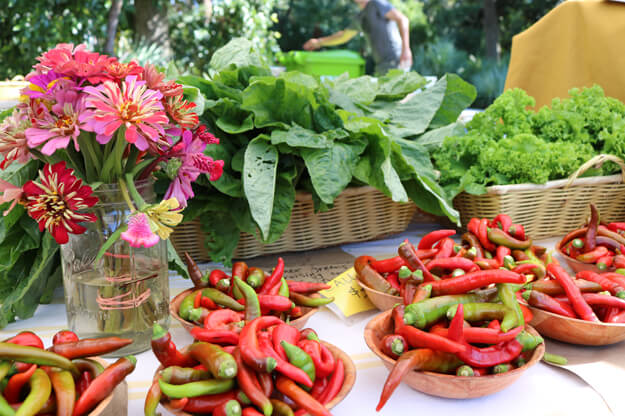 Old City Farmer's Market
If you happen to be in the area on a Saturday, wander through the Old City Farmer's Market located at the St. Augustine Amphitheatre. Grab your latte and walk along a row of tented purveyors offering fresh produce, coffee, breakfast, seafood, honey, and hand-crafted items as local musicians keep the vibe fun.
After a refreshing stroll on the beach, treat yourself to lunch at Osteen's Restaurant, a local institution where folks line up for the simple menu of tasty fried shrimp, oysters and local fish. Be sure to sample the Minorcan Clam Chowder, considered one of the best in town (cash only).
Next, are you ready to get your heart rate going? Most agree that there is something special about a lighthouse with towering shapes, unique history, and amazing tales of dedicated light keepers trudging up steep steps to help guide ships. The 219-step St. Augustine Lighthouse with its spiraling black and white stripes will continue your love affair with another maritime treasure.
Long ago built as a wooden sentry watchtower on the Matanzas Inlet, the first tower on U.S. soil to aid navigators became a predecessor to the current 140 year-old St. Augustine Lighthouse that still stands. The trip to the top is worth every step, especially for the breathtaking vista from high above.
For dinner, try the Sunset Grille for a view of the beach from the open-air deck and a taste of the "New Minorcan" chowder, a mix of New England and Minorcan chowder. Also on the island is local neighborhood favorite eatery Gypsy Cab, where the house-made salad dressing is so popular, they sell it by the bottle.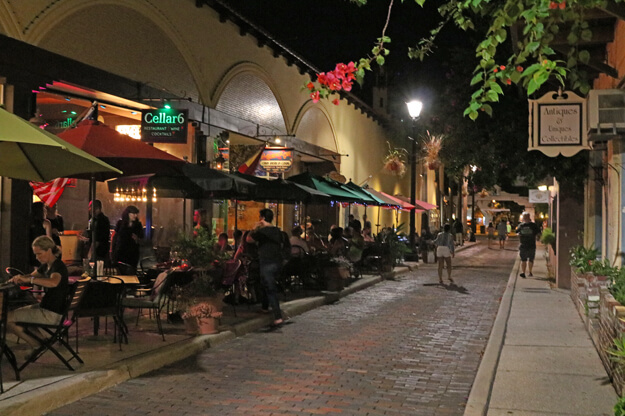 Aviles Street is home to late night fun
For a little nightlife, head back to town, to A1A Ale Works overlooking the Bridge of Lions or a walk along Aviles Street, the oldest public street in the country and home to late night fun.
It's "Whatever" Day – Pick and Choose
Next choose your own trail to round out your trip. Maybe it's a tour of Flagler College, another day on a sparkling beach, or a kayak ride through a stunning preserve. Or you just might want to continue eating your way through the Historic Coast.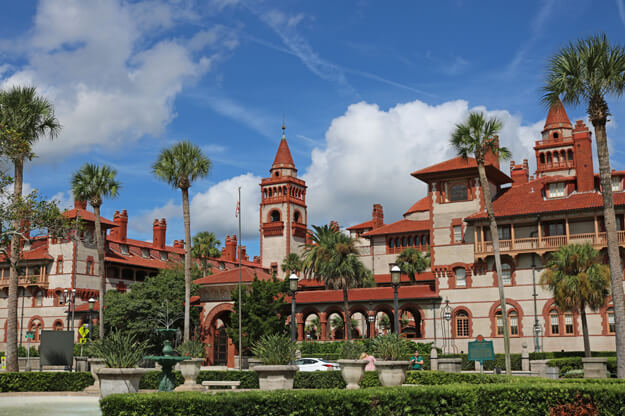 Flagler College 
Built by oil magnate and railroad baron Henry Flagler as the Hotel Ponce de Leon, it now houses Flagler College. Developed as a high-end luxury hotel and designed to attract the well-heeled tourists when it opened in 1888, it remains one of the most impressive buildings in the city to this day.
The student-led "legacy" tour (10 am – 2 pm daily) is considered one of the best in St. Augustine. You'll get the Flagler history while being led through the courtyard, gardens, gilded domed Rotunda and the "Hogwarts-style" dining room with Tiffany windows.

Florida's Historic Coast has plenty of beaches
More Beach Time
For more beach time you can choose from plenty of beaches, but one of the best is Villano Beach, accessed via A1A over the Usina Bridge. Hang with the locals, kick back, watch the surfers and kite boarders or just wander aimlessly scanning for beach treasures and shark teeth. This is your place to let it all go.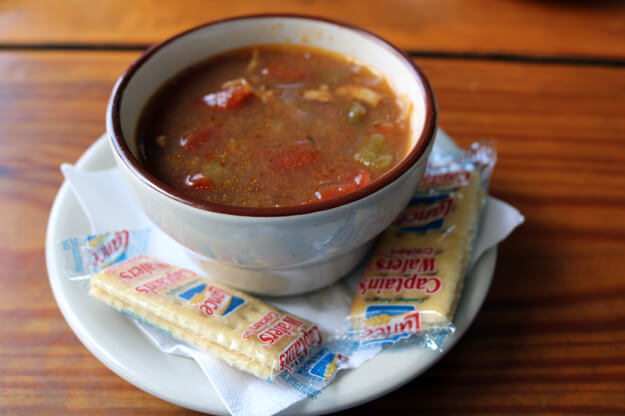 Aunt Kate's On the River Minorcan Clam Chowder 
For lunch, dinner or even a cocktail follow the locals to a legendary eatery for old Florida dining, Aunt Kate's On the River. This waterfront restaurant overlooks the scenic Tolomoto River setting the stage for tasty seafood dishes dating back to a time when Henry Flagler ferried his hotel guests out for oyster roasts. Continuing this legacy and celebrating the area's Minorcan (also spelled Menorcan) heritage, the restaurant is still serving fresh seafood, traditional Menorcan Pialu (rice) dish, datil cornbread, gator tail and the prized local Menorcan clam chowder.
Beaches at Vilano is another restaurant on the Intracoastal Waterway at the base of the Vilano Bridge. Dig your toes in the sand while watching the sunset as locals ride up by boat or wave runner. Enjoy a Key West vibe with live music on the deck and don't miss the datil pepper fish & grits.

Get outdoors on a kayak 
Get Close to Nature on a Kayak
Affectionately known as the GTM, (Guana Tolomato Matanzas National Estuarine Research Reserve), this unique ecosystem offers a chance for kayakers to enjoy a slice of northeast Florida's pristine nature in a vast, stunning estuary. Join Ripple Effect guided eco-tours to experience local wildlife while paddling through tidal creeks in a protected marine nursery. You may even chance upon bottlenose dolphins, sea turtles, migrating birds and bald eagles while quietly paddling through this Florida treasure.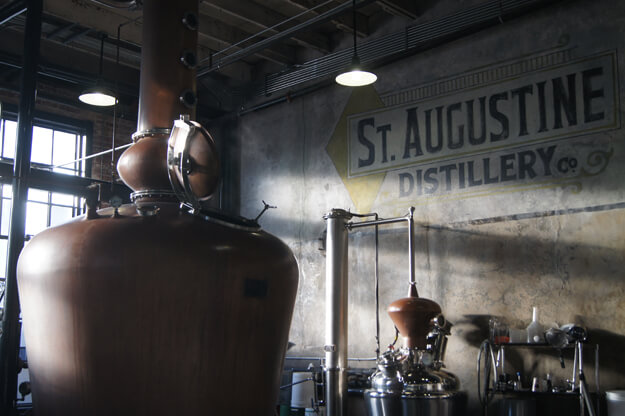 St. Augustine Distillery 
The St. Augustine Distillery, located in a renovated 1917 ice plant, hosts free tours where handcrafted small batch spirits (vodka, rum, gin and whiskey) are distilled. Learn about Florida's spirits-making history and the artisan distilling process. You'll even enjoy an adult beverage tasting following the tour.

St. Augustine's Haunted Pub Crawl
And one more idea: A Ghost Tour
It doesn't need to be Halloween in the Nation's oldest city for you to enjoy a ghost tour. This is year around spooky business and St. Augustine is one of the best places to go for a paranormal experience. Hipster Haunted Pub Crawls, food and wine tours, trolley and train adventures and the traditional graveyard haunts are just a sample of the offerings. And most of the guides are certified (yes, certified) to share stories of death, murder and mayhem.
There's no doubt that St. Augustine's fascinating history embedded with culture, fine epicure and fun makes Florida's Historic Coast a great choice to create your own love story – over and over again.
For more Authentic Florida St. Augustine stories:
Your Guide to an Epic St. Augustine Vacation 
Florida's Charming St. Augustine
Florida's Birding & Photo Fest Launches its 15th Year
Here are a few more St. Augustine inns to add to your list:
To receive Authentic Florida's free ENEWs, featuring travel and living updates, delivered weekly, sign up on the home page Authentic Florida, voted Blog of the Year and Best Travel Blog at the Orlando Sunshine Awards.       
---
Comments are closed.