Birding, St. Mark's National Wildlife Refuge
South of Tallahassee, on Florida's panhandle, St. Mark's National Wildlife Refuge provides an oasis for migratory birds as well as a permanent home for many local birds and wildlife. Stretching over 70,000 acres, across three counties and 40 miles of Florida's Gulf coast, a slice of stunning beauty in northern Florida awaits the avid nature traveler.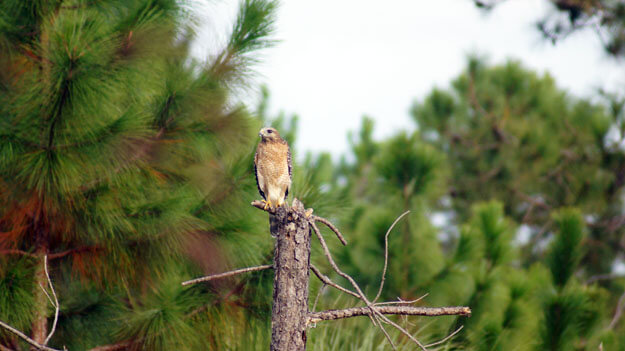 Red Shouldered Hawk, St. Mark's National Wildlife Refuge
Considered one of the most desired birding spots in Florida, the refuge gives our feathered friends an exceptional reason to stop and rest after escaping the cooler northern temperatures. From October through spring, bird watching is premium at St. Mark's with three hundred species of resident and seasonal visitors. Bald eagles, ducks, geese, hawks, falcons and shorebirds are common. Endangered and threatened species such as the least tern, swallow-tailed kite, whooping crane, peregrine falcon, red-cockaded woodpecker, and the Wilson's plover make this preserve their home.

Scenic beauty at St. Mark's Refuge
Even if you're not a birder, the refuge offers plenty of outdoors for play, whether hiking, biking or sitting quietly on a bench. Vistas of wide-open blue skies contrast with an amber, brown and green landscape of diverse natural habitats offering a respite from everyday life.

Wide open blue skies, St. Mark's Refuge
The St. Marks Wildlife Refuge covers a lot of territory on the state's "big bend." The full refuge has four sub-sections: The St. Mark's area serves as the base for the Visitor Center and the St. Mark's Lighthouse. There you'll find pine flatwoods, swamps and man-made pools, or impoundments, created for wildlife. The other three areas are the Wakulla section containing hardwood hammocks, swamps and more pine flatwoods; the Panacea section, distinguished by tidal marshes, sandhills and flatwoods; and the Aucilla area, including the Aucilla River, swamp and wetlands.

Coastal beauty, St. Mark's Refuge
Towering 80 feet high, the Lighthouse, constructed in 1842, was the third built at this site to assist ships navigating the difficult St. Marks River channel. Through the years the historical lighthouse, with walls four foot thick at the base, survived hurricanes in 1843 and 1851, plus bombardment by Union navy ships and attempted destruction by Confederate troops during the Civil War.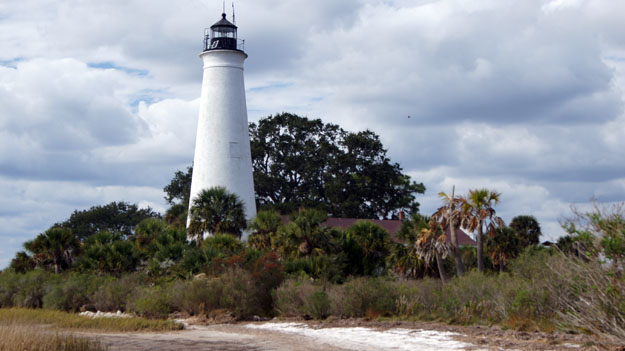 St. Mark's National Refuge Lighthouse
The lighthouse is not open to the public, but you'll see lots of waterfowl while admiring the tidal flats on the Bay.  Native Florida plants are everywhere adding both color and interest and if you like to fish, flounder, redfish and trout are reported to be plentiful in the area. Many visitors bring kayaks for access to the shallow water fishing.

Hiking Trails, St. Mark's Refuge
If you're a bike enthusiast, this is an excellent place to ride, especially early mornings for wildlife viewing. Or if you enjoy hiking, you'll see more birds by walking the variety of trails, most of which are relatively easy and under a mile long. The Plum Orchard Pond Trail (behind the Visitor Center), Headquarters Pond Trail and Towers Pond Trails are worth a trip. We particularly enjoyed the Towers Pond look-out while enjoying lunch. Lighthouse Pool and Cedar Point trails are the coastal walks with plenty of birds about.

American Alligator, St. Mark's Refuge
Bobcats, raccoons, feral hogs and black bears are just some of the wildlife that live at the refuge. If you are curious or even fascinated with alligators, St. Marks is your place. Gators are very plentiful and usually found in the impoundments, with the pathways above on levees, giving you room to safely view from above. Remember, the general rule is that alligators don't bother you if you don't bother them.
Birds get a lot of attention at St. Marks, but one of the big draws is the Monarch butterfly migration. The cooler northern temperatures send the monarchs south (around) the third week of October through mid-November. Arriving to St. Mark's on their way to Cuba and Mexico, they stop and refuel on the local milkweed nectar before they continue their journey south.
To get there, travel Florida's Coastal Highway (U.S. Hwy. 98) that parallels the coast south of Tallahassee. For the main St. Mark's refuge take C.R. 59 into the park.  The Visitors Center is not far beyond the welcome gate and a good stop to gather maps and brochures. From the Visitors Center, the seven-mile Lighthouse Road (C.R. 59) takes you to the Apalachee Bay where you'll find the majestic St. Mark's Lighthouse.
Be sure to bring your binoculars and camera. This is a great place for photos while enjoying one of Florida's finest authentic places.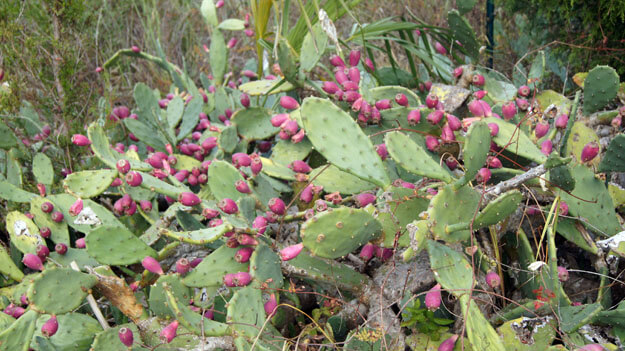 Prickly Pear Cactus, St. Mark's Refuge
Here are a few more authentic Florida tips for accommodations and food establishments near St. Mark's (as recommended by locals):
Accommodation Favorites:
Wakulla Springs State Park Lodge, Wakulla Springs
The Old Carrabelle Hotel, Carrabelle
Nearby places to eat (specializing in seafood):
Spring Creek Restaurant, Crawfordville
Seineyard Restaurant, Woodville
Ouzts Too, Newport
In Panacea
Angelo's Seafood, for finer dining
The Coastal Restaurant, Panacea, where the locals go
1305 Coastal Hwy. Panacea (850)984-2933







Posey's Steam Room, Panacea
1506 Coastal Hwy. (850)984-5243
---