A Sugary Beach on Florida's Panhandle You'll Want to Discover
North Florida's St. Joseph Peninsula State Park on the Forgotten Coast is worth remembering with towering sugary sand dunes, long stretches of beaches and a pristine aquatic preserve and marine museum.
There's no doubt that Florida's coastline is wondrously captivating. Whether you visit the Nature Coast, the Space Coast or even the Adventure Coast, there is a diversity of natural environments that collectively define the state. But there is one coast that is often forgotten, but certainly not one to miss.
Coined "Florida's Forgotten Coast" by the Apalachicola Bay Chamber of Commerce after a tourist organization left this prime locale off a Florida State map, it includes the coastal area south of Tallahassee between Apalahicola and Panama City. It may look like nowhere, but its remoteness is its hidden secret.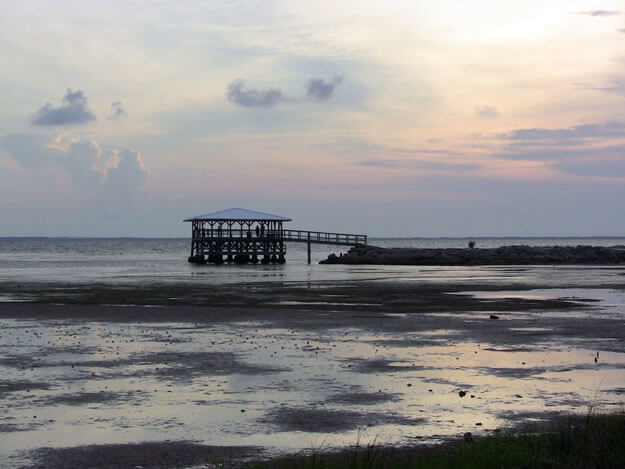 St. Joseph's Bay, Port St. Joe
A visit to St. Joseph Peninsula State Park makes the Forgotten Coast a memorable one. Midway between Apalachicola and Port St. Joe on the central part of the Florida panhandle, lays the coastal barrier peninsula of Cape San Blas. This 20-mile long peninsula was once a barrier island but a land bridge formed connecting it to the Florida mainland. St. Joseph's Bay and the Gulf of Mexico surround 2,500 acres of beautiful, and remote, real Florida.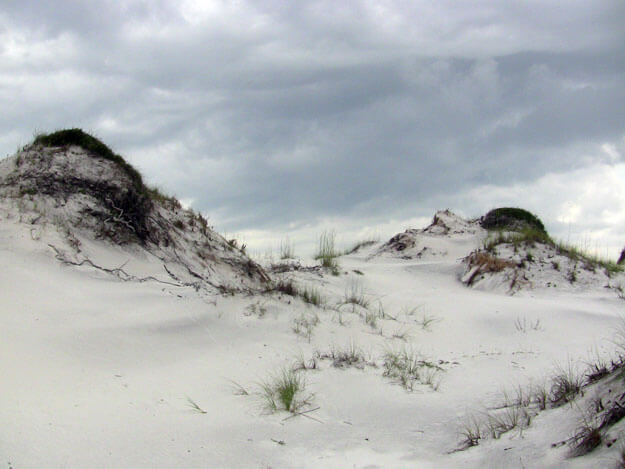 St. Joseph State Park's towering sugary white sand dunes
With nine miles of sugary white sand beaches, towering dunes – the largest in Florida, nature trails, camping, boating, fishing and you have it all. And it is exciting to think that Spanish explorers and settlers may have viewed this same unspoiled and breathtaking landscape as they approached the Florida shore.

Miles of beaches, St. Joseph Peninsula State Park
To get to the park, take U.S. Hwy. 98, to Florida 30 to 30E and drive through the beach community of Cape San Blas. St. Joseph Peninsula State Park lies on the northern end of the peninsula. The park has two major marine gifts – St. Joseph Bay and the wide-open, expansive 14-mile beach on the gulf side. Speaking of beaches, years ago it was rated #1 in Florida. The high, wooden pedestrian walkways over the striking dunes give you a majestic overview of the beach and park. On the bay side, you can launch a boat or kayak and explore the pristine St. Joseph Bay.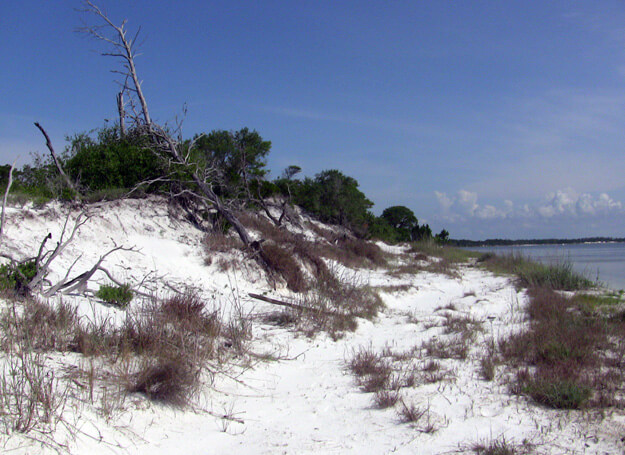 St. Joseph Peninsula State Park overlooking St. Joseph Bay
St. Joseph Bay, one of 41 Florida Aquatic Preserves, is a protected area where sea grasses, sea life, bird rookeries and fish nurseries thrive. Here you'll want to launch a kayak and enjoy the pristine water quality and active marine life. Be sure to take some time to walk around the shallows to get a closer view of this "liquid park" and you may see horseshoe crabs, stingrays and live animals in shells. Redfish, sea trout, mullet and small sharks are easily spotted. If you bring your boat, consider launching it at the Eagle Harbor boat basin. Rental equipment is available outside the park.

Boating on St. Joe's Bay (bayside view of park)
Consider walking or boating along the coastline to marvel at the nine miles of scrubby dunes and the 1,750 acres of the wilderness preserve. Florida sand pine scrub and the spectacular natural coastline provides a glimpse of terrain that once covered most of the state.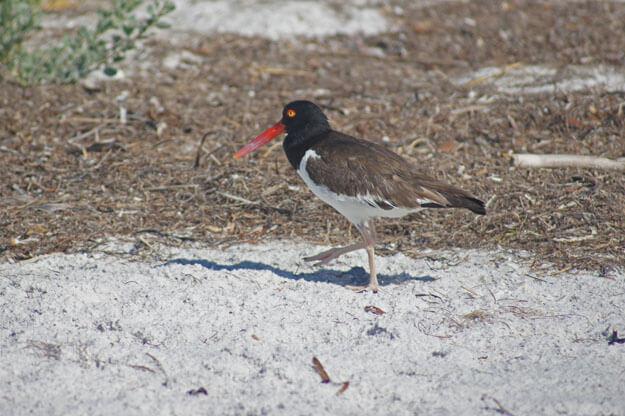 Birding is popular at St. Joseph Peninsula State Park
In the park there are reported to be 240 bird species. Plovers, terns, flycatchers, warblers and loads of water birds are present. Bird calls and the gentle sound of nature envelop you as you explore.

Scalloping is a popular summer activity at St. Joseph Peninsula State Park
From July through September scalloping is popular in St. Joseph's Bay. Scallops are found in or around the edge of the sea grass beds as boaters find their chosen spot and snorkel for the delectable mollusks. Scalloping is great family fun and if you take time to enjoy this sport, you'll find there is nothing as tasty as freshly caught scallops for dinner.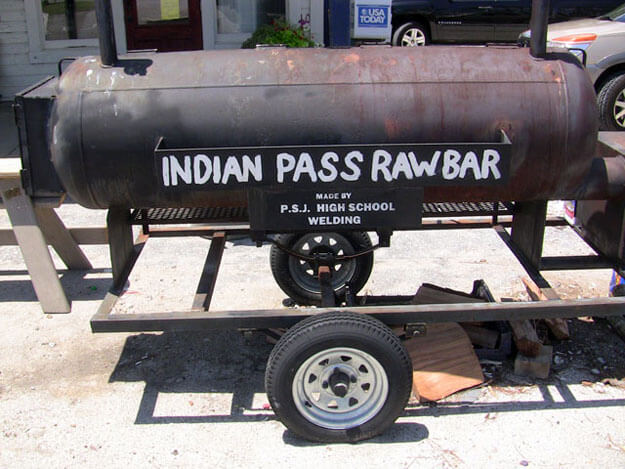 Indian Pass Raw Bar, Port St. Joe for fresh local oysters
Speaking of seafood, you might want to purchase shrimp for lunch at the St. Joe Shrimp Company near the entry to Cape San Blas (1937 County Rd 30C). They steam the shrimp, pack it up and we were ready to go for our day at the park. But for fabulous Florida oysters, try the famous Indian Pass Raw Bar following your visit. They serve delicious, local oysters served any way you like and are located at 8391 C-30-A, Port St. Joe (County Rd 30-A at Indian Pass Road), the phone number is 850.227.1670.
St. Joseph State Park is well maintained and offers full-facility campgrounds – both rugged and traditional. The park also equips rental cabins (that resemble homes) but you'll need to make reservations well in advance.
St. Joseph Peninsula State Park Gulf of Mexico beach
And to top off your time in this spectacular park, be sure to spend time on the beach and a swim in the Gulf of Mexico.
Experiencing St. Joseph Peninsula State Park is like being in a saltwater marine museum – Gulf to Bay – while enjoying the fun of being there!
To receive Authentic Florida's free ENEWs, featuring travel and living updates, delivered weekly, sign up on the home page Authentic Florida, voted 2015 Blog of the Year and 2015 Best Travel Blog at the Orlando Sunshine Awards.
---
Comments are closed.