Written by Authentic Florida guest blogger, Laura Albritton, author of Miami for Families
Just the mention of Key West conjures up for me visions of pastel clapboard houses with gingerbread trim, Ernest Hemingway, and exquisite sunsets. The colorful history that permeates Old Town is just as authentic a part of this southernmost isle as the many variations you'll find of key lime sweets. My most recent trip took me back to some of my favorite spots – and led me to a few terrific discoveries.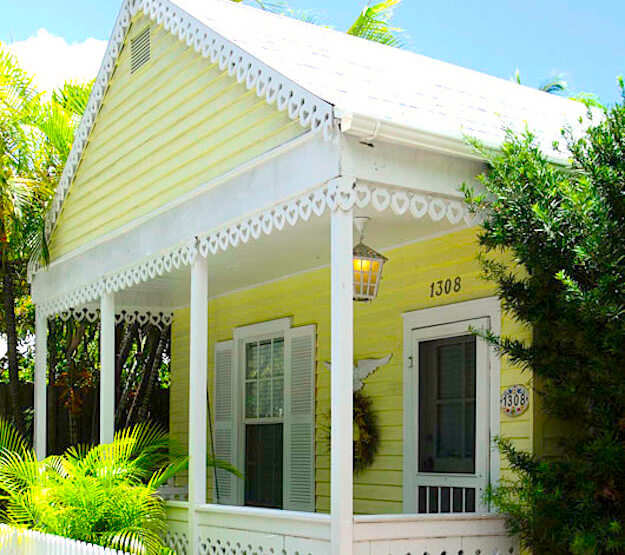 Typical Key West cottage [photo, Zickie Allgrove]
Over the years, I've stayed at several authentic Key West bed and breakfasts, where antique four-poster beds and a romantic atmosphere seem to provide an essential part of the experience. This trip, however, my husband, our eleven-year old, and I opted for a different kind of historic property: Casa Marina, completed in 1920 for the well-heeled passengers of Henry Flagler's new Over-Sea Railroad. These days the original building still graciously presides over the expansive property, with two new wings, swimming pools, outdoor bar, restaurant, and a beach. As you stroll through the hotel's elegant lobby with its lofty wooden ceilings, you can almost hear the swish of a fashionable flapper's fringed dress. If you are looking for a delightful Bed & Breakfast alternative, try the quaint art-deco Eden House built in 1924.

Old Town Trolley Tours [photo, Zickie Allgrove]
When you visit Key West you're certain to notice tour buses navigating the picturesque, narrow roads. This trip it seemed like a good idea to try one, given the summertime humidity. The experience turned out to be surprisingly fun. The Old Town Trolley looks charmingly vintage, plus you can get off at any one of 12 stops and take another trolley later. Each driver has his or her own entertaining spiel about the Key West characters or "conchs," along with anecdotes about the mansions and drinking joints, some of them pretty wild.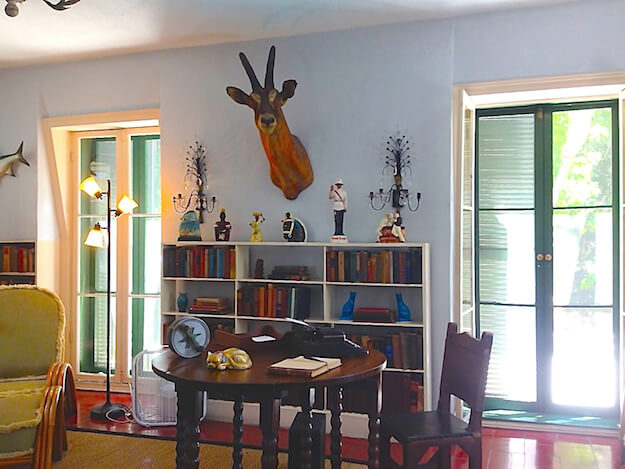 The Hemingway Home, Ernest Hemingway's study [photo, Laura Albritton]
The remoteness of the island, its louche bars, and abundant sport fishing made it an ideal spot for American author and Nobel Prize winner Ernest Hemingway to write in the mornings and then play away the afternoons. First arriving in 1928 with his wife Pauline, the writer eventually moved into a handsome 1851 house on Whitehead Street. Today the Hemingway Home still features many of his possessions, including a carved bed he shipped back from Spain, hunting trophies, and his own typewriter. It's well worth taking the guided tour, where you'll learn about Hemingway's fiction, his four marriages, and his six-toed cats, whose adorable descendants still roam the property.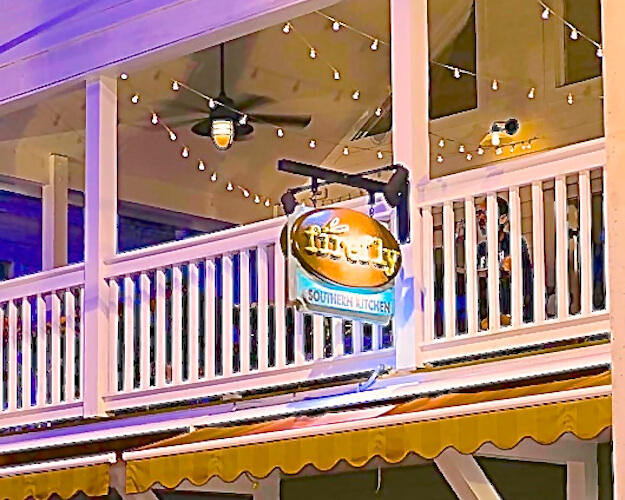 The Firefly Southern Kitchen [photo: Zickie Allgrove]
Dining out is always a highlight of any Key West expedition. Some of my long-time favorite restaurants include Blue Heaven, Pepe's Café, and Half Shell Raw Bar, but this time I was thrilled to discover a new gem. On a quiet block of Petronia Street, you'll find Firefly Southern Kitchen in a charming two-story, typical conch-style building. This relative newcomer cooks up amazing cuisine, which can best be described as Southern with a twist. An appetizer of fried green tomatoes came with a rémoulade-meets-pimento-cheese sauce – scrumptious! Our helpful waitress Becca recommended blackened flat iron steak, which turned out to be perfectly cooked and served with the best turnips I've ever tasted. My husband's fried chicken also impressed us with its crunchy skin, and succulent, flavorful interior. Their pastry chef concocts a host of extraordinary desserts, one of which is a new take on a local stand-by: key lime cake. Throughout our meal, the staff and the owner treated us with honest-to-goodness Southern hospitality. What a fantastic find.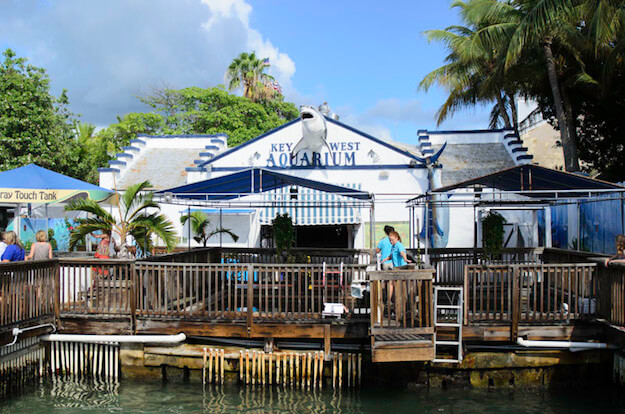 The Key West Aquarium [photo: Zickie Allgrove]
Today it's hard to believe that Key West wasn't always a magnet for travelers, but it took the Great Depression to launch this southernmost Florida city as a popular tourist destination. When the island fell upon hard times, they hatched a scheme to lure visitors (and their pocketbooks) to revive the local economy. The Key West Aquarium was the very first tourist attraction built here, in 1934, and it still operates in the same historic building. This charming, old school facility has a touch tank, which will appeal to little children (and some of their parents as well).
I volunteered to feed one of the resident nurse sharks during a scheduled presentation. The sharks gathered at one end of the pool like eager puppies; when the slimy piece of squid dropped from my fingers, one shark lunged like crazy to snap it up. Since we didn't have time to take a snorkel cruise over the weekend, we enjoyed studying the aquarium's tanks for a close-up view of creatures like cowfish, yellow tangs, and stingrays that are found on nearby reefs.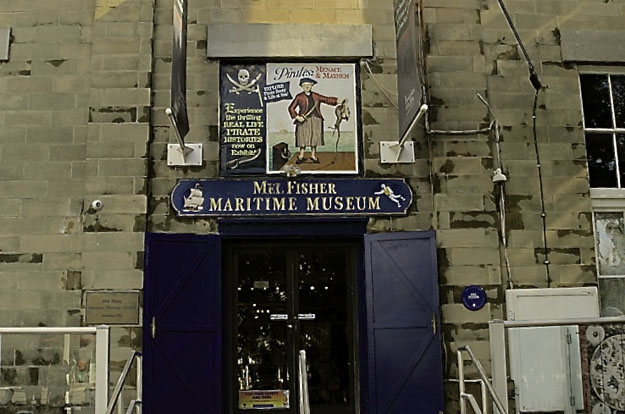 Mel Fisher Maritime Museum [photo, Zickie Allgrove]
The reefs and seabeds off Key West held all the hopes and dreams of one of the island's most rugged individualists, Mel Fisher. Fisher's self-imposed mission was to find the glorious treasure of the Atocha, a Spanish galleon that went down in a terrible hurricane in 1622. Over the centuries tropical storms, along with unmarked coral reefs, sunk many ships off the Florida Keys. (In fact, wrecking became the major Key West industry for a time.) But despite the efforts of many treasure salvers, the Atocha proved elusive.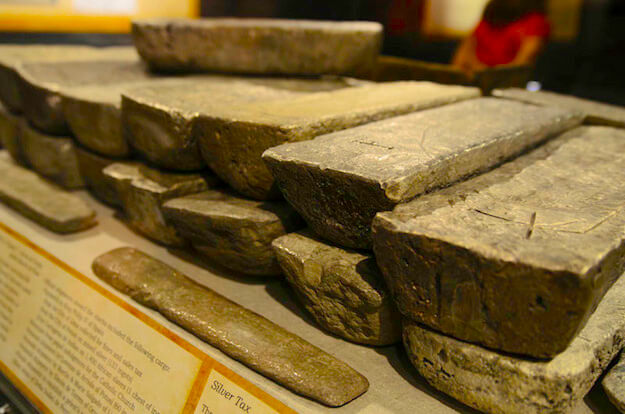 Silver bars from Mel Fisher Maritime Museum [photo, Zickie Allgrove]
With Key West as his base, Fisher, his family, and his crew spent 16 years laboriously searching the sea bottom. Finally, they hit gold. Literally. From the ocean's depths they brought up gold bars and heavy chains, as well as silver, emeralds, and a host of other incredible artifacts from the Spanish colonial era. Today, the Mel Fisher Museum displays precious objects like a gorgeous emerald crucifix necklace. The sight of these ancient prizes recovered from the sea had my daughter, husband, and I mesmerized. The museum also teaches the public about treasure hunting and nautical history.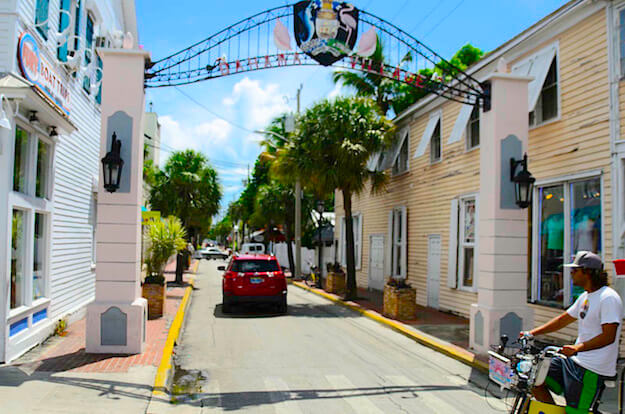 The streets of Key West, Bahama Village [photo, Zickie Allgrove]
One thing I adore about Key West, no matter how many times I visit, is the opportunity to immerse myself fully in its intriguing history. A simple stroll plunges you into the magic of Old Town's graceful architecture, with its echoes of the Southern, Bahamian, and New England vernacular. The chance to gaze upon a great writer's study space, or a priceless 17th century golden chalice brings the past vividly to life.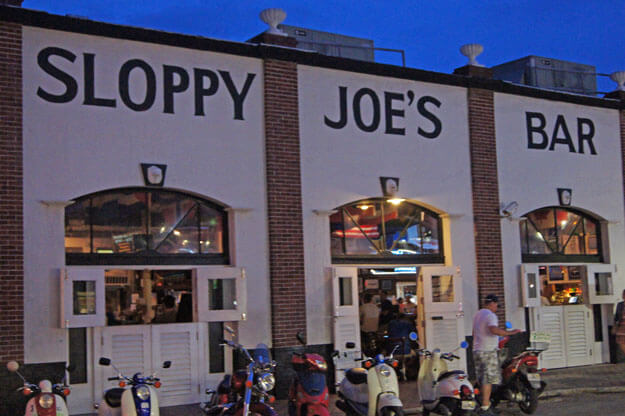 Sloppy Joe's, where Ernest Hemingway was a regular
Although it's hugely popular with tourists, Key West somehow remains an Authentic Florida destination. Here you can savor experiences that can't be found anywhere else…and not only the attractions I've just described. What about the sunset celebration at historic Mallory Square? Or a fascinating look into American history at President Truman's Little White House? Or, if you're not traveling with children, maybe a cold cocktail at Sloppy Joe's, Captain Tony's, or Key West's most authentic dive bar, the Green Parrot?
There are truly too many rewarding activities to squeeze into a long weekend — another great reason to go back!
Laura Albritton is a freelance writer based in south Florida. Read more about her work on her websites Miami for Families and Island Runaways. 
To receive Authentic Florida's free ENEWs, featuring travel and living updates, delivered weekly, sign up on the home page Authentic Florida, voted 2015 Blog of the Year and 2015 Best Travel Blog at the Orlando Sunshine Awards.
---
Comments are closed.