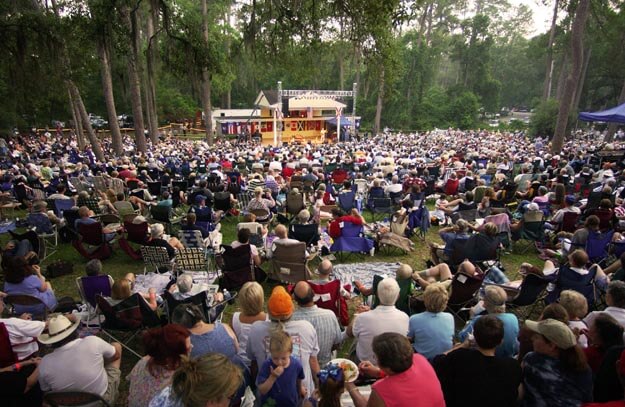 Written by Authentic Florida guest blogger, Annetta J. Burch;Photos courtesy of Stephen Foster Folk Culture Center State Park
When I was growing up in Perry, Florida, my school took field trips to the Stephen Foster Memorial in White Springs, Florida. The Memorial quickly became important as a fun, educational, and family oriented center. Established in 1950, the bell tower and the museum were favorites with everyone who visited the park.

Stephen Foster Museum and Bell Tower
The museum included exhibits and dioramas that were set in motion enabling visitors to learn more about American composer Stephen Foster's music and songs. Stephen Foster wrote the song "Old Folks at Home" that made the Suwannee River famous. It was also a favorite place for families to take day trips to picnic on the grounds and enjoy the natural surroundings along the banks of the Suwannee River.

Florida Folk Festival celebrates music and culture, (photo, John Moran)
My generation, the Baby Boomers, as we are called, were the first kids to enjoy the Stephen Foster Memorial, and within three short years, we had even more to enjoy – the Florida Folk Festival. We became the first group of children to experience what would become our state's foremost Florida Folk Festival. Kids came from all over the North Florida and South Georgia area.

Florida Folk Festival, (photo courtesy John Moran)
Martha Williams of Perry remembers "going once with my late sister, Ginger and our children. The music was amazing, mostly Bluegrass. I wasn't a big Bluegrass fan until then. But it started to rain, I mean deluge, and nobody wanted to leave. The band said if ya'll want to stay, we'll keep playing. They did, and we danced in the rain! One of my favorite memories." The experience of coming together to celebrate our culture and heritage in such a beautiful spot was exciting and fun.

Statewide junior and adult fiddle and banjo championships are held
The Museum opened in 1950; the first Florida Folk Festival became a reality in May of 1953, starting out with one stage. The first Festival opened with the ringing of an old school bell and a town crier. Minorcans, Seminoles, Miccosukees, Greek-Americans, Jewish-Americans, Czech-Americans, Spanish-Americans, African-Americans, and Florida Crackers were presented during the Festival.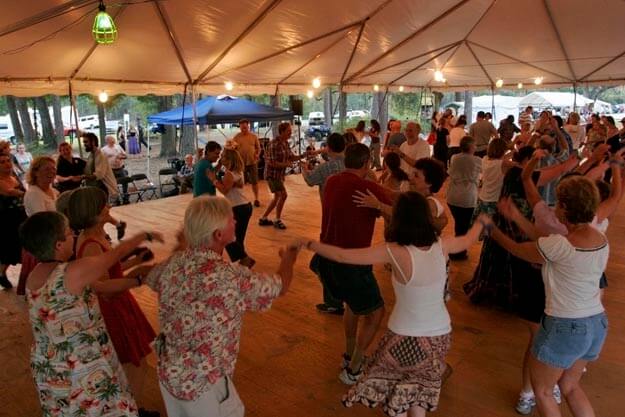 Folk dancing at the Florida Folk Festival
Entertainment performances included school groups, square-dancing, folk music, Maypole dancing, skipping rope and rhymes, string bands, balladeers, fiddle and harmonica musicians, saw playing, sacred harp music, and folk tales. "With the closing of the first Florida Folk Festival on May 10, 1953, Floridians and visitors alike had been introduced to themselves and to their visitors in a way they had never known before. When it was over, all agreed that the first Florida Folk Festival was a success to be repeated annually." And continue annually, it did, growing each year, embracing Florida's unique and diverse culture.

Legendary storyteller Cousin Thelma
A few years after the Festival began, the Festival Commission hired 'Cousin Thelma' Boltin, who lived in Gainesville and was director of programs for the City of Gainesville's Recreation Department. Her 'Cousin Thelma' was a storyteller, and became a major attraction during the beginning years of the Festival. She became famous for her 'Old Knocker' family ghost tales and 'The Legend of the Spanish Moss.' A few years later Miss Thelma became director of events for the Festival, moved to White Springs, and worked with the Festival for more than 30 years. During this time, she presented her program, Florida Lore in Song and Story, to hundreds of school children and civic organizations throughout Florida and South Georgia. She became a legend in her own time, winning numerous awards, and was instrumental in bringing the Festival to the event that it is today.
Musicians jam during the Festival
Nowadays, the Florida Folk Festival has the distinction of being in the Top 20 of Folk Festivals in the USA and one of the oldest continuous folk festivals in the country.

Nitty Gritty Dirt Band, one of many featured performers
The 2015 Florida Folk Festival will be held on Memorial Day Weekend, May 22-24. The musical entertainment line-up during the 3-day Festival is spectacular. The Festival now boasts five stages showcasing Irish, bluegrass, old-time fiddle bands, and country and western music. Popular local musicians and big name stars will be performing at this year's Florida Folk Festival including the Nitty Gritty Dirt Band, Billy Dean, and Jim Stafford. Numerous workshops, demonstrations, classes, storytelling, dancing, and song writing are included in the events offered this year.

Florida folk craft festival
Visitors will want to participate in a type of "Taste of Florida" with Florida foods, such as kumquat pie, chicken pilau, collards, barbecue, shrimp jambalaya, and more available during the Festival, as well as shopping galore items for those who love to "shop 'til you drop."

The popular Root Beer stand
The gates open at 8:00 a.m., with the three full days of musical entertainment beginning at 10:00 a.m. and ending at 11:00 p.m. Everything you need to know about the park – tickets, the festival, directions, places to stay, facilities, surrounding areas information, etc., may be found at the Florida Folk Festival.
To receive Authentic Florida's free ENEWs, featuring travel and living updates, delivered weekly, sign up on the home page Authentic Florida.
Annetta J. Burch is a 4th generation Floridian from Taylor County living in Gainesville. Burch has written for many publications including the Citrus County Chronicle, Tampa Tribune, St. Pete Times, Cedar Key Beacon, Nature Coast Visitors Guide, Florida Living Magazine and author of the Culinary Classics Cookbook for the Boys and Girls Club. Annetta can be reached at gritsforever@hotmail.com.
---
Comments are closed.