Fresh from the U-Pick Farm, enjoy Florida's sweet berries baked into this Simply Fabulous Florida Strawberry Cake creating the perfect dessert for any Valentine's Day meal.
Eating our way through Authentic Florida is one of our favorite things to do. Whether it is enjoying Florida strawberries, blueberries, oranges, kumquats, loquats, mangoes – it's always a pleasure to savor the state's wonderful bounty.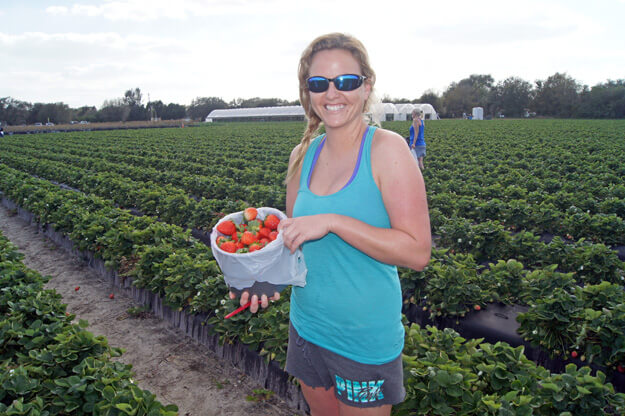 But being able to pick our own fruit and then create a beautiful cake has to be one of the sweetest pleasures of all. This Simply Fabulous U-Pick Florida Strawberry Cake is a treat that begins at the farm, hand picking the berries and then taking them home to create a sumptuous dessert. And yes, it as good as it looks, we promise!
Florida strawberry season generally runs from December through March, depending on the year. Florida's mild winter climate and sandy soil make it ideal for growing strawberries. The majority of Florida strawberries are grown within a 20-mile radius of Plant City in eastern Hillsborough County, between Tampa and Lakeland. However, strawberry farms are scattered around the state, especially in Central and Southwest Florida.
For fresh strawberries, you might want to head to a U-Pick farm, or visit your farmer's market or grocery (try Parkesdale Market, Plant City). If you want to pick your own, there are two on-line resources to try: Pick Your Own or Fresh From Florida. (Or just google it.)
For U-Pick farms, Authentic Florida readers have suggested: Bedners in Boynton Beach; Sledds in Mims, Countryside Citrus in Vero Beach, Knaus Berry Farm in Homestead. If you are near Sarasota, try Honeyside Farms (organic) as well.
U-Pick farms will provide containers as you collect the delicious berries while walking down the aisles bent over in search of the ripe berries. When you are finished, the berries are weighed and bagged for your trip home.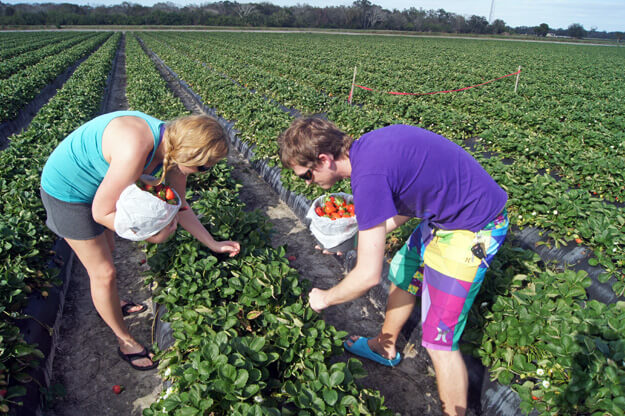 U-Pick Strawberry Farm, O'Brien Family Farm, Bradenton
Plump, red, juicy strawberries are always fabulous as is, but when we have extra we love to experiment in the kitchen – especially with desserts. To prepare for this recipe we researched and consulted with our go-to expert Nicole Coudal of My Delicious Blog who gave us some great tips for baking with strawberries. We also tested several recipes and found one that was perfect, from Carla Cardello of Chocolate Moosey.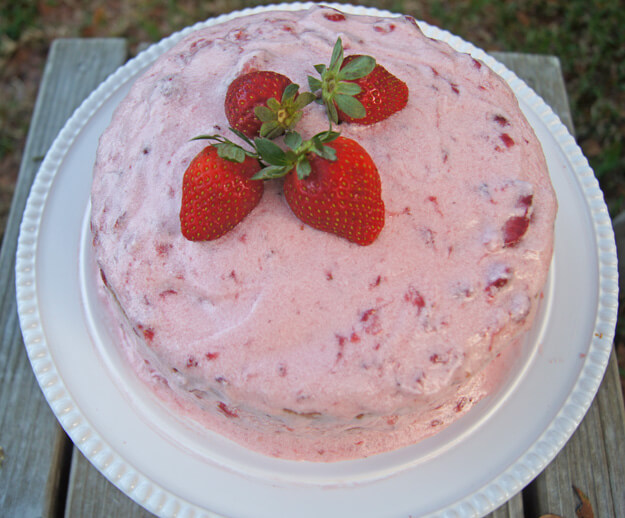 Fresh U-Pick Florida Strawberries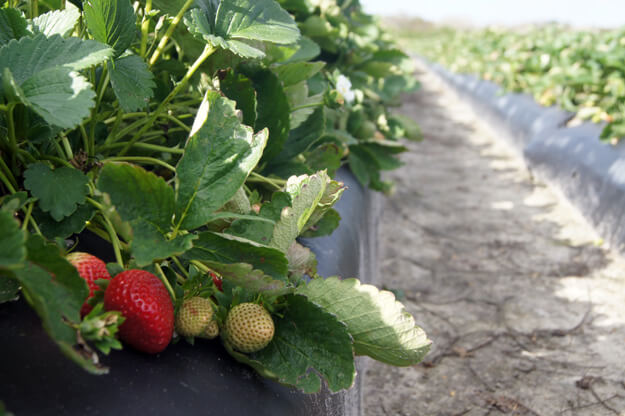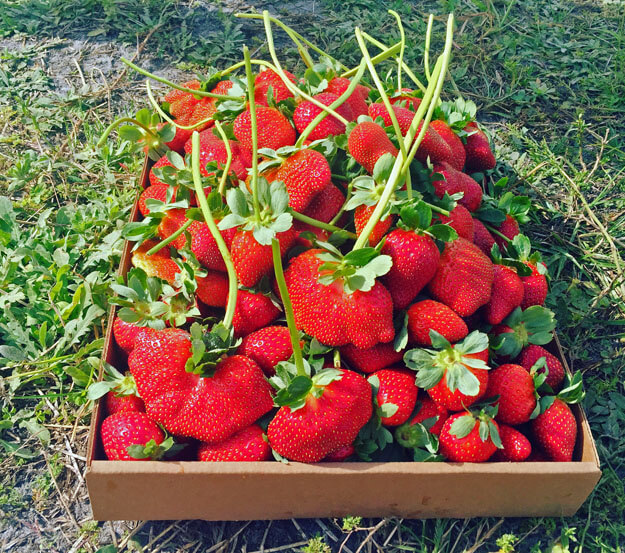 Simply Fabulous Florida Strawberry Cake Recipe
Ingredients You Will Need:
1 cup sliced fresh Florida strawberries
1 tablespoon water
2 cups all-purpose flour, sifted (when measuring, spoon the flour into the measuring cup and level it off. Do not scoop the measuring cup and pack down the flour)
1 1/2 cups + 2 tablespoons granulated sugar
1/2 cup (1 stick or 4 ounces) unsalted butter, softened
4 egg whites, room temperature
1 tablespoon baking powder
1 teaspoon salt
Pink food coloring (optional)
1 cup whole milk, room temperature (do not substitute low fat or fat-free milk)
1 teaspoon vanilla extract
Parchment paper
Strainer, for straining the berries (for frosting)
Medium sauce pan
2 – 8 inch round baking pans
Electric mixer
1 teaspoon strawberry extract (optional, found at Walmart)
Strawberry Cream Frosting Ingredients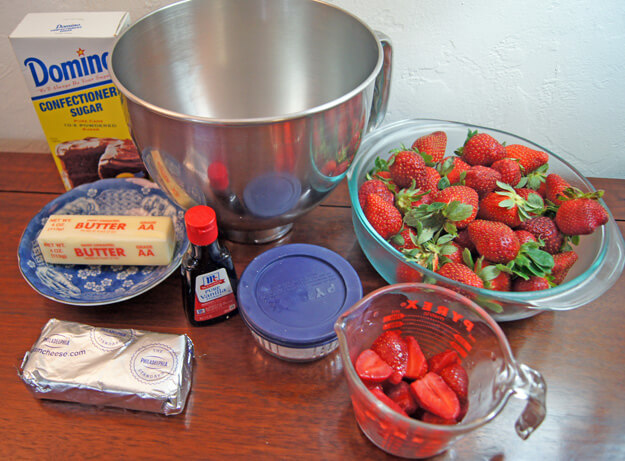 8 ounces cream cheese, softened
1/2 cup (1 stick or 4 ounces) unsalted butter, softened
½ cup of chopped or diced strawberries, drained from juice with a sieve or hand strainer
2 cups powdered sugar
Pinch of salt
1 teaspoon vanilla extract
Pink food coloring
Instructions 
For the cake:
Preheat oven to 350 degrees.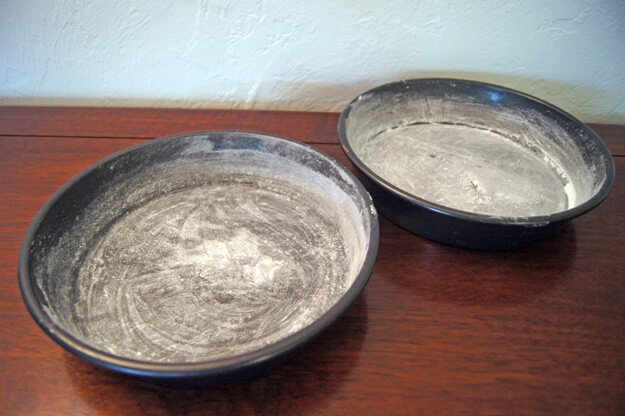 Lightly grease two 8-inch round cake pans and line the bottoms. (You may want to use parchment paper if you are not using a Teflon pan.)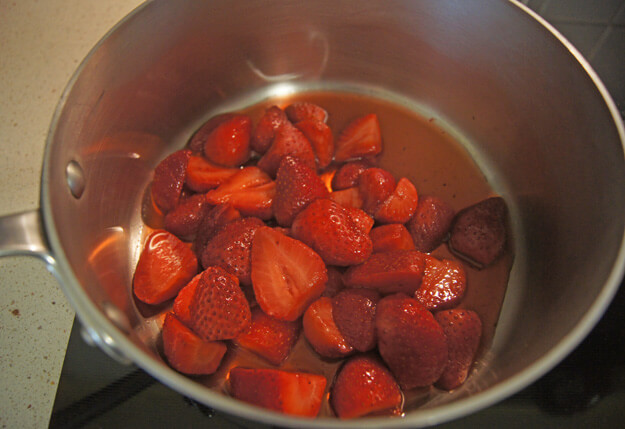 In a medium saucepan, stir together the strawberries, 2 tablespoons sugar, and water. Bring to a boil, stirring occasionally. Boil for 5 minutes or until the strawberries cook down and start to thicken. Remove from the heat and let cool for 15 minutes. You should have roughly 1/2 cup cooked puree.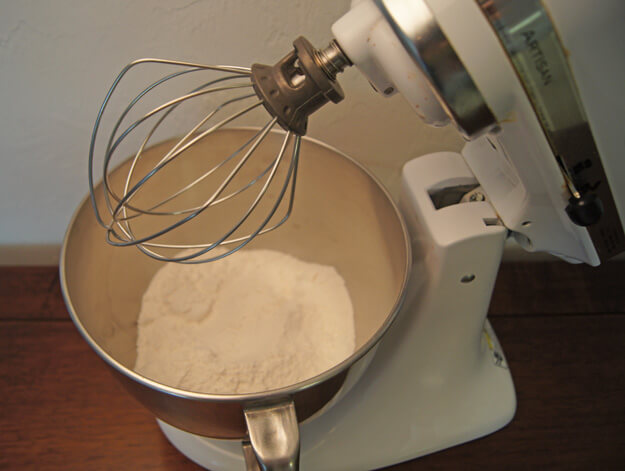 In a large mixing bowl, mix together the flour, 1 1/2 cups sugar, baking powder, and salt.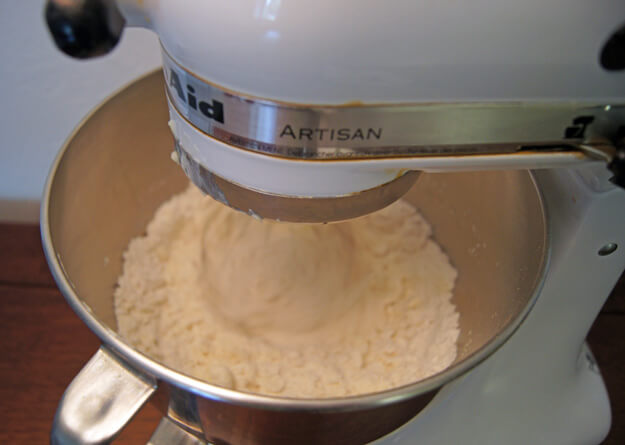 Beat in 1 stick of room temperature butter until just combined and moist crumbs form – do not over mix (it will not form a smooth dough, just little pebbles).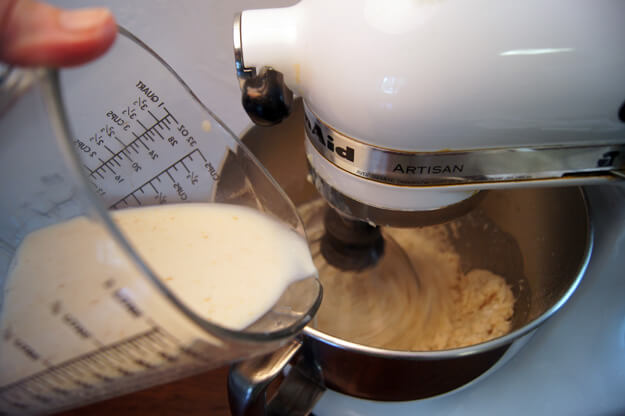 In a large measuring cup or bowl, whisk together the egg whites, milk, and vanilla. Add about half of the mixture into the mixing bowl and beat until just incorporated (do not over mix). Then, add the remaining milk mixture and repeat.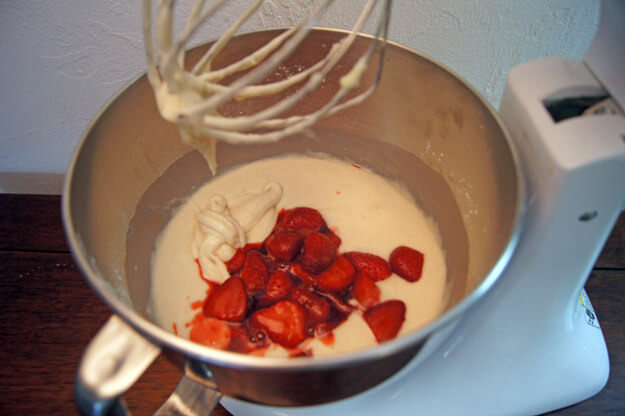 Add the cooked strawberry puree. If desired, add about 3 drops of red food coloring and 1 teaspoon of strawberry extract. (This will punch up the strawberry flavor and add a bit more pink to the cake color.)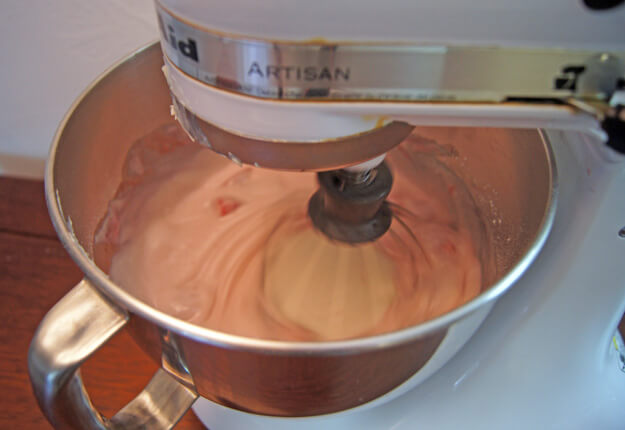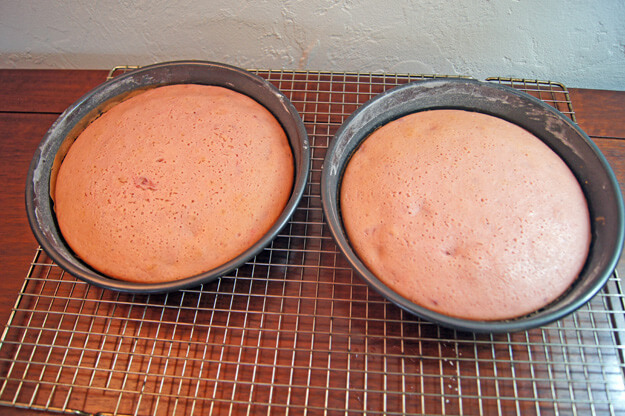 Divide the batter between the two cake pans and bake for 25-30 minutes and insert a toothpick to test whether the center comes out clean. Cool for 15 minutes then invert the cakes onto cooling racks. Cool completely.
If the cake layers are not flat, trim some of the cake off of the top until flat. Place one cake layer on a cake stand or plate. Slide 6-8 cut pieces of parchment or wax paper underneath the cake for easy clean up later. 
For the Strawberry Cream Frosting and assembly: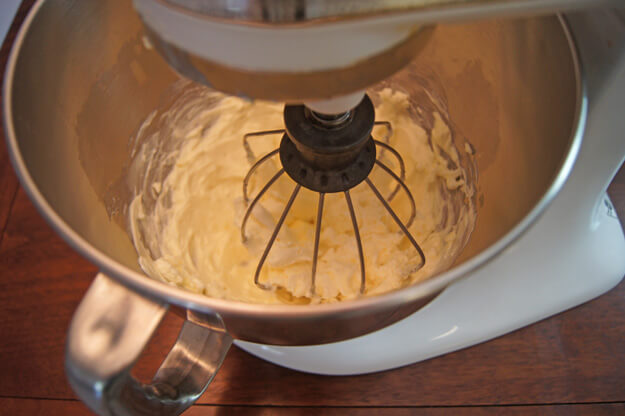 In a large mixing bowl, beat together the cream cheese and butter until smooth.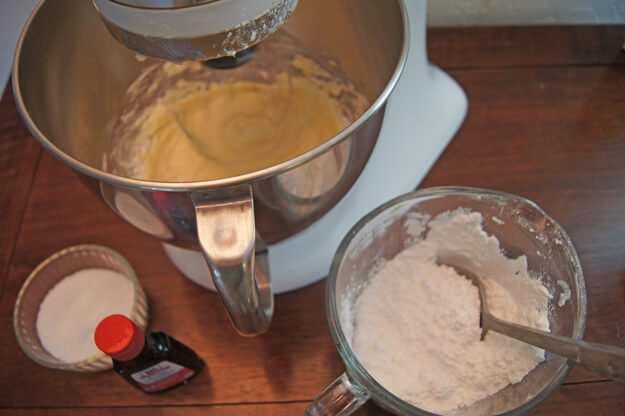 Add the powdered sugar, salt, and vanilla until light and creamy, about 2-3 minutes.
Next, beat in the ½ cup of diced strawberries (remove the juice: we recommend sieving the berries through a strainer, removing the juice, and only using the berries). If you want to add some more pink color to the frosting, use 1 drop of pink food coloring here.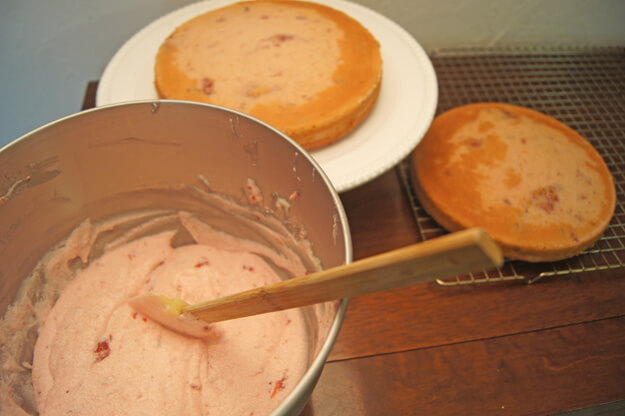 Spread some of the frosting on top of the cake. Top with the remaining cake layer. Spread a thin layer of frosting all over the cake, sealing in the crumbs (don't use more than half of the frosting).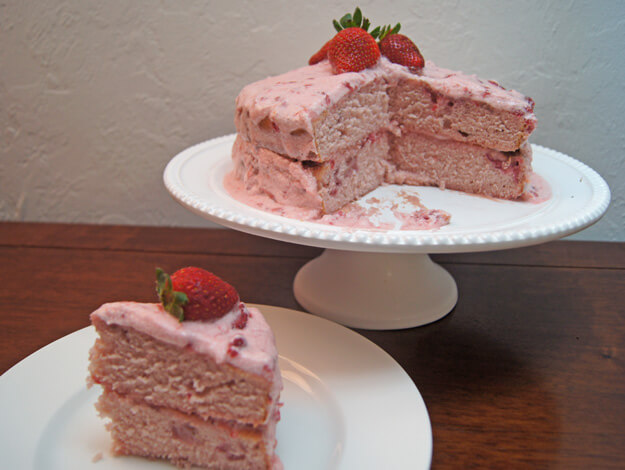 Finish covering the Florida Strawberry cake with the remaining frosting. Carefully remove the paper pieces. Refrigerate until the frosting is firm. Store the cake covered in the refrigerator. For best results, let the cake sit at room temperature for 30 minutes before serving.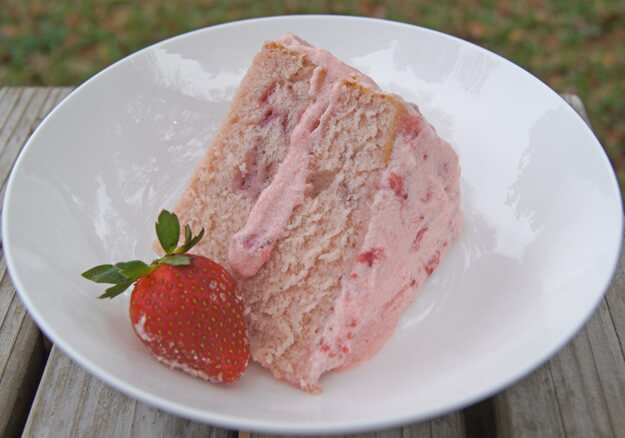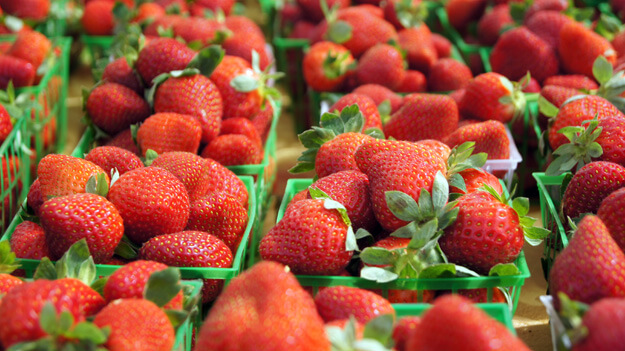 Make sure your fresh strawberries are ripe and juicy. If they are underwhelming in strawberry flavor, the cake will also be underwhelming in strawberry flavor. If it's not strawberry season, you can substitute frozen strawberries (the fruit, not the kind frozen in syrup). Thaw completely and drain all extra liquid before using.
Learn more about Florida Strawberries, including how to grow your own: Why Florida Strawberries Are the "Berry Best"!
Try another delicious recipe using Florida strawberries: Homemade Strawberry Ice Cream

AuthenticFlorida.com was named Best Travel Blog two-times at the Florida Sunshine Awards.
To receive Authentic Florida's free weekly ENEWs, sign up on our Authentic Florida home page.
To inquire about partnerships/advertising, please contact info@authenticflorida.com 
Proud Member of: 

---
Comments are closed.