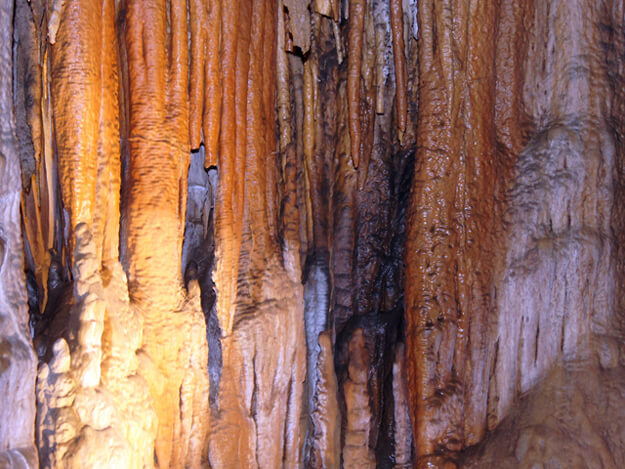 Due to damage from Hurricane Michael, Florida Caverns State Park has recently reopened a limited portion of the park. The ranger station, visitor center, museum, cave tours, hickory picnic pavilion, and playground are now open. Guided flashlight cave tours are available on a limited first-come, first-serve basis. Please call the park at 850-482-1228 for updates and information.
Florida is known for beaches and palm trees, but did you know Florida also has caves and caverns? A road trip to Florida Caverns State Park in Marianna is the place to visit for a unique and fascinating Florida adventure.
 
Florida Caverns, The Wedding Cake
We thought you needed mountains (or at least big hills) for there to be caves? Well, not exactly … 
In the northern part of Florida's Panhandle, you'll find one of the state's most unique parks, the Florida Caverns State Park. Located northwest of Tallahassee off Interstate 10 in Marianna, you can experience first-hand this one-of-a-kind Florida park.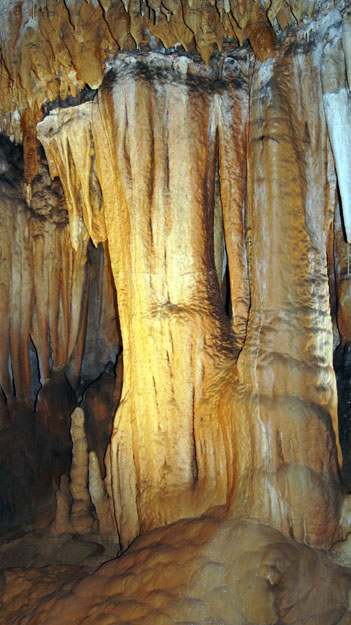 Why Caves?
Let's begin with some basic geology to help you understand why Florida has caves. Millions of years ago, water covered Florida. In fact, the Southeastern coastal plains (which included Florida) were completely submerged while sea levels were rising and falling. The ebb and flow of the oceans created layers of sediment from the remains of sea creatures. We call that sediment limestone.
Also known as calcium carbonate, limestone forms Florida's geological foundation  – a 1000-foot limestone plateau. The landscape found on top of limestone can often include caves, sinkholes, springs, and sinking streams created by water that dissolved limestone over a period of tens of thousands of years.
When water from the surface drains (usually from rain), it picks up carbon dioxide. Once on the ground surface, water gathers more carbon dioxide from the soil forming a mild solution of carbonic acid. Over long periods, the limestone bedrock dissolves creating openings in the limestone rock, leading to subsurface caves. This water combined with the air in the cave creates stunning mineral deposits known as stalagmites, stalactites, soda straws, columns, rimstones, flowstones, and draperies.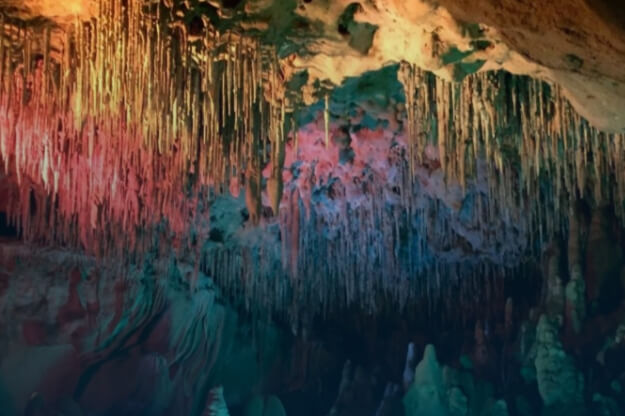 The Cavern Tour
Guests gather at the Florida Caverns Visitors Center for the 45-minute cave tour. From there, the group will descend down a flight of steps that is moderately challenging, but not difficult. The cave passage is usually intermittently lit throughout the walk. (Although right now, due to damage from Hurricane Michael, the tour depends on flashlights).
The seasoned guide will point out the interesting geology within the cave particularly the geological formations called the wedding cake, the cathedral, and the "South America" rimstone pool. It's really cool … we mean that literally, too. The mean year-round temperature in the cave is 65 degrees. And it is dark. This will be one opportunity where you can experience "total and complete darkness".

The Civilian Conservations Corps Worker
The park ranger will also recount stories of workers who dug out the caves – known as the Civilian Conservation Corps – hired in the Great Depression of the 1930s as part of Franklin Delano Roosevelt's New Deal. The workers earned $30 per month (sending home $25 to family).  They created public access within the caves and throughout the park, without damaging the natural beauty. These workers sometimes crawled on their bellies, and used rudimentary tools and dim lights (that often went out), to create a tremendous legacy for our state.
There are excellent opportunities for photos, but there's one rule on this trip: Don't touch anything! The oils from our hands will leave harmful residue breaking down the delicate formations.

Florida Caverns State Park trail
Florida Caverns State Park is truly a treasure. More than 1,300 acres are available for hiking, horseback riding, fishing, and boating on the Chipola River.  It's an ideal trip for the whole family (and a bargain: admission to the park is $5.00 per vehicle (up to 8 people). Plus, it's only $10.75 per person (13+) for the cavern tour.
Be sure to check out the Visitors Center and website for an overview of the tour and park.

The Florida Caverns State Park Visitors Center
Where to Stay
If you are looking for a place to stay, consider Marianna's Hinson House. This charming B&B has been recommended by several Authentic Florida readers. The refurbished bungalow home in the center of town on Lafayette Street contains five different rooms/suites. The original owners Sid and July Riley even pop by on occasion for breakfast. The current owners are Adam and Allison Rohlman. The host of the House is also a licensed massage therapist, so be sure to book a massage with her. 

AuthenticFlorida.com was named Best Travel Blog two-times at the Florida Sunshine Awards.
To receive Authentic Florida's free weekly ENEWs, sign up on our Authentic Florida home page.
To inquire about partnerships/advertising, please contact info@authenticflorida.com 
Proud Member of: 

---
Comments are closed.
If You Go
Is it a cave or a cavern?
According to speleogists, a cave is usually a cavity in the ground large enough for humans, and that a portion of it will not receive direct sunlight. A cavern is a specific type of cave, naturally formed in soluble rock with speleothems or mineral formations. While a cavern can be called a cave, all caves cannot be called caverns.