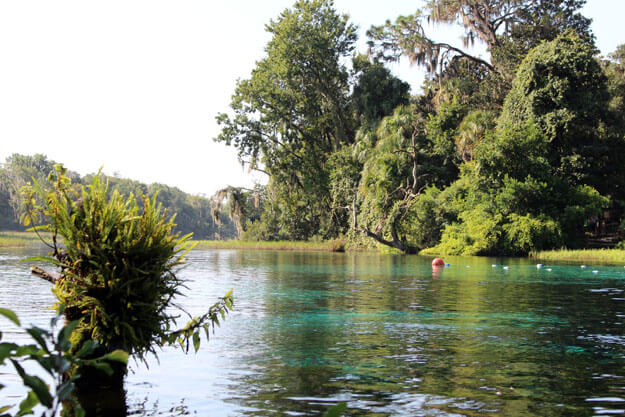 Rainbow Springs State Park, located southwest of Ocala and three miles north of Dunnellon, is home to the river's headspring, which feeds into one of the most beloved waterways in the state. The Rainbow River has enjoyed a reputation as a scenic and popular playground since first opening in the 1930s as a private family-owned amusement park. Years later, the spring was purchased by the State of Florida and became part of the Florida State Park System.

Rainbow Springs State Park
Florida has many rivers – ranging from salty to muddy, and from clear and fresh to dark and tannic – but Rainbow Springs River, the fourth largest in Florida and a tributary of the Withlacoochee River, could undoubtedly be called Florida's natural swimming pool. The white sandy bottom lies between areas of smooth limestone creating a "pool" like effect.  Here you will share the water with turtles as they sunbathe on fallen logs, and herons and white ibis as they feed along the riverbank.

Main swimming area, Rainbow Springs State Park

Wildlife along the Rainbow River
Children and adults float downstream in inner tubes, or whatever objects will serve as floatation devices, often stopping to jump off ropes tied to over-hanging tree limbs. Slow-moving boats glide by – but no one is in a hurry to get anywhere. The gentle current of the river dictates the pace as smaller springs bubble up and feed into the river creating plenty of areas to get out and swim.

Swimming area, Rainbow Springs State Park
The Rainbow Springs State Park
Situated on U.S. 41, Rainbow Springs has a rich history as one of the state's most popular "old Florida" tourist attractions. Once populated by prehistoric mastodons and later Native Americans, who settled nearby using the waterway for transportation and fishing, this unique Florida destination experienced its heyday as a phosphate mining community.

Visitors paddling along the Rainbow River
By the 1970s, "real" Florida attractions, including Rainbow Springs, began losing their appeal and started closing down as newer theme parks and an interstate highway system diverted traffic away. Concerned citizens led an effort to save and preserve the 1,470-acre park and the State of Florida reopened Rainbow Springs as an official state park in 1995.
While at the Park
As you enter Rainbow Springs, signs will direct you to the entrance of the ranger's office. Be sure to ask for a map and take time for the walking tour. Shady, fern-lined, hilly pathways with scenic vistas lead to elaborate, luscious green gardens, older (man-made) waterfalls, and a roped swimming hole for those seeking a refreshing 72-degree dip. Walkways lead out to the river where there are plenty of areas for picnicking.
 
Rainbow Springs State Park exquisite flora and fauna 
Many Floridians recount the earlier park amusement days of glass-bottom boats that toured down the river as well as the Leaf Ride Monorail, a system that transported visitors through the treetops. As you follow the walkways, you will see the historical remnants of a zoo and even a rodeo arena.

Rainbow Springs State Park waterfalls
Don't Miss the Butterfly Garden
There is also an outdoor butterfly garden – which, alone is worth the price of admission (which is still only $2 per person). Volunteers have done an amazing job of planting a wide variety of plants that attract many species of butterflies and is certainly one of the best butterfly gardens in Florida.

Rainbow Springs State Park butterfly garden

Rainbow Springs State Park butterfly garden
Kayaking the Rainbow Springs River
If you want to kayak, you have several options. One choice is to rent a kayak/canoe at the Rainbow Springs Park, but note, since the current moves from the park headspring downstream – the paddle down the river will later become a paddle back up the river.

Kayaking the Rainbow River
So, here's our recommended alternative: Begin your travels outside the state park at Marion County's KP Hole Park, a five-minute drive from Rainbow Springs and an ideal launching spot for kayakers and tubers. Rental equipment and tubes are available there. From KP Hole, the easy one & half-mile, one-hour upstream paddle to the state park will land you at the kayak/canoe landing area where you will find restrooms, a picnic area, the main swimming hole, and picnic tables. If you start early, you'll catch some shade on the east side that is primarily Rainbow Springs State Park. So, doing the work upfront, followed by a slow cruise back downstream will be a fun ride.

Rainbow Springs State Park
The river is dotted with homes on one side and the state park on the other. While floating along you'll be with others – paddlers, boaters, snorkelers, and in the winter, manatees in search of warmer water.

Relax and tube the Rainbow River
If you wish, you can go directly to KP Hole Park where inner tubes are rented (which includes the return shuttle ride) for a 3 ½ mile, four-hour downstream ride, but in the opposite direction of the state park.  Tubers slowly drift down the river to Blue Run Park and get out there where the shuttle returns tubers to KP Hole.

Family fun on the Rainbow River
So, enjoy your time at this authentic Florida park. It's packed with history, natural beauty, and recreation —  all in one scenic package.
Here are a few tips for your trip:
If you can go during the week, you are more likely to avoid large crowds
KP Hole Park is open during the summer (8 am – 8 pm) and winter (8 am – 5 pm)
Start early morning to catch the birds and wildlife
Consider packing a lunch in a small cooler
Remember to pack your sunscreen
The 4th Annual Rainbow Springs Art Festival is Saturday, November 17th, from 10 am – 4 pm, at Dunnellon's Historic Village on Pennsylvania Avenue & Cedar Street.
The event will feature approximately 50 local artists with original artwork – both fine arts and fine crafts – in a variety of mediums including:
paint, pottery, sculpture, glass, metal, fabric, photography, woodworking, mixed media, and more. 
Food and free music. 
No admission charge
Free parking 
Rain or shine, it's a day not to be missed! 

AuthenticFlorida.com was named Best Travel Blog two-times at the Florida Sunshine Awards.
To receive Authentic Florida's free weekly ENEWs, sign up on our Authentic Florida home page.
To inquire about partnerships/advertising, please contact info@authenticflorida.com 
Proud Member of: 

---
Comments are closed.
If You Go
For more information on the area, consult: