If you want to experience old Florida put "Ten Thousand Islands" on your bucket list. The islands are part of the second-largest mangrove forest in the world. Whether you kayak or take a guided boat tour, there is so much to see and learn in this unique slice of Paradise.
Getaway for adventure on the Paradise Coast, a destination that includes Naples, the beaches of Marco Island and the state's real authentic gem, the unparalleled Florida Everglades.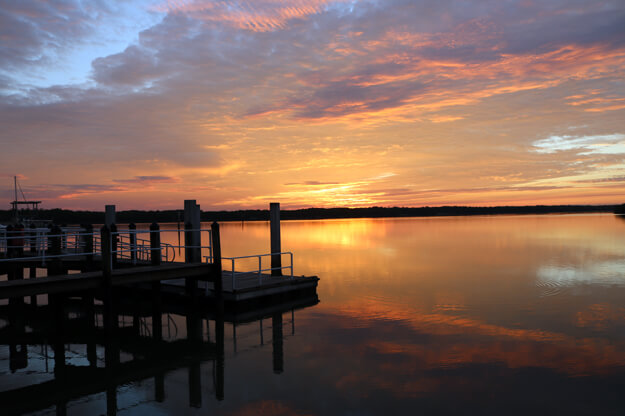 Sunset in the Everglades
Naples, in Southwest Florida, has historically been a winter playground and vacation destination for the wealthy, drawn to the area by tropical weather, hunting and fishing. But over time, it has evolved into a family destination and a luxury travel haven. This region, combining the community of Naples, the beaches of Marco Island and the unparalleled beauty of the Florida Everglades, is called the Paradise Coast.
Here's a trip that will show you why.

The Naples Pier
Begin your journey in Naples. This community has a small-town feel, with a charming historic district, waterfront restaurants and miles of beachfront, making it one of the Gulf Coast's most popular vacation getaways. To the south is Marco Island, the largest and only developed barrier island among the Ten Thousand Islands. Add to that the area's impressive number of preserves and parks providing endless outdoor options. But best of all, this destination is the gateway to Florida's real authentic gem, the Everglades.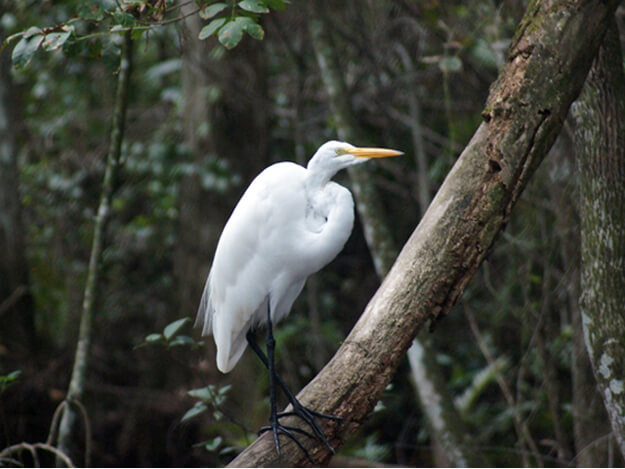 Everglades Great Egret
Interconnected by a wealth of ecosystems – from cypress swamps to mangrove forests, from hardwood hammocks to sawgrass prairies, including offshore marine habitats, the Everglades has been largely misunderstood by the public. Luckily, Marjorie Stoneman Douglas, its staunch environmental champion, wrote "River of Grass," a book that rallied the public to protect the gently moving waterway – giving it an appropriate and enduring nickname.

Everglades Green Heron
But to understand this unique terrain, you may want to get wet and wild in the Everglades through three distinct adventures: A swamp walk into the Big Cypress National Preserve; a kayak paddle along a river and through mangroves, and a wildlife and shelling expedition into the Ten Thousand Islands, a chain of islands off the Gulf Coast.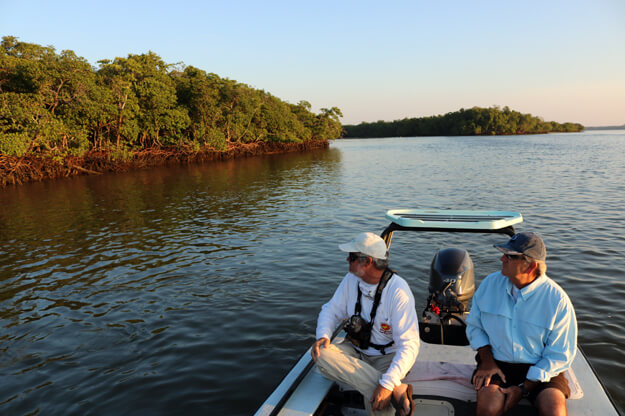 The Ten Thousand Islands, Everglades Area Tours
First stop is Everglades City.
Drive deeper into the 'glades, about thirty-five miles southeast of Naples, and you'll find Everglades City, a tiny town without traffic lights, beaches, or fancy hotels. Many consider this community Florida's last frontier, as locals earn their livelihood from outdoor adventurers seeking airboat rides, fishing excursions, kayak expeditions and boat tours. And if you stay long enough you're likely to hear tales of eccentric Gladesmen who lived deep in the Everglades, hunting and fishing in this wild outback.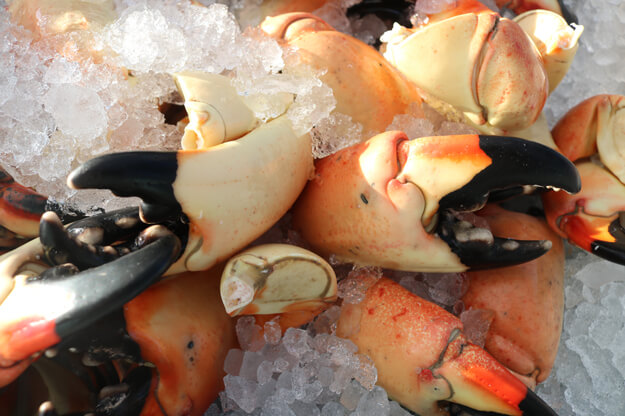 Everglades City is the Stone Crab Capital of the World
For a place to stay try the Ivey House, once a boarding house now updated for modern comfort, and accommodating to the eco-tourist. Across the street is City Seafood, an open-air restaurant situated among fishing boats on the Barron River and serving the day's fresh catch. During stone crab season, (October – May), you can enjoy a plate of Florida's tastiest crustaceans, because Everglades City is considered the "stone crab capital" of the world.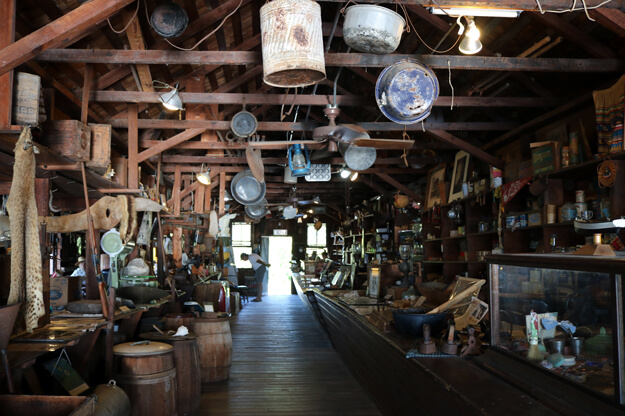 Chokoloskee's Smallwood Store
While there, visit the Smallwood Store on the island of Chokoloskee southwest of Everglades City. The 1906 Smallwood Store, perched on wood pilings overlooking Chokoloskee Bay, is a trading post that once served pioneers, Indians, alligator hunters, outlaws and hermits, now a museum and old post office capturing the culture and people who lived in the area. Listed on the National Register of Historic Places, the open-air Smallwood store displays memorabilia including Seminole crafts, archaeology specimens, artwork, books and shells.
So Cool: Big Cypress Swamp Walk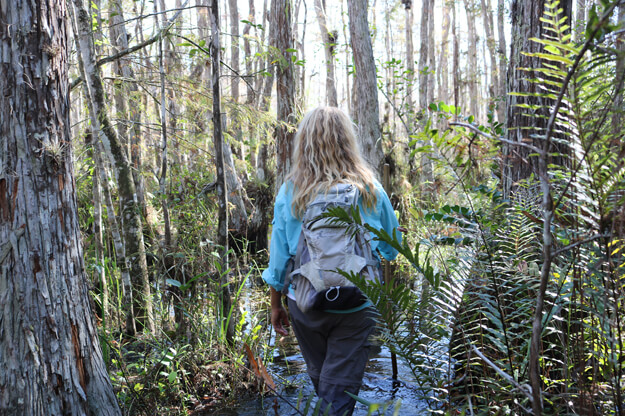 Big Cypress National Preserve Swamp Walk
Along the Tamiami Trail (aka U.S. Hwy. 41), between Naples and Miami, Clyde Butcher's Big Cypress Art Gallery is one of only a few businesses along this seemingly endless roadway. Photographer Clyde Butcher gained fame with his stunning natural photography, widely known for his images of the Everglades. Committed to dispelling the scary stories and myths about the Everglades and to gain an appreciation of this fragile environment, he and his family devised a walking tour of the area behind his gallery and the Swamp Walk was born.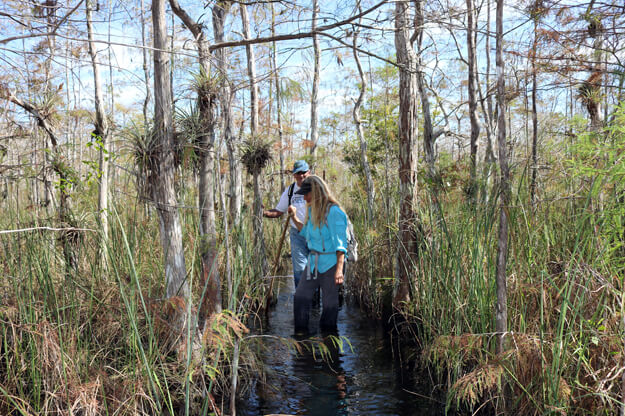 Enjoy the pristine beauty of the Big Cypress Preserve 
The Butcher Gallery is located within the Big Cypress National Preserve, a biologically diverse ecosystem, distinct from the Everglades. Covered in fresh water and dotted with dense hammocks of Bald Cypress trees, the Big Cypress swamp is essentially a slow moving river gently running towards the Florida Gulf coast, emptying into prolific estuaries which serve as nurseries for Florida's marine life.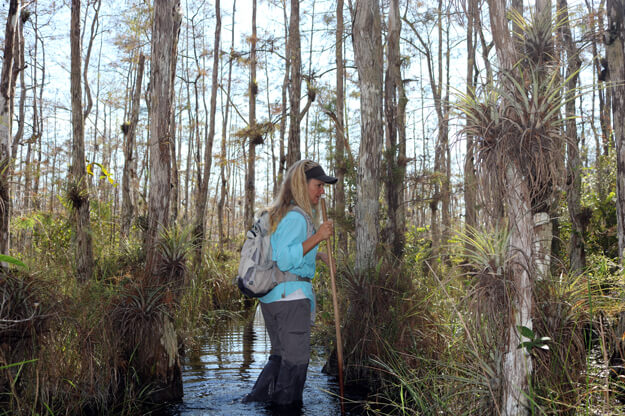 Walk through the clear, cool water and discover a mosaic of cypress trees
Follow your trusted leader and take your first step into the clear, cool water using a walking stick to begin the two-hour tour. In no time, you'll be acclimated to a world of new discoveries. The blue sky peeks through a mosaic of cypress branches framing the subdued colors of the preserve. Bromeliads, also known as air plants, some with colorful flowers, cover the tree trunks and branches along with endangered native orchids and ferns. Your guide will point out various species of Florida's subtropical plants, birds and wildlife.
Walking the pristine pathway between thin cypress trees will begin your mission of letting go and taking in the quiet beauty, absorbing the primordial natural surroundings.
If you don't get a chance to do a swamp walk, be sure to drive Loop Road off Hwy. 41 within the Big Cypress National Preserve. You won't get your feet wet but you will get to see amazing natural beauty for yourself.
Next, enjoy one more facet of the Everglades through another ecosystem and wildlife habitat:
Paddle Through Everglades Mangrove Tunnels
 
Mangroves create a unique ecosystem in the Florida Everglades
Mangroves are found throughout peninsular Florida's coastal areas, and could be considered Florida's Tree of Life because they create a unique ecosystem that provides food and shelter for fish, crabs and sea life. Its branches and boughs become nesting rookeries for many species of birds and its root system helps prevent erosion by stabilizing the shoreline.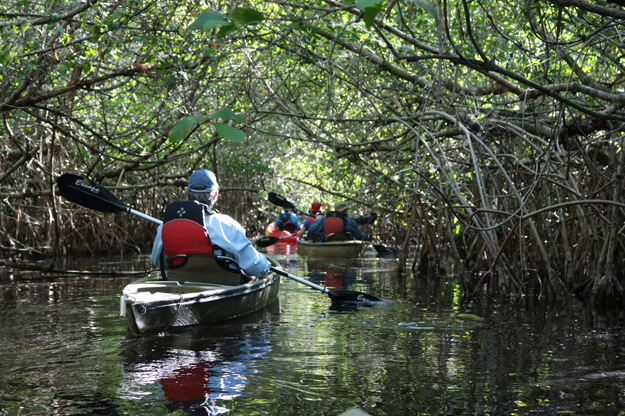 Kayak through mangrove tunnels and experience surreal Florida
The Everglades is known for its extensive mangrove forests, located in tidal environments where water transitions from fresh to salt. Small navigable tidal waterways under a canopy of mangroves create a tunnel effect. Once inside the mangrove forest, kayak paddlers experience a surreal adventure. The cool, quiet, shaded, almost sacred world of roots and branches hug the watercourse as wildlife flourishes above and below the water.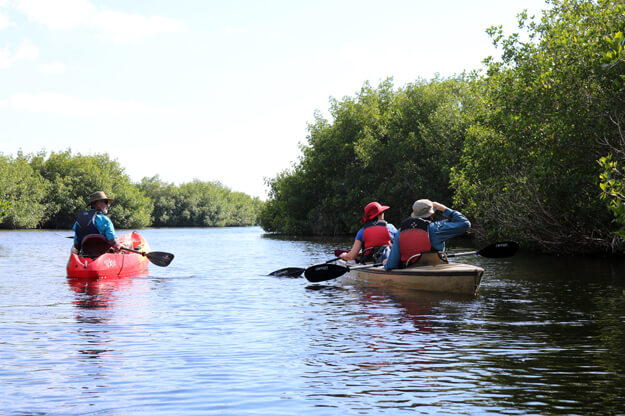 Kayak through a surreal adventure in the Everglades
Everglades Area Tours offers guided tours through area mangrove tunnels, one on the East River and another on the Turner River.
Your naturalist guide will transport you to your launch site for prime mangrove tunnel spots. For the East River tour the guide will lead you through three separate mangrove tunnel systems past bird rookeries and wet prairies. See Tri-Colored Herons, small crabs and raccoons in this light-dappled waterway. But out in the open, fish jump and alligators swim along the bank giving paddlers plenty of distance.
A Florida Dolphin, Birding and Shelling Tour in the Ten Thousand Islands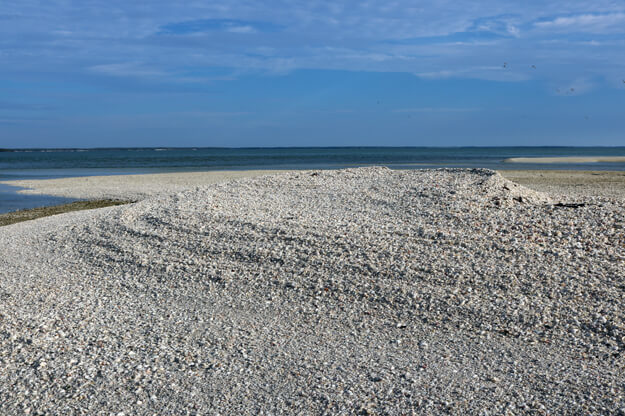 Take a shelling trip through the Ten Thousand Islands in the Florida Everglades
For a completely different excursion try a boating trip featuring wildlife and shelling in the Ten Thousand Islands. Board a small passenger boat leaving from Goodland Marina, on the southeast corner of Marco Island. Your naturalist guide and personal shelling captain from Marco Island Boat Tours will introduce you to one of the best shelling experiences in Florida.

Cape Romano Domes built as a family home
Navigate through channels, past area beaches and numerous islands — you may even pass the Cape Romano Domes — an abandoned set of dome structures hovering over the water on pilings built as a family home in 1981.  A number of legends have sprung up surrounding the origins of the crumbling cluster of domes at the tip of Cape Romano. Everything from a secret cult to aliens has been credited with creating the space-age buildings but the truth is that the now-empty concrete bubbles were born from the mind of retired oil producer, Bob Lee.
The structures were built in Lee's initial conception, the eccentric vacation home was to be a self-sufficient, eco-friendly relaxation spot for his family. Among the innovations at the site are the raised units themselves which would be heated by lighting fires among the concrete pylons beneath the rooms, and the dome-shaped roofs which were to direct rainwater into troughs that would then be collected for showering and dishwater. Even the tumultuous Florida weather was taken into account and the sturdy, rounded domes were able to sustain hurricane winds with little damage. Unfortunately, as the landscape on the edge of the island began to change, simple erosion finally made the homes unlivable. The firm beach on which the domes were built began to be overtaken by the sea, until the domes were surrounded on all sides by water. They only survive thanks to the concrete pillars elevating them above the water level. The Dome House was repurchased in 2001, and while the new owner attempted to refurbish the site, property taxes and prohibitive construction costs delayed the project until there was little chance of saving the buildings. With no chance of reclamation, the abandoned domes make an excellent setting for both wildlife and wild legends.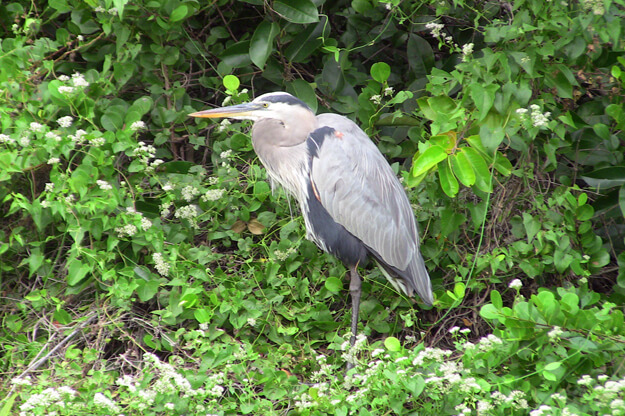 Great Blue Heron
Take in the cloudless blue skies; breathe in the salt air keeping an eye out for dolphins, manatees and sea turtles. Look up and you may see bald eagles, ospreys and herons soaring overhead.

Shell Island in the Ten Thousand Islands
For shelling, your captain will determine the best island stop based on the tides and winds. One popular local spot is unofficially named "Shell Key." Layers upon layers of shells accumulate forming this island. Rare specimens such as the prized Junonia are sometimes found.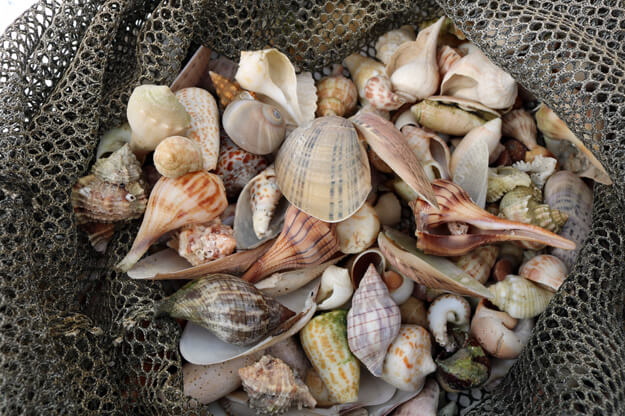 Bring home your memories from the shelling excursion
You're sure to bring back memories of this excursion, the wildlife and your bounty of shelling treasures.
Naples, Quaint Urban Retreat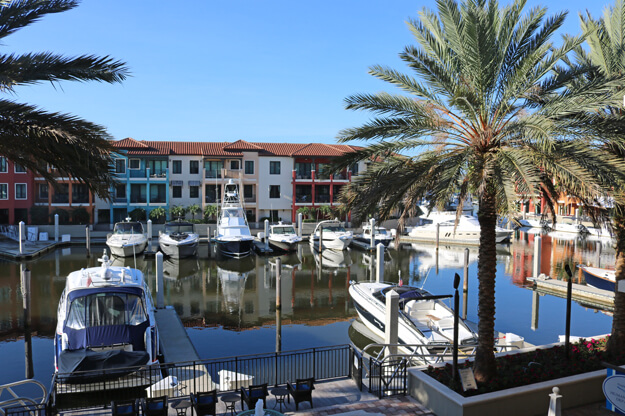 Naples Bay Resort
After all this outdoor exploration, you might be ready for some rest and relaxation – in comfort.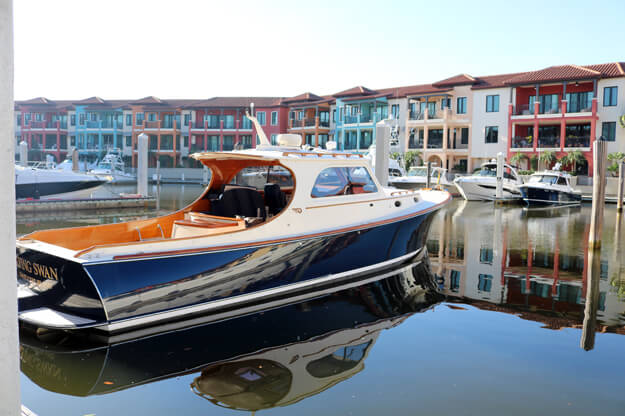 Naples Bay Resort
Naples accommodations range from charming small lodging to luxury resorts. After a serious adventure you may want to treat yourself to the Naples Bay Resort. Beautifully appointed rooms, fitness center, spa, shops and pool overlooking a boat marina ensure relaxation and fun. You can even rent a boat to tour the area waterways or the Gulf of Mexico.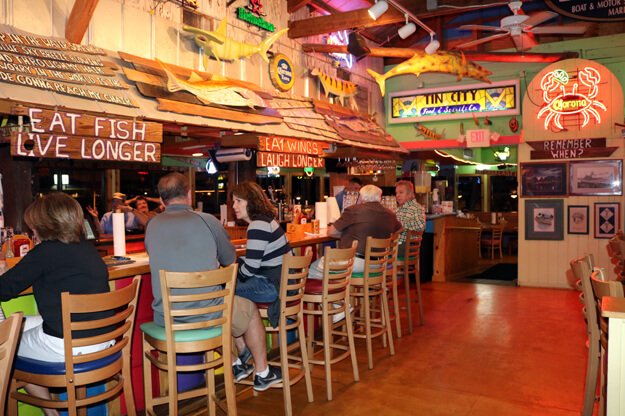 Pincher's Crab Shack, Tin City, Naples
The Resort is also within an easy stroll to downtown Naples and the colorful collection of dockside buildings known as Tin City. Situated on the Gordon River this one-time hub of the Naples fishing and seafood processing industry is now home to quaint waterfront restaurants, antique shops and eclectic stores. Tour boats motor by and fishing boats still bring in the day's catch. Try Pincher's Crab Shack for fresh, local seafood or enjoy dinner at the Naples Bay Resort 1500 South Bar and Restaurant overlooking the resort marina and featuring locally inspired seafood and Italian cuisine.
While in Naples, be sure to take in two more exceptional and unique outdoor adventures, the Corkscrew Swamp Sanctuary and the Naples Botanical Gardens.
Audubon Corkscrew Swamp Sanctuary: Living Museum Boardwalk Tour

Audubon Corkscrew Swamp Sanctuary
The Audubon Corkscrew Swamp Sanctuary is located northeast of Naples near Immokalee. Originally established to protect one of the last remaining stands of bald cypress in North America, the sanctuary also serves as a critical nesting area for threatened birds and wildlife.
Enjoy a stunning two-mile (or an alternative one-mile) boardwalk hike through the Corkscrew Swamp while experiencing numerous Florida habitats within the sanctuary. Here, all forms of nature will greet the most patient observer.
To begin your journey, the Blair Audubon Center provides interpretive displays and posts of daily wildlife sightings.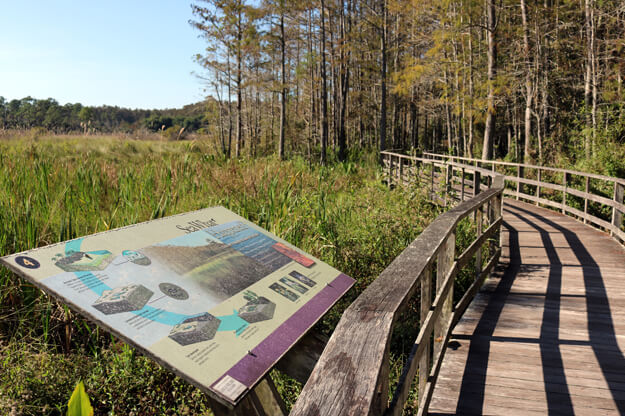 Corkscrew Swamp Sanctuary boardwalk
Then begin the boardwalk stroll through the pine flatwoods where pines, sable palms and saw palmettos create a habitat for the colorful Painted Buntings, Cardinals, Woodpeckers and Hawks. Proceed through the wet prairie distinguished by marsh grasses, sedges, rushes and cord grass where you are likely to see Great Egrets, White Ibis and Herons.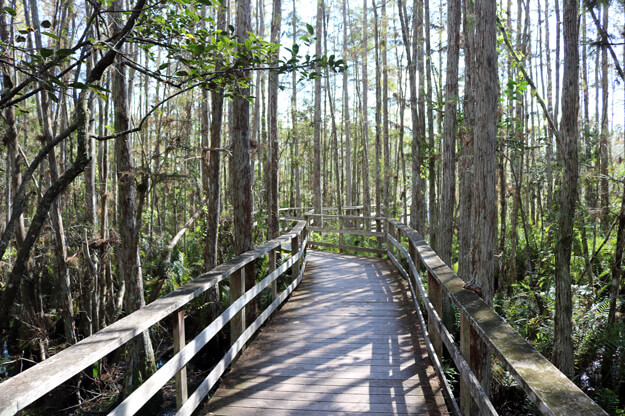 Corkscrew Swamp boardwalk winds through multiple ecosystems
Next, enter the Cypress Forest where majestic bald cypress trees representing 500-year old virgin bald cypress tower more than 130 feet. Look for Barred Owls, Wood Ducks and woodpeckers among bromeliads and orchids. Eventually you'll be strolling along Lettuce Lakes, named appropriately for its floating vegetation and serving as prime feeding grounds for wading birds, red-bellied turtles and alligators. Be on the lookout for Black-crowned Night Herons, Anhingas and green tree frogs. Continue through the marsh among cattails, pickerel and sawgrass back to the Center.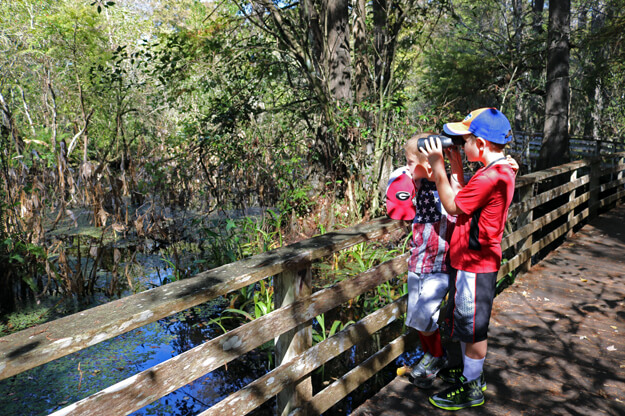 Bird watching in the Corkscrew Swamp 
Owls hoot, birds sing, and peaceful serenity is yours while enjoying the stillness of this sacred space.
Naples Botanical Garden, 26 Degrees Latitude North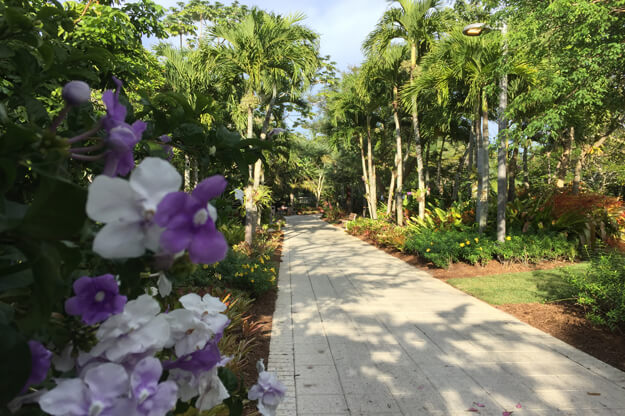 Naples Botanical Gardens
You don't have to be a gardener to enjoy the 170-acre garden paradise of Naples Botanical Gardens. Featuring plants of the tropics and subtropics (between the 26 N – 26 S latitudes), this slice of paradise connects visitors to nature through a diverse collection of outdoor spaces. Visitors will be inspired to learn more about plants, gardens and native habitat. Themed gardens highlight plants of Brazil, Southeast Asia and the Caribbean. Take a moment to enjoy quiet meditation sitting near a waterfall, under a shady palm tree, next to a bubbling fountain or in an orchid garden.
The garden also serves as a leader in sustainability through its buildings, horticulture and design incorporating best practices of water conservation including bio-swales and its model Everglades "River of Grass."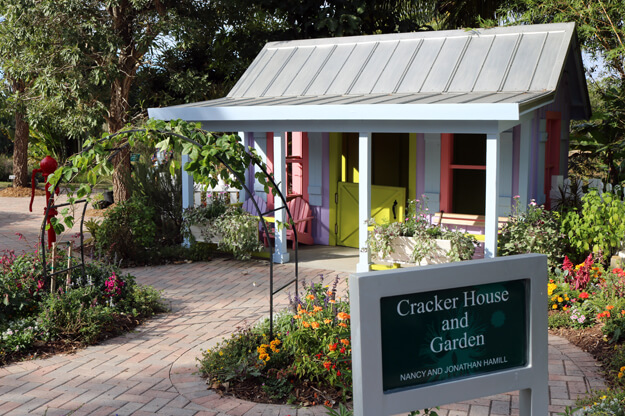 Naples Botanical Children's Garden
Bring the kids because the Children's Garden features enchanting discoveries for the little ones with an enclosed butterfly garden, Florida Cracker House, sculptures, a climbing tree house and a hands-on vegetable garden.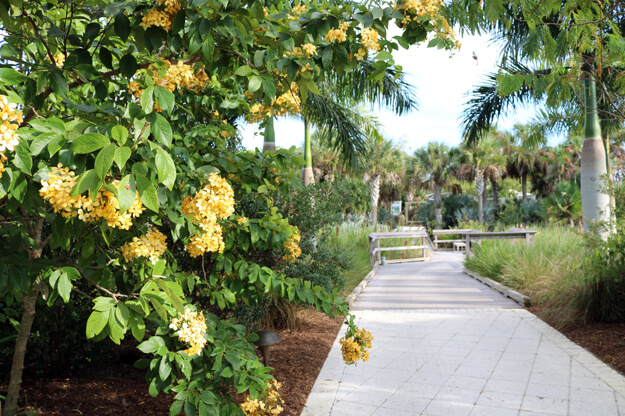 Naples Botanical Gardens
And to remind us of our need to keep yards native, a recently opened Florida Garden includes native landscaping reflecting the diversity Florida plants, with cascading water fountains, streams and chickee huts for visitors to enjoy the shade and the view.
While in Naples, here are more highlights you might want to consider: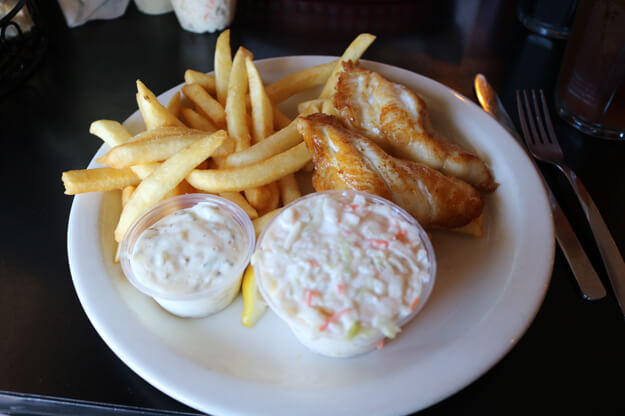 Naples Grouper & Chips Restaurant 
Best Naples Selfie: Naples Pier at sunset
Best Beaches: Barefoot Beach, Delnor-Wiggins Pass State Park (both North Naples)
Best Grouper Sandwich: Grouper & Chips Restaurant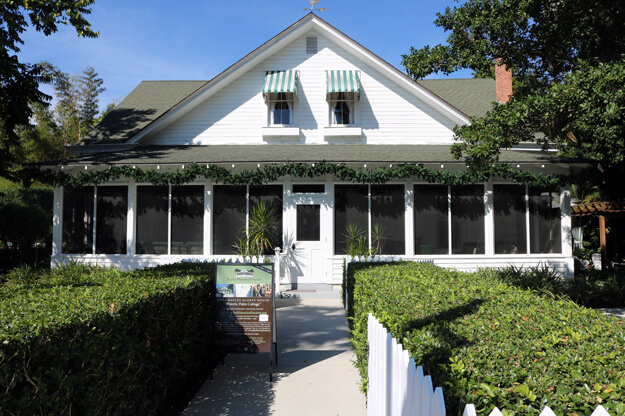 Naples Historic Palm Cottage
Best Snapshot of History: Historic Palm Cottage (near the Naples Pier)
Best "old Florida" Accommodation: Lemon Tree Inn
Best travel months for bargain rates: May – December
The Paradise Coast is a web of contrasts, from resort fun to wilderness adventures. Whether you want to sit on the beach, discover the Everglades or just bird watch, you'll find plenty to do in this tropical, authentic destination.
To receive Authentic Florida's free ENEWs sign up on the home page Authentic Florida, voted Blog of the Year and Best Travel Blog multiple times at the Florida Sunshine Awards. 
---