Miami is Florida's big city with palm trees, but it's also filled with century-old mansions, authentic gardens, vintage hotels, natural pools, funky neighborhoods, vibrant art communities, and decadent dining and shopping options.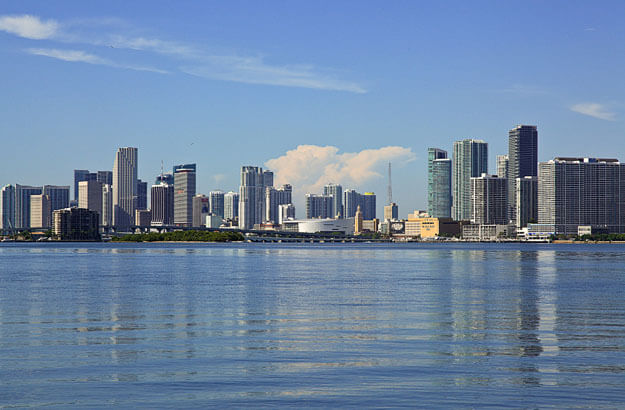 Known for sun worshippers and bikini-clad in-line skaters parading the Ocean Beach boardwalk, Miami's international culture, food, and entertainment come together at "America's Rivera."
However, there is so much more to Miami than its beaches, beautiful people, and nightlife.
The History of Miami
Historically, Miami is a latecomer to Florida's growth and even up until the 20th century it was not much more than a trading outpost. Following World War I there was a land boom. People came in droves searching for new opportunities and a respite from the colder climates as developers lured newcomers to buy into the American Dream. Hurricanes and the Great Depression stymied growth for a while, but with World War II came the construction of military training bases throughout the state, and guess what? When the war ended many of those soldiers and sailors returned to the land of sunshine. From the earliest land boom to the post-World War II eras, Miami experienced waves of visitors, many of whom became new residents. These migrations shaped Miami and the state – and to this day, millions come to its beaches enthralled by its magical, tropical allure.
There is plenty to see and enjoy in Miami, but to gain a deeper appreciation of the town and its history, we highly suggest starting with these classic, authentic Florida favorites:

Fairchild Tropical Botanic Gardens
If you are looking for Florida's tropical paradise, you may want to start at Miami's Fairchild Gardens. The vast 83 acres (and 11 lakes) create a premier garden setting with a vast selection of tropical plants, flowering trees, and palms.
Opened in 1938 and named for Dr. David Fairchild, a foremost botanist of his time, the renowned traveler and plant collector retired to Miami in 1935. Fairchild shared his research and findings with his friend Col. Robert H. Montgomery, who was also an avid plant collector. Inspired by Fairchild, Montgomery founded the botanical garden and named it in honor of his friend.

Fairchild Tropical Botanic Gardens
Fairchild Gardens has something for everyone – even those without a green thumb. Ponds and shady walkways line prized collections of palms, cycads, bromeliads, succulents, vines, orchids, and edible gardens. Visitors will be struck by the sheer immensity of the property, its plant diversity, and the gorgeous vistas from one garden to the next.
Don't miss the indoor Butterfly Conservatory, where a colorful display of 1000 butterflies from all over the world flutters overhead. Inside, the Butterfly Metamorphosis Lab exhibits the fascinating and colorful stages of the (butterfly's) chrysalis.
Chihuly glass sculpture, Fairchild Gardens
For those of you who are avid Florida gardeners, stop by the outdoor Butterfly Garden, home to native plants that attract local butterflies. Also, the Keys Coastal Habitat showcases Florida's mangroves including four acres of vegetation attracting migratory birds.
This is a garden with year-round activities ranging from the annual Mango Festival to the impressive visiting art shows.
As an aside, east of Fairchild Gardens is the 130-acre Matheson Hammock County Park. Shady oak trees with vibrant bromeliads blanket every tree along the pathway. It is a great place to take a hike and enjoy your lunch while absorbing the peaceful silence. Beyond the walking park is a marina and beach overlooking Biscayne Bay.

Vizcaya Museum & Gardens
Once the winter home to wealthy Chicago industrialist James Deering, Vizcaya Museum & Gardens is another Miami-must see. A short distance from downtown Miami, the 50 acres of property with waterfront home and gardens combine old European design with Florida's sub-tropical setting. Completed in 1922, the huge mansion, partly built from locally quarried coral stone, overlooks Biscayne Bay and is available for guided and audio tours.
The European inspired home has historic antiques, art, and sculptures on two main floors overlooking an enclosed courtyard. A total of 34 rooms – including a lushly appointed living room and music room, a loggia (or indoor sitting area), and richly furnished bedrooms, are all on display. Bay or garden views are predominant but don't miss the dining room with its vibrant wall murals and spectacular garden view. Outside along the waterfront, you won't miss the Barge, a concrete dock and breakwater that resembles a boat. It's another unique feature that makes this place seem like a magical castle.

Vizcaya Gardens
Speaking of magical, you will also want to spend some time in the European inspired gardens. Gracefully designed with soft geometric patterns in a spacious setting, the stunning gardens are sizable overall. There are small, private areas easily accessed for quiet contemplation. The serenity, peace and calm, combined with breathtaking vistas of the magnificent property will keep you coming back to Vizcaya again and again.
The luscious garden fountains and colorful walkways attract people from around the world and it is also popular with locals. Young Hispanic women, in bright formal dresses, photograph for their "Quinceaneras" or "coming of age" 15-year-old birthday celebrations. It is not unusual to see fashion models posing for frenetic photographers working to capture their beauty against a backdrop of magnificent views. Don't let all of the activity deter you! The vast garden experience has a secret passage, and all who visit will find a peaceful sitting area for rest and reflection.
In the 1950s, Deering's heirs turned the historic estate over to Miami-Dade County. This created a public museum and space for generations of visitors and Floridians to enjoy.
Our next stop was to Coral Gables, southwest of downtown Miami. Banyan and Royal Poinciana trees line the streets accented with tropical gardens of hibiscus and bougainvillea. This timeless, old neighborhood of Mediterranean-style homes was conceived in the 1920s as the "City Beautiful. This created a charming introduction to my next visit to the Biltmore Hotel and Pool and the Venetian Pool.

Biltmore Hotel, Coral Gables
A National Historic Landmark, this elegant hotel was built at the height of the land boom of the 1920s.  Spanish, Moorish and Italian influences reflect in its classic Mediterranean architectural designs. These include a colonnaded lobby with hand-painted ceiling beams, open-air courtyards, fountains, balconies, and also stunning tile floors. While standing in the lobby it would be easy to imagine Ginger Rogers or Judy Garland waltzing in with miles of dutiful bellboys carrying baggage trunks. Headline names such as Franklin Roosevelt and even Al Capone stayed at the hotel! The Biltmore hotel captivated people with poolside aquatic galas!

Biltmore Hotel Pool, Coral Gables
The Biltmore pool is a historical icon and showstopper. Enclosed by an elegant tropical setting encompassing more than 22,000 square feet, the pool is the largest resort pool in the continental United States. When you visit, not only will you feel that you are a part of history, but you may never want to leave. Legends and tales of synchronized swimmers, alligator wrestlers, and also high diving stars drew attention to the famous pool where Tarzan star Johnny Weissmuller was known to have taught swimming.
Called into duty as a hospital during World War II, the Biltmore also served as a Veteran's hospital until 1968. Reopened as a hotel in 1987, it has changed ownership over the years, undergone two major renovations, and also remains one of the most stunning boom-era hotels in all of Florida.

The Venetian Pool, Coral Gables
Speaking of pools, not far from the Biltmore is the Coral Gables Venetian Pool. What distinguishes this old pool is the fact that in 1923 it was created from a coral rock quarry. It continues to be fed with spring water from an underground aquifer. It also requires 820,000 gallons of water, drained and refilled daily.
As part of a visionary plan to create Florida's utopian neighborhood, the Venetian pool was built featuring waterfalls, grotto, and diving platforms on two large historical lookout towers. Mediterranean architecture and lush tropical foliage are also reflected here.
The Venetian is open to the public and the only swimming pool on the National Register of Historic Places. Johnny Weismuller and Esther Williams also spent time at the Venetian. An interesting note, since the pool was drained and refilled daily, in the evenings, there were occasional parties at the bottom of the empty pool! Here orchestras played and guests danced into the night.

Maximo Gomez Park (Domino Park), Little Havana, Miami
If you want to get a taste of Miami's international flavor, Little Havana is a food haven. Considered the Ellis Island of Miami, Cuban immigrants often come to begin their American dream. It's a family-friendly community with a decidedly Cuban flair! Neighbors not only know each other but greet one another on the street. Friends sit side-by-side, sipping Cuban coffee while playing dominoes and catching up on the daily news.
Calle Ocho, or Eighth Street, is the main drag and the best place to start your visit. You might even want to contact Miami Culinary Tours, a two-hour tour providing insights into both food and culture while you absorb the multi-ethnic character of the community. (They also offer other Miami neighborhood culinary tours).
Once there, you'll experience open-air walk-up counters connected to small restaurants, fruit stands and juice bars, and Cuban coffee shops. All of these make eating and drinking a "walking-dining" experience.
We started at the Yiselle Bakery for a Cuban pastry called guava pastelito. This is a melt-in-your-mouth fruit pastry that pairs perfectly with a cup of dark, intensely rich Cuban coffee. Every morning, families, and visitors too, flock to Yiselle to pick up their fresh Cuban bread and pastries.
Admiring the colorful neighborhood murals, we continued the walk to The Little Havana Cigar Factory, a small cigar shop that showcases homemade hand rolling demonstrations. The shop owner explains the artisan craft while the smell of fresh rolled Cuban cigars permeates the Little Havana air.

Little Havana Cigar Factory, Little Havana
Further down the street at Domino Park, Cuban men sip cafecitos, or Cuban espressos, play dominos and argue politics. It's a great place to window shop and stop at a few local art galleries! These all have vibrant local art on display.
After admiring the Latin art, we stopped for lunch at the El Pub, with open-air counter seats surrounded by pictures of hometown Cuban-American athletes. Watching the owner make Cuban sandwiches – Miami style, we ordered a bowl of black bean soup and also a side of fried plantains. Cuban cooking is often associated with Arroz con Pollo, or rice with chicken, and pork dishes such as roast mojo pork. Mojo is a sauce of citrus, garlic, vinegar, and spices. Sour oranges are a traditional addition. However, there are many variations using lime and grapefruit juice as well to marinade the pork roast that is then slow-cooked and typically served with black beans and rice.
While on Calle Ocho, don't miss Azucar Ice Cream, which is Cuban artisanal ice cream. Try the passion fruit, flan, or also mamey-sapote (fruit) flavors. The intensity of the tropical flavors will transport you to Cuba.
As if we hadn't had enough, we stopped at the Los Pinarenos Fruteria, another outdoor Cuban bar that specialized in Guarapo juice made of fresh sugar cane. It is refreshingly delicious and surprisingly not overly sweet, but will give you instantaneous energy!
Saturated in Cuban Culture, I can still hear the salsa music and the soft beat of conga drums from Little Havana as I depart for the next stop.
For whimsy and more to satisfy our "art fix", we visited the contemporary Wynwood Arts District, just north of downtown. Once a warehouse district, the area is revitalized by artists and visionaries. They have converted warehouses into studios and galleries, and have turned the landscape into works of art. Colorful murals and dynamic street art covers buildings, warehouses, restaurants, auto body shops, and also anything else that can be painted. The area is burgeoning with life, color, and a vibrant beat.  

Mural Art, Wynwood District
And there is no need to buy a ticket – it's free! The best places to start your tour is at the Wynwood Kitchen and Bar, or the nearby Panther Coffee – both have become meeting popular places to get advice and directions.
We love the freedom of creative expression that shouldn't be mistaken for unattractive street graffiti; this is Florida art, without boundaries, joyous, and full of life. Young creatives gather and mix in the streets, cafes, and more than 70 galleries.
Miami Culinary Tours also features a tour of the Wynwood District. Their guides are foodies with passion, who know the neighborhood and will help you glimpse an intimate peek into the food, culture, and art that surrounds you while touring and dining. Don't miss R-House Wynwood for a delicious dinner or for Drag Brunch.
While speaking of food, let us mention the Miami Food Trucks, an eclectic assortment of fresh food purveyors who assemble at the Wynwood Art Walk every second Saturday.

Cape Florida Lighthouse, Key Biscayne
After experiencing the excitement, history, culture, and electric vibe that resonated throughout my Miami tour, we knew it was time to decompress and chill. We then hit the beach to reflect on all the fun we had had. Not far from Miami's downtown is the upscale Key Biscayne, popular for its tennis and golf exhibitions and home to the popular Miami Seaquarium.
Something special about Key Biscayne for the authentic Florida traveler is at the tip of the island. Bill Baggs Cape Florida State Park is situated on Atlantic beachfront with the oldest standing structure in Miami-Dade County. On the beach stands a picturesque 95-foot lighthouse built in 1825 and reconstructed in 1846. (Daily lighthouse tours are provided.)
Thick, healthy Florida mangroves and a maritime hammock were replanted after the devastation of Hurricane Andrew. More than 50 butterfly species, 170 bird species, sea turtles, Florida manatees, and even the American crocodile have been spotted.
This spit of land jutting into the Atlantic, enclosing the north end of Biscayne Bay was originally named Cape of Florida. Ponce de Leon who led the first European expedition to these shores in 1513 named it. Interestingly, Cape Florida became a port for runaway slaves and Black Seminoles. They were awaiting safe passage to the British Bahamas prior to and during the Civil War era.
As we stretch out on the beach and reflect on our discoveries, we think about Miami's lush gardens, century-old mansions, legendary hotels, pools, ethnic neighborhoods, cuisine, vibrant art, and also unique history with an unmistaken tropical vibe.
Miami, a city of many "renaissances" has got the beat.

AuthenticFlorida.com was named Best Travel Blog two-times at the Florida Sunshine Awards.
To receive Authentic Florida's free weekly ENEWs, sign up on our Authentic Florida home page.
To inquire about partnerships/advertising, please contact info@authenticflorida.com 
Proud Member of: 

---