JULY IS NATIONAL BLUEBERRY MONTH!
National Blueberry Day is July 8th
National Blueberry Muffin Day is July 11th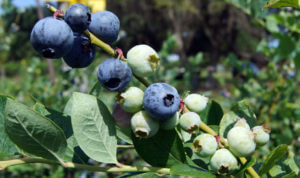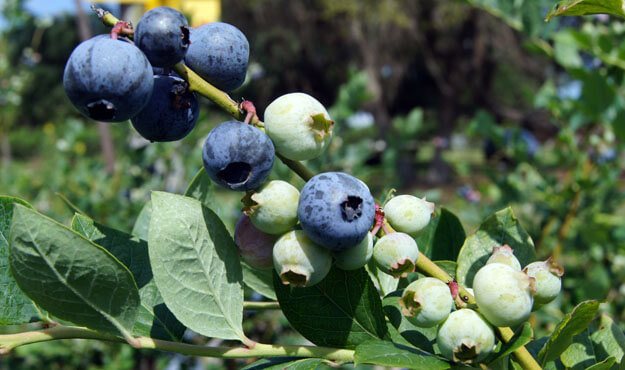 Jordan Marsh was a department store that opened its flagship store in downtown Boston around 1841. Aside from being a fashion destination, it was known for a special treat — blueberry muffins. The first floor housed a bakery, where they were made, then served in the dining room on the top floor to all tired/hungry shoppers. The muffins were a beautiful violet color (due to mashing some berries in the batter) and their crunchy top was an added bonus. Read on to check out this delicious blueberry muffin recipe!
Sadly, Jordan Marsh closed around 1991 after the chain was bought out by Macy's. I was living in Florida when I heard the news, and I was devastated. So much history simply erased! Luckily, I can remember that special place whenever I make these muffins. . .
The recipe is pretty consistent across all sources, including my grandmother's recipe box. It's a basic batter, but there are two keys to a moist, tasty muffin: 1) mix the batter until just combined (i.e., don't over mix), and 2) toss the whole berries in a little flour before putting them into the batter, so they don't fall to the bottom. For my version, I replaced milk with buttermilk for a bit of extra lightness, but whole milk works fine, too.  My grandmother actually used evaporated milk, and that's yummy, too.
These muffins are definitely "blueberry-y" and even pack a little punch of nostalgia.
Nicole and Brendan Coudal
Now that you know the history behind these muffins, you'll know why I chose to make a batch for an early morning fishing trip my husband and I took recently. To make it even more fun, we decided it would be the day for our annual "brunch on the boat." This day is not a time for breakfast fare served from a bag, Tupperware, or paper plate! I'm talking placemats, silverware, china, linen napkins, homemade quiche, hot muffins, coffee, and fresh fruit. We even snuck in flowers from our yard! With a beautiful, sunny and breezy morning as our backdrop, it was the perfect setting. We even spotted a few fish (none that wanted anything to do with us), some huge Spotted Eagle Rays, several dolphins, and a sea turtle. What a great way to start the day!
If you have a boat, please try a "fancy" brunch some time. If you don't have a boat, how about brunch by the bay, or on the beach or at a picnic table? Wherever it is, PLEASE HAVE BRUNCH SOMEWHERE! It's fun and good for your soul. And if you can share it with someone special, all the better.
Jordan Marsh Blueberry Muffin Recipe
Serves: 12
Ingredients for Blueberry Muffin Recipe
8 Tb. unsalted butter (room temperature)
2 eggs
1 c. + 3 TB. sugar (reserve the 3 Tb. to top the muffins)
2 tsp. vanilla extract
½ tsp. salt
2 c. all-purpose flour
½ c. whole milk (or buttermilk, or evaporated milk)
2 tsp. baking powder
1½ c. blueberries (mash half, or use all whole berries)
Instructions for Blueberry Muffin Recipe
Pre-heat oven to 375 degrees.
Line a 12-muffin tin with paper liners (or spray with baking spray).
In a large mixing bowl, cream butter then add 1 c. sugar and blend until light and fluffy. Add eggs, one at a time, beating after each. Add vanilla.
Sift flour, baking powder, and salt.
Add dry ingredients to wet mixture, a little at a time, alternating with milk, until just combined.
In another bowl, mash ½ the berries.
In yet another bowl(!), mix whole berries with ½ tsp. of flour and toss to coat.
Using a wooden spoon or rubber spatula, mix in mashed and whole berries until just combined.
Spoon batter into muffin cups until almost full. Sprinkle with 3 Tb. reserved sugar.
Bake for about 20-25 minutes, until a toothpick comes out clean.
Remove from oven and allow to cool before removing from pan.
Note: After removing the muffins from the muffin tin, leave them uncovered to avoid moisture forming on the tops and losing their crunch.
Want to try out other delicious Authentic Florida Recipes? You can check them out
here
!

Nicole Coudal is a home chef and food writer based in southwest Florida, where she fishes and cooks using local ingredients. When not on the water, she visits farms, farmer's markets, and other food venues to highlight what's in-season and to create tasty recipes for her blog. Nicole is a regular contributor to Edible Sarasota and Visit Sarasota, as well as, a frequent guest on ABC 7's Suncoast View. Read more and sign up for her e-newsletter at www.MyDeliciousBlog.com. Click Shop to order one of her kitchen towels or face masks.

AuthenticFlorida.com was named Best Travel Blog at the 2018 Sunshine Awards. 
To receive Authentic Florida's free weekly ENEWs, sign up on our Authentic Florida home page.
To inquire about partnerships/advertising, please contact info@authenticflorida.com
Proud Member of: 

        
---
Comments are closed.