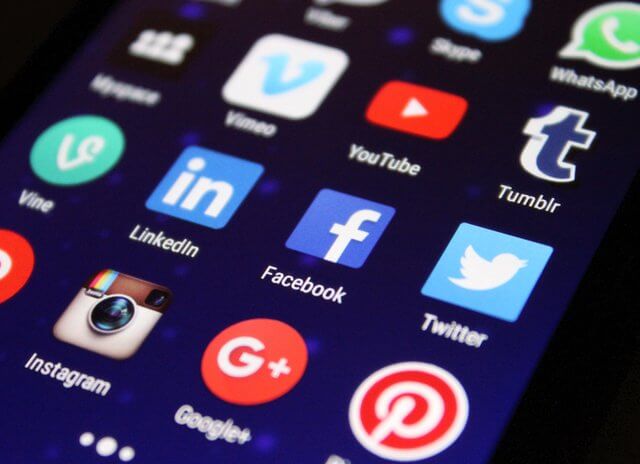 Are you looking for something fun to do after being stuck in the house for what feels like forever? Maybe you're wanting to take a trip, but you're unsure of where to start in the current state of the world. If you decide to venture out on a road trip, check out these road trip apps you can download to have a fun and safe trip! Make sure to wear your mask and social distance, of course!
Price: Free
Allset lets you browse menus of restaurants near you and order ahead for contactless pick-up! You can even order for dine-in and skip the wait and your food can be brought to your table as soon as you sit down.
Price: Free
AllTrails has the largest collection of detailed, hand-curated trail maps and GPS tracking so you can hit the trail with confidence! You can find the perfect hike, bike ride, or trail run sorted by length, rating, and difficulty level. You can also filter by which trails are dog or kid-friendly trails, or have great views!
Price: Free
Cairn allows you to get home safely from any outdoor trek! It automatically alerts your safety circle if you're overdue and communicates important details, like where you're headed and when you intend to return. It also has real-time location tracking with your friends and family! You can also see where there is cell coverage on the trail and know your ETA at all times based on your pace, distance, and elevation.
Price: Free
This one may seem a little silly, but if you've ever been stuck searching for a restroom, you know how valuable this can be! Flush displays the nearest public toilets to you and has over 190,000 locations logged!
Price: Free
Gas Buddy shows you the cheapest gas near you and has over 150,000+ locations. You can also get the free Gas Buddy payments card to save up to 25 cents per gallon on every gallon of gas!
Price: Free
Join the world's largest treasure hunt! Geocaching is an outdoor recreational activity, in which participants use GPS to hide and seek containers, called "geocaches" or "caches", at specific locations marked by coordinates all over the world! When you find the geocache, you sign and date the logbook and put it back for others to find!
Price: Free
The iExit Interstate Exit Guide is a great road trip app that figures out where you are on the Interstate, and shows you what's ahead. If you need gas, it can compare the prices for you to find the cheapest option near you. If you need food, you can look for a fast-food chain or something local, incorporating reviews to find the best! Looking for a hotel? iExit lists all the hotels within 3 miles of the exit ramp! It also shows you the best deals of hotels in the area! In addition to all of this, you can also search for specific chains, specific amenities (like WiFi), or rest areas!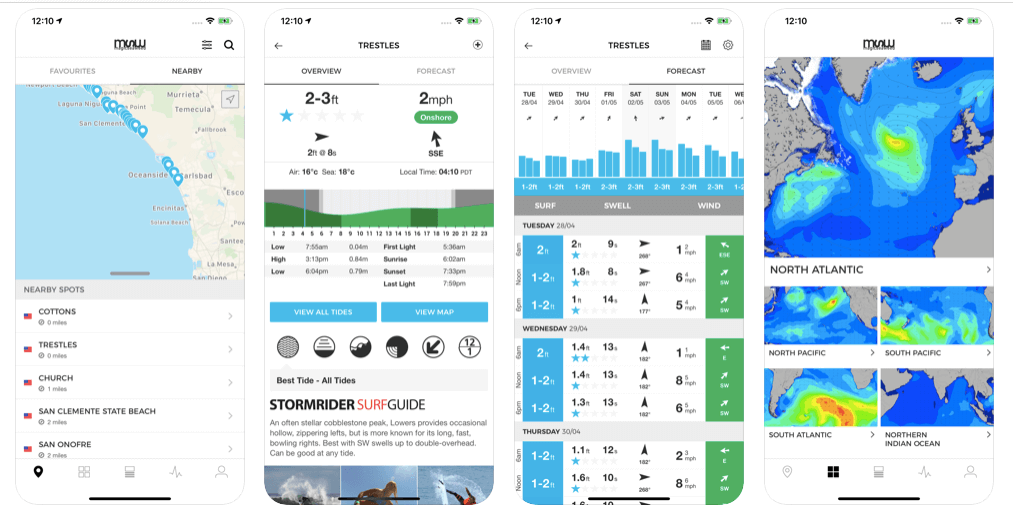 Price: Free
The MSW surf forecast app is perfect for safe surfing! The forecast includes detailed long-range surf forecasts for waves, wind, and swell, including live wave buoy and weather station reports. They also have HD live video of the surf from a network of intelligent surf cameras that track the tides and best banks.
Outbound
Price: Free
The Outbound app is perfect for finding that hidden gem adventure on your road trip! The app searches for local attractions, tours, and lodging near you, and also offers travel tips and stories. Save all of your favorite travels and rate and review the attractions you ended up doing!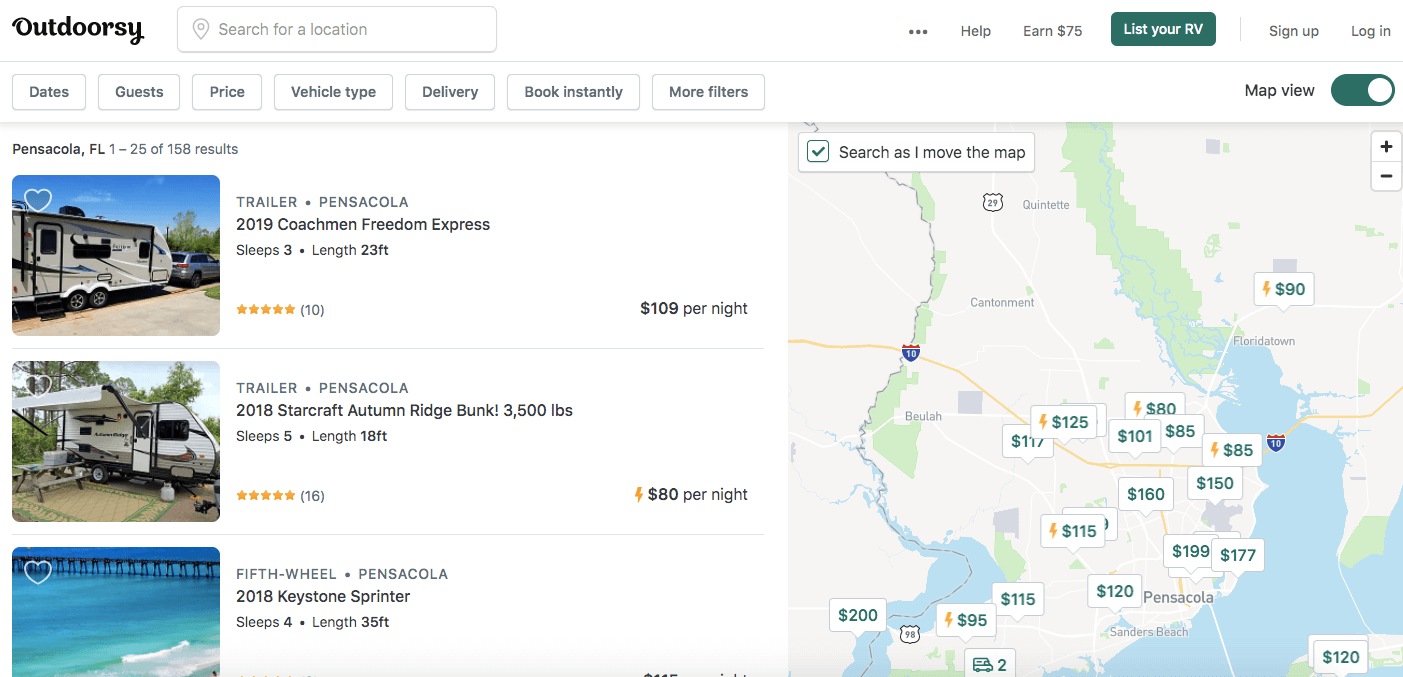 Price: Free
Are you looking to go on an RV trip but don't know where to begin? Whether you're looking for a quick staycation, cross country road-trip, tailgating, or music-festival adventure, Outdoorsy lets you rent an RV peer-to-peer in their trustworthy marketplace. In addition to RVs, you also have the option to rent camper vans and adventure vehicles!
Price: Free
From booking a weekend getaway to planning a cross-country road trip, the Recreation.gov app helps you find and reserve campsites, review location details for your trip, and quickly access information on past and upcoming reservations. You can search and reserve campgrounds from thousands of options, find tickets and tours to amazing events (ranger-led tours, cave tours and more!), and enter lotteries for high-demand attractions!
Price: $2.99
Looking for kitschy and unique things to do off the interstate on a road trip? Look no further than the Roadside America app! The $2.99 price includes one region and each additional region is $1.99. We recommend the SouthEast region, which includes Alabama, Arkansas, Florida, Georgia, Kentucky, Louisiana, Mississippi, North Carolina, South Carolina, and Tennessee. For example, in Alva, FL you can see the ten-foot-tall Strawberry Man! Other locations on the app are Swampy, the World's Largest gator at Christmas, the grave of Bob Ross in Gotha, and many more!
Price: Free
The Roadtrippers' apps make it easy to plan your summer road trip with friends or find an amazing place nearby you never knew existed. You can add up to 150 stops along your road trip with directions to lead you on your way! Each location also has reviews and photos to help you choose the absolute best options for your trip.
Price: Free
Tide Alert presents data from the National Oceanic and Atmospheric Administration along with a moon phase calendar. It even works offline when you aren't connected to the internet! This app is a great safety feature for anyone who walks on the beach frequently, as well as fishers, kayakers, boaters, surfers, sailors, birders, and swimmers! It also has an app that is compatible with your Apple Watch.
Price: Free
The UV Lens is incredibly important for all of us living in Florida and spending lots of time outside! The app shows you a UV forecast telling you the best time you should be out in the sun for the day. You can also learn your burn risk and find out how long you personally can stay out in the sun since everyone's skin is different! It also gives you tips on learning what protection measures to take and when to apply sunscreen.
New Product Alert
Price: $14.95 – $18.50
The buzz now is on intranational travel: ROAD TRIPS! Trips to beaches, parks, springs, and gardens are the perfect way to get away and breathe. Those trips are at the heart of Authentic Florida. Toll roads typically get you to backroads faster. Now there is a Florida-based toll pass that lets you travel nonstop through 18 states with just one toll account … this includes on all roads and most bridges throughout Florida, up the East Coast to Maine, and west to Illinois. You'll save time and money with this toll transponder. Since it's portable, you can move it from vehicle universally over cash and Pay By Plate toll rates. Plus, there are no account fees and it works with RVs, rental cars, and motorcycles.
When you're ready to travel, this is a great option. You can order Uni Toll Pass via Amazon (for the quickest delivery) or via their website.
Looking for a few road trip ideas to get you started? Check out two of our favorites!

AuthenticFlorida.com was named Best Travel Blog two-times at the Florida Sunshine Awards.
To receive Authentic Florida's free weekly ENEWs, sign up on our Authentic Florida home page.
To inquire about partnerships/advertising, please contact info@authenticflorida.com 
Proud Member of: 

---
Comments are closed.