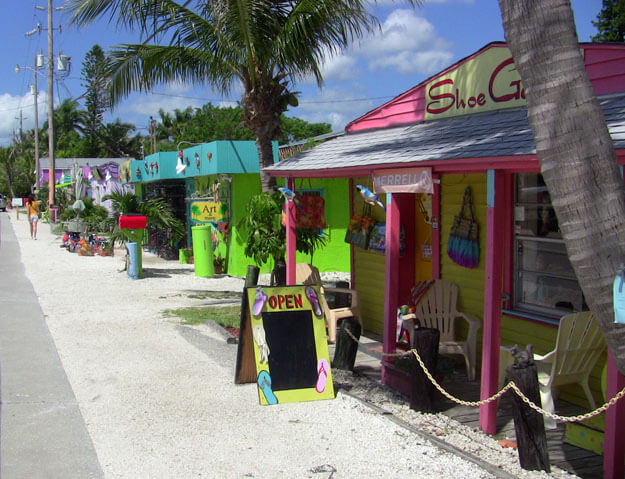 Are you yearning for a truly "Authentic Florida" experience? Seeking something to do that reflects Florida's past, a simpler life, a place where the pace slows, nature is abundant, the food is fresh and life is less complicated? We know a place in Southwest Florida that might satisfy that desire.
On Florida's southwest coast, approximately thirty minutes from Fort Myers, Pine Island embodies the Authentic Florida spirit. It has a remote "feeling" but is not too remote. It's surrounded by world-class fishing, a vibrant local art scene, and, of course, fresh seafood. The "old" Florida vibe is everywhere! This unique island also delivers its own distinctive "sense of place".

Pine Island's popular smoked mullet 
Pine Island is the largest island along Florida's Gulf Coast, surrounded by the waters of Pine Island Sound and jutting into Charlotte Harbor. It is 18 miles from tip to tip and rimmed with mangroves, the prolific coastal trees with interesting roots and tiny green leaves. This is not an island with sandy white beaches; in fact, its lack of beaches is one of the reasons it has remained true to its authentic core.
Because it is situated between the mainland coast and several barrier islands (Sanibel, Captiva, and Cayo Costa), and lacks a Gulf beach, it has not seen the development akin to most Florida beachfront areas. While not your typical island, it is well worth the visit. And if you must have those sandy white sands and aquamarine waters, relax – it's just a taxi boat ride to Cayo Costa State Park, one of Florida's best beaches. (Check out our other favorite beaches here!)

Nearby Cayo Costa State Park for pristine beaches
Matlacha Island

Olde Fish House Marina Restaurant for fresh seafood
The gateway to Pine Island is Matlacha (Mat-la-shay) Island, a historic fishing village, now home to an array of motels and cottages, gift shops, bait and seafood shops, restaurants, and unique, offbeat art galleries. You will pass through this eclectic, mile-long town on Pine Island Road (Hwy. 78), a simple narrow road fringed with funky shops. You cross two bridges getting on, and then off this little island. One of the bridges has the distinction of being called the Fishinginest Bridge because the active tidal flow creates prime fishing conditions.

Matlacha's Wildchild Art Gallery
Art lovers should consider stopping at Matlacha's charming gallery row. Almost adjacent to one another are the Wildchild Art Gallery, the Leoma Lovegrove Gallery, and the Island Vision Artists Gallery. The Wildchild is a co-op gallery, featuring the work of 120 talented Florida artists. Next, (and not to miss), is the Lovegrove Gallery filled with bright, tropical colored paintings adorning every inch of gallery space. Artist Leoma Lovegrove has created a 1960's Love Fest with brilliant Florida themes, Beatles art, and painted shells – indoors and outside on her patio. Next, check out the Island Vision Gallery with its one-of-a-kind Florida paintings, including whimsical home décor items like lamps, funky chandeliers, mailboxes, and gift items that will make any Florida aficionado feel complete.

The Lovegrove Gallery for bright, tropical irreverent art
After stimulating your creative side, and likely laden with a few new treasures, you'll be ready for some fresh local seafood. A short stroll down the street is the Old Fish House Marina & Restaurant. Order at the outside window or dine dockside on the fresh local catch. Smoked mullet is a specialty.

Pine Island is known for its mango crop
Continuing to Pine Island you will enter mid-island and be faced with a choice – turn north to Bokeelia or south to St. James City. These two small towns provide convenient bookends on the island. Bokeelia faces Charlotte Harbor to the north and is filled with charm, while St. James City has a commanding view of Sanibel Island and, across San Carlos Bay, Fort Myers Beach. If you choose to head to Bokeelia, you'll pass palm tree nurseries and mango farms along the way. Mango is the island's signature fruit crop and some of Florida's best are grown here. Every summer the Mango Mania Festival celebrates the harvest.
Bokeelia 

Bokeelia's Jug Creek cottages
Bokeelia is a tiny village of cottages, a restaurant, and a community pier with expansive views of Charlotte Harbor and the Gulf of Mexico beyond. In the distance, you can make out Cayo Costa and Gasparilla Island (Boca Grande) to the north. Park your car at the dock, grab your fishing pole, or just stroll and watch the pelicans waiting for handouts. For an Old Florida experience, consider a stay in one of the nearby state-owned Jug Creek cottages. Nearby, the  Lazy Flamingo restaurant at the Four Winds Marina serves fresh local seafood.

Pineland Post Office, Pine Island
On the way back, turn at the sign for Pineland on the northwestern shore of Pine Island. This community is even smaller than Bokeelia, with one of the smallest post offices in Florida.
The Tarpon Lodge

The Tarpon Lodge, Pineland
For accommodations in Pineland and a very comfortable stay, visit the Tarpon Lodge (member, Superior Small Lodging). The lodge faces Pine Island Sound, with convenient dockage for boats, a spacious lawn, palm trees, and an ideal spot to watch the evening sunset. The cozy bar is where locals and tourists meet and if you are hungry, consider the Lodge Restaurant – indoors or outside on the porch for the view. The specialties are (of course) fresh fish, blue crab and corn chowder and for dessert, key lime pie. Most people come here to fish, and the Lodge is conveniently located next door to Pineland Marina with fuel docks, charter boats, and water taxis.

Tarpon Lodge, Pine Island Sound

Calusa Indians (photo taken at the Sanibel Shell Museum)
Across the street from the Tarpon Lodge is the Randell Research Center, home to the Calusa Pineland archeological site. Visitors can follow an interpretive walkway and hike the easy trail across small bridges and through wooded areas leading to shell middens. There are displays depicting the fascinating life of the island's first inhabitants, the Calusa.
Cabbage Key

Cabbage Key Restaurant & Inn
You won't want to leave Pine Island without a visit to the famous Cabbage Key. If you have traveled a distance it is a must, but even frequent local visitors will enjoy one of Florida's most authentic experiences. It will require a boat trip but is well worth the ride.
This special "Old Florida" island is reported to be the inspiration for Jimmy Buffett's "Cheeseburger in Paradise." A restaurant, bar, and inn situated on top of an ancient Calusa Indian mound attract boaters and visitors from all over to enjoy a burger, a cold one, and the beautiful scenery. No boat, no problem – the Island Girl, a water taxi service from Pine Island Marina will get you there.

The Doll House, Cabbage Key
Upon arrival, you'll notice little has changed since 1938 when mystery writer Mary Roberts Rinehart purchased the picturesque property surrounded by clear waters, mangroves, and covered with Royal Poinciana trees. Ospreys and bald eagles soar overhead. Pelicans, cormorants, egrets, and herons roost in the trees and also wade in the shallows.

Historic Cabbage Key Water Tower
While there, walk the island, climb the old water tower, hike the nature trail, and if you feel you can't leave, stay the evening. If you decide to stay in the inn or one of the old cottages, you're likely to catch a dazzling display of Nightblooming Cereus, a beautiful flower that blooms during the evening and covers many of the island's Sabal Palm trees.

Tropic Star Ferry leaves from Bokeelia
To make it a full day, you might also opt for the Tropic Star Ferry from Bokeelia. This cruise includes a lunch stop at Cabbage Key and then a visit to the nearby Cayo Costa Island State Park known for its world-class beach and shelling.
One more tip, before you leave the island, stop at Island Seafood Market (in Matlacha) to take home some locally caught fish.

Don't leave Pine Island without fresh seafood
And finally, Pine Island is Authentic Florida. Aren't you ready to nourish your "real" Florida soul?

AuthenticFlorida.com was named Best Travel Blog two-times at the Florida Sunshine Awards.
To receive Authentic Florida's free weekly ENEWs, sign up on our Authentic Florida home page.
To inquire about partnerships/advertising, please contact info@authenticflorida.com 
Proud Member of: 

---