Authentic Florida Art Work is For Sale
Authentic Florida collaborated with dynamic duo artist Brendan Coudal and his wife and Chef Nicole Coudal for the Collector's Edition Posters that are for sale and celebrate our love for the Sunshine State. 
Authentic Florida Collector's Edition Posters by artist Brendan Coudal's are signed, sealed and ready to be delivered via USPS.
The artwork celebrates the many wonderful things we adore about the Sunshine State as well as the artist's long-term partnership with Authentic Florida. Only 300 of these beautifully rendered posters were made! Each measure 24X16 inches (including a 1/4″ border), is embossed with the Authentic Florida seal, and is personally signed & numbered by the artist. If you love Florida, you've got to have one (or more) of these!
Story Behind the Painting
Written by Authentic Florida Guest Contributor, Nicole Coudal of My Delicious Blog.
If you're wondering how this project came to be, read on to find out how an artist, a writer and chef came together to create an Authentic Florida collaboration.

Brendan Coudal's "Best Coast"
Last summer Robin stopped by Brendan's studio in southwest Florida. She loved his "Best Coast" painting (above), a vintage-style map of Florida's Gulf coast from Anna Maria to Boca Grande, and asked if he'd be open to creating her new Authentic Florida website masthead (on the website's home page) and artwork that captured the entire state of Florida. Recognizing the awesome opportunity, Brendan created "Fabulous Florida," a painting chock full of iconic imagery reflecting the state and reminiscent of old-Florida postcards, placemats and tablecloths. "This was a fun piece to create. Ideas for the images were endless, since our state offers much to see and do, but I simply chose some of my favorites. If you're a Florida-lover, this artwork is for you!" said Brendan.
Meet the Coudals: Artist and Chef Dynamic Duo

Nicole and Brendan enjoying their annual "Brunch on the Boat"
If you're curious about the folks behind BrendanCoudal.com, here's a little background:
The notion that 'opposites attract' is certainly true when it comes to me and my husband, Brendan. As a kid, I pictured myself marrying someone who wore a suit to work. After we were engaged I told Brendan about my plan and he replied "Well, I guess you never thought it would be a guy wearing a bathing suit!"
We make a great team and, after years of working together, we've learned that we must play to our strengths in order to succeed (and survive!). Brendan takes an 'organic' approach to his work because he's creative across many platforms – painting, writing, design, music and more. He always has a notebook in his pocket for sketching. He loves to fish, dive and paddle board, and his studio is filled with inspiration – a shell from a Cape Cod beach, favorite Hemingway books, pictures of fish he has caught, art he has collected, vintage fishing rods, a 1950s calendar, his favorite pencils (#2 Ticonderoga, of course), well-used brushes/paint tubes, and a Cubs hat worn by a dear friend. It's all there – travels, treasures and experiences which always, in some way, show up in his paintings.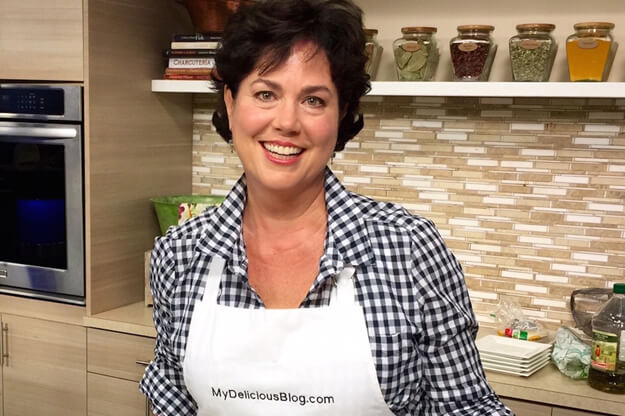 Chef Nicole Coudal, My Delicious Blog
As for me, I'm a former corporate gal who plans ahead, makes lists and takes care of business behind the scenes, all while enjoying my passions -cooking and gardening, and of course preventing our cats from getting fur on wet paintings.  I've dabbled in many creative pursuits, but I simply adore cooking. I'm inspired by my garden, the fish we catch, the coastal community in which we live, and my New England heritage. All of these elements forged the foundation for MyDeliciousBlog, a place where I share my recipes, fishing stories and the fun places I visit. Brendan is my taste-tester, cheerleader, photo editor, and muscle for lifting heavy boxes. Our inspirations may differ, but our passions certainly align.
Here's a recipe incorporating three of my favorite things — Enjoy!

Fish Tacos with Kumquat, Jalapeño & Napa Slaw
My Delicious Blog Recipe
Fish Tacos with Kumquat, Jalapeño & Napa Slaw
Fry Mix
1 c. finely ground yellow cornmeal
1 c. corn flour
1 c. all-purpose flour
2 Tb. + 1 tsp. kosher salt
½ tsp. cayenne pepper
½ tsp. freshly ground black pepper
Marinade & Fish
1 c. low-fat buttermilk
Several dashes hot sauce
1 lb. fish (Snapper or Grouper), de-boned, 3-4" pieces
Creamy Taco Sauce
½ c. mayonnaise
½ c. sour cream
¼ c. whole milk
1 Tb. Sriracha sauce
1 garlic clove, minced
½ lime, juiced
Kumquat, Jalapeno & Napa Slaw
2 c. Napa cabbage, finely shredded
Handful kumquats (8-10), stems removed, seeded, chopped
4-6 Tb. red onion, thinly sliced
½ jalapeno, seeded, chopped
Handful fresh parsley, chopped
Juice of 1 lime
2 Tb. vegetable oil
Dash kosher salt & freshly ground black pepper
Tortillas/Frying/Assembly
1 bottle peanut or vegetable oil
8-10 corn or flour tortillas
Lime wedges (for serving)
Recipe Directions
Combine Fry Mix ingredients in an airtight container; cover until ready to use.
In a shallow dish, mix Marinade ingredients and add fish; refrigerate 30 minutes.
In a small bowl, whisk Creamy Taco Sauce ingredients; refrigerate.
Combine ingredients for Slaw in a bowl; refrigerate.
Add oil to cast-iron skillet or deep fryer (enough to cover the fish in a skillet, or to the fill line in the fryer. I used about 24 oz. in my deep fryer).
While oil heats, place layers of paper towel near fry area.
Heat oil to at least 300 degrees (test w/deep fry thermometer). Tip: toss in a tiny piece of fish and if it bubbles rapidly and floats, it's ready.
Dip each piece of fish into Fry Mix, then place carefully into hot oil. Work in small batches (3-4 pieces at a time so the temperature doesn't drop quickly).
Cook about 3 minutes; remove with tongs and place on paper towels.
Allow temperature to return to at least 300 degrees, then make another batch; repeat until all fish is cooked.
Heat tortillas in a dry skillet or on a gas grill; assemble each with fish, sauce and slaw, with a sprinkle of lime juice.
Nicole Coudal is a writer and home-chef based in southwest Florida, where she fishes and cooks using local ingredients. When not on the water, she visits farms, farmer's markets, and other food-related venues to highlight what's in-season and to create tasty recipes. Read more at www.MyDeliciousBlog.com.
To receive Authentic Florida's free ENEWs, featuring travel and living updates, delivered weekly, sign up on the home page Authentic Florida, voted Blog of the Year and Best Travel Blog at the Orlando Sunshine Awards.  
---
If You Go
For more information on purchasing this poster and Brendan's work visit:
For Nicole's delicious recipes, visit: