Authentic Florida Guest Contributor & Author, Laura Albritton 
When my family wants a short Upper Keys getaway, Key Largo, at the top of the island chain, works as an easy base. Running 33 miles long, it's the largest of the Florida Keys and the closest to Miami. No matter how many times I visit these off-beat, funky isles, there's always something new and fabulous to experience.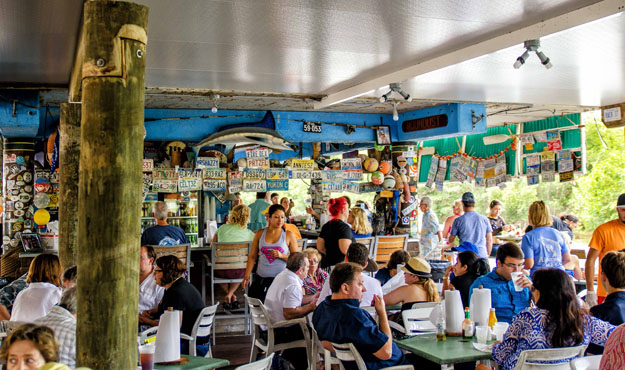 Alabama Jack's, Card Sound Road, (photo: Z. Allgrove)
To slip seamlessly into an Authentic Florida state of mind, there's nothing like taking "the road less traveled" on the drive down to Key Largo. Just south of Florida City, the two-lane Card Sound Road lures visitors with its unspoiled vistas of salt marsh and mangroves. A lot of folks take the opportunity to stop by Alabama Jack's, a honkytonk restaurant that serves fried fish sandwiches and award-winning conch fritters. Diners — from muscled motorcyclists to families with little babies — savor the waterfront views, personable service, and best of all, simple, well-cooked meals. Card Sound Road also skirts by the Crocodile Lake National Wild Life Refuge, one of the only places in south Florida where the shy American crocodile thrives.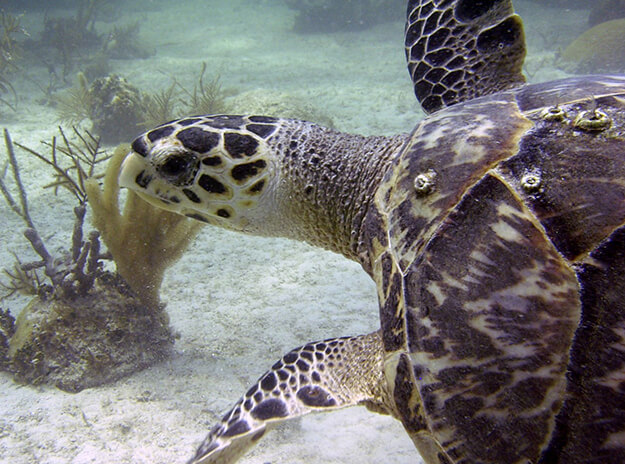 Loggerhead Turtle (photo: K. Gustinger)
Card Sound runs into the Overseas Highway, and suddenly, you're in Key Largo, one of the most popular snorkeling spots in the country. The series of coral reefs off the southeastern or "ocean-side" of the Upper Keys have grown world famous for their tropical sea-life, like shimmering rainbow parrotfish and neon blue wrasses, not to mention graceful loggerhead turtles that flipper through the clear seas. The best-known departure point is John Pennekamp Coral Reef State Park, which offers snorkel and scuba charters, although plenty of other outfits operate outside the park. The friendly crew at Sun Diver Tours, for example, takes out its boat Sun Diver III to explore one of a dozen different reefs, including White Banks Dry Rocks, about three-and-a-half miles off-shore. They provide safety vests, basic instruction, and snorkeling equipment for adults and kids, so all you need is a towel and your swimsuit.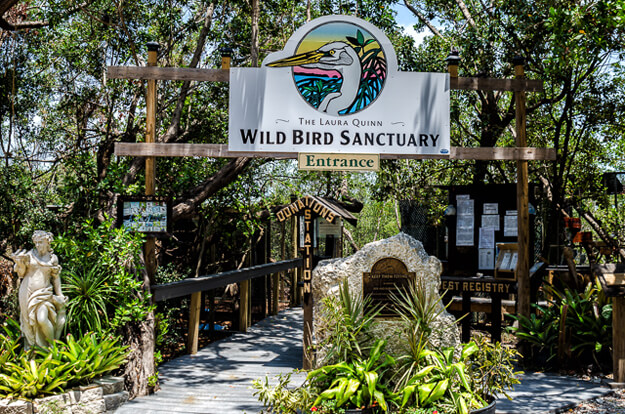 Florida Keys Wild Bird Center, Islamorada (photo: Z. Allgrove)
Keys birdlife is also truly special, from the roseate spoonbill, with its blush-pink tint, to pelicans soaring in formation and long-legged herons that poke among the reeds. For decades the Florida Keys Wild Bird Center has taken in injured birds, rehabilitated them, and whenever possible, released them back into the wild. As you wander their wooden boardwalk, shaded by native buttonwood trees, you'll spot a fierce Peregrine Falcon and an impressive Great Horned Owl. In the well-maintained aviaries there are hawks, parrots, ibises, cormorants, and other seabirds and songbirds. Some animals have been so badly injured – often by discarded fishing line or hooks — that they can no longer fend for themselves, and so make the Wild Bird Center their permanent home. Come between 2 and 3:30 p.m., when it's feeding time, and the aviaries get really lively.

Keys History and Discover Center, Islander Resort, Key Largo (photo: Z. Allgrove)
Sport fishing, diving, and boating have made the Keys a prime tourist destination, but these days art has become another big draw, especially in Islamorada, home to the Morada Way Arts District and a new museum. The Keys History and Discovery Center, situated within the Islander Resort, welcomes the public to explore the islands' artistic and cultural heritage. One recent inspirational show featured paintings by "the Highwaymen," self-taught African-American painters who depicted Florida swamp scenes and beaches in bright, Day-Glo colors. In the 1950s and 60s galleries weren't interested in their artwork, so the painters sold pieces off the side of A1A and US 1, usually for 25 or 30 dollars. Another intriguing exhibition displayed rarely-seen watercolors by Key Largo's eccentric "hermit artist," Harry Sonntag. This summer history buffs and anglers will enjoy "Legends of the Line," a permanent exhibit about fabled local fishermen and guides.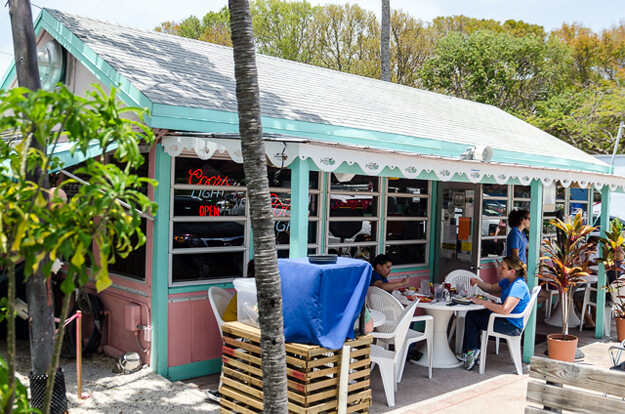 Mrs. Mac's Kitchen, Key Largo (photo: Z. Allgrove)
No trip to the Keys is complete without a sunset-hour cocktail at a bayside restaurant, to watch the sky turn lush shades of pink and purple. But one local's favorite in Key Largo, Mrs. Mac's Kitchen, fronts the busy traffic of Overseas Highway. Entering Mrs. Mac's pink-and-mint-green conch house takes you back to a simpler era, with its Keys comfort food and kitschy décor. Whether you sit at a table or the luncheon counter, it's fun to check out the license plates tacked to the walls. Their spicy conch salad tastes wonderfully refreshing, while the fried shrimp basket contains a generous portion of tender shrimp and cottage fries. Mrs. Mac's creamy key lime pie is the genuine article, a temptation worth every delicious calorie.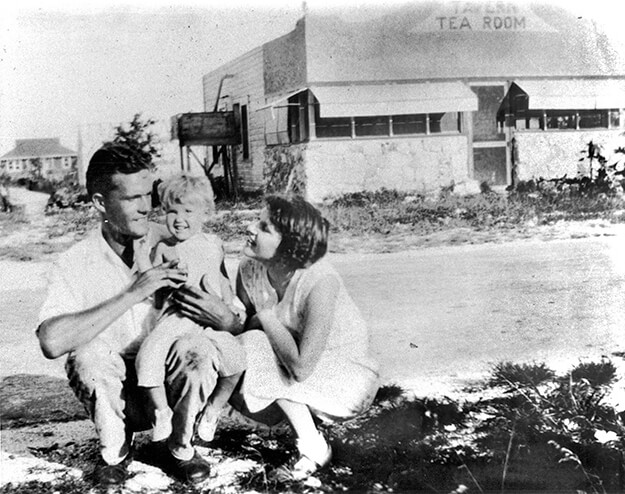 Vintage photo, Tavernier Tea Room
Fans of Florida history will want to round out their vacation with a walking tour of Historic Downtown Tavernier. Local historian and guidebook author Brad Bertelli will entertain you with "only in Florida" sagas about pineapple farms, the devastating 1935 hurricane, and the Flagler Railroad. During Prohibition, you'll learn, the Tavernier Tea Room was one joint where you could buy a stiff drink. Back then, a lone police officer patrolled the Keys. When word got out he was coming, the Tea Room packed up the booze…and brought out the Tetley's! The tour meets in Old Settlers Park and follows Brad for a leisurely 45-minute stroll. (Call 305.395.9889 to arrange your excursion.)
When it's time to head back home, I always feel renewed by the islands' beauty, history, culture, and cuisine. There's just something irresistible about the fabulously Authentic Florida Keys.
Laura Albritton's guidebook Miami for Families was recently published by the University Press of Florida. She also posts Miami photos and tips on her Facebook page Miami for Families.
---