Authentic Florida's 2018 Holiday Must Do's
We blink after Thanksgiving … and it's Christmas time! It's so important to try to slow down a bit and enjoy this time of the year. We are extremely fortunate to live in Florida, where there are so many fun and festive things to do. Yes, we may have a couple days where we need to bundle up, but that just reminds us it's the holiday season! However, most nights we can still get away with wearing flip-flops, shorts, and maybe a sweatshirt at night …  this is exactly why we love the Sunshine State.
We have done our annual December scouting and have chosen a few of our favorite and authentic holiday "must do's" …  drum roll, please! 
Holiday Things to Do in North Florida
Nights of Lights, St. Augustine
Now – February 3, 2019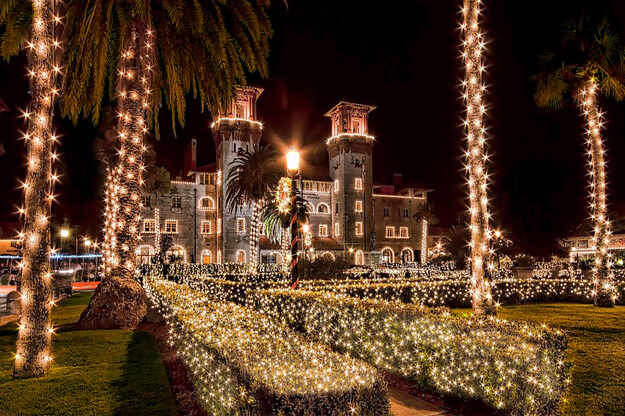 The Lightner Museum, St. Augustine Nights of Lights, photo courtesy, Florida's Historic Coast
St. Augustine, the Nation's oldest city, becomes a Florida wonderland during the holiday season. The city's historic district is aglow with more than 3 million white lights. Historic buildings, museums, local businesses, the Bridge of Lions, the city's bayfront walkway, hotels, bed & breakfast inns and private residences are all lit from the ground to the rooftops.
The Nights of Lights is a spectacular lighting display reflecting the city's 450+-year history. Illuminating the beautiful city traces its origins to the Spanish tradition of displaying a white candle in the window during the Christmas holidays.
The best way to enjoy Nights of Lights is to park in the Historic Parking Facility located off Castillo Drive and enjoy the sights in one of many different ways – on foot, by bicycle or pedicab, on the Old Town Trolley's Famous Nights of Lights Tour, aboard Ripley's Red Train or by horse and carriage. There are also several options to view the incredible displays from the water with tours aboard the Schooner Freedom, the Osprey or with St. Augustine Eco Tours.
Holiday Open House at Marjorie Kinnan Rawlings Home, Cross Creek
December 15, 2018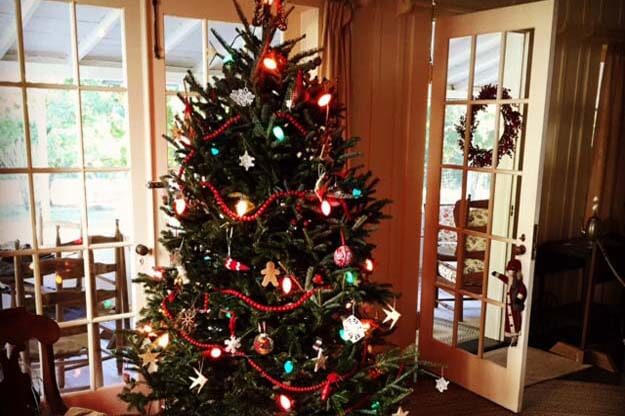 Marjorie Kinnan Rawlings State Park, photo courtesy of MJR State Park
A visit to Marjorie Kinnan Rawlings Home in Cross Creek is a step into Florida's past and enjoyable any time of year, but it is especially festive during the holidays. Park volunteers and staff go all out to create a historical holiday theme. Fresh from the surrounding garden, evergreens, pinecones, candles and oranges are collected by volunteers to create a Florida-themed setting. Mistletoe hangs over the doorways along with grapevine wreaths decorated with holly berries. Each fireplace mantel is adorned with fresh arrangements of boughs of pines, magnolias and palm fronds.
On Saturday, December 15th, between 5pm – 7pm, visitors have the opportunity to visit her farmhouse at twilight to experience every bit of its holiday charm. The event includes live seasonal music and refreshments … and it's FREE admission!
Jingle Bell Run & Polar Express Movie Screening, Tallahassee
December 14, 2018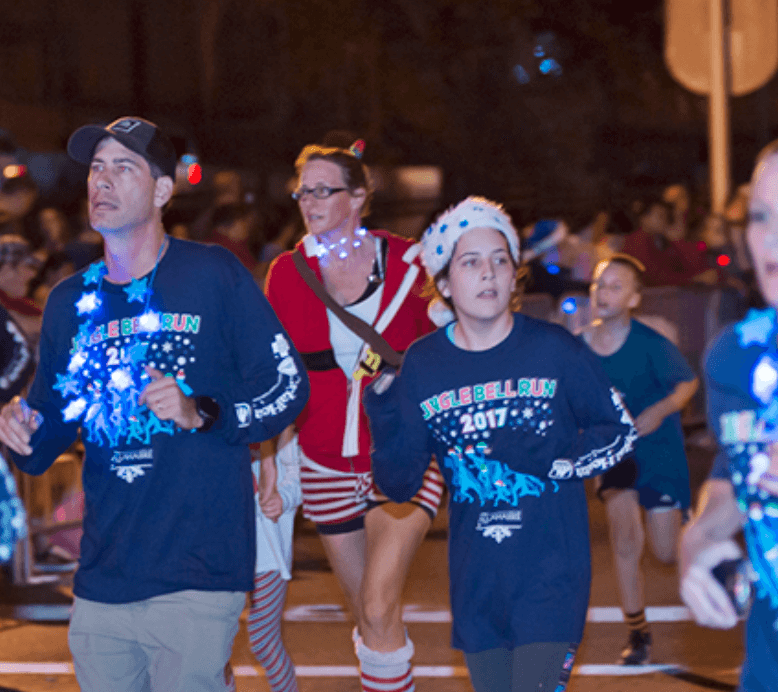 For the first time in its 32 year history, the Tallahassee's Winter Festival Celebration was canceled due to severe thunderstorm warnings. However, the Jingle Bell Run wasn't canceled, it was rescheduled. It will now take place on Saturday, December 14th in Cascades Park and will be followed by a free screening of the holiday classic film, Polar Express.
Tallahassee has less of a tropical feel than many Florida communities which contributes to a more traditional Christmas vibe. In fact, the holiday season has many activities to celebrate in Tally.
A holiday run and the screening of a classic film is something you can find in many Florida communities. We decided to put a spotlight this one in Tallahassee. We highly suggest you "Google" to see what your city/town has planned as far as holiday fun runs and classic movie screenings.  It appeals to the young and the young at heart.
Stephen Foster Folk Culture Center Festival of Lights, White Springs
Now – December 24, 2018

Stephen Foster Folk Culture Center, photo courtesy of Stephen Foster Festival of Lights
Located on the banks of the Suwannee River in the small quaint Florida town of White Springs, The Stephen Foster Folk Culture Center and State Park's annual Festival of Lights has grown over the years and has been named a Top 20 Event in the Southeast United States for almost a decade. The park sparkles around the holidays and shouldn't be missed!
Every night throughout the holiday season, the park features alternating events, or the opportunity to just drive your car through the park and admire the dazzling display lights. Santa even makes an appearance on select nights. The event also features free hot cocoa, popcorn, marshmallow roasting, a bonfire, craft activities, snow flurries, train display, a gift shop, and music from the tall carillon.
The remaining event dates are December 7-9 and 14-23. Be sure to check the schedule on the park website for additional information.
Central Florida Holiday Things to Do 
Bok Tower Gardens for the Holidays, Lake Wales
Now –  January 6, 2019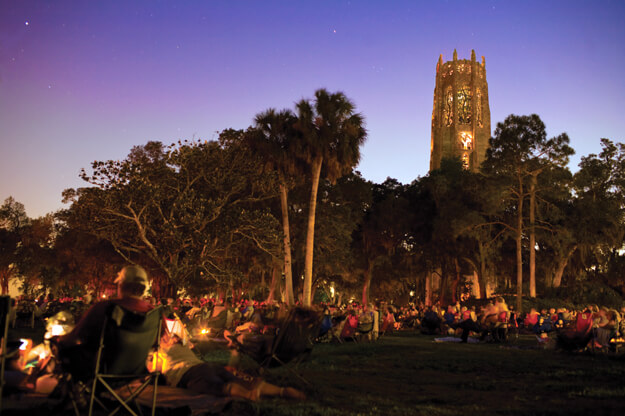 Bok Tower holiday concert, photo courtesy Bok Tower Gardens 
Bok Tower Gardens is a favorite Authentic Florida destination any time of year, but at Christmas-time there is a special allure. The gardens are alive with colorful holiday displays of poinsettia, bromeliad and amaryllis and the Carillon Tower resonates with carols of the season. Special activities include the ever-popular "Holiday Home Tour" at Pinewood Estate, a celebration of the 1940's post-war era. The estate is a 20-room 1932 Mediterranean-style home with a barrel-tile roof and carved doors.
Fill your soul with holiday spirit as you stroll through the magnificent gardens. Concerts, walking tours, decorating workshops, plenty of family activities and special events are just a few of the holiday happenings.
Stetson Mansion Holiday Home Tour, DeLand
Now – January 15, 2019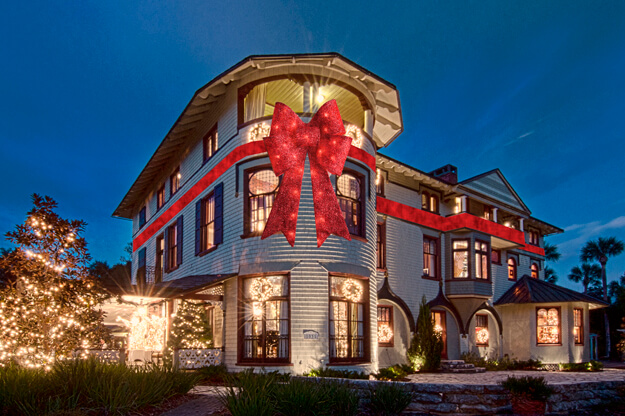 DeLand's Stetson Mansion hosts a Holiday Home Tour 
DeLand, located between Orlando and Daytona Beach, also reminds holiday visitors of Florida's past. John B. Stetson, creator of the iconic Stetson cowboy hat, built Florida's first luxury estate in DeLand where he wintered for 20 years.
The ornate 1886 High Victorian style mansion, listed on the National Registry of Historic Places, offers "Christmas Spectacular" tours displaying unique and dramatic holiday decorations every year. Akin to a designers showcase, this home has some of the most elaborate holiday decorations found anywhere in Florida, often using fresh local greenery for decorations. Did you know the Victorians are credited with beginning the modern Christmas traditions incorporating holiday trees and gift giving? In fact, the Stetson mansion was one of the first homes in the world to have electric Christmas tree lights sent directly from Thomas Edison, a friend of Stetson.
Tickets and reservations are required. Guided tours are offered three times per day, 10:30am, 1:30pm, and 5:00pm.
10th Annual Surfing Santas' Extravaganza, Cocoa Beach
December 24, 2018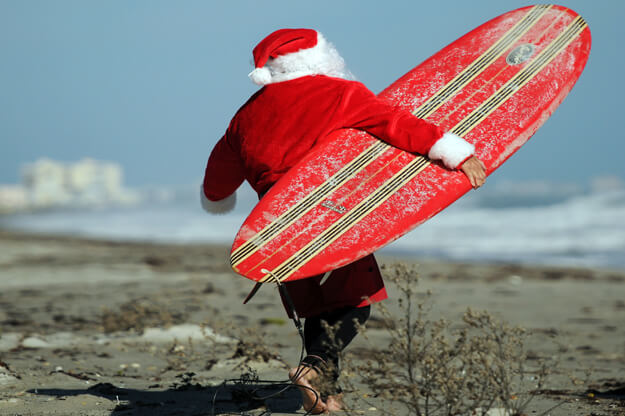 Surfing Santas, Cocoa Beach. Photo by Amanda Stratford
We're going to fill you in on a little secret. Before Santa gets ready for a long night of delivering toys and gifts all over the world, he makes a pit stop at the East Coast Surfing Capital of the World, Cocoa Beach! That's right, the morning of Christmas Eve, Santa and a bunch of Santa enthusiasts and friends, wax up their boards and hit the waves. Whether you surf or just want to observe the zany action, it doesn't get much more authentic Florida on Christmas Eve than to spend your morning on Cocoa Beach.
The 2018 event begins unfolding at 8am along the beach near Minutemen Causeway (where the causeway intersects with N. Atlantic Avenue, also known as Florida Route A1A) and is expected to continue until early afternoon. There's plenty of parking available and numerous area restaurants will be open to serve Surfing Santas participants and spectators.
The Christmas, Florida Post Office
Now through December 24, 2018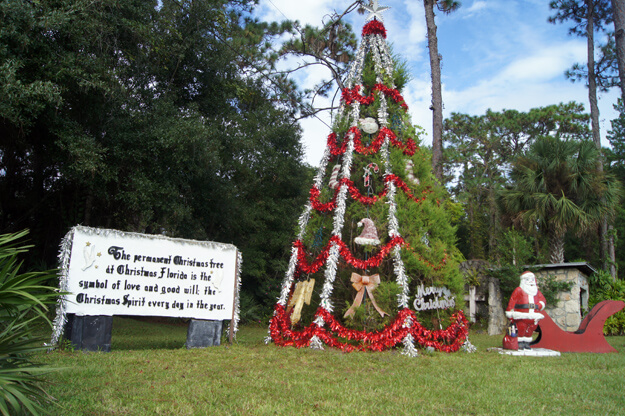 Greetings from Christmas, Florida
Christmas is a small community near Orlando and is named for a historic fort completed there on Christmas Day in 1837. Fort Christmas is a living history settlement that includes replicas of the 1837 fort and museum, historic pioneer homes, a 1906 school, a 1930's WPA pavilion, 1920's ball field, 1932 lunchroom, sugar cane mill and syrup kettle.It's definitely a wonderful trip back to yesteryear.
This time of the year, Christmas becomes extra popular. We highly recommend stopping at the community's post office to get your holiday cards stamped with the official Christmas, Florida stamp. The local post office handles more than 300,000 pieces of mail each year during the season. It's fun to get feedback from your friends and family when they receive your card postmarked from Christmas!
The Kirby Farm Christmas Express Train, Williston
Select nights, Now – December 31, 2018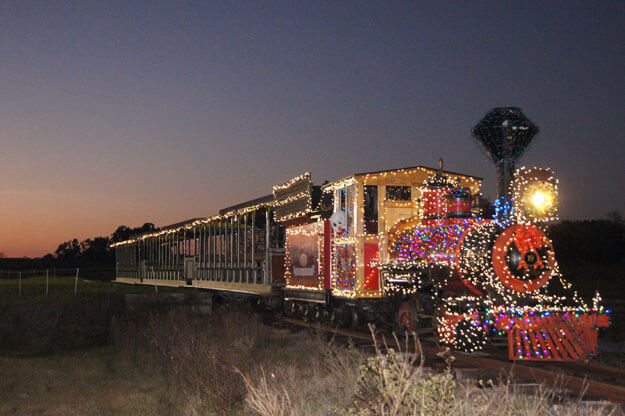 Kirby Family Farm Christmas Express
Northwest of Ocala is the small farming community of Williston. Scenic country roads meander through rural pastures and fields. At night, away from city lights, the vast Williston country sky glows with a full display of twinkling lights, but the stars are not the only twinkling lights you'll see this holiday season.
In Williston is the Kirby Family Farm, a 173-acre working farm all year long, but during the holidays it is the home of the Christmas Express, a full-size narrow gauge train pulled by a lovingly restored 1880's steam locomotive.
"Old #19" a historic locomotive is festooned with lights and circles a large hayfield traveling through displays of colorful Christmas lights. It's a life-sized version of a holiday Christmas train and delights children and adults alike.
While the Christmas Express train is the main attraction, there is much more to see. In fact, the holiday event seems more like a church fair full of activities where people know one another, exchange warm greetings and celebrate the season. The Kirby family has a mission to reach out to children in need and this event, among others throughout the year, is a commitment to helping others.
Henry B. Plant Museum, University of Tampa, Tampa
Now – December 23, 2018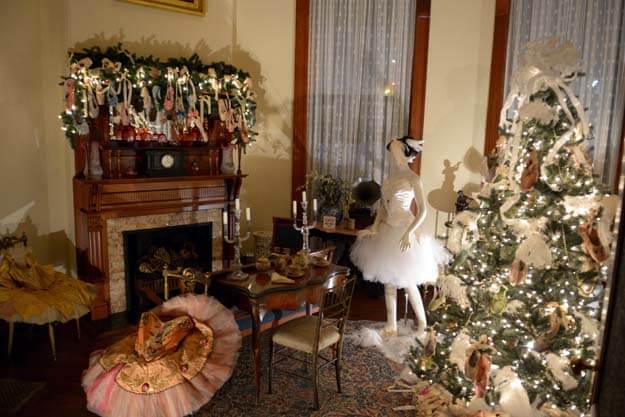 Henry B. Plant Museum's Victorian Christmas Stroll
Experience the extravagance and grandeur of a Victorian Christmas during the Henry B. Plant Museum's Victorian Christmas Stroll at the University of Tampa. Visitors get a glimpse of Christmas past as the former 1891 Tampa Bay Hotel is transformed with period holiday decorations. The event runs every day from December 1 through December 23, 10 am to 8 pm.
During the Victorian Christmas Stroll you can explore the museum filled with Christmas trees ranging in height from a few inches to more than 14 feet. Hundreds of feet of garland and more than 40,000 lights glow throughout the museum. Decorations include vintage fashions, antique toys, hand-painted ballet pointe shoes and fanciful ornaments.
The Victorian Christmas Stroll celebrates the warmth and spirit of an old-fashioned holiday. Complimentary cider and cookies will be served on the veranda each day while holiday music floats through the air. Guests can enjoy live music each evening.
The museum will host a number of special performances during the Victorian Christmas Stroll … included are choir and orchestral performances and a puppet theatre.
South Florida Holiday Things to Do
Selby Botanical Gardens "Lights in Bloom", Sarasota
December 20, 2018 – January 6, 2019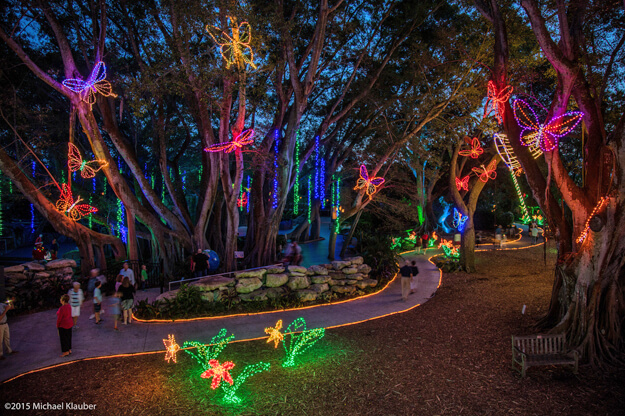 Selby Botanical Gardens Lights in Bloom, photo courtesy, Selby Gardens
For two weeks in December, Lights in Bloom at the Marie Selby Botanical Gardens is one of the most popular family events in Sarasota. Selby Gardens is dedicated to tropical epiphytic plant species and the lush bayfront grounds in downtown Sarasota will host its 15th year of Lights in Bloom with more than one million lights on display.
Visitors can stroll through the magical gardens filled with beautifully lit flowers, butterflies, dragonflies and more. Returning this year are iconic favorites like the Radiant Rainforest butterflies, the Wishing Tree and a large holiday tree that is created from rows and rows of bromeliads.
Marie Selby, an avid gardener married to oil-tycoon William Selby, passed on her lavish property to the community. Now guests can visit her historic home on 15 acres housing more than 12,000 living plants overlooking Sarasota Bay. A popular attraction is the Children's Rainforest that draws adults and children of all ages featuring an elevated treetop garden, swinging bridges, waterfall, caves and play areas surrounded by huge old banyan trees.
"This year we wanted to give people the cherished spots that have become part of their family memories, but also to add new scenes that will give guests something to talk about," said Roger Capote, senior director of special projects at Selby Gardens, who oversees the light display.
The nightly events also include live music, children's arts and crafts activities and games. Santa Claus visits nightly before Christmas Eve.
Edison & Ford Estates for the Holidays, Ft. Myers
Now – December 23, 2018 & December 26 – 30, 2018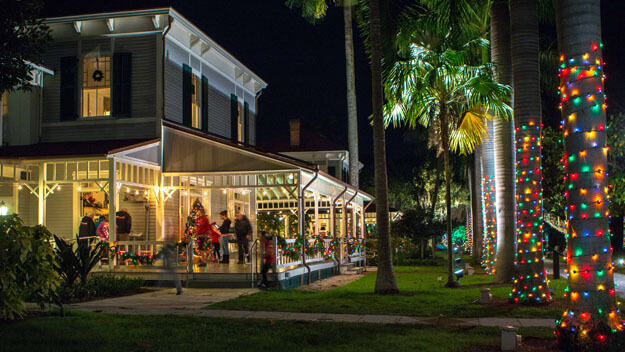 Edison & Ford Estates for the Holidays, photo courtesy, Edison & Ford Estates 
Over a century ago, Thomas Edison created the first strand of Christmas lights, so it's no surprise that the holiday lights sparkle and decorations glimmer at Florida's Ft. Myers Edison & Ford Winter Estates. Here, visitors can enjoy the holiday festivities and peek into the lives of Thomas Edison and Henry Ford, legendary American icons who lived on the 20-acre property in the early 1900's.
Step back into an old-fashioned Florida holiday celebration while admiring the historic buildings, huge banyan trees, tropical and botanical gardens.
The homes and gardens of the Edison and Ford families are seasonally decorated with thousands of lights and historic decorations and visitors can enjoy nightly entertainment, special tours, and an all-new  Waltzing Waters, a lighted water fountain display.
Recognizing the spectacular decorations and holiday activities, USA Today selected Edison Ford Holiday Nights as one of the 'Top Ten Historic Holiday Sites' in the nation, along with the White House, Mount Vernon, and the Biltmore Estate. Be sure to look at the event calendar to see what's happening each night.
Holiday Lighted Boat Parades, Throughout Florida
Dates Vary – Google "Holiday Boat Parades" in your area
The holiday season comes alive in Florida with a variety of decorated boat parades that include all kinds of creativity — from lights on outriggers, sailboats, cruisers and more  — they all shimmer on the water creating a tropical floating carnival parade.
Guests may view the parades from land, bridges, bars or boats … or become part of the festival by decking out their own vessels.
Some of the Parades start right after Thanksgiving, but this is a list of a few Boat Parades that are still happening this year around the Sunshine State:
Central Florida Boat Parades
Apollo Beach Lighted Boat Parade
December 8, 2018, 6-9 p.m.
More info
Gulfport BCYC Lighted Christmas Boat Parade
December 8, 2018, 6 p.m.
More info
Hernando Beach Boat Parade
December 15, 2018, 5 p.m.
More info
Indian Rocks Beach Holiday Lighted Boat Parade
December 15, 2018, 6:30 p.m.
More info
Madeira Beach Festival of Light
December 8, 2018, 6:30 p.m.
More info
Manatee Holiday Boat Parade
December 8, 2018, 6:30 p.m.
More info
New Smyrna Beach Annual Boat Parade
December 15, 2018, Dusk
More info
Redington Beach & Indian Shores Holiday Boat Parade
December 15, 2018, at 6:30 p.m.
More info
Sarasota Christmas Boat Parade of Lights
December 8, 2018, 6 p.m.
More info
St. Pete Beach Boat Parade
December 7, 2018, 6 p.m.
More info
St. Petersburg's Illuminated Boat Parade
December 8, 2018, 6:30 p.m.
More info
Tarpon Springs Boat Parade
December 7, 2018, 8 p.m.
More info
Treasure Island's Lighted Boat Parade
December 14, 2018, 7 p.m.
More info

North Florida Boat Parades
Cedar Key Christmas Boat Parade and Santa Clam
December 8, 2018, Dusk
More info
Destin's Annual Holiday on the Harbor Lighted Boat Parade
December 10, 2018, 6 p.m.
More info
Palm Coast Boat Parade
December 15, 2018, 6 p.m.
More info
Panama City Beach Annual Boat Parade of Lights
December 8, 2018, 5 p.m. Central Time
More info
St. Augustine Holiday Regatta of Lights
December 8, 2018, 6 p.m.
More info

South Florida Boat Parades
Boca Raton 42nd Annual Holiday Boat Parade
December 22, 2018, 6:30 to 8 p.m.
More info
Cape Coral Holiday Boat Along
December 15, 2018 4-10 p.m.
More info
Cocoa Beach Christmas Boat Parade
December 8, 2018, 6 p.m.
More info
Fort Lauderdale Seminole Hard Rock Winterfest Boat Parade
December 15, 2018, 6:30 p.m.
More info
Key Largo Boat Parade
December 8, 2018, 7:30 p.m.
More info
Key West Schooner Wharf Bar Lighted Boat Parade
December 15, 2018, 8 p.m.
More info
Miami Outboard Club Holiday Boat Parade
December 15, 2018, 7 p.m.
More info
Naples' Christmas Boat Parade on Naples Bay
December 8, 2018, 6:15-8:30 p.m.
More info
Pompano Beach Holiday Parade
December 14, 2018, 5-10 p.m.
More info
Punta Gorda Boat Parade
December 22, 2018, 6 p.m.
More info
Vero Beach Annual Christmas Boat Parade
December 15, 2018, 6:30 p.m.
More info
And finally, if you are looking for a local Christmas tree, think about this … 
Visit a Florida Christmas Tree Farm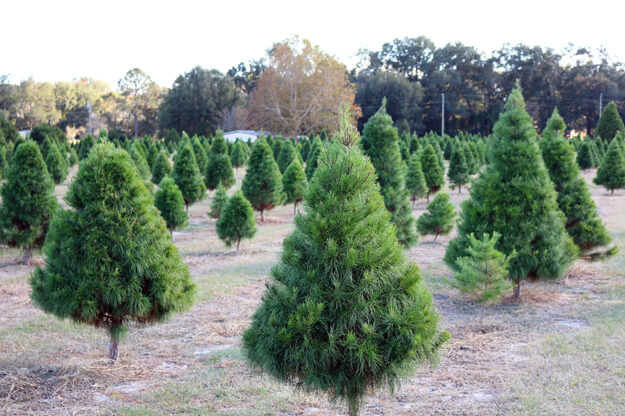 Nicholas Christmas Tree Farm, 14260 SE 80th Ave, Summerfield, OcalaMarion
During the holiday season, many Floridians take a trip to a Christmas tree lot to find the perfect tree, only to learn that most of the trees have been shipped from out of state, are expensive, and have become dried out before Christmas day.
Have you considered taking a trip to a real Florida Christmas tree farm and cutting down your own or buying a homegrown farm raised tree?
There are many Florida farms that plant, harvest and sell Florida grown trees. In Florida, look for these varieties: Red Cedar, Virginia Pine, Sand Pine, Spruce Pine, Arizona and Leyland Cypress. All thrive in our Florida climate.
The experience of venturing out to find the family Christmas tree is a fun adventure for the whole family – and good for Florida. Here is a list of Florida Christmas Tree farmers where you can get a fresh cut Florida tree.
If you are near the Ocala National Forest, the Forest Service will be selling Christmas tree permits to those who want to cut down their own tree. Now through December 23rd a $7.00 tree permit can be purchased to cut your own, and you will receive a map to the designated tree cutting area.
So, how does buying your own Florida holiday tree help the environment? Florida farmers, as a rule, try to plant 2-3 trees for every one cut, considered an industry standard. Also Christmas tree farms provide beautiful greenbelts, consuming carbon dioxide and reintroducing oxygen to the air, thus cleansing the air. Buying a Florida tree also means that less fuel is used to truck in the out-of-state trees, helping the local economy and supporting our tree farmers.
And don't forget, if there is not a Christmas Tree Farm in your area, most locally owned plant nurseries have potted smaller trees for sale that you can purchase, then plant in your own yard or give to a friend.
Try something new this year by keeping it natural, it's good for Florida.
To receive Authentic Florida's free weekly e-newsletter, sign up on our home page Authentic Florida or drop us an email: melanie@authenticflorida.com.
AuthenticFlorida.com received the 2018 Sunshine Award for "Favorite Travel Blog".
Interested in advertising on our website or becoming a partner? Please contact melanie@authenticflorida.com to explore opportunities. 
---
Comments are closed.