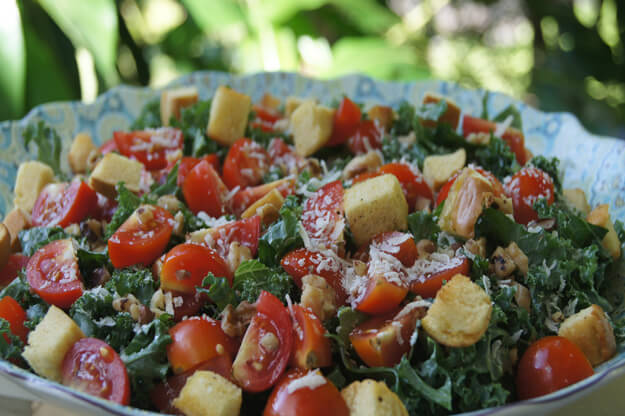 The heat and humidity are back and eating light, healthy foods help to keep our energy flowing so we can get out and enjoy all the benefits of living in the Sunshine State. We recommend trying this lemony kale salad.  It's a simple recipe that includes a little olive oil, tomatoes, bread crumbs, Parmesan cheese, and walnuts.
Kale has become increasingly popular over the past several years. With unsurpassed health benefits, kale is a wonder veggie. High in beta-carotene, vitamin K & C, and calcium, it has antioxidant, anti-cancer, and anti-inflammatory nutrients. From the cabbage family, kale is not only good for you, it tastes delicious, too.
Makes 8 servings
Ingredients for Summer Kale Salad Recipe
2 bunches of kale (may replace one kale bunch with romaine or arugula)
3 cups of cherry tomatoes
1 cup of croutons* (may use store-bought)
1/2 cup of chopped walnuts
1/3 cup fresh grated Parmesan cheese
1/2 cup shaved Parmesan cheese (thin shavings)

 

3-4 lemons
1/2 cup extra-virgin olive oil
1 teaspoon salt
½ teaspoon pepper
Directions
Rinse and dry kale. Cut and discard tough, middle stems. Stack the leaves, a few at a time,  cut ¼ inch strips across the leaves. Place in a large bowl.
Use a juicer or hand press to juice the lemons.
Combine and whisk the lemon juice and olive oil, add the salt and pepper. Pour over the kale and thoroughly mix.
Place in the refrigerator and let the kale sit in the mixture for at least 1 hour, stirring and frequently mixing to allow the juice to soften the kale.
Cut the cherry tomatoes in ½ or quarters depending on the individual size and place them in a separate bowl.
Using a cheese grater, grate 1/3 cup Parmesan cheese, set aside.
Using a cheese shaver (or grater), slice ½ cup of Parmesan cheese, set aside.
       Combine Salad Ingredients
Take out the kale mixture, mix
Add the tomatoes
Add the grated Parmesan
Mix salad
Top the salad with croutons, walnuts, shaved Parmesan
Make your own croutons 
Using any kind of bread (6 slices) cut with crust, in cubed pieces
On a baking pan place the cubed bread, add 2 tablespoons of olive oil, a pinch of salt, pepper with 1 clove, minced garlic
With hands mix up the ingredients, so evenly covered
Bake at 350 degrees, 9-11 minutes, tossing with a spatula ½ way through
       Adapted from Better Homes & Gardens Recipe Lemony Kale Salad with Tomatoes
Looking for even more delicious recipes using Florida produce? Check out:
Authentic Florida's Sour Orange Pie Recipe
Authentic Homemade Tomato Soup

AuthenticFlorida.com was named Best Travel Blog two-times at the Florida Sunshine Awards.
To receive Authentic Florida's free weekly ENEWs, sign up on our Authentic Florida home page.
To inquire about partnerships/advertising, please contact info@authenticflorida.com 
Proud Member of: 

---
Comments are closed.