Ah, February … A month sprinkled with an extra serving of romance! Yes, chocolates and flowers are wonderful, but nothing beats a romantic getaway in Florida with your favorite person. With Valentine's Day just around the corner, we put together a few of our favorite Authentic Florida romantic recommendations. These destinations are sure to warm your heart and put a continuous smile on your face. From two stunning state beaches designed for lovers (one happens to be pet-friendly) to stellar sunsets in the Southernmost Point of the USA to a horse carriage ride and B&B stay in the "Old City" to a fun night out at a retro drive-in movie theater, Florida offers an array of activities that will create lifetime memories with the ones you love.
Here are five recommendations for romantic places to visit in Florida: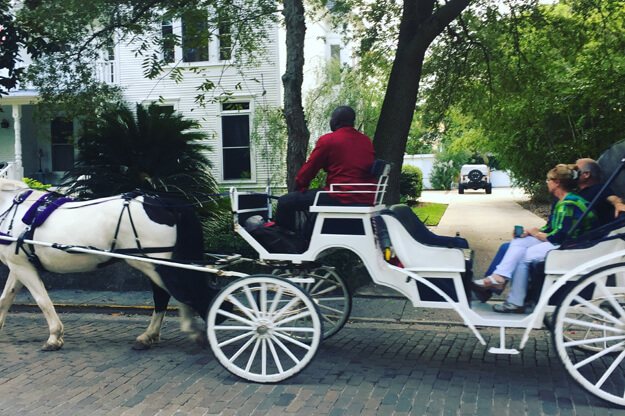 What is better than staying in a quaint B&B (breakfast & bed) in the famous St. Augustine downtown historic district where you are only steps away from some of the most historic sites in the USA? This is an ideal romantic getaway in Florida any time of the year. Whether you prefer to stroll through the downtown historic district or enjoy a horse-drawn carriage ride, you just can't help but fall in love again with each other and the Old City. For a more in-depth look at romantic St. Augustine, check out this article: http://www.authenticflorida.com/articles/where-to-go/a-romantic-weekend-in-st.-augustine/
St. Augustine also has a variety of delectable dining selections (including Spanish, British, French, Greek and many more). There's a great Facebook group called Auggie's Fresh or Frightening Food Reviews. This group is made up primarily of locals who are brutally honest. They keep up with the latest and greatest restaurants in St. Augustine and we have found some awesome places and dishes thanks to this group: https://www.facebook.com/groups/442092482973602/
More info at www.floridashistoriccoast.com



Photo credit: Kim Begay on Facebook.com/honeymoonislandbeach
The name says it all! Honeymoon Island is a 200-acre island with white powdery sand and also plenty of wildlife to spot. It's a pet-friendly island with nature trails to walk and to collect seashells along the way. The island is part of the Florida State Park system.
It's only $8 per vehicle to get into the park. If you're so inclined, you can also grab a ferry from Honeymoon Island and take it to Caladesi Island for another incredible adventure. Both beaches give you the opportunity to feel lost on an island.
More info at www.floridastateparks.org/honeymoonisland.


Photo credit: facebook.com/Lovers-Key-State-Park-Park-Site
Lover's Key State Park, located near Fort Myers Beach, is designed for couples. Explore the nature park while soaking up some sun with your lover. Pack a picnic and enjoy the views of the wildlife for the day. The island is home to manatees and dolphins.
Although it may not be in everyone's budget, The Lover's Key Resort is a tram ride away from Lover's Key State Park.  Enjoying the sunset from your private balcony is also an experience you will never forget. The spacious accommodations include a kitchen, so you can make your own meals. There's also a full-service fitness center with picturesque views from floor-to-ceiling windows. Also, make sure you take time to relax in the lagoon-style pool.
More info at www.floridastateparks.org/parks-and-trails/lovers-key-state-park.
 
Photo credit: Laura Albritton
Mallory Square in Key West is known for its nightly sunset celebrations. "When the Sun Sets the Fun Begins" is their tagline! Look out on the horizon and you will see boats sailing by along with seabirds swooping overhead. Before or after watching the sunset at the Southernmost Point in the USA, make sure you also take note of the talented street performers, tarot card readers, and craftspeople. It's an experience you do not want to miss.
Laura Albritton is our Authentic Florida eyes and ears for all things Key West. Check out this article she wrote for more ideas on what to do in this tropical paradise: http://www.authenticflorida.com/articles/where-to-go/enjoy-a-fun-filled-weekend-in-authentic-key-west/
More Key West info at www.keywestchamber.org.
Drive-In Movie Theatre, 7 Different Florida Locations 
There's nothing like a drive-in movie to bring you back to yesteryear. Last year, we wrote an article about the remaining 7 drive-in movie theaters in Florida. There's one in Dade City, Tampa, Lakeland, Ft. Lauderdale, Ruskin, and also Ocala. Some theatres have several screens. They all show first-run films and also have lots of yummy treats at their snack bars. Grab your loved one, jump in your car, and enjoy a movie like we all used to back in the day at this romantic getaway in Florida.
Check out our article for more specific details on each drive-in: http://www.authenticflorida.com/articles/where-to-go/step-back-in-time-at-one-of-seven-remaining-authentic-drive-in-movie-theaters-in-florida/

AuthenticFlorida.com was named Best Travel Blog two-times at the Florida Sunshine Awards.
To receive Authentic Florida's free weekly ENEWs, sign up on our Authentic Florida home page.
To inquire about partnerships/advertising, please contact info@authenticflorida.com 
Proud Member of: 

---