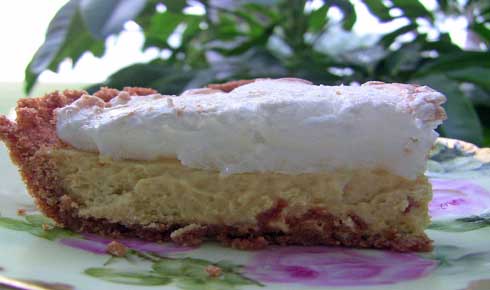 Looking for the perfect Florida pie for the holidays … or any time for that matter? You can't beat this tasty, quintessential dessert: Authentic Florida's Key Lime Pie. No wonder Key Lime Pie is our state pie … it's perfect with Florida seafood or any light dish … and is an ideal way to finish off almost any meal. Read on to check out Authentic Florida's delicious Key Lime Pie recipe!
We like to make the pie with fresh key limes, but realize they are increasingly harder to find. Generally we buy key limes from the farmer's market, or in the absence of key limes, we use local limes.  We also use fresh limes in place of the bottled key lime juice. Many use bottled juice and are happy with the results. Whatever your choice is … Enjoy!
Authentic Florida's Key Lime Pie Recipe (Step-by-Step)

A slice of Authentic Florida's Key Lime Pie

Florida Key Limes (most turn yellow when ripe)

Authentic Florida's Key Lime Pie ingredients
Pie Ingredients
Pie Shell
1/3 of a 1-pound box of graham crackers
5 Tablespoons of melted unsalted butter
1/3 cup of sugar
Note: if you want to use a store-bought graham cracker crust, rather than making your own, you can find in the freezer section of most grocery stores.
Pie Filling
4 egg yolks
2 teaspoons of lime zest – be sure to zest before you squeeze the juice!
1 (14-ounce) can sweetened condensed milk
2/3 cup of freshly squeezed lime juice (approximately 24-36 limes depending on the freshness of limes), or 6-8 regular fresh limes (again, depending on freshness)
Meringue Topping
4 egg whites
¼ teaspoon, cream of tartar
2 tablespoons sugar
Note: if you prefer to use whipped cream, rather than meringue, substitute for the above meringue topping
Tools: 1 Pie pan, Cuisinart or hand mixer; lemon/lime hand squeezer, zester (or rasp) to grate the outside of the limes
Directions for Florida Key Lime Pie Recipe
Preheat the oven to 350 degrees F.

Making the graham cracker pie crust
Break up the graham crackers; place in a food processor and process the crumbs. If you don't have a food processor, place the crackers in a large plastic bag; seal and crush the crackers with a rolling pin.  Add the melted butter and sugar and pulse or stir until combined.

Press the ingredients in a pie pan
Press the mixture into the bottom and side of a pie pan, forming a neat border around the edge. Lightly form a border up the sides.  Bake the crust at 350 degrees until set and golden for 8 minutes.  Set aside on a wire rack, let cool. Leave the oven on.
For the filling:
The first step, using a rasp or grater, grate 2 teaspoons of the lime skin. Then, using a hand press, squeeze 2/3 cups of key lime juice by cutting each lime in half and placing it in press (they are usually too small for a juicer).

Zest the limes, press the juice
Next, separate the egg yolks from the whites. Set aside the egg whites for the meringue if you want to use them later. Have your sweetened condensed milk opened, your juice finished and your zest ready for the next step.
Assemble your ingredients for the mixing
In an electric mixer with the wire whisk attachment, beat the 4 egg yolks and 2 teaspoons of lime zest at high speed until very fluffy, about 5 minutes.  Gradually add the can of condensed milk and continue to beat until thick, 3 or 4 minutes longer.  Lower the mixer speed and slowly add the 2/3 cup of lime juice, mixing just until combined, no longer. Pour the mixture into the crust.  Bake at 350 degrees for 10 minutes, or until the filling has just set. Cool on a wire rack.

Pour the pie filling into the baked crust, bake again
Next, add the topping:
 
Make the egg white meringue using the leftover egg whites
With a mixer, beat egg whites with cream of tartar until soft peaks form. Gradually beat in the sugar until forming stiff peaks.

Pour the meringue over the pie, smooth out the top, and bake again. Watch the oven!
Spread over filling and seal to edge of crust. Bake at 400 degrees for 5-8 minutes or until meringue is golden brown. Note: Watch the oven and don't take your eyes off the meringue, it could brown quickly. Place in the refrigerator and let it chill for 2-3 hours.

Fresh, homemade Authentic Florida's Key Lime Pie Recipe

It will go fast!
NOTE: This Florida Key Lime Pie Recipe first appeared on AuthenticFlorida.com on November 15, 2015.
Don't miss: In Search of the Best Key Lime Pie in the Florida Keys or Key Lime Pie Winner

AuthenticFlorida.com was named Best Travel Blog two-times at the Florida Sunshine Awards.
To receive Authentic Florida's free weekly ENEWs, sign up on our Authentic Florida home page.
To inquire about partnerships/advertising, please contact info@authenticflorida.com 
Proud Member of: 

---
Comments are closed.