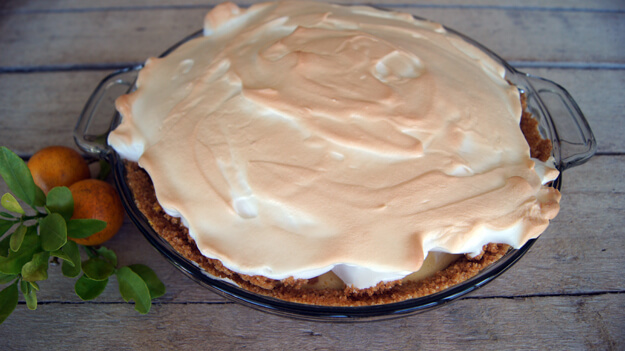 National Pie Day is January 23rd!
What a perfect time to try our favorite Florida Sour Orange Pie recipe! 
 
Authentic Florida's Sour Orange Pie Recipe
NOTE: If you can't find sour oranges, you can create this fabulous pie using fresh Florida oranges and lemons. 

Many sour oranges grow wild in Florida and usually have bumpy, thick skins
What is a Sour Orange?
From the Everglades to Georgia if you find an orange tree growing wild it is likely to be a sour orange. Brought by the Spaniards to St. Augustine in the 16th century when Florida was first settled by Europeans, this hardy citrus soon became a staple ingredient to flavor foods. Considered too sour to eat alone – although some do, with salt and even hot sauce, this orange, also known as the Seville, spread throughout the state. It was traded with Native Americans and grown by settlers and will sprout from sown or discarded seeds, thus growing wild all over Florida. (It is distinctive from a regular orange with its thick, bumpy skin.)
Eventually, with added sugar, it became popular in jams and jellies, and pie. If you are lucky enough to have access to a sour orange tree, this pie recipe will give you a great way to use those acidic and sour fruits. Or, you can try to find them in a specialty grocery store. Cuban grocers usually stock sour oranges to make mojo sauce commonly found in the roast pork and chicken dishes. Some Floridians even use backyard calamondins as an alternative in sour orange pies. The calamondin is a small citrus hybrid, with a very sour-citrusy flavor.
For this recipe, we will use a combination of orange and lemon to achieve that flavorful sour orange taste.
Florida Sour Orange Pie Recipe

Florida oranges, lemons, and the zest of fruit can be used for Sour Orange Pie
Use 1/2 cup of fresh-squeezed Florida orange juice with 1/2 cup of fresh-squeezed lemon juice (boiled down to ¾ cup of syrup).
OR
Use 1-2 Florida sour oranges – a specific orange found at some specialty (Cuban) grocery stores or citrus stands. (Use ¾ cup of juice)
OR

Calamondins are small sour-citrusy tasting, found in backyards or at local nurseries
Use 12-18 Florida calamondins – small-sized fruit that resembles oranges but are the size of key limes also found at specialty stores or citrus markets (use ¾ cup of juice). Will need to cut and squeeze in a hand-citrus squeezer
For all variations use the zest of whatever fruit you use before you squeeze the fruit. This is what makes the pie so flavorful.
Shopping Ingredients for Florida Sour Orange Pie Recipe
Pie Crust Ingredients
1/3 of a 1-pound box of graham crackers

4 Tablespoons of melted unsalted butter

1/3 cup of sugar 
Note: If you prefer a store-bought crust, I recommend purchasing a graham cracker crust. Or if you like a regular flour crust, they are found in the grocery's frozen section.
Pie Filling Ingredients
2 Florida oranges (medium-sized)

4 egg yolks

2 Florida lemons (medium-sized)

1 heaping teaspoon of lemon zest

2 heaping teaspoons of orange zest – be sure to zest before you squeeze the juice! (put aside 1 teaspoon to sprinkle over the baked pie for garnish)

½ cup of sugar

1 (14-ounce) can sweetened condensed milk
Meringue Topping Ingredients
4 egg whites

¼ teaspoon, cream of tartar

¼ cup of sugar
Tools
Food processor (optional)

1 – 9 or 10-inch pie pan (glass is best)

Mixer (hand or large one)

1 – Rasp or grater (to zest the orange and lemon)

Electric juicer or hand juicer

Saucepan
Directions
Preheat the over to 350 degrees F.
Break up the graham crackers; place in a food processor and pulse for 1 minute, creating fine crumbs.  If you don't have a food processor, place the crackers in a large plastic bag; seal and crush the crackers with a rolling pin, again, creating fine crumbs. Place in the food processor (or bowl).
 
Make your own graham-cracker crust or purchase store-bought
Melt 4 tablespoons of butter in the microwave (1 minute). Add the melted butter and sugar and pulse or stir until combined. Pour the mixed ingredients into the pie pan. Press the mixture into the bottom and side of the pie pan, forming a neat edge up the side of the pan.  Bake the crust at 350 degrees until set and lightly golden (about 8 minutes). Set aside to cool on a wire rack; leave the oven on.
Directions for the Pie Filling
Make Sour Orange Syrup
After zesting the outside of 2 oranges and 2 lemons, set the zest aside.

Zest and juice the fruit
Next juice the oranges and lemons (you may have more juice than you need). Measure ½ cup of orange juice and ½ cup of lemon juice.

Create a syrup from orange and lemon juice combined with sugar
Place 1 full cup of the combined juice in a small saucepan, add ½ cup of sugar and bring to a boil. After bringing to a full boil, turn down to medium heat and continue cooking for 20 minutes, reducing to ¾ cup of combined juice. This will look like syrup and thicken as it cooks.
Next, separate 4 eggs – placing the egg yolks in one small bowl and the egg whites in another bowl (set aside the egg whites for the pie meringue topping).
In an electric mixer with the wire whisk attachment, beat the four egg yolks with 1 heaping teaspoon of orange zest and 1 heaping teaspoon of lemon zest at high speed until very fluffy, for 5 minutes. Next, gradually add the condensed milk and continue to beat until thick, 3 or 4 minutes longer. 

Combine egg yolks, zest, and condensed milk

Slowly add orange and lemon syrup
Lower the mixer speed and slowly add the combined orange/lemon syrup, mixing just until combined, no longer. 
Pour the mixture into the crust. Bake the pie for another 10 minutes, or until the filling has just set (should not jiggle).

Pour the mixture in the pie crust, sprinkle with orange zest
When the pie comes out, sprinkle the top with the remaining orange zest (or if you like, wait and put it on top of the meringue).
Let cool for 5-10 minutes. Set aside. Keep the oven on. 
For the meringue topping (optional):
Note: if you don't want to make the pie with meringue, whipped cream is an alternative.

Make meringue from the remaining egg whites
With a mixer, beat the 4 egg whites at high speed with ¼ teaspoon of cream of tartar for about 4-5 minutes until soft peaks form. Gradually beat in the ¼ cup of sugar until blended. Next, spread the meringue over the pie filling; seal to the edge of the crust. 
Turn the oven up to 400 degrees. Bake for 5-10 minutes (or until the meringue is golden) BUT don't take your eyes off the oven, keeping the door slightly ajar.
 
There is a WOW factor not only in the look but the taste!
Refrigerate the pie for at least 4 hours or overnight. If you don't have enough time, freeze for one hour.
Remove, slice, plate, and enjoy!

Slice, plate, and enjoy!
If you are not someone who likes to bake, we had a great slice of Florida sour orange pie at The Yearling Restaurant in Hawthorne, Florida (not far from Gainesville).

Looking to try even more Authentic Florida recipes? Check them out here!

AuthenticFlorida.com was named Best Travel Blog at the 2018 Sunshine Awards. 
To receive Authentic Florida's free weekly ENEWs, sign up on our Authentic Florida home page.
To inquire about partnerships/advertising, please contact melanie@authenticflorida.com 
Proud Member of: 
      
---
Comments are closed.