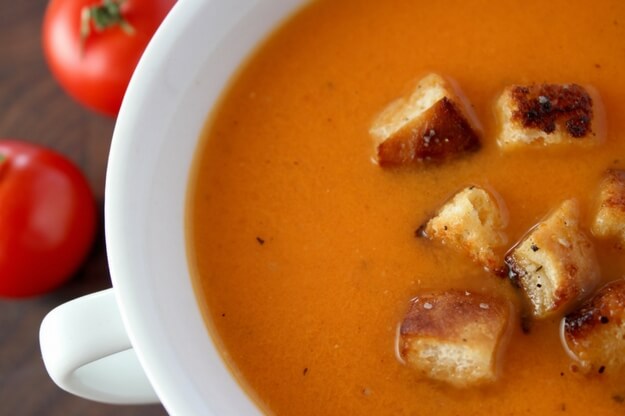 Homemade tomato soup — it's creamy, warm, satisfying, and a true comfort food. Read on to check out our delicious Authentic Florida Homemade Tomato Soup Recipe!
I love making soup, especially this soup because something magical happens in the pot as fresh tomatoes slow-simmer in broth, butter, and sweet onions.  They gently release all their juices and sugars, creating a delicate texture and flavor that, once pureed, gets wonderfully creamy, so you don't even need to add milk or cream (but I'm sure if you added some, no one would complain).  There's also an unexpected ingredient of nutmeg.  I like to add it to tomato-based sauces because it adds a layer of complexity that's not easily definable, leaving you wondering "What is that? There's something delicious in there, but I'm not sure what it is?"  Trust me, though, you're glad it's in there.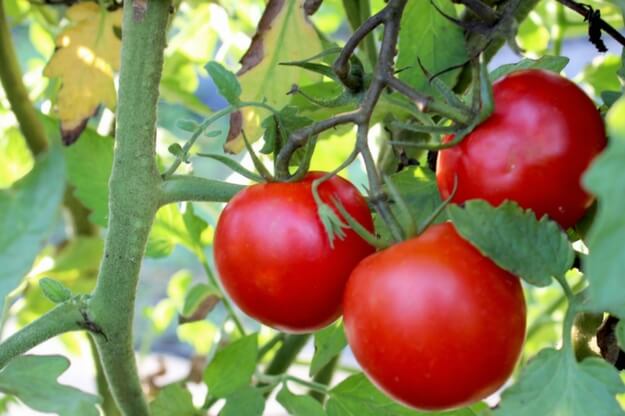 This is a perfect dish to enjoy during Florida tomato season, especially on unusually chilly days.  It's easy to find tomatoes at farmer's markets throughout the State, so when my own garden tomatoes aren't quite ready, I like to visit the Sarasota Farmers Market or the St. Petersburg Saturday Morning Market to see what local growers have available.  It's fun picking out traditional red beauties, but I also like to get a few heirloom varieties that offer beautiful colors, shapes, and textures. 
Tomato soup is a great way to fill your bellies with something warm and delicious.  And if a golden, crispy grilled cheese sandwich, say, were to appear alongside that bowl of soup, well, your meal would be soaring to a whole new level!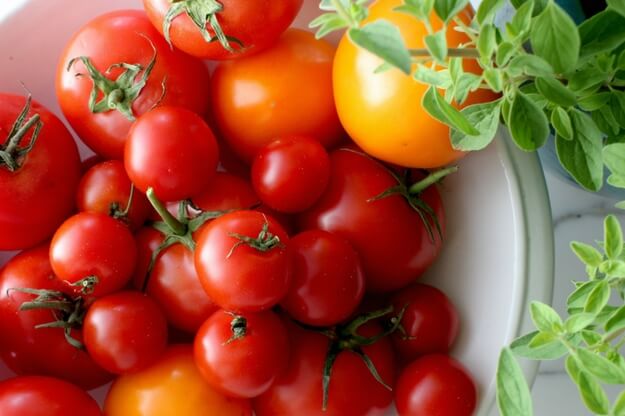 Homemade Tomato Soup Recipe
4-5 Tb. unsalted butter

1 c. chopped, sweet onion (such as Vidalia)

1 tsp. tomato paste

6 medium, fresh tomatoes (about 4 c.)

2 1/2 c. chicken stock (homemade, ideally)

2 whole basil sprigs

1/2 tsp. kosher salt

1/4 tsp. freshly ground black pepper

2-3 dashes ground nutmeg (fresh, if you have it)

Fresh basil to garnish

Homemade croutons (optional)
Directions
Fill a medium pot with water and bring to a boil.

Using a sharp knife, cut a large 'X' in the bottom of each tomato; when water boils, carefully drop each tomato into the water and allow them to sit for about a minute.  

Transfer tomatoes to a plate and cool a few minutes; carefully peel off skins, remove stems, cut in half, and squeeze out seeds.

In a bowl, chop tomatoes into chunks and retain juices; set aside.

Drain water from the pan, then add butter to it.

Add onion; cook over medium heat until translucent (about 5 minutes).

Add tomato paste and stir to ensure it melts into the onions.

Then add tomatoes/juices then simmer about 10 minutes over low heat.

Add chicken stock, basil sprigs, salt, and pepper; simmer on low heat for about 15 minutes.

Discard basil sprigs; add nutmeg.

Using an immersion blender, puree until smooth.  If you don't have an immersion blender, carefully transfer small batches of soup to a food processor then return to the pot.

Season with additional salt and pepper, to taste.

Serve with fresh basil and croutons, if desired.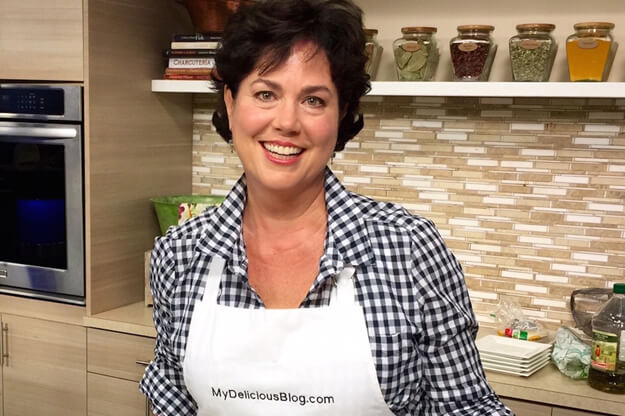 Nicole Coudal is a writer and home chef based in southwest Florida, where she fishes and cooks regularly.  When not on the water, she visits farms, farmer's markets, and other food-related venues to highlight what's in-season, and to create tasty recipes using locally-sourced ingredients.  You can see more of her recipes and stories at www.MyDeliciousBlog.com.

AuthenticFlorida.com was named Best Travel Blog two-times at the Florida Sunshine Awards.
To receive Authentic Florida's free weekly ENEWs, sign up on our Authentic Florida home page.
To inquire about partnerships/advertising, please contact info@authenticflorida.com 
Proud Member of: 

---