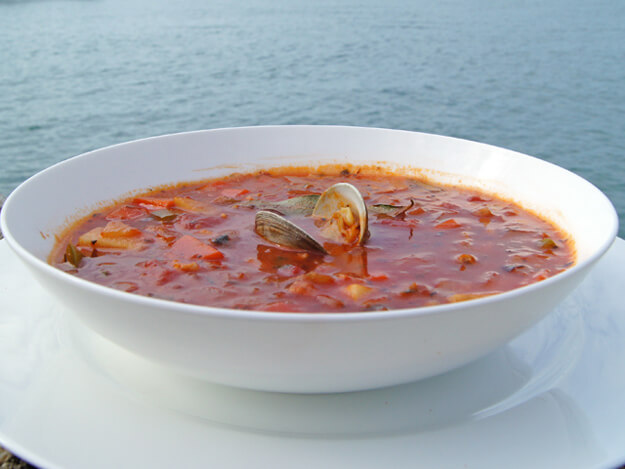 Minorcan clam chowder is one of St. Augustine's signature dishes. Its deep red color comes from the tomato base filled with vegetables, clams and seafood stock, with a little kick from the datil pepper, its key ingredient. The pepper was brought centuries ago from Cuba and harvested primarily in northeast Florida. St. Augustine natives insist there is no substitute for the datil's sweet-tart, citrusy hot taste. 
Brief History
Centuries ago, settlers from Minorca, an island near the coast of Spain were brought to Florida. They worked as indentured servants on Florida's indigo plantations. Once here, the Minorcans created the rich chowder blending their Mediterranean cooking methods with local seafood, herbs and produce. This chowder has become synonymous with St. Augustine's multi-cultural heritage and cuisine.
Finding the Datil
As soon as we returned home from a recent trip to St. Augustine, we wanted to prepare this dish, but we had a challenging time finding datil peppers. However, we did go online and located vinegar with whole datils floating inside. In a pinch, datil hot sauce or datil spices will do and they can be shipped or you might check specialty food shops in your area. To prepare for our next batch, we purchased some seeds and planted the pepper in our garden. You can try other pepper substitutes, but the datil is distinctive.
The following recipe is a result of several experiments from our kitchen. We've also been told there are a few "musts" to authentic Minorcan clam chowder and have attempted to be true to them. The chowder is always red – it must be tomato-based. Some insist that the onions should always be cooked in salt pork. We always use fresh seafood so we purchased clams at our local market, but if you can't find fresh ones, grocery stores have them in cans. There are probably many more "purist" recommendations, but here is the recipe we created:
Authentic Florida's Minorcan Clam Chowder
Serves 4-6
Time: 1 & ½ hours for cooking
Ingredients
2 dozen fresh Florida clams* from your seafood shop (any size)
4 oz. salt pork** (also found in most markets)
1 datil pepper, minced (use half a pepper if you're heat shy), or datil hot sauce
1 medium onion, diced in small pieces
1 green bell pepper, diced 
2 medium carrots, diced
1 cup diced small red potatoes, peeled (2-3 total)
1 15-ounce can chopped tomatoes
3 tablespoons tomato paste
1 teaspoon fresh garlic (1-2 cloves)
1 teaspoon oregano
1 teaspoon rosemary
1 teaspoon thyme
1 teaspoon salt
3 bay leaves
1 8-ounce bottle clam juice (also found in markets)
2 cups fish stock (found in markets, but if fresh from the seafood market is even better)
1 Soup pot, 1 colander, 1 large pan with lid, hand strainer
*If you cannot find fresh clams, you may substitute two – 6.5 ounce canned minced clams (found in your market). Drain the clams from the juice (but save the juice and add to the soup at any time.)
**Substitute bacon if you cannot use salt pork.
 Directions
1. Take 4 oz. of salt pork and cut up in tiny pieces. Place in a soup pot and cook for 10 minutes.
2. When the salt pork is browned, scoop out and place on a paper towel (leave the fat in pan) and with the remaining rendered fat add the diced onion, green pepper and carrots. Cook 5-10 minutes until the onions look translucent (clear). Note: If there is not enough fat rendering to cook the vegetables, add one tablespoon of olive oil.
3. Stir in one 15 oz. can of diced tomatoes, 3 tablespoons of tomato paste, all the seasonings (use fresh or dried) – garlic, oregano, rosemary, thyme and salt. Add one minced datil pepper, or 2-3 teaspoons of datil hot sauce (to taste).
4. Next add the 8-ounce bottle of clam juice and 2 cups of fish stock. Let it simmer on low heat for 1 hour.
Directions for cooking clams:
5. Place the 2-dozen fresh clams in a colander in the sink. Lightly scrub the outside of the clams and rinse to remove any dirt or sand.
6. Place the clams in a large pan over medium high heat with 1/3 cup of water. Cover the pan and cook the clams for approximately 10 minutes. When the clams open, they are cooked. Remove from stove.
7. Back at the sink, place the clams in the colander, let drain. Any clams that do not open, throw away.
8. When the clams cool, remove the meat from the shells. Chop the clam meat in diced pieces. Discard the remaining clamshells. Set clams aside. 
Next:
9. Add one cup of the diced potatoes to the soup and cook approximately 20 minutes or until the potatoes are tender but not mushy.
10. Add the chopped clams and cooked salt pork. Cook just long enough until the clams and pork are heated through (5 minutes).
11. Taste and adjust seasonings if necessary. This is a soup that tastes even better the next day because the flavors have had more time to meld together.  
NOTE: If you are using canned minced clams, drain the clams, retaining the juice (you will get one cup of clam juice from two cans of 6.5 ounce canned clams). Set clams aside and follow the recipe (starting with #9, skip #5-8), pour juice into the soup.
---