Pinellas County stretches from Tarpon Springs to St. Petersburg along Florida's central gulf coast. Most of the county is a peninsula separating Tampa Bay from the Gulf of Mexico. Its Gulfside edge is comprised of a series of barrier islands sprinkled with beach towns. This is where the urban pace melts away and a beachy vibe begins to resonate.

Downtown St. Petersburg
Before we tour the beaches, let's visit downtown St. Petersburg. Re-envisioned and revitalized, this once frumpy, "old folks" community is now a younger, vibrant, culturally rich district. Downtown St. Pete hugs the shoreline of Tampa Bay with walking parks, sports venues, a university campus, restaurants, gallerias and shops. The Salvador Dali Museum, housing the largest collection of the surrealist's work outside of Spain, anchors several museums including the Fine Arts Museum and the Chihuly Collection, with its extraordinary exhibits of dramatic and colorful glass sculptures.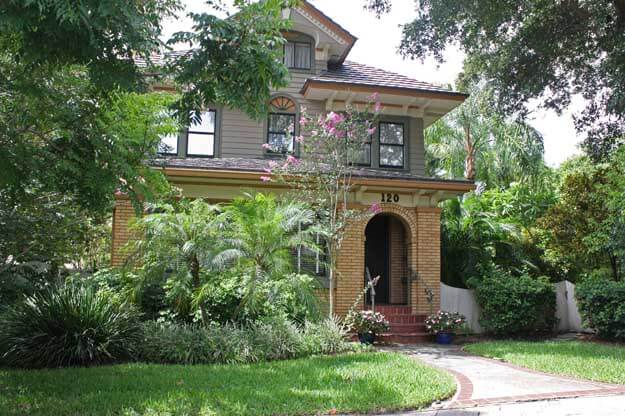 St. Petersburg's historic downtown neighborhood
A short walk through downtown neighborhoods reveals refurbished historic bungalows and cottages lining red brick streets. Even the downtown St. Pete Shuffleboard Club draws a younger crowd these days.

Sunken Gardens, downtown St. Petersburg
There's plenty to do downtown, but across the county to the Gulf of Mexico lies miles of white sandy beaches, funky shops, local art galleries, restaurants and nearby protected islands and state parks. Here you can have a weekend of fun in a "real" Florida getaway.
St. Pete Beach & Pass-a-Grille

St. Pete Beach
St. Pete Beach has laid-back, refurbished old motels and resorts with small-town charm. But if you want to "dial back" your energies even more, head down to Pass-A-Grille.
Pass-a-Grille

Historic home, Pass-a-Grille 
Pass-a-Grille sits on the southernmost end of St. Pete Beach. According to legend, the name is derived from Cuban fishermen who often stopped here for fresh water and a chance to grill their freshly caught fish.

Pass-a-Grille's Sea Horse Restaurant
Drive south on Gulf Boulevard.  You'll notice it is largely a residential community with nostalgic old homes and tall, old Florida palms lining the streets. Packed with charm, Pass-a-Grille offers a collection of off-beat shops, art galleries and plenty of beachfront.

Funky shops in Pass-a-Grille (Elena's)
You'll want to park the car and stroll down Eighth Avenue for the eclectic shopping. But your tip of the day is to visit the old Seahorse Tavern and Restaurant (100 Pass a Grille Way) for breakfast or lunch (known for pancakes, grits and key lime pie) and later in the day, walk to the Hurricane Seafood Restaurant, known for grouper sandwiches, and (what else but) hurricane cocktails. While there, enjoy magnificent sunset views.
The Don CeSar Hotel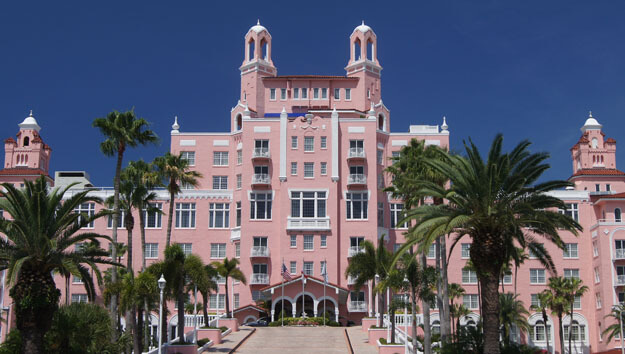 "the Pink" Don CeSar Hotel
One can't possibly reference Pass-a-Grille without mentioning the famous Don CeSar Hotel. The towering pink "castle" opened in 1928 and became the pampered playground for celebs like F. Scott and Zelda Fitzgerald. Known as "the Pink", this beautiful hotel has been the backdrop for many Hollywood films and sets the stage for a first-class romantic getaway. Even if you don't stay, treat yourself to an ice cream at Uncle Andy's Ice Cream Parlor or take a seat at the outdoor beach bar for the ambiance.
Fort De Soto Park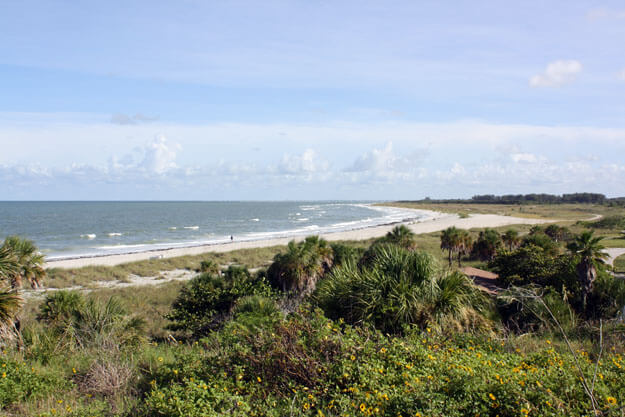 Ft. De Soto Park beach
Located at the mouth of Tampa Bay, this huge county park (covering five interconnected islands) has plenty to explore. Miles of white sandy beaches, seven miles of trails for biking, hiking and walking, a historic fort and waterfront camping. The historic fort was built during the Spanish-American War to defend Tampa Bay, which was the port of embarkation for troops heading to Cuba. From 1899 to 1906 fortifications were built at Fort Desoto and across the channel on Egmont Key.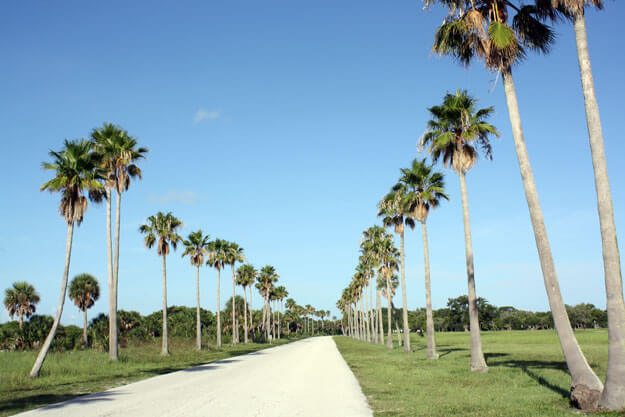 Ft. De Soto Park is a spacious county park
Egmont Key State Park

Egmont Key Lighthouse
Southwest of Fort De Soto is Egmont Key State Park. If you are interested in what a Florida island looked like before housing developments and parking lots, you'll love Egmont Key. In addition to being a pristine 440-acre isle, it is also filled with rich Florida history including an historic 1858 Lighthouse that still guides water traffic into the Tampa Bay.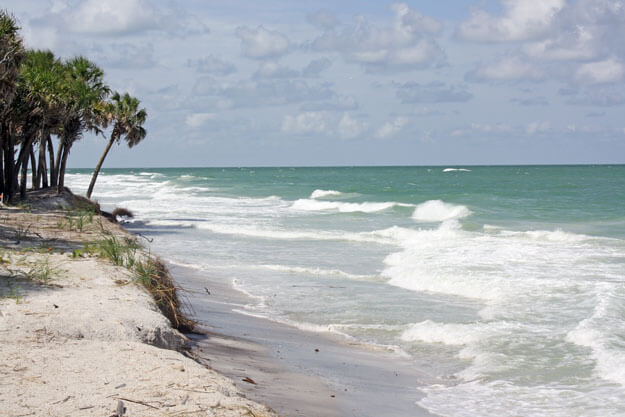 Egmont Key 
To get to Egmont you'll need to travel by private boat or catch the Egmont Key Ferry from Fort De Soto Park. Be sure to pack drinks and lunch for a half-day stay on the island where you can explore stunning beaches, fort remnants, outstanding birding and wildlife viewing, or enjoy snorkeling in the turquoise waters, fishing, shelling or swimming. Depending on the time of year you visit, you may encounter giant sea turtles. They lay their eggs on these beaches at night from May through October.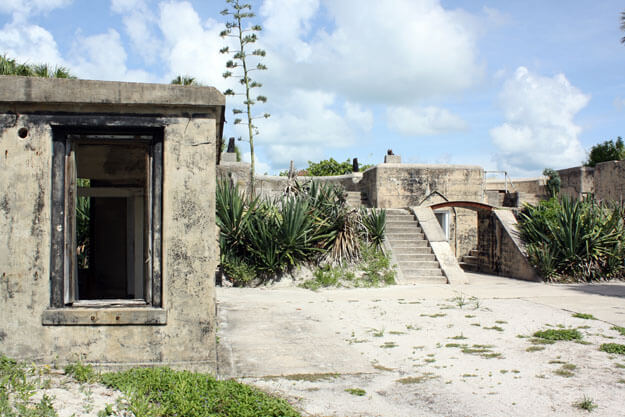 Egmont Key is filled with American history
As you hike around the walkways, you'll be able to climb on walls of cannon emplacements and imagine years of American history spanning periods from the Seminole Wars (Seminoles were imprisoned here) to becoming a base for the Union Navy during the Civil War, and later a fortress during the Spanish American War. The ruins of some old battlements that have now been reclaimed by the Gulf are a good place to snorkel and enjoy the marine life down under.
Shell Key Preserve

Aquamarine waters of Shell Key
Another island accessible only by boat is Shell Key, located south of Pass-a-Grille. It's another rare gem – a protected island that is uninhabited and undeveloped – another place where you can find your own slice of paradise. Take your own boat, or a short pontoon boat ride on the Shell Key Shuttle (departing from the Pass-a-Grille Merry Pier). Walk the beach, admire the outstanding birding, swim in the crystal clear water and even consider a hike to the backside of the island.

Shell Key is a natural slice of Florida paradise
Wade into the water and discover huge welks, sea urchins and other marine life.  But remember the rule – never take a shell that has a live animal inside. The ultimate treat here is the shelling. Sand dollars, sunray venus, tulips and plenty more can be found. Be sure to pack food and drinks for a memorable day on this secluded island.
Suggestions for Your Stay

Plaza Beach Resort, St. Pete Beach
When vacationing, you'll need a place to relax and unplug, and to serve as a comfortable base for your explorations. The intimate Plaza Beach Resort may be just what you may want. This personable boutique hotel on St. Pete Beach and has all the amenities – spacious beach, pool and magnificent sunset views. Accommodations are also available across the street on Boca Ciega Bay, with fishing docks and a lovely sunrise view, pool, and spacious rooms.

Plaza Beach Resort, Bayside
For more authentic Florida lodging ideas, go to Superior Small Lodging.
Ted Peters Smoked Fish Restaurant

Ted Peter's Smoked Fish Restaurant
The aroma of smoked fish will pull you off the beach and to this 50-year old classic fish house. Ted Peters smokes the fish on the premises while locals pack the outdoor bar and picnic tables.
Beyond the Beach
Historic Sunken Gardens

Historic Sunken Gardens
Not far from downtown St. Petersburg, and just a short ride from the beaches is Sunken Gardens, a lush tropical oasis and botanical landmark, in business since the 1920's. Easy walking pathways cross over ponds while guests admire the tropical birds and flamingos. You can enjoy this shady, beautifully maintained garden sanctuary for the bargain price of $8.00.

Sunken Gardens, A Garden of Florida Eden
Mazzaro's Italian Market

Mazzaro's Italian Market
This neighborhood market on 22nd Avenue in St. Petersburg is a Mecca for foodies. If you like real Italian delicacies including homemade pasta, you will feel like you traveled to Italy with a combination of fresh meat and deli market, a sin-full bakery and cappuccino counter.
To receive Authentic Florida's free ENEWs, featuring travel and living updates, delivered weekly, sign up on the home page Authentic Florida, voted Blog of the Year and Best Travel Blog at the Orlando Sunshine Awards.
---
Comments are closed.