Maybe you've heard of goat yoga, but have you ever heard of baby alpaca yoga? Recently, we were fortunate enough to attend a morning yoga class at LunaSea Alpaca Farm in Clermont with these adorable fuzzy friends! Read on to check out how you can attend a class to get your namaste on and even snag a selfie with a baby alpaca!
What Even Is an Alpaca?
Did you know that alpacas have only been in the United States since 1984? Now, there are over 192,000 alpacas registered with the Alpaca Owners Association and the 2017 Census of Agriculture accounted for over 121,000 alpacas in the US!
Alpacas are part of the Camelid family which also contains camels and llamas! What's the difference between llamas and alpacas then? Llamas are bigger than alpacas in both height and weight. Llamas also have longer faces and larger ears than an alpaca. Alpacas were bred for high quality, luxury fiber while llamas were bred as pack animals.
While you can see the adult alpacas at LunaSea, the yoga classes take place with the babies!
LunaSea Alpaca Farm – Clermont
Located in the rolling hills of Clermont is LunaSea Alpaca Farm! Their farm is nestled in a quaint valley with Live Oaks dripping in Spanish Moss. LunaSea is a family farm where the entire family helps out. They all love working with the alpacas and doing odd jobs that contribute to the special atmosphere of the farm.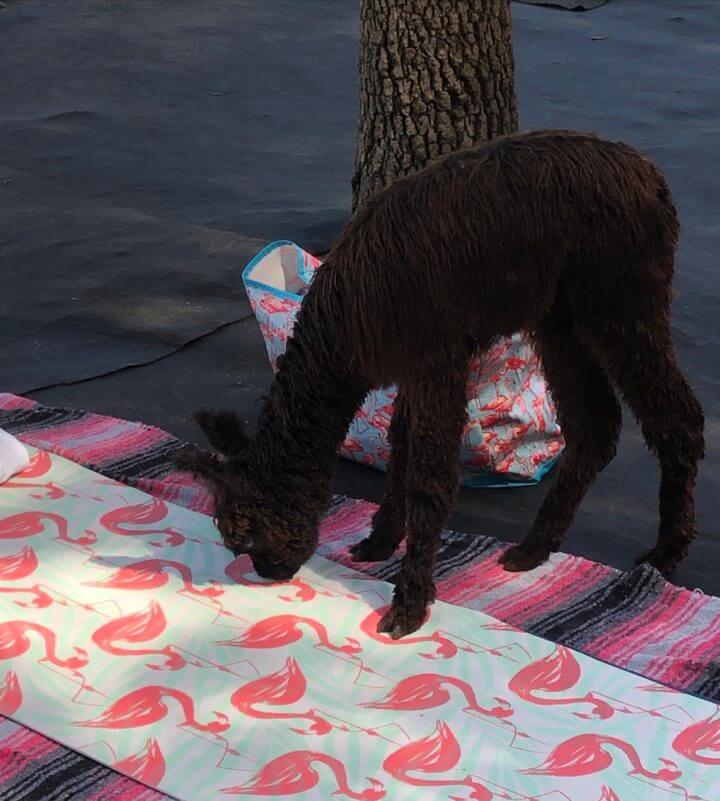 In addition to yoga classes, they also offer interactive tours where you can feed and pet the alpacas and llamas. You can play with the babies too! Each tour is personalized to give you and your family and friends a unique experience. The tours are by appointment only, so make sure to call and schedule! Admission is $10 per person for anyone over the age of three. Just call to schedule your day and time at 352-223-9459.
Yoga Classes at LunaSea
The days of classes at LunaSea vary, based on the availability of the yoga teachers! Classes are held by different yoga teachers in the area, and you can see who will be teaching your class ahead of time on LunaSea's Facebook page! Classes begin at 9:30 am and registration beforehand is required since space is limited! To check out which day works best for you, check out the events on LunaSea's Facebook page here!
Classes are $25 for a one hour class that includes playtime with the babies afterward! This includes about 40-45 minutes of yoga 15 minutes of playtime, photos, and treats with the babies! Make sure to bring your own mat, closed-toe shoes, and a towel at least twice the size of your mat for underneath your mat.
The yoga takes place inside the nursery with the baby alpacas and is a beginner level class. LunaSea has a minimum age requirement of 16 to participate in their classes, and if you're under the age of 18 you will need to be accompanied by a parent or guardian!
Due to COVID-19, the classes are practicing social distancing. The mats are placed six feet apart from each other and the instructor so you can maintain a safe distance while enjoying your yoga! (Note: Baby alpacas don't seem to follow the six-foot distance!)
Keep in mind that during the class you will be up close and personal with baby alpacas! Don't expect a serious yoga class! These curious babies will walk up to you mid-pose and nibble on your mat, shirt, or even water bottles! This makes for great photos and even more fun!
Looking for even more fun yoga classes across the state? Check out our favorites here!

AuthenticFlorida.com was named Best Travel Blog two-times at the Florida Sunshine Awards.
To receive Authentic Florida's free weekly ENEWs, sign up on our Authentic Florida home page.
To inquire about partnerships/advertising, please contact info@authenticflorida.com 
Proud Member of: 

---
Comments are closed.