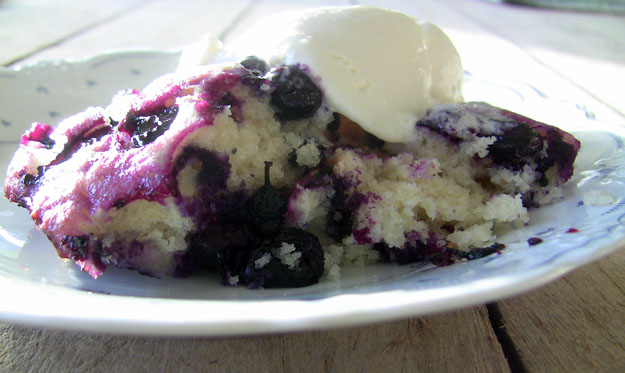 Fresh, delicious blueberries are available throughout the Sunshine State as well as at various U-Pick farms. Now is a perfect time to whip up this seasonal favorite: Florida Blueberry Pudding Cake. 
When we talk to our loyal followers (we like to refer to you all as #AuthenticFloridians), we hear over and over how much everyone loves the Florida Blueberry Pudding Cake. We agree. When fresh Florida blueberries are in season, there's truly no better time than to bake this simple cake. It's perfect for dessert (or even breakfast). Let's face it, who doesn't love fresh fruit with a little cake? Just add a little ice cream,  and you'll create a five-star dessert experience for you and anyone who is fortunate enough to get a piece before it's all gone.
Florida Blueberry Pudding Cake Recipe
Serves 6
15 minutes of active cooking
50 minutes from start to finish
Set oven to 375 degrees
This Florida Blueberry Pudding Cake recipe has five steps: 
Cook the blueberries in a small pan
Mix the wet ingredients
Mix the dry ingredients
Combine the wet and dry ingredients.
Pour the blueberry mixture on top of the combined mixture. Bake.
Needed: One 9 inch square baking pan
Blueberry Mixture
1/3 cup sugar
1/4 cup water
1 tablespoon fresh lemon juice (1/2 lemon)
1 teaspoon cornstarch
10 oz. fresh Florida blueberries (2 cups)
Stir together 1/3 cup sugar with 1/4 cup of water, 1 Tblsp. of lemon juice, 1 tsp. of cornstarch in a small saucepan, then stir in blueberries. Bring to a simmer, stirring occasionally, 3 minutes. Remove from heat.
Cake Mixture
In a large bowl:
Melt 1 stick (½ cup) unsalted butter, then cooled slightly
Add and stir:
1/2 cup whole milk
Whisk 1 egg
1 teaspoon vanilla
In a smaller separate bowl, mix:
Cup of flour
1 ¾ teaspoon baking powder
Teaspoon of salt
1/2 cup sugar
Add the flour mixture to the wet mixture, whisking until just combined. Butter a 9-inch square baking pan.
Spoon batter into the baking pan, spreading evenly. Pour blueberry mixture over batter. Berries will sink.
Put oven rack in middle position and preheat oven to 375 degrees.
Bake 25-30 minutes, until a knife inserted into the center of the cake, comes out clean.
Cool on a rack for 5 minutes.
When serving, add a dollop of vanilla ice cream.
Recipe adapted from Gourmet Magazine.
Looking for even more recipes using Florida blueberries? Check out: An Authentic Florida Favorite: Jordan Marsh Blueberry Muffins. 
SIDE NOTE: There are lots of blueberry u-pick farms in Florida open right now. To see a list visit the Florida Blueberry Growers Association website.

AuthenticFlorida.com was named Best Travel Blog two-times at the Florida Sunshine Awards.
To receive Authentic Florida's free weekly ENEWs, sign up on our Authentic Florida home page.
To inquire about partnerships/advertising, please contact info@authenticflorida.com 
Proud Member of: 

---
Comments are closed.