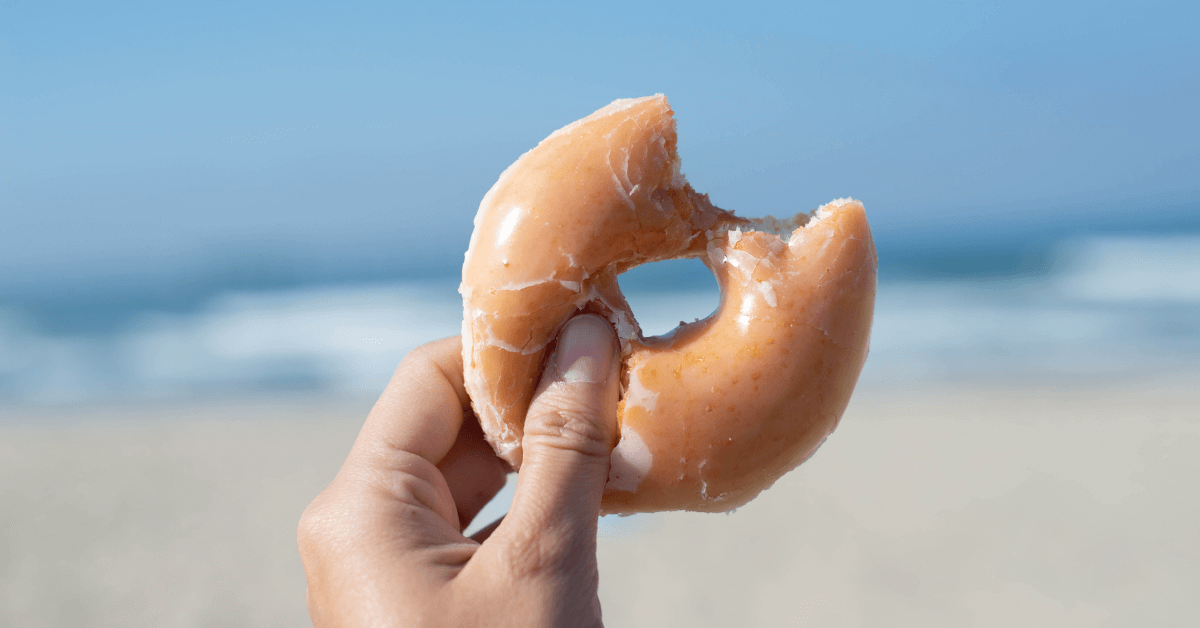 There's no doubt, one of Authentic Floridian's favorite sweet treats is the donut! There are so many great spots around the state to enjoy a donut, but while some people may head to a donut chain for this sugar fix, we always prefer the hidden gems! Read on to check out our list of the best donuts in Florida. Warning – this list will make you hungry!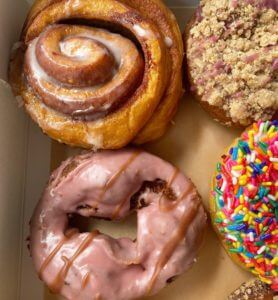 Keith Freiman and Emilio Freire opened Bake Shack in Dania Beach in April of 2016. These co-owners' mission is to offer their customers a menu based on traditional baking methods! Not only do they create delicious donuts, baked goods, and lunch from scratch, but they also love supporting the local community! Bake Shack offers locally roasted coffee, hire their employees from the local schools, and support other local companies as well! Freiman and Freire share their baked goods with South Florida and do so with "a light heart, cool vibe, and damn-good food made from scratch!"
Check out their delicious donuts including Maple Bacon, Blackberry Blintz, S'Mores, to name a few!
Owned by Wink FM morning radio personality C. David Bennett along with Franke Albano and Anne and Roger Munro, Bennett's Fresh Roast serves delicious coffee and donuts to the residents of Lee County!
Bennett's roasts almost 800 pounds of coffee per month and fries up 15,000 donuts made from scratch! The team loves every single time they can serve a happy customer and are single-family businesses that believe in "old fashioned good service, honesty, integrity, and the desire to back up our products that are the true hallmarks of our success".
Brand new donuts for the fall season include Cookies & Cream, Buttermilk, and Pumpkin Spice Custard!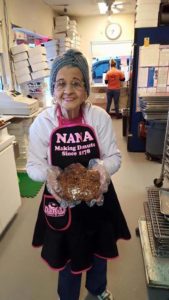 From the outside, Dan-D-Donuts & Deli in Panama City looks like an unassuming walk-up window. However, this spot has some of the best donuts in Florida! Not only do they serve yeast, cake, and specialty donuts, Dan-D also has a huge menu full of delicious breakfast and lunch food!
While Michael Pons currently manages Dan-D, he agrees that the heart and soul of the restaurant is "Nana" (Peggy Pons), who retired in 2017! For over 40 years, Nana woke up at 2 am and got to Dan-D by 4 am. She grabbed her red apron and arranged the homemade donuts in the display case six days a week! While Nana is retired, she still makes surprise appearances!
These Panama City donuts are in high demand – especially the Apple Fritters! Dan-D Donuts reminds you to do as Nana says, "Get what you want, come early. Get what we got, show up late"!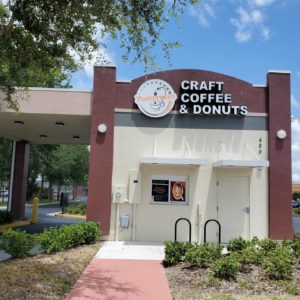 Another one of our spots for the best donuts in Florida is a hidden gem located in Winter Park. Donut Central and Fuelpresso have delicious homemade and fresh-baked donuts as well as delicious coffee – roasted in house! Every morning when the staff arrives they begin baking the donuts and roasting the coffee and boast that their donuts are "creative delicious and the best you'll ever have".
Try out fun flavors like Maple Bacon or Chocolate Butterfinger, or even one of their savory croissants – there's something for everyone!
Want to learn more about Winter Park, check out: Seven Reasons to Fall in Love with Winter Park
If you're looking for donuts to pair with a classic breakfast in a diner, The Donut Hole in Santa Rosa Beach is for you! The Donut Hole is a bakery and diner combined with an incredibly extensive breakfast, lunch, dinner, and bakery menu! The Donut Hole is incredibly popular, so make sure you're prepared to wait in line if you go on a Sunday!
Our favorite flavor is the Coconut donut, which tastes just like coconut cake!
Located in Beverly Hills, Fresh Start Donuts is a small shop with huge flavor! Not looking for such a sweet breakfast? Don't worry – Fresh Start also has a no-frills breakfast menu with Southern favorites like breakfast sandwiches and biscuits and gravy! Fresh Start is also known all around Citrus County for having the nicest staff that are always happy to help with a smile.
While there are so many delicious handmade donuts to choose from in the shop, we are partial to the Boston Cream! This shop is a must-visit while in Citrus County that will give you that small-town feel.
Looking for more things to do on Florida's Adventure Coast? Check out: Exploring Florida's Authentic Adventure Coast.
Megan and Jonathan Pidgeon of Glazed Donuts believe that "eating should be one of the highlights of your day – every day – and no matter what you choose to eat, it should be made with thought and care". Because of this mindset, any hand-crafted donut you choose is going to be delicious! We recommend the Key Lime Pie donut (key lime curd topped with toasted meringue and graham cracker streusel) paired with a great cup of coffee!
Glazed Donuts is the southernmost donut shop in the Continental United States, right in the heart of Old Town Key West! Don't miss the awesome artwork painted on the walls inside the shop!
If you are looking for other fun things to do in Key West, check out this article: Enjoy a Fun-Filled Weekend In Authentic Key West
At Good Dough in Jacksonville, you will find a team who believe "Doughnuts are happy, we're happy, we want you to be happy". Based on this mantra, you're sure to receive friendly service, delicious artisan donuts, and amazing coffee!
All of the donuts and glazes at Good Dough are made from scratch throughout the day in small batches so your donut is always fresh and ready to eat! They also use only high-quality ingredients from local partners throughout the area! What is the "good dough", you might ask? Their house donut is a brioche-style yeast dough that is rich and buttery while still springy! The flavors change out frequently, so make sure to visit often for new finds!
Make sure to stop by their kitchen and watch them craft their donuts from the two giant windows within the store!
While it may look unassuming from the outside, Sip N' Dip Donuts in St. Cloud boasts having the best donuts in town! We definitely agree, and this is why they're on our list of the best donuts in Florida. While Sip N' Dip is known for its hot and fresh donuts, they also serve delicious bagels, croissants, breakfast and deli sandwiches, as well as coffee, smoothies, and boba tea!
While it is so difficult to choose just one favorite from their wide selection, we recommend the Cream Stuffed Donut! Make sure to not miss out on Sip N' Dip on any trip to St. Cloud (Osceola County)!
Located in Flagler Beach, Swiller Bees is a delightfully kitschy donut shop with beautifully decorated donuts and delicious coffee! They also have fresh bagels and breakfast sandwiches if you're looking for a more savory breakfast. The different flavors of donuts change out frequently and sell out quickly, so make sure to get there early!
Since Swiller Bees is located so close to the beach, it makes sense that the inside of the restaurant has a beachy atmosphere. Don't miss the mural outside of the store – a rainbow background with an umbrella to dodge the raining donuts! It's the perfect photo op after enjoying a tasty donut!
When in the area, check out other authentic things to do: 12 Authentic Things to Do on the Palm Coast and Flagler Beaches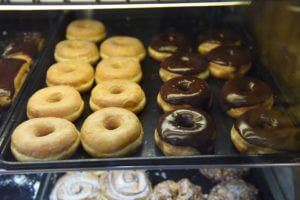 Serving Tallahassee since 1963, Tasty Pastry Bakery is a staple of the Market Street area! This family's goal is to serve the finest sweet treats in town using not only old favorite recipes but adding new flavors as well! This includes more than just donuts — Tasty Pastry also has cakes, cookies, bread, pies, pastries, and more!
Tasty Pastry's donuts are made fresh in-house every day! House favorites include glazed, chocolate glazed, apple fritters, cinnamon swirls, raspberry filled, bavarian cream-filled, sour cream, and more! Their staff is also happy to suggest a flavor for those of us who think everything sounds delicious!
When in the area, check out our other favorite things to do! Ten Authentic Things to do in Tallahassee, the "Other Florida".
Do you want to snack on a delicious donut while shopping in a Southern market? Look no further than
Yum: A Southern Market
in Middleburg! Not only do they have a bakery with delicious baked goods, including donuts, they also sell delightful rustic home decor as well as vintage candies, bath and body products, jewelry, candles, and more!
This Southern Market will take you back to your Southern roots while supporting talented local artists! Make sure to check out their new fall donut flavor – Pumpkin Maple!
Is all of this talk about donuts making you crave a coffee? Check out our favorite coffee shops and roasters in Florida here!

AuthenticFlorida.com was named Best Travel Blog two-times at the Florida Sunshine Awards.
To receive Authentic Florida's free weekly ENEWs, sign up on our Authentic Florida home page.
To inquire about partnerships/advertising, please contact info@authenticflorida.com 
Proud Member of: 

---
Comments are closed.