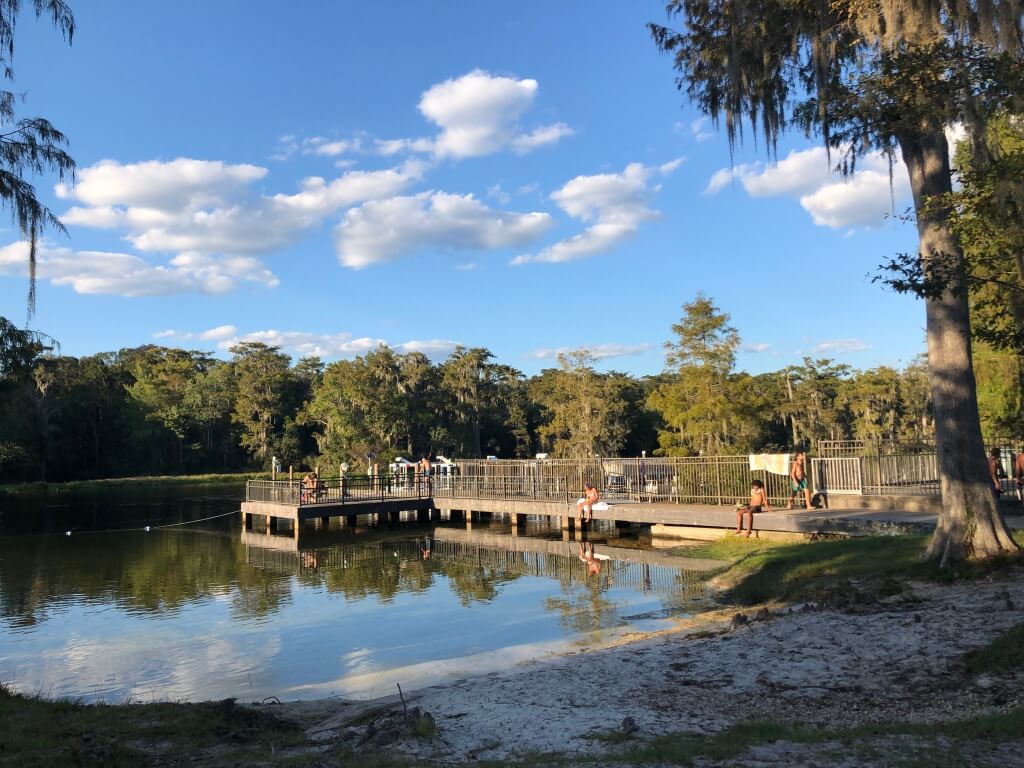 This afternoon was so hot. How hot was it? It was so hot that it was a great reminder that summer is just around the corner. When you're looking for fun ways to stay cool this summer, a visit to one of Florida's springs will definitely do the trick. With water temperatures in the 70-72 degree range, it's an ideal way to obtain fast relief from the sizzling summer heat.
There are approximately 1,000 known springs in Florida, ranging in size from little drizzles to first magnitude springs releasing hundreds of millions of gallons of water per day. Many of Florida's springs are found within the state or national parks. Each park offers visitors an array of recreational opportunities while providing a level of protection for these essential natural resources. The entry fee to most parks is very reasonable, making the experience both fun and affordable.
Several parks offer swimming, snorkeling, boating, tubing, camping, scuba, and cave diving. Kayaking, canoeing, and tubing are the best ways to experience a spring because it affords you an opportunity to view wildlife up close. Plus, you can explore various nooks and crannies of the spring ecosystem.
These 10 springs have earned our Authentic Florida seal of approval, however, there are many other wonderful options beyond our list: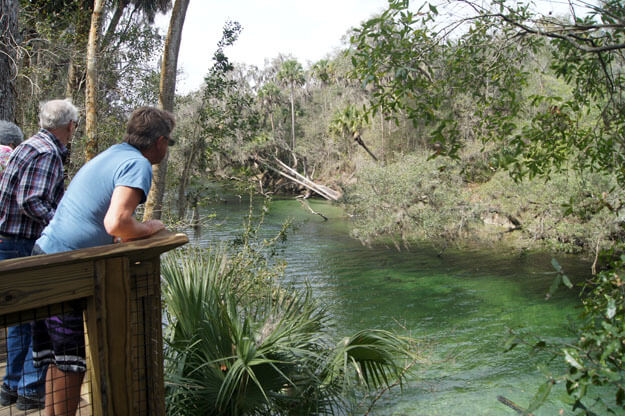 North of Orlando and west of Orange City, Central Florida's Blue Spring State Park is home to the largest spring on the St. Johns River. The circular translucent hole percolates with tiny bubbles rising to the surface, also known as a boil –but it's cool, not hot.
Blue Spring is popular with swimmers, snorkelers, and scuba divers, especially for the extensive underwater cave system. A half-mile boardwalk is filled with panoramic views of picturesque "old Florida" and interpretive displays provide history about the park. Blue Spring frequently reaches full capacity, so it's best to visit the park early.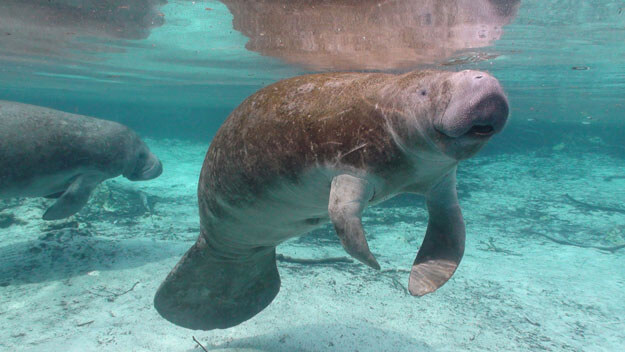 North of Tampa and west of Orlando is the community of Crystal River, appropriately known as Florida's "Water Lovers' Paradise" due to the abundance of freshwater springs throughout the region.
Crystal River is a first magnitude spring system, originating in Kings Bay, and encompassing more than 40 springs that flow into the river as it meanders six miles westward to the Gulf of Mexico.
To see this spring system, you'll need to go by boat. Local outfitters will take you to visit the springs where a beautiful world, on or below the surface, awaits. The largest spring in Kings Bay is Kings Spring. It spans 75 feet across and is 30 feet deep at the entrance to a 60-foot cave. This is very popular for swimmers, snorkelers, and scuba divers.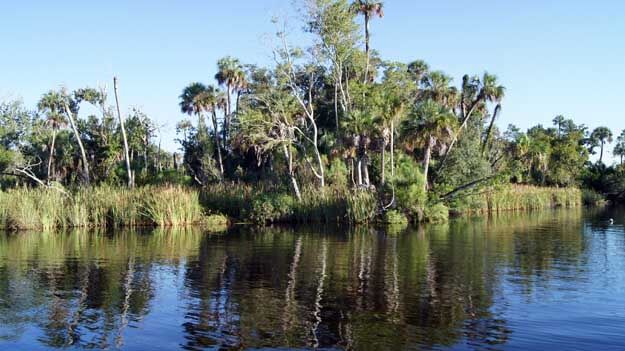 Homosassa Spring, a second magnitude spring, attracts manatees and a variety of fish. You can descend underwater without ever getting wet in the Fishbowl Observatory or take a manatee tour to Blue Waters just outside the park and swim with a manatee. It's definitely an experience you'll never forget.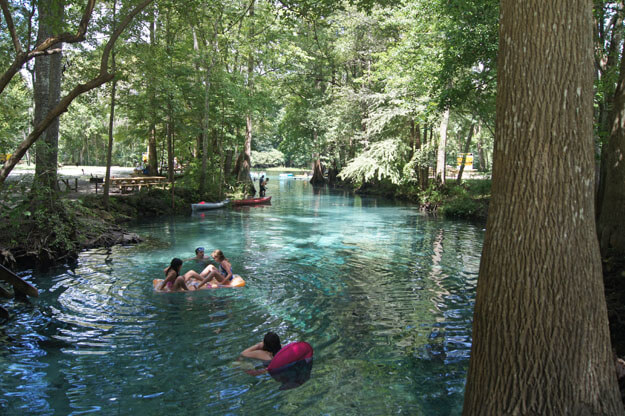 Northwest of High Springs, Ginnie Springs encompasses 200 acres of shady trees lining the banks of the Santa Fe River. Known for its camping amenities, it is also one of the most popular diving springs in the state. Water gushes from seven natural springs, forming spring runs and grottos. With a sandy limestone bottom reflecting light from above, it's ideal for swimmers, snorkelers, and scuba divers.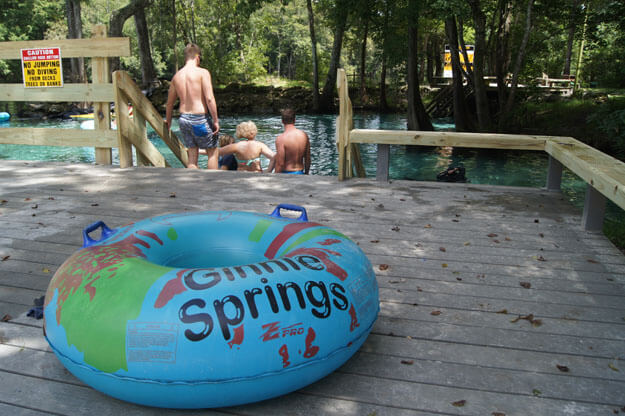 Tubers can enjoy a two-mile stretch along the Santa Fe for a day of aimless drifting, and it is also a great place for a kayak, canoe, or paddleboard.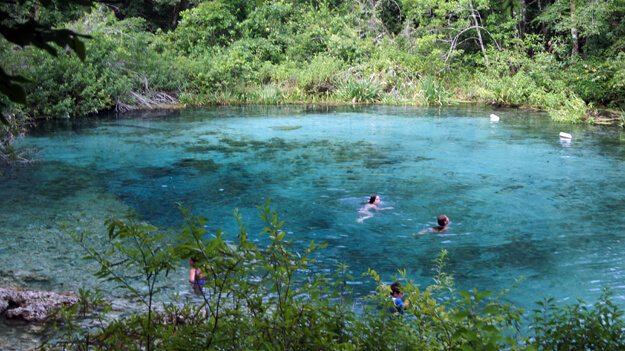 Ichetucknee Springs & River State Park is a 2,241-acre Florida State Park and National Natural Landmark located 4 miles northwest of Fort White. The crystalline Ichetucknee River flows six miles through shaded hammocks and wetlands before it joins the Santa Fe River. The rapidly flowing river includes three separate canoe and tube launches.
From Memorial Day until Labor Day, families and groups "raft-up," tethering their tubes as they float down the river. However, if you prefer solitude, there are areas where you will have the river all to yourself. One thing is certain for all who go – everyone on the river gets to enjoy one of Florida's most authentic pleasures.
To maximize your Ichetucknee experience, go early, and if possible, go on a weekday. Holidays and weekends can be crowded.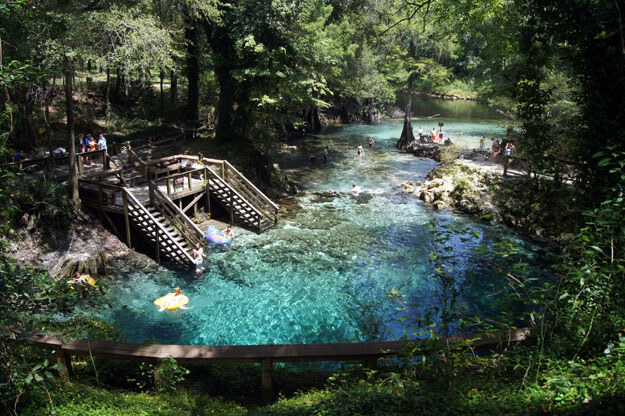 East of Tallahassee you will find Madison Blue Springs State Park. As you enter this state park, you'll immediately feel there's something magical about this first magnitude crystal clear spring.
The spring is a translucent blue hole among a forest surrounded by hardwoods and pines along the Withlacoochee River. There are several paths that lead to the spring and plenty of rocks to sit on for spectacular viewing as the spring runs 100 feet over limestone to the Withlacoochee River.
A wooden platform with steps provides easy access for swimmers and divers. Madison Blue Spring also has interesting underwater caves.
Located southwest of Ocala, near Dunnellon, is one of the most beloved waterways in the state. This river has enjoyed a reputation as a scenic and popular playground since opening in the 1930s as a family-owned attraction.
In 1990, the spring became part of the Florida State Park System. At the main park spring, swimmers can enjoy a large roped off area for swimming.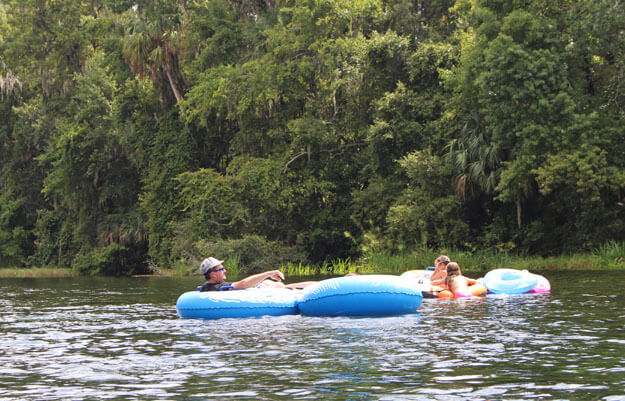 Rainbow River is sometimes referred to as Florida's natural swimming pool. The white sandy bottom lies between areas of smooth limestone creating a "pool-like" effect. However, in this swimming pool, you will share the water with turtles as they sunbathe on fallen logs, along with blue herons and white ibis feeding along the riverbank.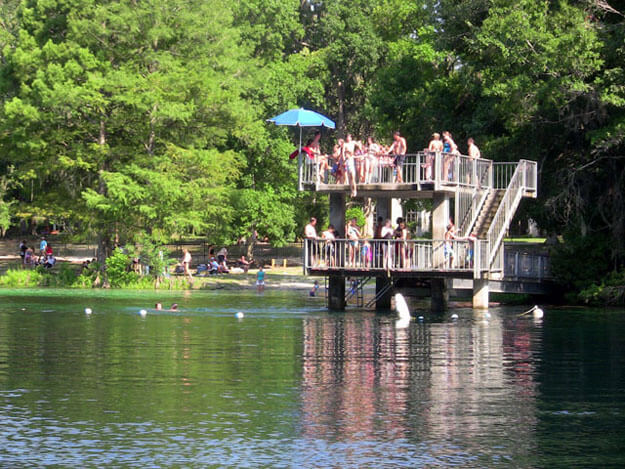 Fourteen miles south of Tallahassee, Wakulla Springs State Park is where the largest and deepest freshwater spring in the world bubbles up and flows into the Wakulla River. The spring is also home to Florida's deepest and most extensive underwater cave system making it a favorite destination for scuba divers. Its popular swimming hole and wooden jumping tower at the mainspring attract people of all ages.
While there, be sure to check out the Wakulla Springs State Park Lodge, a 1930's Mediterranean revival old hotel with a spectacular lobby and a restaurant.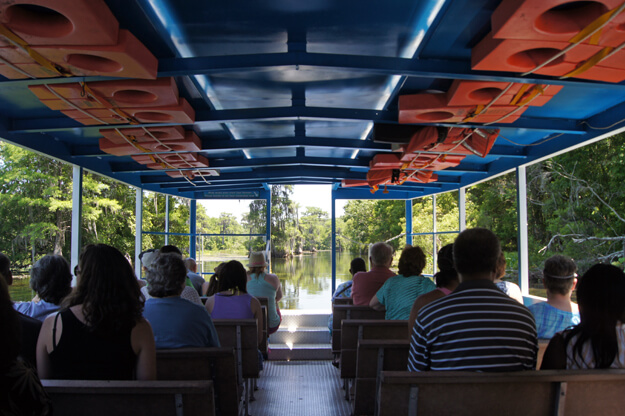 There is also a ranger-guided Jungle Cruise that covers a loop through the wildlife sanctuary. While on the cruise, you're likely to see alligators, manatees (in season), turtles, and lots of interesting birds.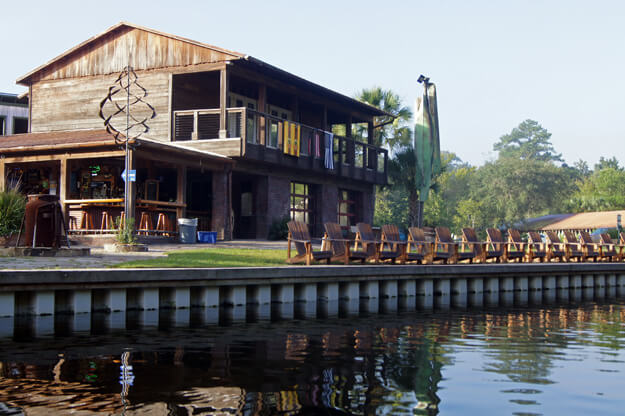 North of Orlando, the 7,800-acre Wekiwa Springs State Park is a pleasant retreat with an "Old Florida" feel. Wekiwa is an Indian word for "bubbling water", which perfectly describes the freshwater spring. The emerald green freshwater pool sits at the base of a grassy amphitheater with steps leading to the swimming area.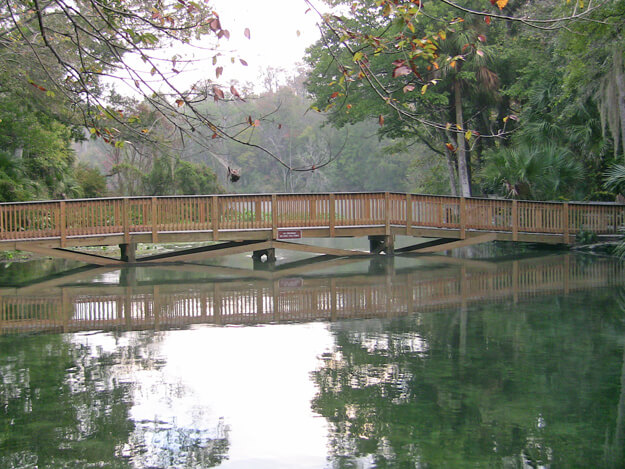 It's best to rent a kayak or canoe to see more of the park. An easy paddle on the Wekiva River and up the Rock Springs Run will confirm its designation as a National Wild & Scenic River.
Florida wildlife is everywhere at Wekiwa Springs — be on the lookout for some early morning otters, turtles, snakes, alligators, and birds feeding near the water's edge.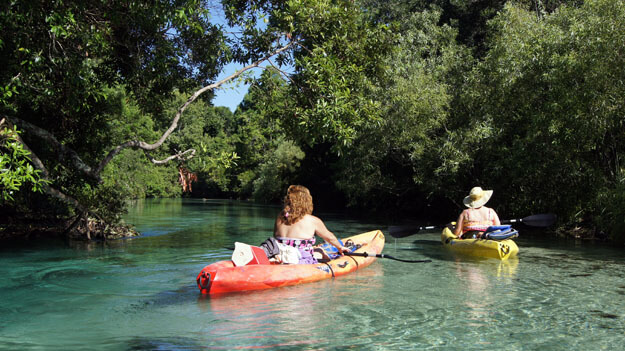 Since 1947, Weeki Wachee Springs has been home to the famous mermaid show, amusement park, river cruise, and first magnitude spring. Fishtailed human mermaids delight audiences with synchronized underwater ballet performances. Springwater flows up from subterranean caverns while visitors watch through huge glass windows in a submerged theatre.
The Weeki Wachee Springs Amusement Park beach area and flume ride provide a family swimming area in the cool water. The spring water then forms the Weeki Wachee River and flows more than seven miles to the Gulf of Mexico. The translucent water and sandy bottom create a dazzling experience on one of Florida's best rivers.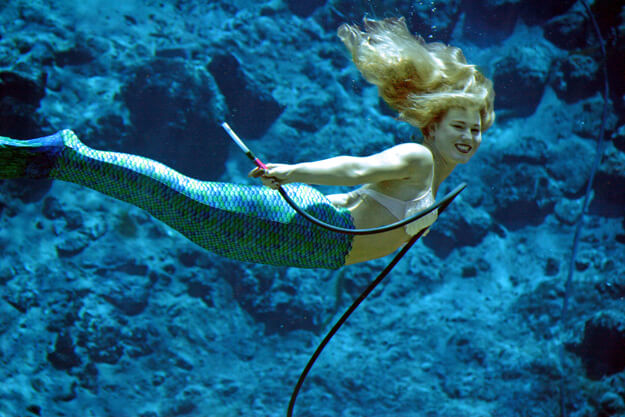 To discover more of the beauty and nature on the Weeki Wachee River, consider a slow, easy, five-mile, three-hour kayak or canoe paddle downstream.
North of Tampa, visitors can enjoy fishing and paddling through the inlets and bayous that wander through the salt marsh. You are welcome to bring your own kayaks or canoes or rent them there.
The Salt Spring may look small, but it's actually 351 feet deep. Gray fox, gopher tortoises, and dolphins call this park and its waters home. Birdwatchers are able to spot Bald Eagles, Roseate Spoonbills, the elusive Black Rail, Red-Tailed Hawk as well as other raptors, wading birds, shorebirds, and migratory songbirds.
Although this park protects four miles of pristine coastline along the Gulf of Mexico in western Pasco County, due to the mangroves lining the shoreline there are no beaches or swimming areas. However, swimming is available outside the park on Durney Key, which can be reached by kayak or canoe.
Protecting Our Florida Springs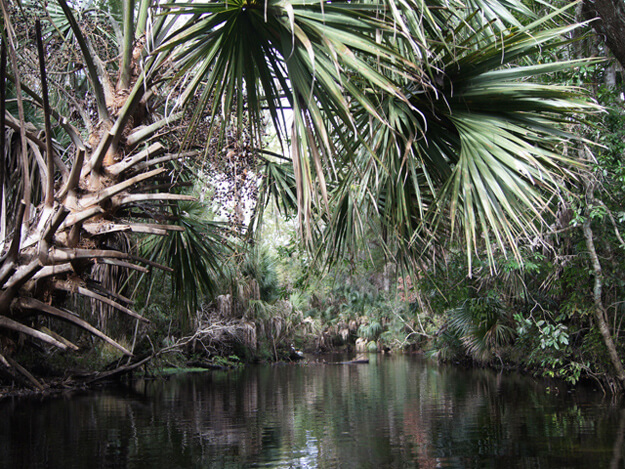 It's no secret that Florida's springs are in jeopardy. As our population increases, this adds more environmental impacts to the state aquifer. While enjoying these natural delights, each of us can play a role in reducing groundwater pollution and decreasing water consumption.
Visit www.FloridaSprings.org to find other ways you can help.
Want to check out even more of our favorite springs? Read more here!

AuthenticFlorida.com was named Best Travel Blog two-times at the Florida Sunshine Awards.
To receive Authentic Florida's free weekly ENEWs, sign up on our Authentic Florida home page.
To inquire about partnerships/advertising, please contact info@authenticflorida.com 
Proud Member of: 

---
Comments are closed.