If you're not familiar with the term galette, it's French for any free-form, flat, round cake or pastry, and it's also used interchangeably with crostata, the Italian word for a baked tart or pie. It's basically a rustic, one-crust pie, filled with something savory or sweet. And, it's also quite delicious. Read on to check out our delicious Blueberry Galette recipe!
Here are 6 great reasons to make a galette today:
You eliminate the hassle of transferring TWO crusts onto a pie plate without tearing their edges.
By reducing the number of crusts, you're also reducing calories. Win!
A galette also works with savory meats/cheeses OR sweet fruits. I especially love using in-season stone fruits or berries because the flavors and textures really shine (and even if the fruits are too soft to enjoy by themselves, they can easily be tossed into a filling). Since Florida's blueberry season is in full swing, this is the perfect opportunity to use lots of those sweet, juicy berries.
This method of baking is very forgiving because even if there's spillover from the cooking juices, you can hide everything on a serving plate with whipped cream or ice cream.
You only have the oven on for 20-25 minutes, so your house won't take on much heat, which is great for the summer season in Florida.
It can be cooked ahead of time, allowing you just enough time to head to the beach, go for a bike ride, read a good book, or also take a nap.
Happy Spring everyone!
Blueberry Galette Recipe
Crust
1 c. all-purpose flour
⅛ c. granulated sugar
¼ tsp. kosher salt
1 stick COLD, unsalted butter, small-dice
3 Tb. ice water
Filling
1+ pint fresh blueberries
1 tsp. granulated sugar
1 tsp. lemon juice
1 tsp. lemon zest
1/2 tsp. all-purpose flour
For the Crust
Fill a small bowl with some water and also add a few ice cubes; set aside.
In the bowl of a food processor, add flour, sugar, salt. Pulse a couple of times to combine; add butter and pulse a few times until it's like a coarse meal.
Measure 3 Tb. ice water and slowly add it to the dough through the feed tube, pulsing a few times until the dough just starts to come together.
Dump the dough onto a floured counter.
Quickly shape the dough into a ball (don't over-work it); flatten to a disk shape, wrap in plastic and also refrigerate one hour.
To make the Galette
Heat oven to 450 degrees.
Line a baking sheet with parchment paper.
Remove dough from the refrigerator and also allow it to sit for a few minutes.
Flour a flat surface and roll out the dough using a rolling pin; when the dough is 10-11" transfer to the baking sheet.
In a small bowl, combine berries, sugar, lemon juice/zest, and also flour; pour onto the dough, leaving 1-2" of dough at outer edges.
Fold the outer edge of dough toward the berries.
Brush milk or cream over the edges of the dough. Option: sprinkle with coarse or granulated sugar (for extra color & crunch).
Bake 20-25 minutes; remove when edges are golden and filling is bubbling.
Allow to sit about 20 minutes, then serve warm or at room temperature, with ice cream or whipped cream.
This Blueberry Galette recipe makes ONE galette and serves 4-6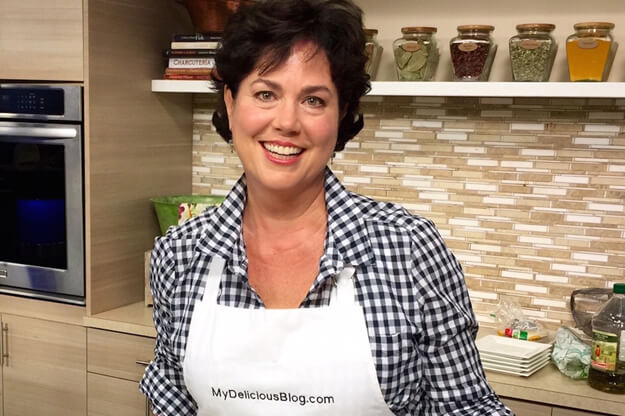 Nicole Coudal is a home chef and food writer based in southwest Florida, where she fishes and also cooks using local ingredients. When not on the water, she visits farms, farmer's markets, and other food venues to highlight what's in-season and to create tasty recipes for her blog. Nicole is also a regular contributor to Edible Sarasota and Visit Sarasota, as well as, a frequent guest chef on ABC 7's Suncoast View. Read more at www.MyDeliciousBlog.com. 
Check out another delicious blueberry recipe here!

AuthenticFlorida.com was named Best Travel Blog two-times at the Florida Sunshine Awards.
To receive Authentic Florida's free weekly ENEWs, sign up on our Authentic Florida home page.
To inquire about partnerships/advertising, please contact info@authenticflorida.com 
Proud Member of: 

---
Comments are closed.