The Bok Tower Holiday Gardens, Pinewood Estate (photo courtesy Bok Tower Gardens)
Bok Tower Gardens is a favorite Authentic Florida destination any time of year but at Christmastime there is a special allure. The gardens are alive with colorful holiday displays of poinsettia, bromeliad and amaryllis and the Carillon Tower resonates with carols of the season. Special activities are planned including the 20th anniversary of the ever-popular Holiday Home Tour at Pinewood Estate. Concerts, winter walking tours, decorating workshops, family activities and special events are planned.

The Bok Tower view from Florida orange groves (photo courtesy, Bok Tower Gardens)
All ages will find something to enjoy during Christmas at Bok Tower gardens. Many visitors return to see the holiday displays year after year, and for those who have never experienced Bok Tower gardens this is one of the best times to visit the National Historic Landmark. Events and festivities take place into early January.
Evening view of the Bok Tower (photo courtesy Bok Tower Gardens)
Located in the heart of Central Florida, between Tampa and Orlando near Lake Wales, the Bok Tower Gardens includes 157 acres of luscious gardens, a 205-foot art deco Singing Tower Carillon and the 20-room 1930's Mediterranean style Pinewood Estate.

Edward Bok wanted to give back to his country (photo courtesy Bok Tower Gardens)
Edward Bok
It all started with Edward Bok, a Dutch immigrant who came to the U.S. in 1869 at the age of six with his family. Unable to speak English as a young boy, Bok worked tirelessly starting as an office boy in the Western Union Telegraph Company, and eventually becoming publisher of the popular Ladies Home Journal. He was also a Pulitzer Prize winning author and an advocate for the environment and world peace.
A dedicated humanitarian, he wanted to "give something back" to the country that gave him so much. Guided by his family's philosophy of "leaving the world more beautiful", Bok was inspired to create a magnificent space for serenity, beauty, music and peaceful contemplation. The result – Bok Tower Gardens.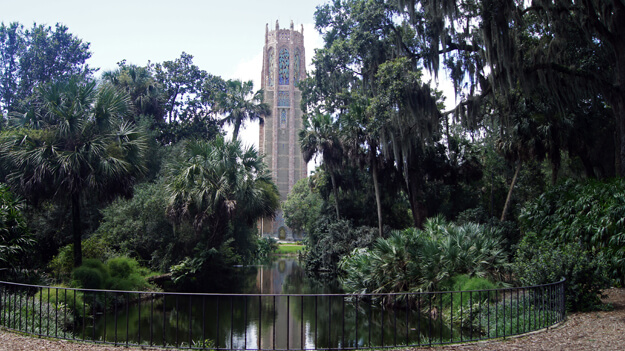 The Bok Tower Gardens Reflection Pond
The Bok Tower & Carillon
One special spot is the Bok Tower's magnificent reflection pond situated at the base of the tall structure. Surrounded by ferns, palms, shady oaks and pines, and an abundance of flowers, the picturesque canvas of flora and fauna transforms with every season.
The centerpiece 205-foot bell tower is composed of pink and gray Georgia marble and Florida coquina rock, and is equipped with 60 bronze bells. Considered one of the finest carillons in the country, Christmas concerts are at 1 and 3 pm daily.
So what is a carillon?
According to the Bok Tower website, a "carillon is a musical instrument consisting of at least 23 cast bronze bells that are precisely tuned and arranged in chromatic progression so that music in any key can be played".  The carillon is played from a keyboard while the bells remain stationary (within a frame) and played as the player depresses the keys, which are connected to clappers by wires.

Entrance to the Pinewood Estate, Bok Tower Gardens
The Pinewood Estate & Holiday Home Tour
This 20-room 1932 Mediterranean-style home is a real charmer all decked out in its holiday splendor. Built for Charles Austin Buck, an associate of landscaper Olmstead and a Bethlehem Steel Vice President, the 13,000 square-foot home has all the amenities with barrel-tile roof, carved doors and woodwork and beautifully designed iron work. The architecture, landscape and period furniture make it worthwhile even with the additional entrance fee. Landscape designer William Lymar Phillips, creator of the Fairchild Tropical Gardens, created a stunning tropical oasis and haven for the Bucks.

Pinewood Estate Holiday Home Tour in its 20th year (photo courtesy Bok Tower Gardens)
The Holiday Home Tour at Pinewood Estate is the highlight of Bok Tower Gardens' season of holiday-themed events. The mansion is decorated by volunteers and sponsored designers. This year's home design isn't based on a single theme, but instead is a "Best Christmas Ever" edition featuring design themes from the past 19 years. Each room is unique, as no theme is being duplicated anywhere in the house.

Pinewood Estate decorated for the holidays (photo courtesy of Bok Tower Gardens)
Also featured in the Holiday Home Tour is "Pinewood Place," an intimate outdoor seating area adjacent to the estate serving light snacks and drinks. Menu items include beverages plus, hot spiced apple cider, cocoa, cookies, carillon crunch, and other holiday goodies.
Children are encouraged to tour the 1930's-style home and participate in an ongoing search for "Buddy" the Magical Elf in every room.
Do yourself a favor and get in a holiday mood by visiting this truly special Authentic Florida place.

Holiday Bromeliad Tree at the Pinewood Estate (photo courtesy of Bok Tower Gardens)
Schedule and details:
Holiday Home Tour at Pinewood Estate – Hours & Admission Prices – Now to Jan. 4, 2015
The 20th anniversary Holiday Home Tour at Pinewood Estate is open Mondays through Saturdays from 10 a.m. – 5 p.m.; Sundays from noon – 5 p.m. Admission is $20 adults; $9 children ages 5-12. Members: $7 adults; $6 children ages 5-12. All prices include general gate admission. Children under 5 are admitted free.
---
Comments are closed.