In case you didn't know, according to Craig Pittman, the author of Oh Florida! How America's Weirdest State Influences the Rest of the Country, Florida has more fake dinosaurs than anywhere else in the world.
While many Floridians or visitors may think of Dinosaur World in Plant City (the largest dinosaur park in the USA),  the Jurassic Park section at Islands of Adventure in Orlando, the Museum of Discovery & Science in Ft. Lauderdale, and several other science museums, what they may not know is there are still dinosaurs "roaming" in Port Orange that were once a part of Bongoland, a short-lived theme park (1947-1952).
We traveled back in time to Bongoland on one of our nature "walks". We love to pick places we've never visited before and Dunlawton Sugar Mill Gardens was on our bucket list during one of our beach breaks to New Smyrna Beach in Volusia County (when you live in Central Florida and have a teenager who is a true Floridian, New Smyrna Beach is THE go to place. It's been that way since the 1980s).
Off we went for a peaceful walk with little expectations that there would be much kitsch remaining from Bongoland … Spoiler Alert: we were pleasantly surprised! Not only did we spot several prehistoric creatures, but we were really impressed with everything Dunlawton Sugar Mill Gardens had to offer.
We did some research before we arrived and discovered that even before Bongoland, this land had quite a story. In 1804, a Bahamian immigrant named Patrick Dean purchased 995-acres of land with the objective of growing cotton, rice, and sugar cane. Unfortunately, his plans were short-lived when he died during the First Seminole Indian War in 1818.
The Dunlawton Sugar Mill was established in 1832 on Dean's original land. A broker sold the old dean plantation to a woman named Sarah Anderson and her two sons, George and James. The name Dunlawton was derived from her maiden name, Dunn, and the land dealer's name, Lawton. The mill was operated by slave labor until the fall of 1835. Shortly thereafter, the Second Seminole Indian War started and continued thru 1842. During this time, the Dunlawton Sugar Mill was pillaged.
In 1948, some of the land was leased to a dermatologist/allergist named Dr. Perry Sperber. Sperber wanted to revive the place and turn it into a theme park. Bongoland was birthed and included a replica Seminole Indian village, a miniature train that took visitors around the park, live animals including a huge baboon named Bongo and several life-sized dinosaurs and other prehistoric animals. He enlisted Dr. Manny Lawrence to create these huge creatures, which he made out of chicken wire and concrete.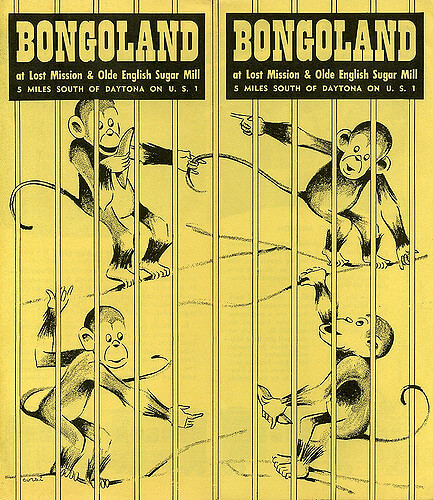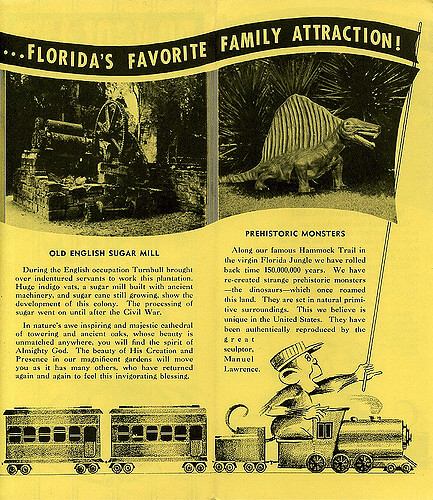 Sadly, this strange mishmash of a theme park just didn't draw the kind of crowds needed to survive. The timing was off and the public was simply not interested. In 1952, just five years after Bongoland opened, it permanently closed.
Fast forward to today and you'll find some of the original concrete dinosaurs have withstood the test of time and are still around. They may be weathered, but they are definitely a part of old Florida history and have made the Dunlawton Sugar Mill Garden a unique destination.
Keep in mind these prehistoric creatures are surrounded by lots of gorgeous trees, greenery and a serene garden that includes holly magnolias, succulents, ferns and other native flora. There's even a herb garden shaped like the state of Florida.
Sprinkled into the natural mix are several new kitschy treasures like a mini dinosaur on a bike, a bright blue bench and other surprises. Dunlawton Sugar Mill Gardens is a wonderful place since there is something for everyone.
Dunlawton Sugar Mill Gardens is open daily from 8 a.m. until 5 p.m. Admission is FREE, but donations are always appreciated (there is a donation box when you enter/exit the property).
If you go, make sure you pick-up a self-guided tour map before you set out on your adventure. Also leave plenty of time so you can read the stories that are posted around the Gardens.
NOTE: The site was listed on the National Register of Historic Places on August 28, 1973.
Official Website:  www.dunlawtonsugarmillgardens.org/
To receive Authentic Florida's free weekly ENEWs, sign up on the home page Authentic Florida or email us at melanie@authenticflorida.com.
---