My husband and I recently took a little road trip. Our mission was to search for Florida Kitsch. Our final destination was the town of historic Brooksville. We live in Winter Park (just North of Orlando), so we got on State Road 50 and headed West. Read on to check out all the fun and authentic things to do we discovered on our Brooksville road trip!
We knew we wanted to stop by Richloam's General Store, have a bite at the Coney Island Drive Inn, and visit Boyett's Citrus Attraction, but our first stop was at a place we have been trying to stop at for years that's only open three days a week.
Every time we travel on State Road 50, we see this quirky place called Jot Em Down Store and wonder what it is. It's a funky roadside store in Mascotte (which is in Lake County). The place is always closed when we pass by, but his particular Saturday they were open, so we pulled in and pulled out our cameras!
It turns out they are only open on Fridays, Saturdays, and Mondays, which explains why the stars had not aligned with trying to visit this place in the past.
The Jot Em Down Store is a trip back to yesteryear. The outdoor tin sculptures and signs triggered a lot of fond memories. I even spotted a rusty old Orange Blossom Trail sign.
No matter what your decorating style is, they most likely will have you are looking for.  From farmhouse and shabby chic to primitive and country with a dash of antiques, it's all awaiting you … plus, they update their inventory on a regular basis, so you never know what you will find.
In addition to all the eye-catching items outside, they also have a gift shop where they sell products such as candles, t-shirts, signs, and much more.
If you need a gift, this is a great place to find something unique. We had a lot of fun reading the inspirational signs, magnets, cards, and shirts. The store manager was available to answer any questions and had no issue with us roaming around.
One thing that caught our eye was the "Jeepney Pop" vehicle parked outside the store. It looked familiar! We did a little research and discovered it used to be at Universal Studios in Orlando. This particular jeepney was converted into a popsicle wagon.
Do you know the story behind jeepneys? When the US began reducing its military presence in the Philippines at the end of World War 2, they surplused a lot of Willys Jeeps. Enterprising Filipinos began extending the length of these and turning them into local people haulers.
True to the Filipino spirit, they didn't stop there but kept embellishing and decorating them in an infinite variety of ways. The supply of surplus Jeeps ran out long ago, but the Filipinos kept making their jeepneys. They are really kitschy, cool and eye-catching!!! In fact, a jeepney would make an awesome Authentic Florida vehicle!
Our next stop on our Brooksville road trip was Richloam's General Store. If you blink, you could miss the road to the Richloam General Store, but there is a sign pointing you in the right direction.  You do travel down a road where there's not a lot of room if you drive a big vehicle and a car is coming in the opposite direction, but it's definitely worth the trip. Motorcyclists will love the trek to Richloam's.
In 1922, Sidney Brinson built and founded the Richloam General Store. The building served as the Express office, the Post Office, and the general store for the community of Richloam until January 31, 1936. In 2016 the building underwent a major renovation and reopen in 2017.
Richloam General Store and Posted Office were placed on the National Register for Historic Places by the United States Department of the Interior on October 12, 2017.
The Richloam General Store company is family owned and operated and is also open daily.
Our next stop on our Brooksville road trip was to get a delicious meal! On July 7, 1960, Darrell and Gertrude Todd and Family from Brooksville opened Coney Island Drive–Inn in an old boat manufacturing building. There have been a few different owners since, but the quality of the food and the fun atmosphere have not waivered.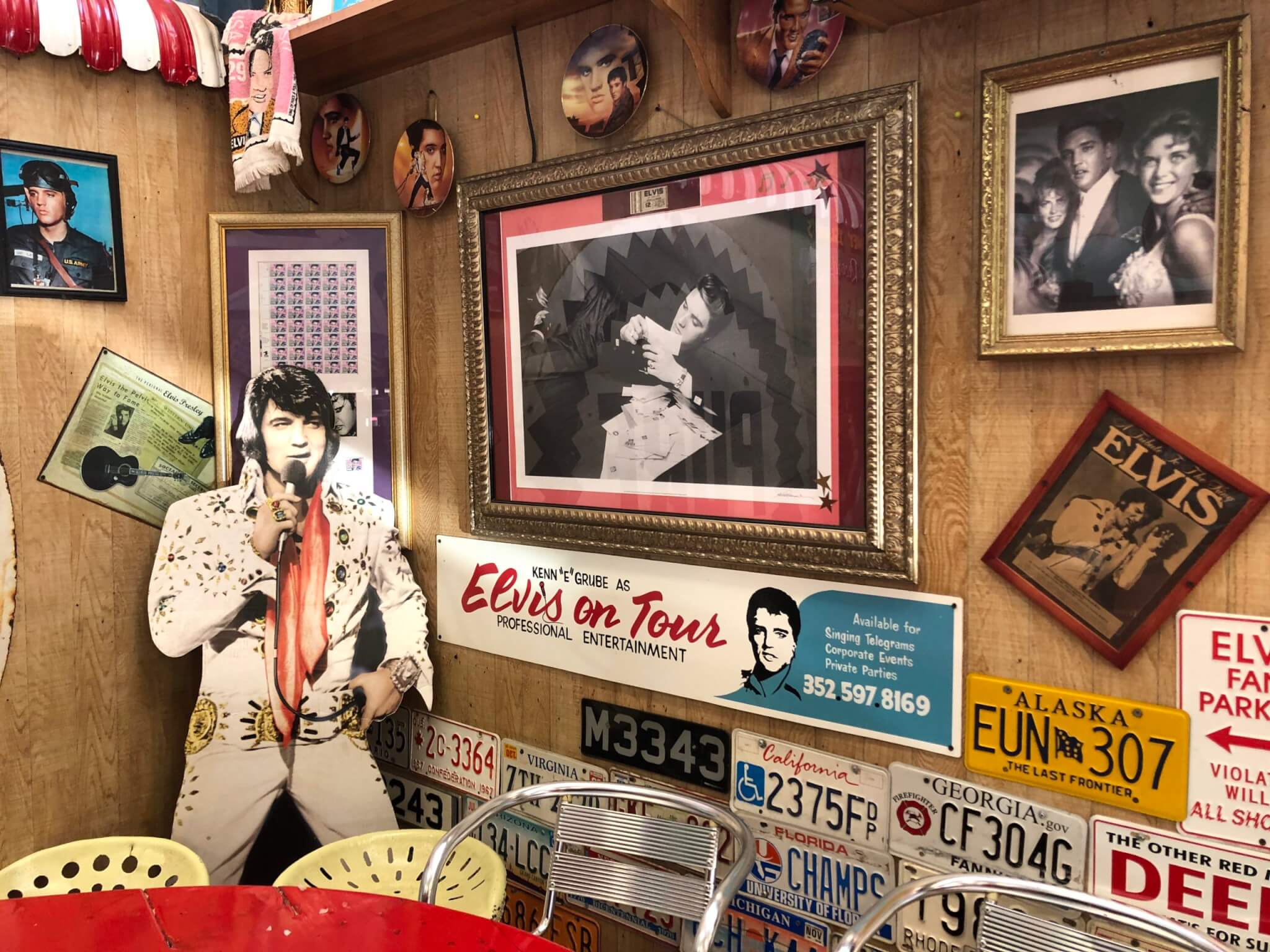 In 1961, Elvis Presley was in Inverness, Florida filming a movie and legend has it, he ventured down to "Brooksvegas" for one of their Famous Footlongs. The place pays homage to the King!
When in Rome … or Brookville … we decided to order the footlong hot dog. Someone in line where we ordered was raving about the Gator Dog, but we decided to go for a more traditional hot dog. I like my hotdogs overcooked and asked if they could do that. They told me they boiled their hot dogs but would be happy to fry it for me. I passed on that. Even though I prefer grilled hot dogs, I did like the boiled version. Their fries were also really good, too.
It definitely has a 1950's-esque diner vibe, fun art/signage and plays an awesome selection of music. There's a private party room as well as an outdoor concert area in the back. The food is reasonable and the staff is great. You can also eat inside or outside. There's no bad spot to sit at and enjoy your food. We plan to return again soon … especially the First Wednesday of the month when there is a FREE Elvis Show at 6 pm.
After lunch, we continued our Brooksville road trip. We went to a popular, family-owned and operated roadside attraction in Hernando County that has been around since 1966 (the same year I was born). This stop is Boyett's Citrus Attraction.
My husband and I are still processing the whole experience. It's a real, "old Florida" amusement and citrus attraction that includes an animated Pterodactyl, a growling Brontosaurus, talking Parrots, cowboys and stagecoaches, a wildlife zoo (with live zebras, emus, lemurs, pigs, goats, a camel, an alligator, monkeys and more), a makeshift mine for panning precious gold, delicious homemade ice cream sundaes or old-fashioned sodas and root beer floats, kitschy Florida gifts, a vintage arcade, and also a miniature golf course – all alongside fresh oranges.
Boyett's Citrus Attraction is perched on a hill surrounded by scenic pastureland and orange groves. Located about 50 miles northeast of Tampa, on Spring Lake Highway south of State Road 50 that runs between Brooksville and Interstate 75, Boyett's has been a popular tourist stop in Hernando County for decades.
The Boyett Grove has 30 acres of citrus trees and the family picks, washes, waxes, packs, and ships their fruit nationwide or you can also select your own from the fruit bins at the grove stand.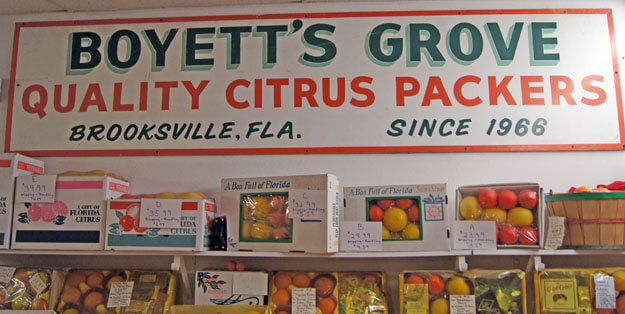 How did Boyett's go from a grove stand to a funky attraction? Since citrus was primarily a "winter" industry, ripening October through May, the owners decided they needed something else that would attract families during the remainder of the year, especially summertime. They also needed to create other sources of income to offset damaging frosts that could affect their livelihood. Boyett's Citrus Attraction became their answer.
No one would ever mistake Boyett's for a corporate amusement park. As you walk through the front door you are greeted with an array of kitschy Florida souvenirs, and then you are immediately met with a set of choices. You may have stopped in just to buy citrus, but the options available will make your head spin.
Will you head to the zoo to feed the animals? Enjoy a freshly dipped ice cream cone in the parlor? Walk fearlessly into the dinosaur cave? Hang out with the birds in the aviary? Get a glimpse of an old-time (still functional) citrus packing area? Try your hand at miniature golf complete with creative set designs, player pianos, and wild-west costumed characters? Meet pirates? Look at fish in the aquarium? Pan for gold? Buy local jams, jellies, or honey? Seriously! It's all there and all under one roof.
On your way out through the gift shop, you may want to pick up some things to take home. If you are looking for Florida memorabilia, trinkets, shell mobiles, tropical kitsch, t-shirts, you are definitely in the right place. Some of our favorite nostalgic purchases include orange blossom perfume, Dad's red cream soda, and also Florida tangerine, orange, and elderberry jam.
Boyett's convincingly combines a time-honored trip to the grove-stand with a snippet of Florida's roadside attraction past. One thing is for sure, after a visit to Boyett's, you will also have a tale to tell about your authentic, modern-day Florida roadside attraction adventure.
Want to learn even more about Boyett's? Check it out here!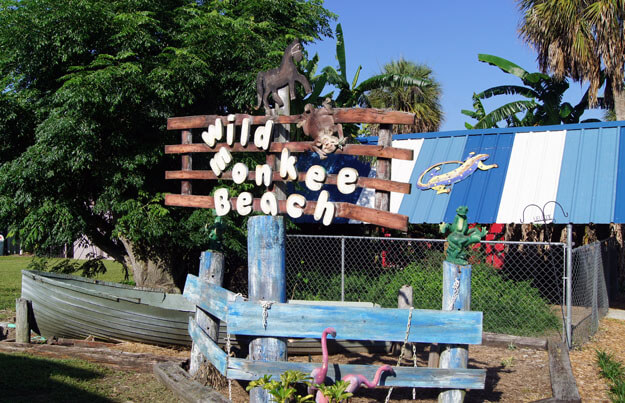 Once again, this Brooksville road trip adventure reminded us how fortunate we are to live where people dream about vacationing. If you get a chance, just jump in your car and go! We plan to go back soon!
Happy road-trippin'!!!
Official Websites: 

AuthenticFlorida.com was named Best Travel Blog two-times at the Florida Sunshine Awards.
To receive Authentic Florida's free weekly ENEWs, sign up on our Authentic Florida home page.
To inquire about partnerships/advertising, please contact info@authenticflorida.com 
Proud Member of: 

---
Comments are closed.