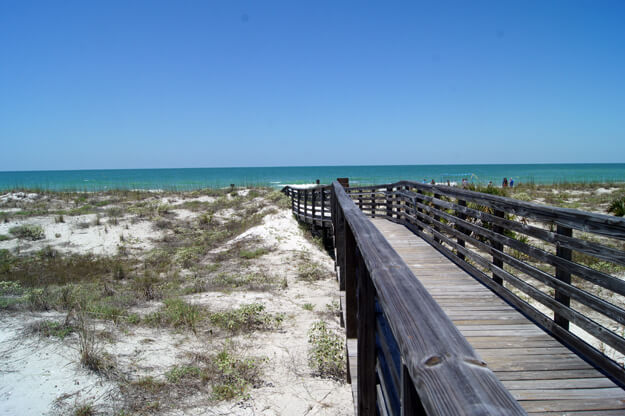 Imagine a pristine Florida island before the existence of homes, condominiums, crowded beaches, traffic, and parking lots. Got a picture? If not, let us help. At one time, Florida's barrier islands were fringed with miles and miles of glistening white sandy beaches and surrounded by bluish-green water. Add native flora and fauna, tropical birds, and wildlife, all thriving in their natural habitats. Sound delightful? Look no further than Caladesi Island State Park!

Caladesi Island beach
If you think those days are gone forever, take comfort – all is not lost. Real Florida awaits you at Caladesi Island State Park. North of Clearwater and south of Tarpon Springs. Caladesi Island is part of the chain of Florida's coastal barrier islands and is one of the very few remaining in its "natural" state. And here's the best part – it's accessible.

The Caladesi Connection shuttle
The Caladesi Connection, a boat shuttle service at Honeymoon Island State Park, north of Caladesi, runs daily from 10:00 am to 4:30 pm. Honeymoon Island, once connected to Caladesi, was split by a 1921 hurricane, creating a pass between the two. To get to Honeymoon Island, take the Dunedin Causeway off Alt. Hwy. 19. There's a nominal park fee to get on the island. Look for the ferry service on your left after passing through the gate. Or if you would rather paddle or sail the half-mile water route between the islands, try a rental (kayaks, sailboats, paddleboards, etc.) from an outfit called Sail Honeymoon, which is on the Dunedin Causeway across from Caladesi, before you get to the park gate.  Of course, if you have your own boat, follow Marker #14 and the signs.
The ferry service will drop you off at the Caladesi Marina. Equipped with plenty of boat slips, a ranger station, bathing facilities, picnic pavilions, and concessions (kayak and bike rentals), Caladesi offers almost everything you need. Be sure to ask the ranger for the available (nature trail, mangrove) island maps.

Caladesi Island: Miles of beach
From the marina, most visitors follow the boardwalk to the beach. Named one of the top beaches in the country year after year, its unspoiled beauty will mesmerize you. Dolphins are usually spotted offshore, shelling is popular and wooden benches provide a place to relax and enjoy the Gulf beach view. Opposite the beach, cabbage palms, palmettos, sand dunes, sea oats, and beach morning glories face the Gulf of Mexico.

Rare pine Flatwoods on Caladesi Island

Caladesi Island's Hammock Loop
Also, don't miss the self-guided nature walk. The 2.5-mile island trail is well worth the trek. In particular, be sure to visit the delightful and rare coastal hammock loop. The shaded pine Flatwoods, live oaks, and bromeliads provide a nice shady respite from the sunshine while hiking on the cushioned pine needle pathway.

Reddish Egret
You may see gopher tortoises, armadillos, rabbits, a great horned owl's nest, and more. Part of the trail is considered a "coastal strand" characterized by sandy trails, prickly pear cactus, wildflowers, palmetto, and Florida's state tree, the sabal palm. Cat's Eye Pond provides a nice stop for wading birds, especially reddish egrets, herons, and ibis.
Another highlight is the three-mile mangrove trail which starts near the marina. A canopy of white, red, and black mangroves provide a shady and cool paddle while enjoying the serenity of one of Florida's most unique outdoor experiences. Tropical mangroves serve as nurseries for fish, crustaceans, and mollusks. It's also said that 75% of the game fish and 90% of commercial fish in south Florida depend on the mangrove habitat.

Birding is a primary attraction on Caladesi (American Oystercatcher)
The north end of Caladesi is where you'll find an amazing plethora of birds. If you are walking from the marina to the north end, follow the trail or walk north along the beach, and don't forget to bring your camera. American oystercatchers, plovers and terns, yellow-crowned night-herons, and loads of shorebirds run the beaches on this part of the island. In fact, it's part of the Great Florida Birding Trail.

Great Blue Heron
Much of the north end is restricted as a critical breeding ground, but the beach walk is open. Turtle nests are cordoned off and marked with stakes from May through October. Tidal mudflats on the bayside provide a home to an array of wading birds such as great egrets, herons, and ibis. Ospreys are everywhere, diving for their food in the St. Joseph Sound.
So, for an authentic Florida day, grab your hat, camera, and sunscreen – Caladesi State Park is one for the bucket list.  
Dr. Beach's 2018 Top 10 Beaches List
The 28th Annual Top 10 Beach List is produced by coastal expert Dr. Stephen P. Leatherman, a professor at Florida International University.  As "Dr. Beach" (www.DrBeach.org), Leatherman has selected the annual Top 10 Beaches since 1991. Fifty criteria are used to evaluate beaches, which include water and sand quality as well as safety and management.
Dr. Leatherman is an internationally known coastal scientist who has published 20 books and hundreds of scientific articles and reports about storm impacts, coastal erosion, and ways to improve beach health and safety.
Looking for even more amazing Florida beaches? Check out: Four Fabulous Authentic Florida Beaches.

AuthenticFlorida.com named Best Travel Blog at the Florida Sunshine Awards. 
To receive Authentic Florida's free weekly ENEWs, sign up on our Authentic Florida home page.
To inquire about partnerships/advertising, please contact melanie@authenticflorida.com 
---
Comments are closed.
If You Go
To watch a Caladesi video, enjoy this one from Randy Johnson, of Johnson Art Works.