Driving through the small community of Otter Creek with thick, tall Florida pine trees lining State Road 24, I am reminded that I am in Central Florida. The hustle and bustle of traffic and busy life slowly slip away as I head southwest towards the Gulf of Mexico.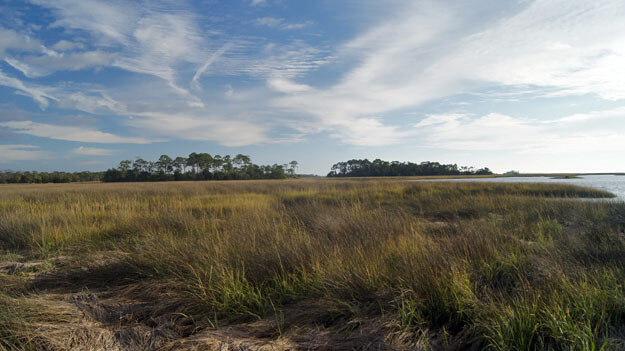 Coastal marshland near Cedar Key
After 45 minutes of driving through the pine forest I begin breathing fresh salt air, and after passing over several bridges, the forest is gone and I am surrounded by spectacular coastal marshland.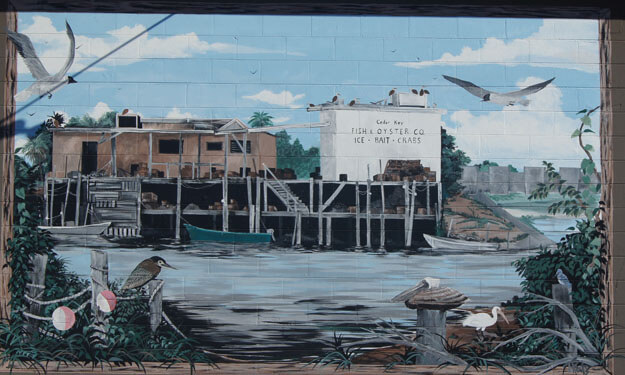 Building art, Brown's Old Fish House, Cedar Key
Fishing shacks, funky restaurants and colorful motels emerge and "authentic" Florida begins to appear. Signs of a Florida fishing village are everywhere – fishing boats tied up to docks, or on trailers, and buoys and crab traps scattered over fences and front yards.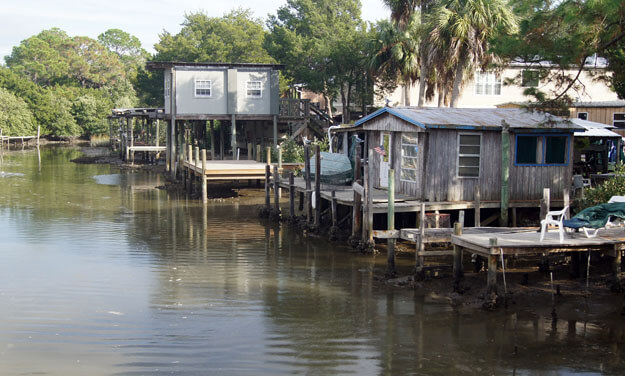 Quaint homes of Cedar Key
Cedar Key, located fifty miles southwest of Gainesville, would be considered remote by even modern day standards. Most visitors don't "happen" upon Cedar Key, its location at the end of the road means it's most likely a planned visit. Once you're there, you'll find the island filled with "old Florida" charm that has remained relatively unchanged. To locals that may not be true, as there are newer and larger homes on the islands, but overall, there's a feeling that time stands still, or at least has slowed down considerably. Different from the touristy, tropical vibe of the Florida Keys, Cedar Key's rustic uniqueness is unmistakable. With a modest population of less than 1,000, the island town welcomes tourists — but don't be surprised if you find a "gone fishing" sign posted on many front doors.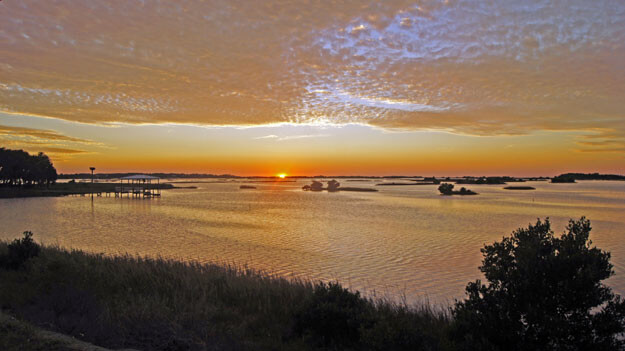 Cedar Key sunset
Actually more than one island, the Cedar Keys sit three miles out into the Gulf of Mexico and are part of a chain of barrier islands.  The main island is on Way Key (referred to as Cedar Key) and its indomitable island history reflects the nature of the residents. The name Cedar Key comes from the cedar forests that were once plentiful, enabling the community to become a leading manufacturer of pencils during the 19th century. By the late 1800's Cedar Key was also a thriving shipping port but suffered economic decline when famed railroad magnate Henry Plant bypassed Cedar Key and routed his railroad to Tampa. Over the years, intermittent hurricanes peppered the islands, and years later in 1995, the locals suffered (and still talk about) another devastating economic blow, the (statewide) fish net ban, which curtailed the industry. The good news is that a new thriving business successfully emerged, clam aquaculture, creating an annual $45 million industry for the area. Cedar Key has become the leading supplier of farm-raised clams in Florida.

Cedar Key's thriving clam aquaculture industry
Residents are also proud of the preservation efforts that created the Cedar Key National Wildlife Refuge, stunting any further development of the outer islands. Cedar Key's Refuge consists of thirteen islands. The most popular are Atsensa Otie and Seahorse Keys. Atsena Otie Key is the original home of Cedar Key. There you will find beaches, nature trails and various ruins. Seahorse Key features a lighthouse and bird sanctuary, but has restricted access and is only open to the public certain days of year. However, if you are there during the holidays, public tours will be offered. If you are interested in renting a kayak, canoe or paddleboard to see the outer islands, try Kayak Cedar Keys. They launch on the beach off the City park near the center of town.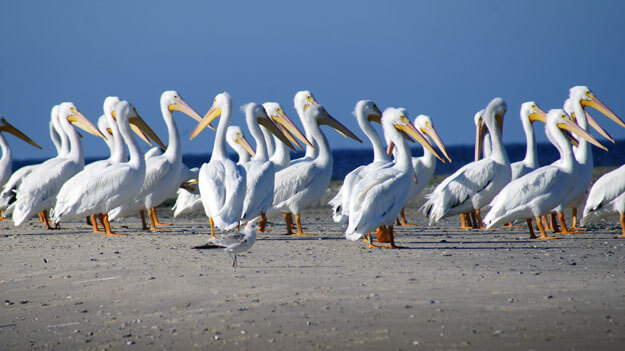 Excellent birding around Cedar Key's outer islands
Not far from Cedar Key is the 53,000-acre Lower Suwannee National Wildlife Refuge that offers even more opportunities for exploring the outdoors. We enjoyed a terrific Suwannee River eco-tour with Cedar Key 6th generation native, Diana Beckham Toppin of Down Home Adventure. The Suwannee is an hour north of Cedar Key, but the boat will leave from the outside boat ramp near the Sea Breeze Restaurant. Her family history runs deep and she entertained us with enjoyable local stories of growing up on Cedar Key while we toured islands overflowing with spectacular white pelicans, an abundance of shore birds, and even watched the fisherman farming the clam beds. It just happens that Diana's husband runs the largest clamming operation on island giving us an added bonus as Diana related in detail the farming process.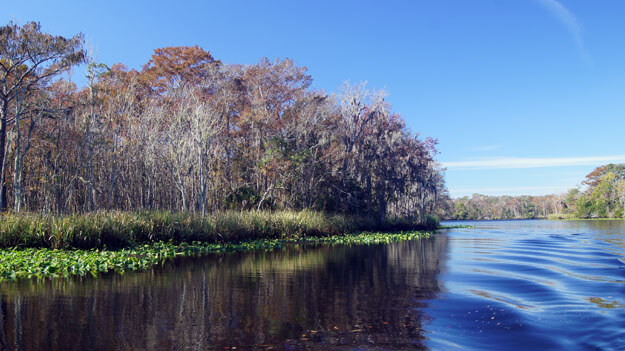 Suwannee River, Lower Suwanee River Wildlife Refuge
As we entered the mouth of the Suwannee, we saw anhingas (and other birds) lining the bare oak trees. We also saw juvenile bald eagles and plenty of ospreys flying overhead. As we moved up river we boated up Bennett Creek, a tributary of the Suwannee River. Alligators sunned on the riverbank, raccoons were fishing at the waters edge. Spectacular wildflowers dotted the landscape.  If you are a birder, you'll love this trip.  Another outfitter Tidewater Tours offers island tours, birding and fishing excursions including boat rentals if you prefer to go on your own.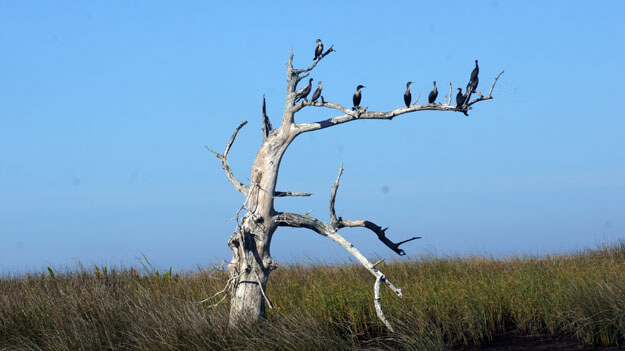 Lower Suwannee Wildlife Refuge
Also part of the Lower Suwannee Wildlife Refuge is the Shell Mound created by native Indian cultures over thousands of years. It's an easy drive from Cedar Key. Take Hwy. 347 west to Hwy. 326 for three miles. This is a native shell midden (heaps of oysters and shells from past civilizations) and is fun to hike to enjoy a slightly higher elevation above the coastal flatlands.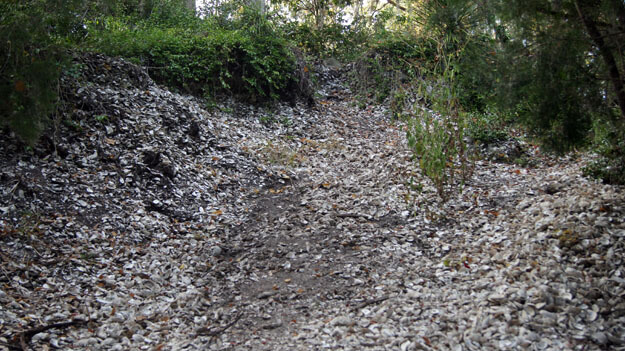 Shell Midden, Lower Suwannee Wildlife Refuge
An easy trail from the parking lot, the walk will eventually wind down to an outlook and dock with a panoramic view of the marshes. Birding is prime early morning or late afternoon.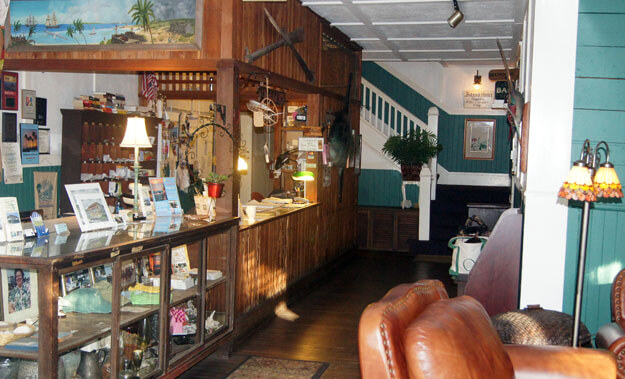 Island Hotel lobby
For lodging, Cedar Key's Island Hotel, is my go-to place and one of Florida's last originals. The welcoming and historic hotel has remained much the same since the beginning of time (or at least 1859). The rooms are comfortable and furnished with rustic antiques. The depressed wooden floors have a familiar creak and the outside verandah features an old swing with surrounding comfy chairs providing a nice view of the historic downtown and harbor.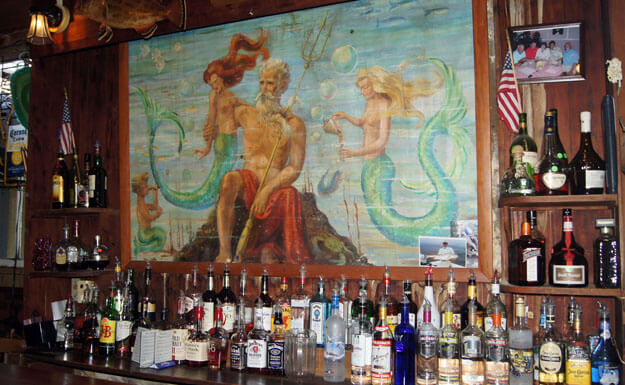 Island Hotel bar, King Neptune painting
One of hotel hallmarks is the tavern located downstairs across from the front desk. A painting of King Neptune sits over the bar and wall paintings drawn by a 1947 visitor, Helen Tooker, who in exchange for room and board, painted scenes of Cedar Key throughout the hotel. While there, I heard locals rave about the Island Hotel Bar hamburgers and cheese grits. Ghosts are rumored to walk the halls at night.

Tony's for clam chowder
For dinner we went to Tony's Seafood Restaurant on Second Street featuring fresh gulf seafood and home to the renowned clam chowder, featuring Cedar Key clams. The owner, Chef Eric, has won three world championships at the Great Chowder Cook Off in Newport Rhode Island. The rich and creamy chowder is overflowing with fresh clams and herbs flavored with a scant touch of heat. Chef Eric will even ship the chowder to your home.  Word has it the other two places to eat on Cedar Key are the Island Hotel Restaurant and the Island Room (native hang-out).

Cedar Key Clams: try our Cedar Key Clam Linguine
For me, as a Florida native, Cedar Key is a true original and ideal for anyone who yearns for "real" and authentic Florida.
To receive Authentic Florida's free ENEWs, featuring travel and living updates, delivered weekly, sign up on the home page Authentic Florida, voted Blog of the Year and Best Travel Blog at the Orlando Sunshine Awards.  
---