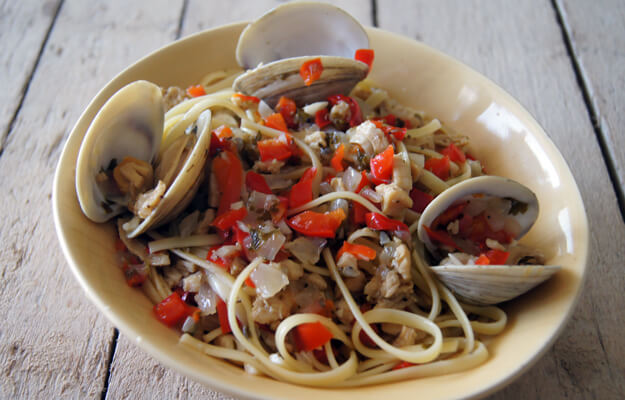 After a road trip to Cedar Key, home to a thriving aquaculture clam business, we just had to make this delicious linguine that every family will love. Enjoy the taste of the fresh Florida clams. Read on to check out how to make this special Florida treat – Cedar Key Clam Linguine!
The Cedar Key Aquaculture Farms are the largest in the state of Florida and they grow their clams in "certified clean Florida waters".   They are sweet and super delicious. Learn more about the city of Cedar Key and their delicious clams here!
Florida clams are available in most seafood markets, so enjoy!
Cedar Key Clam Linguine
Serves 4
Time (Prep & Cooking): 1 1/4 hr.

You can also substitute clams for shrimp!
Shopping List
Olive oil
1 large yellow onion (2 cups)
1 large red bell pepper (1 1/2 cups)
6 garlic cloves
1/2 cup of white wine
Dried lemon pepper
Dried oregano
1 bunch of fresh parsley
3 dozen fresh clams* (recommend 8-10 per person)
4 cans of minced clams (we prefer Snow's in clam juice)
1 lb. package of linguine pasta
1/3 cup grated fresh Parmigiano-Reggiano cheese
Red pepper flakes
Salt
* Any other small clams can be substituted if you cannot find Cedar Key clams.
Chopping
1 onion (yellow)
1 red bell pepper
6 cloves of garlic, minced

Chop ingredients
Chop onion, pepper in small pieces.  Mince onion (chop into tiny pieces).
Saute Ingredients

Saute Ingredients
In a large saute pan, heat (medium heat) the olive oil, saute onion and pepper, and soften for 10 minutes.  Add garlic and saute for 1-2 minutes (don't let the garlic burn).
Add
1 Tbsp Lemon pepper
1 Tbsp dried Oregano
2 Tbsp fresh green parsley
1/2 cup of white wine (that you would drink).  Cook for 5-10 minutes to absorb the wine.
Add 4 cans of minced clams AND the juice
Bring mixture to a boil and once it's at a boil – lower to medium heat – do not cover with a lid. Reduce the original sauce by ½ to create a more concentrated flavor.  It will take around 30 minutes.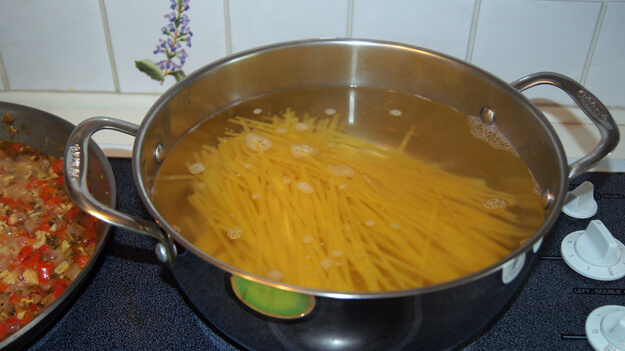 Next, separately, bring 4 quarts of water to a boil for linguine pasta, add 2 Tbsp salt. Cook uncovered for 10 minutes or until desired tenderness.  Remove from heat and drain in a colander.
Rinse and clean the clams
Next, in a colander, rinse/scrub the clams
Add the fresh clams and put a lid on top
Next
After the clam mixture is reduced -almost to ½ – add fresh clams into the sauce.  Keep cooking at medium heat with the lid on.  The clams will open gradually – around 20 minutes.   Throw away any clams that do not open.
Add the final 1 Tbsp. Parsley; Add a few pinches of red pepper flakes, salt to taste.
Next
After the pasta is drained, place on each plate.
Scoop the fresh clam sauce with clams and pour over the pasta.
Place the fresh Parmesan on the table to let everyone serve themselves.
Place several bowls on the table for discarding clamshells.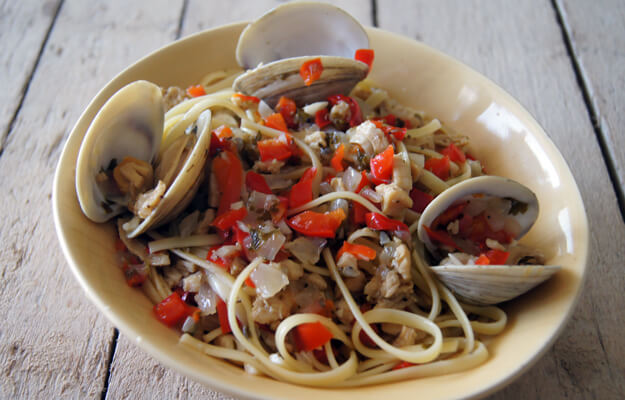 You might want to serve with a baguette of bread on the side and a fresh salad. Enjoy!
Looking for more delicious Florida recipes that use clams? Check out our recipe for Authentic Minorcan clam chowder here!

AuthenticFlorida.com was named Best Travel Blog two-times at the Florida Sunshine Awards.
To receive Authentic Florida's free weekly ENEWs, sign up on our Authentic Florida home page.
To inquire about partnerships/advertising, please contact info@authenticflorida.com 
Proud Member of: 

---