Happy Fourth of July, #AuthenticFloridians!
Since many of us are used to spending the day with our friends and family, this year may look a little different. However, there's no reason you can't still celebrate the holiday while being safe and practicing social distancing! Check out Authentic Florida's in-person and virtual recommendations for fun 2020 Fourth of July events across the state. 
Panhandle
Panama City Beach Star-Spangled Spectacular
When: July 4th, 9:00 pm
Where: M.B. Miller County Pier
Information: Panama City Beach celebrates the 4th of July with the largest fireworks display on the Gulf Coast as fireworks are fired from the Russell-Fields City Pier and the M.B. Miller County Pier.
Pensacola Fourth of July Fireworks & Movie at Blue Wahoos Stadium
When: July 4th, 6:30 pm – 10:00 pm
Where: Wahoos Stadium at 351 W. Cedar St.
Information: General admission tickets are on sale for $10 which include a viewing of the movie "The Sandlot" and fireworks show.  Tickets can be purchased at the stadium box office as well as online at bluewahoos.com
Pensacola Beach July 4th Fireworks Show
When: July 4th, 8:30 pm – 9:30 pm
Where: Pensacola Beach Boardwalk at 400 Quietwater Beach
Information: Arrive early to reserve your spot on the sand (and make sure to social distance!)

Sopchoppy 4th of July Celebration
When: Event begins at 10 am, Fireworks at Dark
Where: Myron B Hodge City Park
Information: A full day of fun begins at 10 am with the Downtown Bill Stephens Americana Parade.  Stick around all day for music, food, vendors and events with fireworks at dark. $2 Admission, bring a chair or blanket.  No coolers, grills or alcohol.
North Florida
Jacksonville Fireworks
When: July 4th, 9:45 pm
Where: Downtown Riverfront, 2 W. Independent Drive + multiple locations throughout Jacksonville
• Downtown Jacksonville
• Northside: FSCJ North Campus
• Southside: Avenues Mall
• Beaches/Intracoastal West: St. Johns Town Center Mall
• Westside: Normandy/Lem Merrett Park
• Arlington: Ed Austin Regional Park
Information: The Downtown Jacksonville show may be viewed from areas on both the North and South banks along the St. Johns River. The remaining launch locations can be viewed from each of its surrounding areas. Look for the display on CNN's 4th of July LIVE broadcast.
Old Town

15th Annual Stephensons Fireworks
When: July 4th, 8:30 pm
Where: 13023 NE 349 Hwy
Information: No charge, bring your entire family. This is a Stephenson Septic Tank Services tradition to give back to the community.  The event has asked for everyone to follow the COVID guidelines.
Central Florida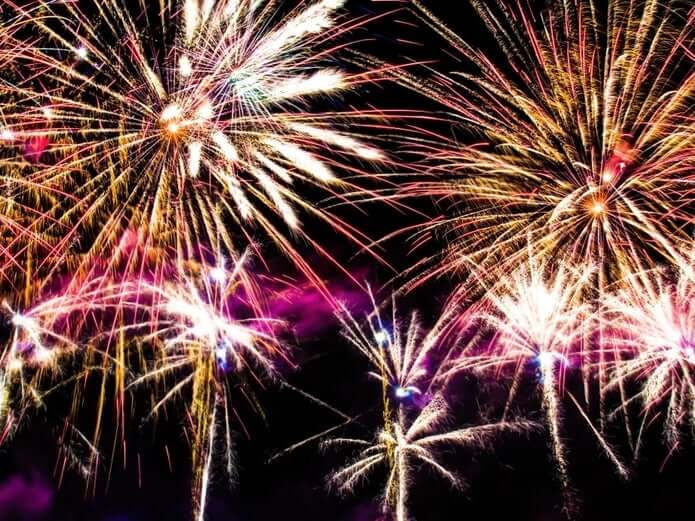 Captiva

Fourth of July Star-Spangled Celebration

When: July 4th, 9:00 pm

Where: South Seas Island Resort, for resort guests only

Information: The resort has over 300 acres to spread out and enjoy the show.  You may view the fireworks from a socially distanced spot on the beach, golf course, or your own accommodation.  There will still be a BBQ cookout from 7pm – 9 pm accompanied by a DJ at Sunset Beach.
Davenport

Fourth of July Fireworks Display

When: July 4th, 9:15 pm

Where: Davenport Blvd (From your vehicle or home only)

Information: The fireworks show will be set off from the highest location in Davenport to make it possible for residents to see the display in their vehicles or homes.  Vehicles are encouraged to park along/near Davenport Boulevard for the best available views. Look for the "Light Beams" in the sky which will be set prior to the vent to help guide those attending. If you see the light beams, you will be able to see the fireworks show.
Dundee

Fourth of July Fireworks Display

When: July 4th, 9:20 pm

Where: Lake Marie (From your vehicle or home only)

Information: The Town of Dundee is hosting a Drive-In Fireworks Celebration which can be viewed from the comfort of your home or vehicle. 
Eustis
Hometown Celebration Fireworks
When: July 3rd, 9:30 pm
Where: Lake Eustis, Suggested Viewing Locations:
Ferran Park: 250 Ferran Park Dr

Community Center: 601 Northshore Dr

Sunset Island Park: 301 W Ward Ave
Information: The City of Eustis will host host a fantastic fireworks display by Four Seasons. Make sure to social distance while viewing the fireworks!
Groveland
Look to the Sky on the Fourth of July
When: July 4th, 9:15 pm
Where: Two undisclosed locations for viewing from the comfort of your home
Information: According to the City's Geographic Information System division, they believe that almost every home and jurisdiction will have the benefit of seeing fireworks from their own property. The city has asked everyone to use the hashtags #GrovelandFireworks and #RedWhiteandYou when sharing photos to social media. 
Leesburg
Fourth of July Fireworks Show
When: July 4th, 6:00 pm
Where: Venetian Garden on Lake Harris
Information: Organizers with the Leesburg Partnership said they have plans to create social distancing among the crowd and vendors at the event. A shuttle from downtown is planned to help with extra people who might come from other cities who have cancelled their fireworks. The mayor has asked for everyone to wear a mask and social distance.
LEGOLAND Red, White & Boom Fourth of July Fireworks
When: All day July 4th celebration with fireworks at 9:00 pm
Where: LEGOLAND Florida in Winter Haven
Information: Celebrate America's Independence with fireworks above Lake Eloise as well as creating a giant US flag out of thousands of lego bricks.  Included in park admission.
Lutz's 4th of July Hoe-Down
When: July 4th, Noon until Dark
Where: County Line Produce: 206 Newberger Road, Corner of Hwy 41 and Newberger
Information: 4th of July family fun with food trucks, live music, and vendors.  Fireworks starting at dark.
Orlando

City of Heroes: A Virtual July 4th Celebration

When: July 4th, 9:00 pm

Where: Online!

Information: News 6 will present a pre-recorded compilation of the brightest and biggest fireworks from the past several years at Lake Eola. Before the fireworks show, News 6 will honor our heroes in the community. The fireworks portion begins at 9.
St Petersburg/Clearwater
St. Petersburg & Clearwater have canceled their fireworks celebration, but have compiled a list of ways to still celebrate!
Order BBQ from Urban Brew & BBQ

Pick up a supply of drinks from Dunedin Brewery's

Grab a popsicle from The Hyppo on Central Ave.

Pick up a "Beach Box" of 3 Daughters Brewing Hard Seltzer

 

at the brewery in St. Pete or your local Public store

Create a craft cocktail with liquor from St. Pete Distillery and grab some reusable straws from St Pete's Sans Market.

Pick up some holiday-themed blooms and fresh-cut flowers from Posies Flower Truck.

Pick up some Mother Kombucha all-organic Agua Bucha sold in key, lime, grapefuit, and Meyer lemon flavors.

 

Mother Kombucha is made in St. Pete, but available at Publix stores.

Order an amazing fruit tort or flag cookies from Frida's Cafe & Bakery in Largo. Make sure to order ahead of time and indicate "4th of July Flag" in the special instructions.
Winter Park
4th of July Virtual Celebration
When: All day July 4th, starting at 9 am
Where: Online!
Information: A link to the pre-recorded virtual celebration will be posted at 9:00 am on the city's official website cityofwinterpark.org as well as the city's Facebook page.  Families and friends are encouraged to enjoy the socially-distanced celebration from the comfort of their own home, at a backyard BBQ or picnic in the park. 
South Florida
Coral Springs Fourth of July Parade
When: July 4th, 10:00 am – 2:00 pm
Where: Throughout the city's communities
Information: Instead of a fireworks, show the city will be holding a Fourth of July parade from 10 am to 2 pm that will travel through all of the city's communities with festively decorated city vehicles. As they pass by, remember to wave your flags and practice social distancing. The following is an estimated timeline the parade will visit each neighborhood.
10:00 a.m. Country Club of Coral Springs

10:25 a.m. Westchester

10:50 a.m. The Springs/Pine Landing

11:00 a.m. Cypress Run/Cypress Glen

11:15 a.m. Oakwood/Shadow Wood

11:30 a.m. Ramblewood South/Sherwood Forest

12:15 p.m. Forest Hills

12:30 p.m. Pine Glen/Riverside/Meadow & Dells

12:40 p.m. Hidden Hammocks/Oakbrook

1:00 p.m. Pine Ridge/ North Springs

1:15 p.m. Chevy Chase
Doral Fourth of July Fireworks Show
When: July 4th, 9:20 pm – 9:30 pm
Where: Midtown Doral area, from your balcony, backyard, or online
Information: Tune in at 9:20pm via Facebook Live (@cityofdoral) and Youtube Live (www.youtube.com/DoralTV77) to enjoy a 20-minute display from the safety and comfort of your home. Midtown area residents can also watch a 10-minute display from their balconies and backyards.
Fort Lauderdale

Fourth of July Fireworks Show

When: July 4th, 9:00 pm

Where: Multiple locations, from your home:
Holiday Park, U.S. 1 and Sunrise Boulevard

City Hall, Andrews Avenue and NE First Street

Carter Park, Sunrise Boulevard and NW 16th Avenue

Beach Community Center, A1A and Oakland Park Boulevard
Information: The 20 minute fireworks shows are not open to the public.  City officials are encouraging people to watch the shows outside of their home.
Margate
Fourth of July Fireworks Show
When: July 4th, 9:00 pm
Where: Margate Sports Complex, 1695 Banks Road
Information: The "10-minute non-stop extravaganza" show is open to the public, but you will need to stay in your car. The city will close down Banks Road so people can park and watch from their cars. The sports complex park will be closed to the public.
Plantation
Fourth of July Fireworks Show
When: July 4th, 9:00 pm
Where: Watch from home from an undisclosed location
Information: Residents are encouraged to watch at home or through a live-stream on the city's Facebook page. Fireworks have been "enhanced" to improve viewing, per the city.
Pompano Beach Virtual 4th of July Fireworks Spectacular
When: July 4th, 9:00 pm
Where: Online!
Information: Join the City of Pompano Beach for a Virtual 4th of July Fireworks Spectacular broadcast LIVE through the City of Pompano Beach's website and on Channel 78!
While many residents should be able to see the fireworks firsthand while looking to the sky, everyone has the opportunity to view them by visiting pompanobeachfl.gov/fourthofjuly or tune in to Channel 78 at 9 pm, on July 4th, and enjoy a safe alternative to our traditional fireworks show as the Fireworks Spectacular begins from an undisclosed location!
Weston
July 4th Hometown Celebration Virtual 5K
Information: To participate, download the "RACEJOY" App and search for the "VIRTUAL Weston Hometown July 4th Celebration".  Then on race day you can actually run the race on your own, whenever you choose, throughout the day. Your time will get uploaded automatically to the results. It's that simple! If you prefer not to use the RaceJoy app, you can submit your results on the race website, or via text message after you run.  Run your race, your way. Finisher Medals will be given to every participant this year. Submit your race time by 11:59 p.m. on 7/4/2020, or you will count as a DNF (Did Not Finish).
West Palm Beach Fourth of July Fireworks
When: July 4th, 9:00 pm
Where: Two undisclosed locations, one north and south so that people can watch the fireworks from home. 
Information: If they're not visible, tune into WPBF 25's Project CommUNITY: Fireworks from Home. The city is encouraging residents to have a POP – Party on the Porch instead of heading to the beach.
Note: This information was accurate when it was published, but is subject to change without notice. Please be sure to confirm all details directly with the companies/organizations mentioned before planning your trip.

AuthenticFlorida.com was named Best Travel Blog at the Florida Sunshine Awards. 
To receive Authentic Florida's free weekly ENEWs, sign up on our Authentic Florida home page.
To inquire about partnerships/advertising, please contact melanie@authenticflorida.com 
Proud Member of: 
      
---
Comments are closed.