While the rest of the country is thawing out from another harsh winter, Florida is in bloom. It's springtime. Birds are nesting, butterflies flit about, adding color to our gardens while bees are pollinating the flowers. A feeling of renewal permeates.
Florida has many public gardens – created by individuals inspired by beauty. During the early 1900's many wealthy industrialists, entrepreneurs, humanitarians – and even conservationists, came to Florida to create magnificent homes and gardens, which for many have become inspiration for our own backyard oasis. And just as some allowed "natural" Florida to complement elaborate gardens, we too can incorporate native flora into our gardens.
For inspiration we will visit four estate gardens from the era when wealthy Americans built 20th century winter retreats and gardens. It was a unique chapter in Florida's history and because of their legacy, these gardens have become gifts available for the enjoyment of future generations.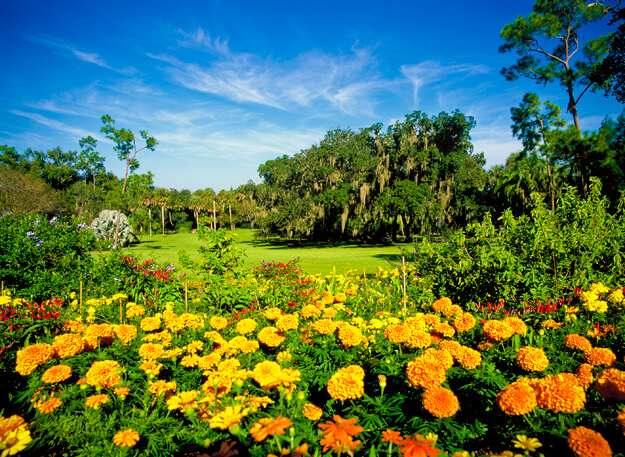 Bok Tower Gardens Pinewood Estate lawn, [photo courtesy, Bok Tower Gardens]
It all started with Edward Bok, a Dutch immigrant who came to the U.S. in 1869 at the age of six. Unable to speak English as a young boy, Bok worked tirelessly and fastidiously as an office boy in the Western Union Telegraph Company, eventually becoming the publisher of Ladies Home Journal. He was also a Pulitzer Prize winning author and an advocate for the environment and world peace.
A dedicated humanitarian, he wanted to "give something back" to the country that gave him so much.
While growing up, Bok visited Central Florida's Lake Wales, often hiking to the nearby Iron Mountain, a 298-foot hill, where he enjoyed a panoramic vista from one of Florida's highest elevations. He cherished evening strolls through the tall pines and the Florida sand hill scrub. He particularly enjoyed the peace, tranquility, stunning Florida sunsets and the plethora of birds and wildlife.

Spring at the Bok Tower Gardens [photo courtesy, Bok Tower Gardens]
Guided by his family's philosophy to "make the world more beautiful", Bok was inspired to create a magnificent space for serenity, beauty, music and peaceful contemplation.
Bok eventually purchased the property and envisioned a carillon tower surrounded by luscious gardens. Such a place would remind him of the musical sounds of his native Holland while incorporating the natural beauty of his new homeland into a serene and beautiful garden. To realize his dream, he employed Frederick Olmsted, Jr., a landscape architect who transformed the property by creating a subtropical garden in a woodland setting with scenic vistas and calming areas for personal reflection.
Drive through the entrance of this authentic Florida Garden of Eden, passing by the fragrant orange groves and a nature preserve with hiking trails, and you will know you have arrived to a special place. Begin your visit at the Bok Tower Gardens Visitor Center for an overview of the property.
Be sure to stop at the "What is Blooming" display on your way to the gardens. It has cuttings from flowers you're likely to notice during your walk.
The self-guided tour begins with the River of Stone, a central pebble pathway that showcases 30 species of epiphytes, commonly known as air plants because they receive their moisture and nutrients from the air. A display of air plants strung with transparent wire, creates a beautiful "floating" affect.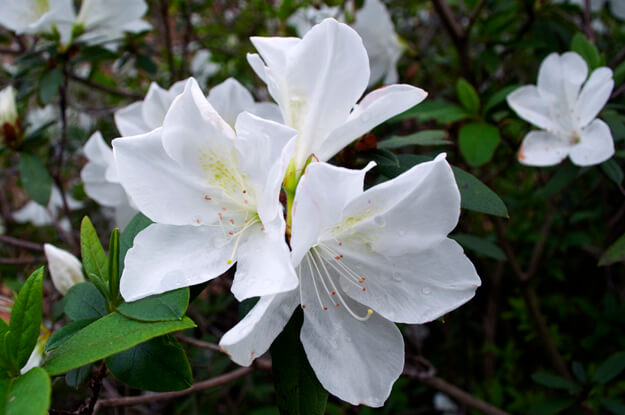 Bok Tower Garden Azaeleas, [photo courtesy, Bok Tower Gardens]
So what's in bloom?
Meander along the easy pathway through the Bromeliads, an amazing display of Azaleas and Walking Iris to the reflection pool. "Our azaleas always steal the show during the spring", says Greg Kramer, Bok Tower Gardens Director of Horticulture. "But there's more to enjoy, including the camellias, the pure white Seafoam, the pinkish-blush Cinammon Cindy, the carnation-shaped Fizzle Whites and the light-pink Mrs. DW Davids," adds Kramer.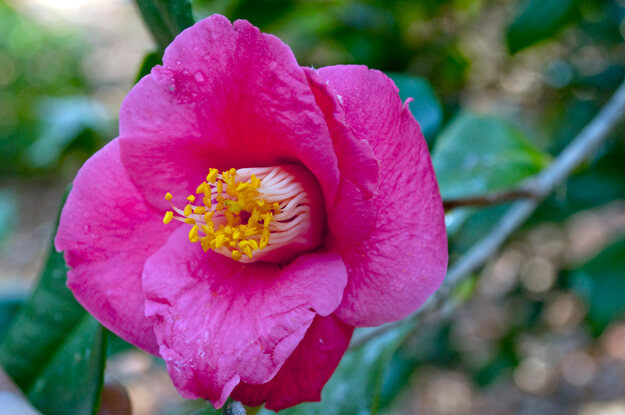 Camellias at the Bok Tower Gardens [photo courtesy Bok Tower Gardens]
For the "next wave" of spring blooms, visitors will observe the striking white colored Fringe Tree, the red Glorybower with bright blue berries, the red and purple Mexican Bush Sage, and the multi-colored Lupins and Rosemary, often found along the hiking trails.
"What is unique about the Bok Tower Gardens is that it beautifully represents the Central Florida plant communities, coupled by an 85-year old landscape design by Olmstead, who was inspired by Florida's Highland Hammock," shares Bok's Kramer.

The Bok Gardens Bell Tower is surrounded by native gardens
Soon you'll arrive to the reflection pond, surrounded by huge oaks, draping palms and Florida native plants mirroring the beautiful tower and framed by a forest of trees and blue skies. Needless to say, this is a good "photo op".
Making your way along the path, you'll arrive to the glorious 205-foot bell tower composed of pink and gray Georgia marble and Florida coquina rock, equipped with 60 bronze bells. Considered one of the finest carillons in the country, concerts are at 1 and 3 pm daily. A carillon is a musical instrument consisting of cast bronze bells played from a keyboard emanating soothing sounds ideal for the garden experience.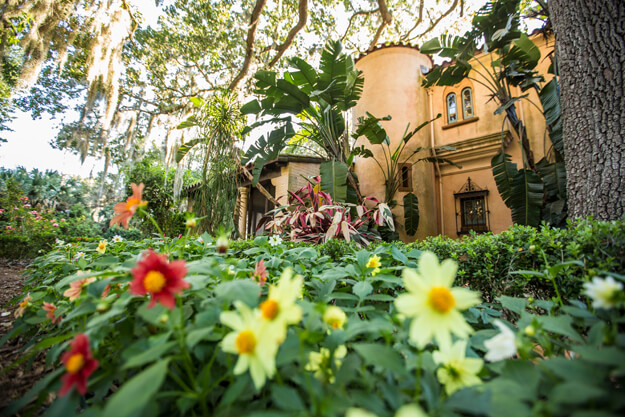 Pinewood Estate, Bok Tower Gardens [photo courtesy of Bok Tower Gardens]
Also, you may want to see the 1930's Mediterranean style home built for Charles Austin Buck, an associate of landscaper Olmsted, the 13,000 square-foot estate with a barrel-tile roof, carved doors and beautifully designed iron work. The architecture, landscape and period furniture make it worthwhile even with the additional entrance fee.
And here are some tips for your trip: Allow 4 hours for your time at Bok Gardens. If you want to bring your lunch, it is a superb place to enjoy a picnic, but the restaurant, the Blue Palmetto Café, also provides meals.
Vizcaya Museum & Gardens, Miami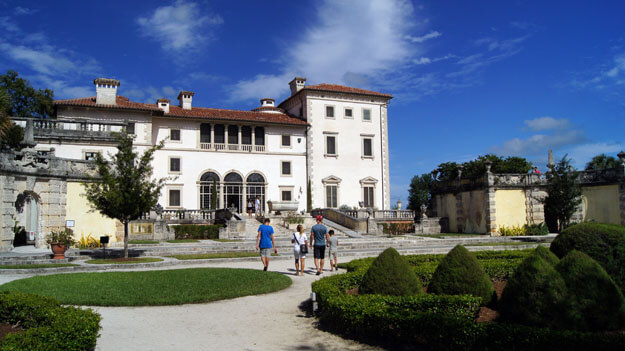 Miami's Vizcaya Museum and Gardens
On Florida's east coast wealthy Chicago industrialist James Deering built his winter home, Vizcaya, a short distance from downtown Miami. Fifty acres of waterfront property with a home and gardens meld old European design with Florida's subtropical setting. Completed in 1922, the huge mansion, partially built from locally quarried coral stone, overlooks Biscayne Bay. Deering was a man enamored by all things European and named the estate Vizcaya, which is also the name of a province in the north of Spain along the Bay of Biscay.
Living during the Gilded Age, James Deering was inspired by the European styles and culture of the times. The Vizcaya home and its 34 rooms are furnished with historic European antiques, art and sculptures throughout the two main floors overlooking an enclosed courtyard. Lushly appointed displays of the Living Room, Music Room, and Loggia (or indoor sitting area), plus richly furnished bedrooms are on the visitor tour. Bay and garden views are predominant, but don't miss the breakfast room with its vibrant wall murals and spectacular garden view.
Outside along the waterfront, you'll see the Barge, a concrete dock and breakwater resembling a boat. It is one of many stunning features that make this place magical.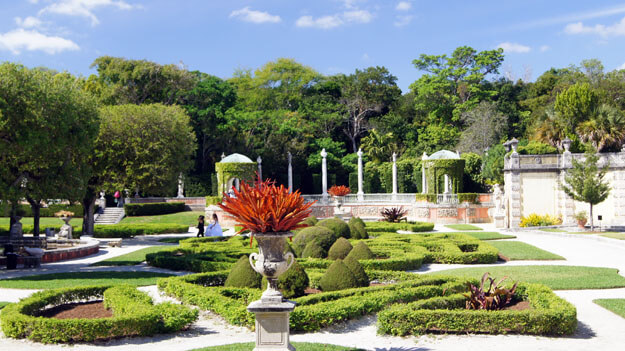 European inspired Vizcaya Gardens
The Vizcaya gardens represent one of the most impressive European inspired gardens in the country. Gracefully designed with soft geometric patterns in a spacious setting, the stunning garden area was designed as a series of "rooms" or outdoor living spaces. "The gardens were originally designed as a theatre set to create an experience that transports you to another place and time," shares Vizcaya Chief Horticulturalist Ian Simpkins.
The luscious garden fountains and walkways flanked by colorful gardens attract visitors from around the world. Pathways lead to new areas of discovery and the sound of water trickling from fountains calm the frenetic pace of busy life.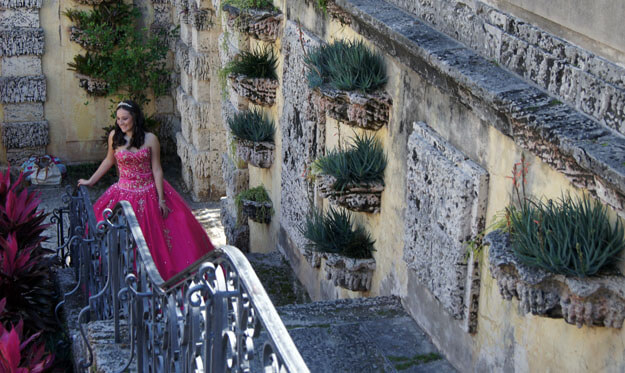 Vizcaya Secret Garden
Vizcaya's Secret Garden transports you to another world with cacti, succulents and native grasses. Often young Hispanic women, in bright formal dresses, are photographed here for their "Quinceañeras" or "coming of age" birthday celebrations. Nearby, the intimate Theatre Garden, Maze Garden and the Fountain Garden provide more areas to explore.
In the 1950s, Deering's heirs turned the historic estate over to Miami-Dade County.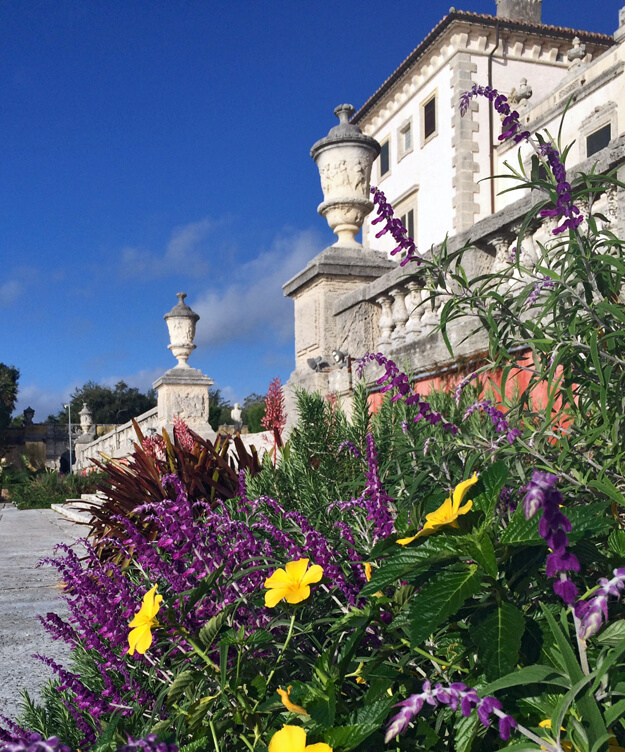 Mexican Bush Sage on display, [photo courtesy Ian Simpkins] 
So what's in bloom? Vizcaya's Simpkins shares "All our Bougainvillea are in full flower right now – as well as the Mexican Bush Sage. The Skyblue Clustervine, a delicate Florida native will start appearing in the next few weeks. The fire-engine red Crownless Crown of Thorns will be a constant show all spring and our enormous 50-year old Desert Roses are in full flower in the David A. Klein Orchidarium, where orchids are always in bloom."
Serenity, peace and calm, combined with breathtaking vistas of the magnificent property, are Vizcaya's hallmarks. The Garden Mound, built on the highest elevations to the south, provides a visual perspective of the historic estate. An early conservationist, Deering also preserved the native Rockland Hammock forest that partly surrounds the garden.
Fairchild Tropical Botanic Garden, Miami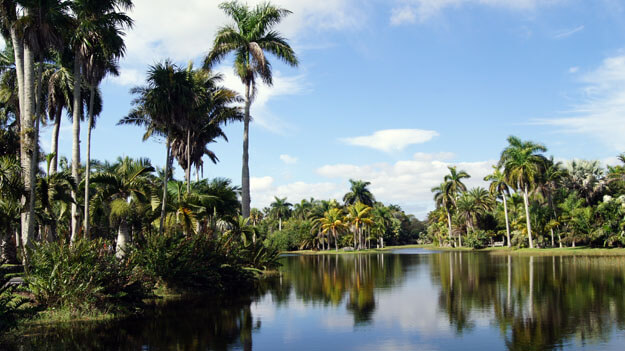 Miami's Fairchild Tropical Botanical Garden
Another Florida tropical paradise to visit is Miami's Fairchild Tropical Botanic Garden. The vast 83 acres (and 11 lakes) create a premier garden setting with a vast selection of tropical plants, flowering trees and many varieties of palms.
Opened in 1938 and named for Dr. David Fairchild, a renowned traveler and plant collector, and a foremost botanist of his time who retired to Miami in 1935. Fairchild shared his research and findings with his friend Col. Robert H. Montgomery, also an avid plant collector. Inspired by Fairchild, Montgomery founded the botanical garden and named it in honor of his friend.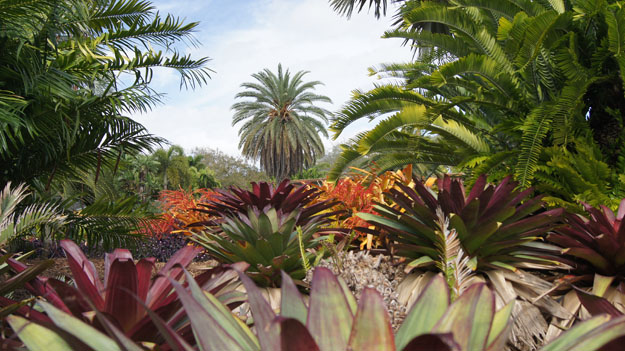 Fairchild Gardens is dedicated to conserving tropical plants
Dedicated to conserving the world of tropical plants, Fairchild Garden has something for everyone. Ponds and shady walkways line prized collections of palms, cycads, bromeliads, succulents, vines, orchids and edible gardens. Visitors will be struck by the sheer immensity of the property, its plant diversity, and the gorgeous vistas from one garden to the next.

Chinese Hat Plant [photo courtesy, Fairchild Garden]

William Lyman Phillips of the Olmsted Group (designers of New York's Central Park) was the leading landscape designer during the 1930s.  Fairchild Garden Living Collection Manager, Jason Lopez explains, "Our garden is distinctive because of the masterful landscape design by William Lynman Phillips – and the tropical plants. The two work hand in hand to create a very natural feeling of space with lots of botanical wonder."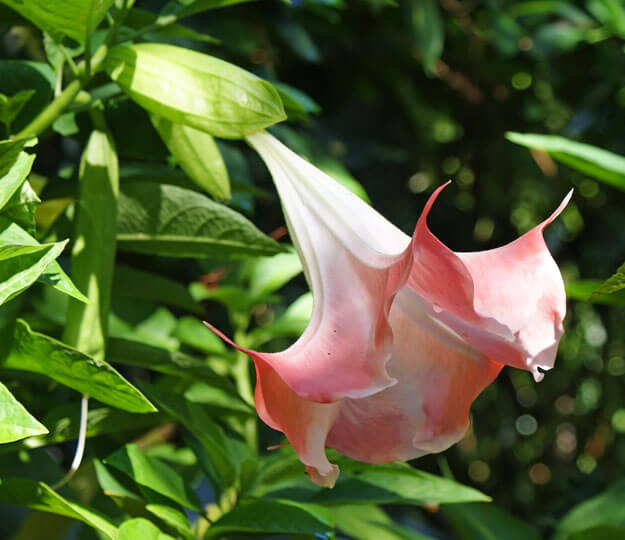 Mysore Trumpetvine, [photo courtesy Fairchild Garden]
So what's in bloom? According to Lopez, the garden is currently blooming with "the Shower of Orchids and the Mysore Trumpetvine on the Vine Pergola. And while it is hard to anticipate what will be in bloom soon, it is likely that the Rose of Siam, the Cannonball Tree and the Verawood – along with many others will soon be on display."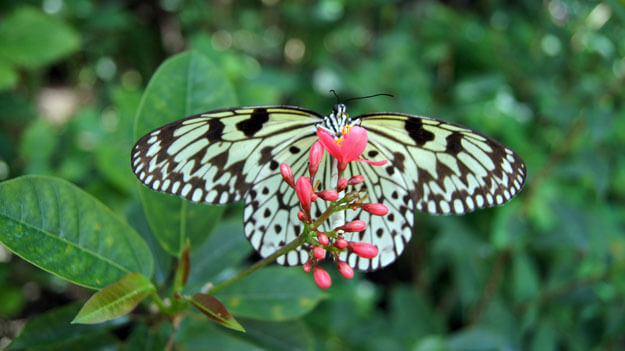 Fairchild butterfly gardens 
For those who are avid Florida gardeners, the outdoor Butterfly Garden showcases native plants that attract local butterflies. Also the Keys Coastal Habitat reflects natural Florida with four acres of mangroves and native vegetation that attracts migratory birds. The Pine Rockland area displays Florida's native pines, saw palmetto, Coontie and wildflowers – all showcasing a critically endangered habitat.
Don't miss the indoor Butterfly Conservatory where a colorful display of 1000 butterflies from all over the world flutters overhead. Inside, the Butterfly Metamorphosis Lab exhibits the fascinating and colorful stages of the (butterfly's) chrysalis.
Guided tram tours, walking tours or self-guided tours available daily. You may want to consult Fairchild's specialty tours covering topics such as the tropics, wildlife, butterflies, orchids and rainforests.
John & Mable Ringling Museum Gardens, Sarasota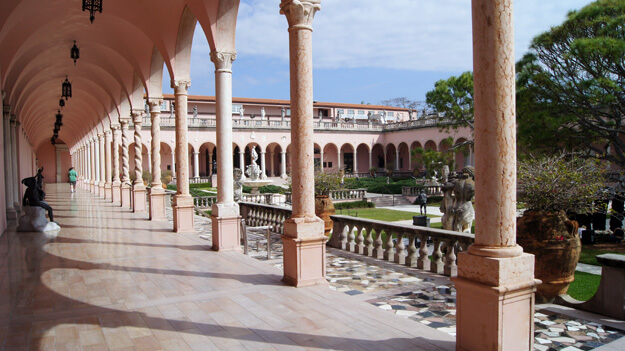 Sarasota's John & Mable Ringling Museum Gardens
In Sarasota on Florida's Gulf Coast, the John and Mable Ringling Museum of Art covers a 66-acre complex of cultural and historical treasures including gardens, an art museum, circus museum, theatre and a stunning 1920's-era mansion.
John Ringling, of the Ringling Brothers Circus fame, was one of the wealthiest Americans during the 20th century. In 1911, after visiting friends, Ringling purchased 20 acres of waterfront property on Sarasota Bay. Spending winters in Sarasota, Ringling and his wife Mable, built Ca' d'Zan, a massive Venetian Gothic waterfront home.
While traveling through Europe in search of talent for his circus, John Ringling also became a significant art collector. He amassed an enormous European art collection of paintings, sculptures and art objects that are on exhibit at the Ringling Museum of Art.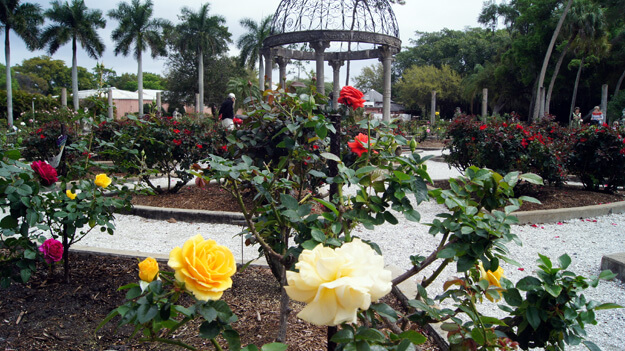 Mable Ringling's Rose Garden
While John was traveling on business, Mable dedicated herself to interior furnishings of the Ca' d'Zan and its surrounding gardens. Her first project was a formal Rose Garden. She was inspired by the grand European gardens and planned a circular setting with a central gazebo. More than 1,200 roses – old garden roses, hybrid teas, floribundas and grandifloras are just a few of the varieties found here.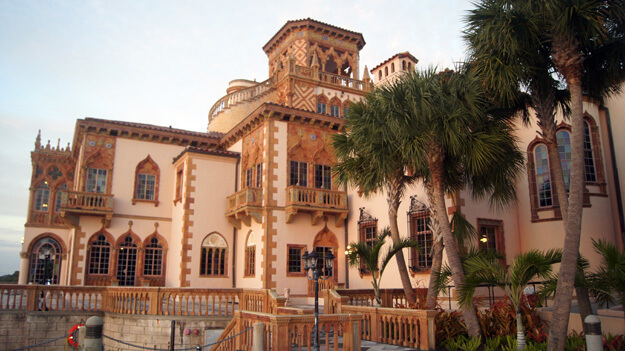 Ca' d'Zan, the Ringling Mansion
Mable also honed her gardening skills while developing one of her favorite places to relax – the Secret Garden. North of the Ca' d'Zan, the Secret Garden is a retreat for those seeking solace. Bromeliads, succulents and other Florida-friendly plants offer a peaceful setting, and in fact serve as the final resting place for the couple.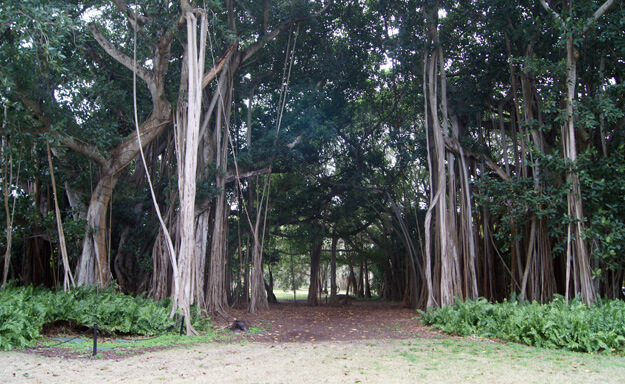 Banyan tree groves date back to the Ringling era
The spacious grounds are filled with banyan tree groves, (dating back to the Ringling era), 650 native Sabal palms (the state tree), slash pines (well suited to Florida's sandy soil), southern live oaks, and mango trees (tropical fruit) – all found in Florida.  But you'll also find some unusual and interesting plants – the Allspice Tree (the allspice origin) native to the Caribbean; the Bo Tree (thought to be sacred); the currently blooming Bombax Tree (known as the Red Silk Cotton Tree) and rows of Royal Palms that flank the walkway to the Ca' d'Zan.

Courtyard, Ringling Museum of Art
The majestic Ringling Museum of Art, a huge rectangular building with a pink exterior, is designed to resemble a European palace. Displayed in the museum are Italian and Flemish Baroque master paintings amassed by Ringling. The interior is a Renaissance-style courtyard with porticos, open space, geometric designs and water features to calm the soul.
Three terraces adjoined with stairs embrace the architectural symmetry of the Renaissance period while fountains and Greek and Roman sculptures give way to a true classic European garden. On the west end of the courtyard towers a cast of Michelangelo's David flanked by royal palms and terracotta pots overflowing with bougainvillea. This is an iconic Sarasota photo opportunity.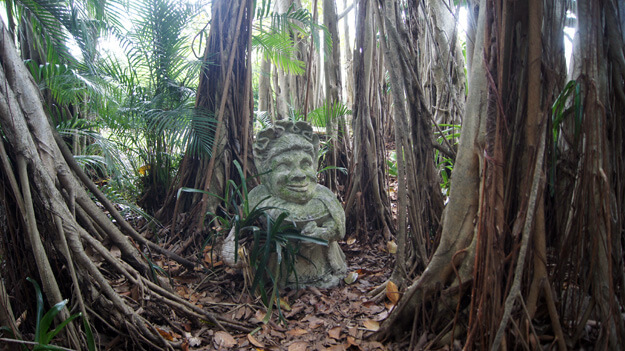 Ringling Museum Dwarf Garden
Visitors who prefer a bit of whimsy may favor the smaller Dwarf Garden. A pathway winds through small Italian limestone statues of comedic characters, surrounded by bamboo stands, subtropical plants, bromeliads and orchids.
So what's in bloom? Right now, the African Tulip tree is brilliant with orange flowers and the Trumpet Trees are yielding yellow and gold flowers.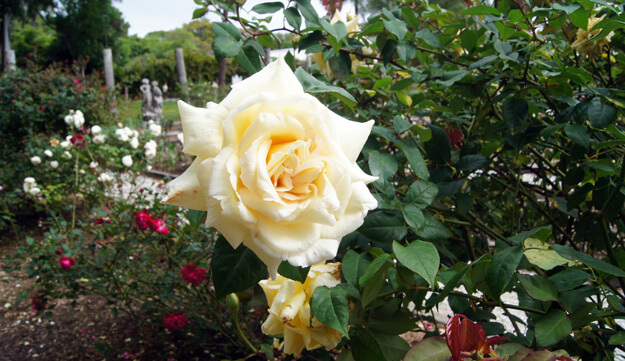 April is the biggest flowering display in Mable's Rose Garden
"But the biggest flowering display of roses in Mable's Rose Garden appears in early April followed by the blooming lavender Jacaranda tree and the red Bottlebrush trees that attract hummingbirds. Don't miss the Shaving Brush Tree that blooms with neon purple flowers in the late April," reports Ringling Landscape Superintendent Kevin Greene. And if you love Florida friendly trees, Greene reminds visitors to "walk the Millennium Tree Trail with over 100 different trees representing 30 species that are either native or Florida friendly".
After the passing of John Ringling, predeceased by Mable, the Museum of Art and the estate was bequeathed to the State of Florida.
The Ringling Gardens are free to visitors and there is on charge for the Museum of Art on Mondays.
To receive Authentic Florida's free ENEWs, featuring travel and living updates, delivered weekly, sign up on the home page Authentic Florida.
---