The 2020 Florida Folk Festival was canceled!
Join the fun and festivities at the 2019 Florida Folk Festival as it kicks off Memorial Day Weekend along the banks of the Suwannee River featuring live music, dance, tall tales, and traditions.

The Festival is held at the Stephen Foster Folk Cultural Center
The Florida Folk Festival is a three-day celebration of the music, dance, stories, crafts, and food that make Florida unique. From Irish fiddle tunes, techno contra dancing, and chocolate-covered Key Lime pie, and also the wide varieties of music brought by immigrants, the state's cultural heritage reflects the lives of generations of Florida families and communities. Throughout the Memorial Day weekend, more than 300 performances give voice and meaning to Florida's heritage.
The event is held at Stephen Foster Folk Culture Center State Park in North Florida's White Springs from May 24 – 26th. Every year the Department of State's Florida Folklife Program researches a special topic on Florida's traditional heritage.  The Festival's 2019 Folklife Area will feature performances and also demonstrations celebrating the diverse living traditions of some of Florida's oldest and newest cultural communities.

Over 300 performances occur during the Festival (group, Mourning Glories)
At the Florida Folk Festival, you can sit with the masters who keep cultural traditions alive. In jam sessions, demonstrations and workshops, try your own hand at playing mandolin, telling stories, or also making a pine needle basket. Learn how to collect your family's history, call a square dance, or also the importance of native plant and animal species. Take a shopping excursion and visit with Florida's traditional and contemporary craftsmen.
The Florida Folk Festival encourages attendees to join in the fun,

Florida Folk Festival
Take a shopping excursion and visit with Florida's traditional and contemporary craftsmen.
Blacksmithing is one of the heritage arts featured at the Festival
In addition to music, the Festival's Folk Life area demonstrates Florida's heritage arts including blacksmithing, butter churning, quilt making, a sugar cane boil, cracker whip making, and also fishing line casting.
The Festival demonstrates the heritage arts 
Experience the old-time traditions and savor the flavors, sights, sounds, and also tastes of some of Florida's oldest and newest cultural communities.
The famous Root Beer Float stand
Florida's Folk Festival offers superb food provided by local church groups
If you go to eat, you found the right place. Famous for homemade root beer floats as well as authentic soul food served up by local church groups, including fried chicken, smoked mullet, shrimp, grits, greens, sweet tea, and homemade desserts, the festival offers many mouthwatering choices with a heaping dose of genuine southern hospitality.
Bring your instruments and jam with local artists,

Florida Folk Festival
At the Florida Folk Festival, you're sure to hear plenty of wonderful music, enjoy tasty food, join a jam session, or workshop, while paying homage to Florida's land, people, and diverse cultural heritage!
As the sun sets, settle in for concerts by moonlight or dance the night away at the Heritage Stage. At the end of the day, you'll have discovered new corners of the state from the people who call Florida home.
Gates open at 8 am. Opening ceremonies will begin at 6 pm on Friday, May 24th, on the banks of the Suwannee River.
Advance tickets for the Florida Folk Festival are $25.00 per day. You can also pay $50.00 for the weekend for adults. At the gate, prices are $30.00 per day or $60.00 for the weekend. Children under six years of age admitted free of charge. Ticket prices for children between the ages of six and 16 for the entire weekend are $5.00.
Tickets available at  www.FloridaFolkFestival.com.
Enjoy White Springs: Home of the Florida Folk Festival
Adams Country Store, White Springs
White Springs, home of the Florida Folk Festival, is a quintessential small Florida town. Timber and cotton were once mainstays. It also attracted well-heeled tourists in search of the relaxing, medicinal waters of the White Sulphur Springs. Back in the day, fancy hotels provided lodging as the railroad brought them to town.
Stephen Foster Culture Center Carillon plays Foster tunes 
In 1851, composer Stephen Foster wrote the popular tune "Old Folks at Home," and White Springs became a destination "Way Down Upon the Suwannee River." Nowadays, while there is no longer a bubbly spring, the Spring Building also still stands as a reminder of the past. The Stephen Foster Folk Culture Center and Park, known for its carillon playing melodic Stephen Foster tunes, is home to an antebellum museum that pays homage to Foster and his music.
Today, White Springs is an eco-tourist destination, as hikers and bikers enjoy nearby Florida trails and paddlers also enjoy the rivers and springs. Bird watchers flock to traipse through the woods where Eagles, Osprey, Pileated Woodpeckers, and Owls call home.
Enjoy a walking or biking tour of the small town to absorb its charm. Stroll down Spring Street to see the Adams County Store, churches dating to the late 1800s, and also several historic homes.
Big Shoals State Park is also home to Florida's largest whitewater rapids
Outside White Springs, along the Suwannee River, is Big Shoals State Park. This is home to Florida's largest whitewater rapids. Hike the trails that lead to the shoals (shallow, rocky rapids). The well laid out trail is in the pine Flatwoods, along wetlands, and beneath towering longleaf pines. It's a good place to spot hawks, barred owls, and also Pileated Woodpeckers.
Where to Stay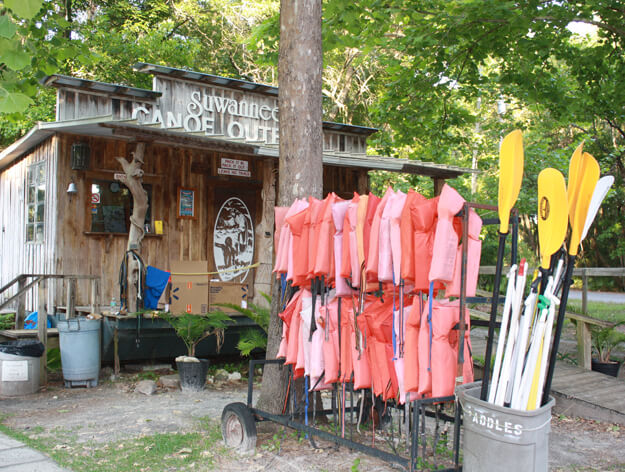 Camping and lodging are also available at Suwannee River State Park, O'Leno State Park, and Spirit of the Suwannee to name a few. For a comprehensive list of local public and private campgrounds, cabins, and also motels visit Suwannee Valley.
The Festival is presented under the auspices of the Florida Department of Environmental Protection's Division of Recreation and Parks.

AuthenticFlorida.com was named Best Travel Blog two-times at the Florida Sunshine Awards.
To receive Authentic Florida's free weekly ENEWs, sign up on our Authentic Florida home page.
To inquire about partnerships/advertising, please contact info@authenticflorida.com 
Proud Member of: 

---
Comments are closed.
If You Go
For more information:
Places to stay: