Enjoy a Taste of Summer with a Fresh Tomato Tart
There is nothing like fresh tomatoes to enjoy the taste of summer, and this tomato tart celebrates the season as the perfect dish for your next family gathering.
This year, I enjoyed a bumper crop of tomatoes. As a result, I have been busy devising ways to use all of them. Nothing tastes as good as fresh sliced tomatoes topped with garden basil and a hint of balsamic vinegar. I also enjoy creating fresh homemade tomato sauce poured  over warm pasta while one of my all time favorites is roasted tomatoes smothered in fresh pesto sauce.
But this Fresh Tomato Tart is a crowd favorite. Easy to create using frozen puff pastry, this dish is ideal for a picnic, a family gathering – and is rustic but beautiful with yellow and red tomatoes. It doesn't have to be served hot, although It's delicious when served warm, but no matter which way you serve it, you'll love it because it shouts summer through and through.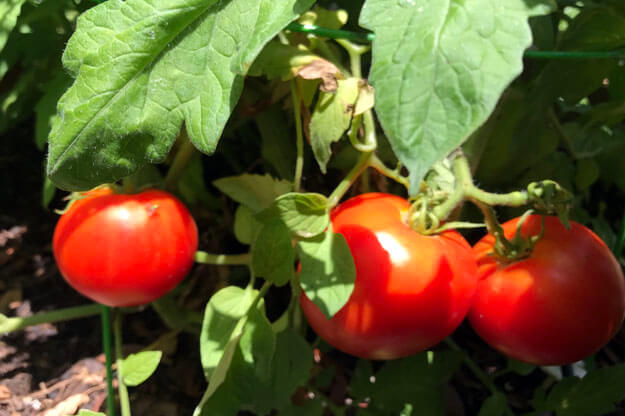 My tomato garden
Florida Tomato Tart Recipe
This recipe originally appeared with Visit Sarasota.
6 servings
Total prep time: 45 minutes
Preheat oven 425 degrees

Garden fresh Florida sliced tomatoes
Ingredients
1 sheet of frozen all-butter puff pastry
¾ lb. fresh tomatoes
2 Tbsp. olive oil
1 cup whole milk Ricotta Cheese
4 oz. soft goat cheese
3 large eggs
1/3 cup fresh chopped basil
1 Tbsp. kosher salt
1/2 tsp. freshly ground black pepper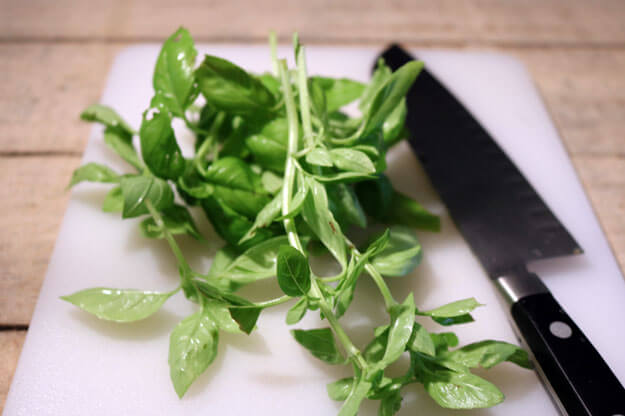 Fresh Florida basil
More items you'll need:
Baking sheet pan
Parchment paper
Flour
Rolling pin
Egg wash: Use one egg and beat.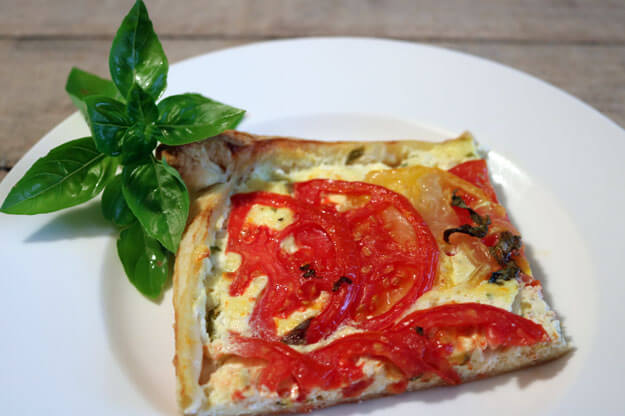 Slice, Fresh Tomato Tart
Steps to make the Tomato Tart:
Step One
Take the puff pasty out of freezer and let thaw.
Take a sheet of parchment paper and line the baking sheet pan.
On a lightly floured work surface, roll out the pastry and measure 10" X15 " rectangle and transfer it to the baking sheet. With a pairing knife, score a border 1 inch on all edges around the rectangle. (Do not cut through the dough.) Next, prick the remaining dough in the rectangle with a fork (this allows the border to rise higher than the center). Next, brush the center with 1 tablespoon of olive oil.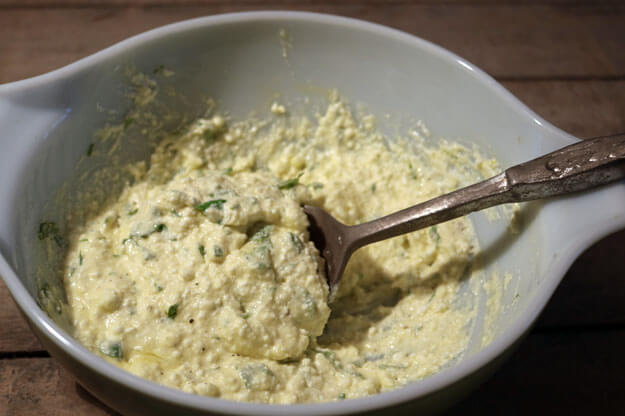 Ricotta cheese mixture
Step Two
Separately, in a medium sized bowl, mix 1 cup of Ricotta cheese, 4 oz. of goat cheese, 2 eggs, 1/3 cup of chopped basil, 1 tsp. salt, ½ tsp. pepper.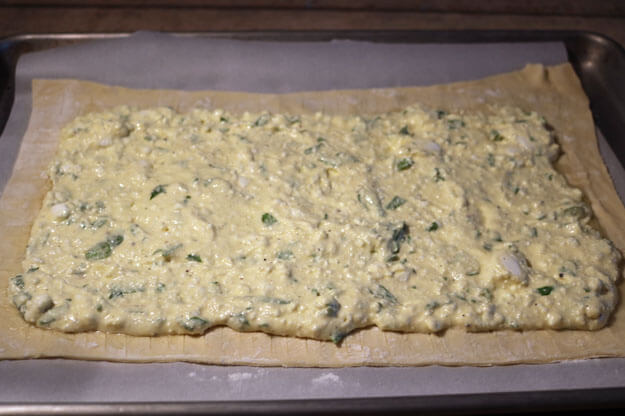 Spread cheese mixture on top of the pastry
Step Three
Spread the mixture over the center of the puff pastry sheet.

Layer the tomatoes over the cheese mixture
Step Four
Place the tomatoes, overlapping slightly over the mixture. Sprinkle tomatoes with a few pinches of salt. Brush with 1 Tblsp. olive oil and sprinkle some basil on top. Finally, press the 1 inch edge border around the edge to form a border, tucking in the edges, to contain the mixture.
Brush the dough edges with an egg wash mixture.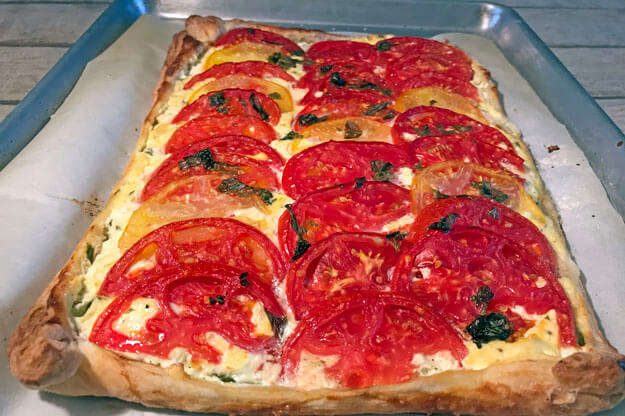 Finished tomato tart
Bake 30 minutes at 425 degrees or until the pastry is golden brown and the filling is set.
To receive Authentic Florida's free ENEWs, featuring travel and living updates, delivered weekly, sign up on the home page Authentic Florida, voted Blog of the Year and Best Travel Blog at the Orlando Sunshine Awards.  
---
Comments are closed.