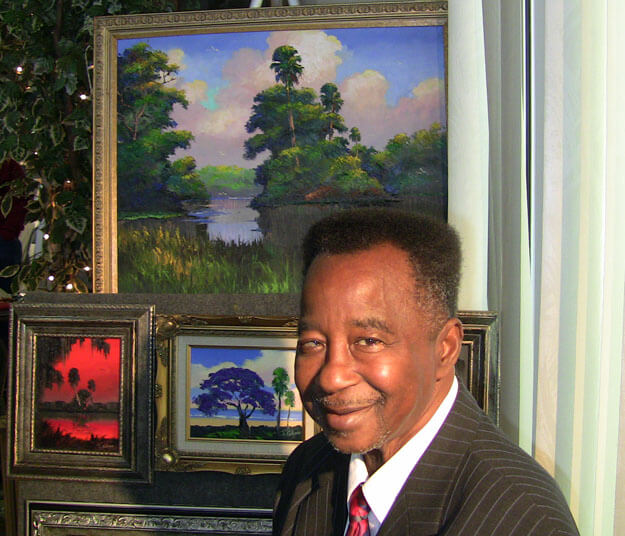 Depending on how long you have lived in Florida, you may or may not have heard of the Highwaymen. They are better known today, but not very long ago they were an anonymous group of Florida artists selling original paintings of Florida landscapes from the trunks of their cars.
Though they would not be called the Highwaymen for several decades, these African-American artists created a unique chapter in Florida's cultural history. From the 1950s into the 1980s, a total of twenty-six individuals from Fort Pierce and nearby areas were creating Florida folk art – and doing it well under the radar of the art world.
 
James Gibson, Highwaymen artist
The artists featured paintings of familiar Florida scenes – crashing waves on windswept beaches, palm trees bent by the wind, majestic Royal Poinciana trees, moss-draped oak trees, red-orange sunsets, billowing clouds, and moonlit rivers.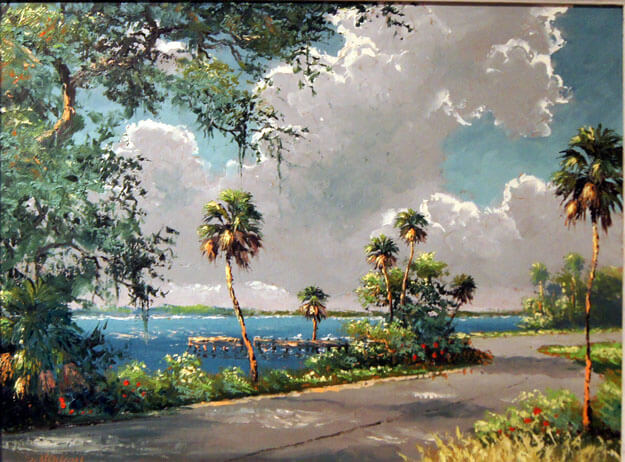 Their palette included vibrant colors of verdant greens, sunset oranges – and blues and grays that often featured the sun or moon backlighting the scene. The Highwaymen often painted from memory as they captured scenes of natural Florida they had grown up with, one that was yielding to the development brought on by the state's mid-Twentieth Century growth.
By necessity, the men (and one woman) painted as an alternative to the backbreaking work of picking and packing Florida citrus – a typical job for African Americans in the 1950s. Those days were still part of a racially segregated "Jim Crow" South, and painting, then selling their art gave them an opportunity to succeed in a whole new way.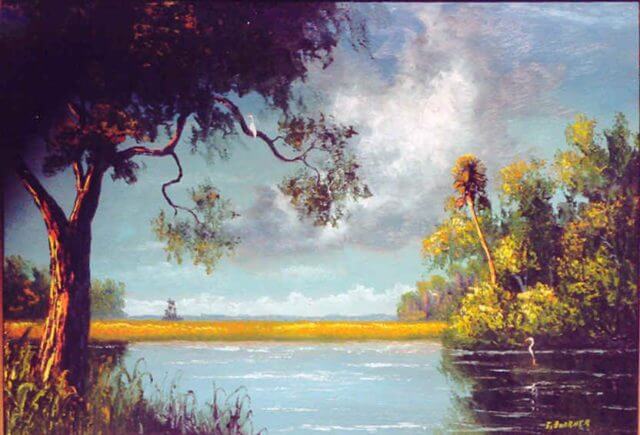 Ellis Buckner, Florida Highwayman artist
They used oil-based paints and painted on Upson board (a roof sheeting product) then framed the artwork with crown molding. The artists often painted together, but they didn't sit in front of the landscapes and paint leisurely while admiring the natural beauty around them. Rather, these artists approached their work in a different way, painting in a shaded backyard or a carport or shed, imagining the scenes from imprinted images of their surroundings. Some would work on several paintings at once having affixed the boards to a wall and then stroking in several similar scenes. They worked quickly sometimes using palette knives to cut in highlights.
By using construction materials they cut costs; by working quickly they had more to sell. Then by selling directly they were able to deliver original art at a reasonable cost. They sold the artwork door to door, or out of their car trunks, mostly along A1A and U.S. 1 on Florida's east coast from Daytona Beach to Miami. Later, some of the artists would travel inland to the growing interior communities.

James Gibson, Highwaymen artist with painting. Sadly, Mr. Gibson passed away in August 2017.
Directly selling the work (sometimes with the paint still wet) fulfilled an actual need – particularly during Florida's post-WWII population boom. The many "new" Floridians were eager to decorate with art that reflected this new paradise they loved. The artists capitalized on businesses that needed art to adorn their walls – banks, insurance companies, real estate offices, dentist, and doctors' offices. They often sold their work for around $25 not only on roadsides but also in the lobbies of businesses as customers entered the buildings.
The paintings proved to be very popular. Soon, what at first had been dismissed as "motel-art" by those in the art scene became an iconic part of authentic Florida.
A Movement Identified
During the mid-1990s, Florida museum curator and art collector Jim Fitch was credited as recognizing and naming the group as "The Highwaymen". Tampa Bay Times journalist Jeff Klinkenberg and others highlighted the artists giving attention to these lesser-known individuals. The recognition of the work and the resurgence in their popularity continues to this day.

Robert Lewis, Highwaymen artist
In 2004, 26 members of The Highwaymen were inducted into the Florida Hall of Fame. Those members inducted were: Curtis Arnett, Hezekiah Baker, Al "Blood" Black, Ellis Buckner, George Buckner, Robert Butler, Mary Ann Carroll, Johnny Daniels, Willie Daniels, Rodney Demps, James Gibson, Alfred Hair, Isaac Knight, Robert Lewis, John Maynor, Roy McLendon, Alfonso "Pancho" Moran, Sam, Lemuel and H. Harold Newton, Willie Reagan, Livingston "Castro" Roberts, Cornell "Pete" Smith, Charles Walker, Sylvester Wells and Charles "Chico" Wheeler.
Mary Ann Carroll, Highwaymen, the only female artist
Some of the Highwaymen – many in their 70s and 80s still exhibit their art around the state, which has evolved into more methodical slower-paced art. Nowadays their paintings are highly prized, commanding much more than the original selling price. The work is also featured in museums, traveling exhibits, galleries, and private collections throughout the state and country.
"Bean" Backus Inspires a Movement
The beginnings started with a local white man and artist by the name of A. E. "Bean" Backus, a Fort Pierce artist who inspired the artists and in particular, two young, black artists by the names of Harold Newton and Alfred Hair.
A. E. Bean Backus, a mentor and teacher 
Backus's studio was always open to his art protégés, and he often provided advice, supplies, and encouragement to the fledgling young talents.
Backus befriended young Newton, an aspiring artist, promptly urging him to transition from his religious-themed painting to natural landscape scenes. Landscapes were Backus's specialty as he developed into a renowned regional artist. Newton converted to landscape art and then he began selling his work door to door, setting a sales model for the Highwaymen.
Harold Newton, Highwaymen artist
Meanwhile, a local teacher by the name of Zanobia Jefferson prompted another talented young black artist named Alfred Hair to take lessons from Bean Backus.
Hair was both charismatic and driven and responsible for influencing his Ft. Pierce peers to follow his artistic lead and style. But he also knew that he would not command the attention or selling prices that Backus could charge within the traditional white circles.
Backus urged the painters to reach into their "black heritage" but they stayed clear of the expressive "white" artistic arena, preferring a "safer" subject matter like postcard scenes of "natural" Florida. The rural landscapes were set in their minds as most of them came from Florida's east coast Indian River region.
Alfred Hair, the Highwayman "evangelist" was less formal in his approach while Newton was more of a traditional painter (and generally considered the more talented) who was driven to finer art.
Alfred Hair, The Lightning Rod
Hair had a special talent for inspiring other would-be artists to become involved in the artistry. He was considered the charismatic organizer recruiting others to become part of his mission. Hair's goal was not to achieve great art, but to produce work quickly and to make money – as much as he could. Hair's measurement of success was to have enough money to buy a Cadillac, a goal he succeeded in achieving.

Alfred Hair, Inspirational Highwaymen artist & leader
He became a teacher while organizing a painting assembly line by setting up a backyard "camp studio" for artists, with sample work tacked to a tree. His ultimate goal was to master the art of painting quickly, thereby creating more work. The more work that the members produced, the more money raised.
This style of working together naturally created a "sameness" of artistic style. Friendship and conviviality became the connection for the self-taught painting group. But this artistic camp did not consider venturing far from Florida scenery as a subject. Artistic expression was not a choice for these men and women seeking financial survival. It was about existence – a good livelihood – the easiest and fastest way possible.
The Highwaymen's work was not all carbon copies of one another. Subtle differences were apparent by each artist's work through differing textures, differing approaches to light, color, or mood (some darker while others were bright and cheery) for each painting. Royal Poinciana trees, Florida Everglades scenes, marshes, rivers, and wildlife, especially birds were present in many works.
The spirited and entrepreneurial 29-year-old Alfred Hair, admired by his compatriots, lived a short life and was unfortunately shot in a local Ft. Pierce bar called Eddie's Place, the apparent victim of a love triangle.
The Highwaymen After Hair
Once Hair passed, the group slowly fell apart. Hair was a spirited leader whose leadership gained momentum, and without him to sustain it, the group slowly dissolved.
Estimates vary as to the number of paintings produced by the Highwaymen but some believe there were around 200,000 works created by the 26 artists.
Al Black, Highwaymen artist
Places to publicly see Highwaymen Art:
A. E. "Bean" Backus Museum, Fort Pierce, Florida.  Housing the nation's largest public exhibition of artwork by Florida's preeminent painter, A.E. Backus, the Museum also offers the State's only permanent multi-media exhibition on the Florida Highwaymen. More info: http://www.backusmuseum.com/
Museum of Florida History, Tallahassee, has a permanent installation of paintings by the original twenty-six artists
The Highwaymen Trail is a Ft. Pierce self-guided pathway that follows kiosks, site markers, and public art to convey the accomplishments and spirit of the 26 Highwaymen artists.

Highwaymen Exhibit, Palm Beach Gardens City Hall. 30 Highwaymen paintings available to purchase at Palm Beach Gardens City Hall.
To read more about The Highwaymen, consider books written by one of the foremost authorities and authors, Gary Monroe. The link to Monroe's University Press of Florida author page is: Gary Monroe
Also, for those interested, you can watch The Highwaymen (2019), with a Netflix subscription.
Website: The Florida Highwaymen www.floridahighwaymenpaintings.com
 
Mary Ann Carroll, Highwaymen artist
The following is a list of the Florida Highwaymen Artists:
Curtis Arnett

Hezekiah Baker 

Al Black

Ellis Buckner 

George Buckner  

Robert Butler

Mary Ann Carroll

Johnny Daniels 

Willie Daniels

Rodney Demps

James Gibson

Alfred Hair 

Issac Knight

Robert L. Lewis

John Maynor

Roy McLendon

Alfonso Moran 

Harold Newton 

Lemuel Newton

Sam Newton

Livingston Roberts 

Willie Reagan

Cornell Smith

Charles Walker

Sylvester M. Wells

Charles Wheeler     



Buying Highwaymen Art
To purchase the art, try "googling" the artist's name to locate his/her personal website.
There are many places to purchase Highwaymen paintings. Arcadia's Timeless Treasures (owned by Gail Dawn-Hinesley) sells the "timeless" Highwaymen art.  Gail has developed relationships with Highwaymen and their offspring, uncovering old and collectible paintings that she features in her store. "I love the stories from customers who come into my shop and share tales when individual Highwaymen came to their businesses or citrus packing-houses to sell their paintings." The Highwaymen art is so beautiful, and I recommend seeing it in person, rather than buying online. You'll be glad you did," says Dawn-Hinesley.
Many Florida antique stores and (antique) malls exhibit and sell the paintings. The largest collection is within the geographical area of Ft. Pierce, Stuart, and Vero Beach.
Other locations to purchase work, as cited by Authentic Florida readers, are:
Galleria Mall & Collectibles, Punta Gorda
Grant Antique Mall, Grant (south of Melbourne)
Renningers, Mt. Dora
Wildwood Antique Malls, Wildwood, (south of Ocala)
Antique Emporium on RT# 75, Reddick (north of Ocala)
Smiley's Antique Malls, Micanopy (south of Gainesville)
Old Florida Outdoor Festival, Apopka
Dixie Antiques, Williston
Avonlea Antique Mall, Jacksonville
True Story Antiques, St. Augustine

Florida Highwaymen Landscape Art Gallery, Vero Beach (owned by artist Ray McLendon, son of original Highwayman Roy McLendon)
Highwaymen Art Specialists:
Roger Lightle specializes in Highwaymen. His website is: Highwaymenartspecialists.com
Lastly, eBay is another alternative for purchasing Highwaymen art.
Learn even more about the Florida Highwaymen here!
Note: Photos of paintings taken at the Tampa Bay History Center Against All Odds: The Florida Highwaymen Exhibit, the Manatee County Agricultural Museum and Palmetto Historical Park, The Highwaymen Show.

AuthenticFlorida.com was named Best Travel Blog two-times at the Florida Sunshine Awards.
To receive Authentic Florida's free weekly ENEWs, sign up on our Authentic Florida home page.
To inquire about partnerships/advertising, please contact info@authenticflorida.com 
Proud Member of: 

---
5 responses to "Celebrating Florida's Highwaymen, Historic Outsider Artists"