Long ago, Cracker Cowboys herded cattle across the state traveling through Florida's Central Florida prairies. You can experience the land as it once was at the Kissimmee Prairie Preserve State Park, a stunningly beautiful frontier wilderness.
My Authentic Florida journey has led me to so many beautiful state parks. From the Florida Keys to the northern Panhandle, I have visited parks with remote beaches, down under caverns, historical farms, lighthouses, underwater reefs, swamps and scenic bluffs overlooking rivers. Florida State Parks form an exquisite collage of natural Florida that inspires and re-energizes my soul.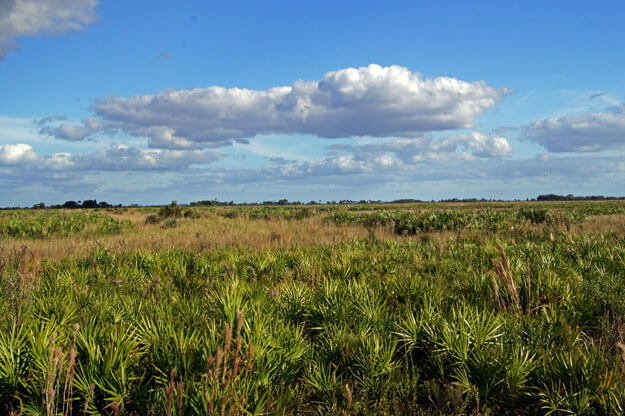 Kissimmee Prairie
Central Florida's Kissimmee Preserve is one that especially moved me and will be on my all-time "favorites" list. Situated in the middle of the Florida peninsula northwest of Okeechobee, east of Bartow and west of Vero Beach, the park is home to the largest stretch of dry prairie remaining in Florida. Because only ten percent of this prairie ecosystem remains in state, this is treasure you won't want to miss.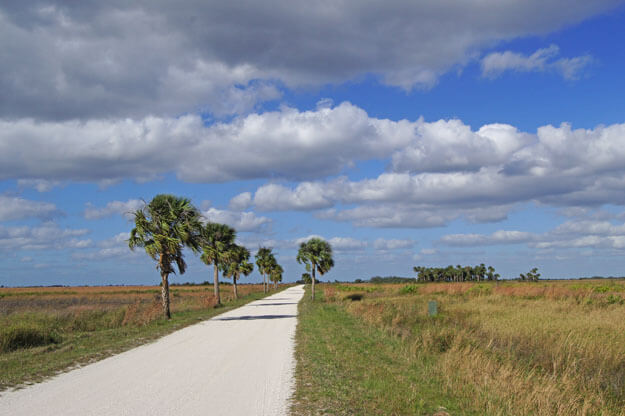 Sandy entrance road
Being fairly remote, you're not likely to "happen" onto the Kissimmee Prairie Park. But with a trusty map or GPS you'll locate the spacious 54,000 acres of central Florida wilderness just off State Road 60 -15 miles east of Lake Wales. Once found, you'll begin your journey by driving onto the sandy entrance road, while being transformed by sweeping vistas of Sabal Palm hammocks standing amidst tall grasses, flowers and saw palmettos. If you happen to be there during dawn or dusk, you'll be dazzled by the colors and the subtle orange and pink hues of the Florida prairie.

Florida Cracker Cattle, [Crowley Nature Center]
Many people don't realize that until the middle of the 20th century, cattle roamed freely throughout these open Florida prairies as indigenous natives and cowboys worked the land. Believe it or not, Florida is the original birthplace of the American cowboy. Most think of the American West as home to the cowboy but Florida's Seminoles, early Spanish colonists and new settlers herded cattle across Florida, riding through this very area. The cowboys, more appropriately called cow hunters because of the challenge of herding cattle through stands of underbrush that dot the prairie, were also known as Florida Crackers, because they snapped or "cracked" their long, leather bullwhips while driving cattle through the rugged terrain.

Kissimmee Prairie Preserve riding trails
Cowboy, or should I say Cracker, tradition continues in this park. With more than 100 miles of trails, this is one of the most ideal parks for horse riding, hiking or biking, and equestrian camping is welcome.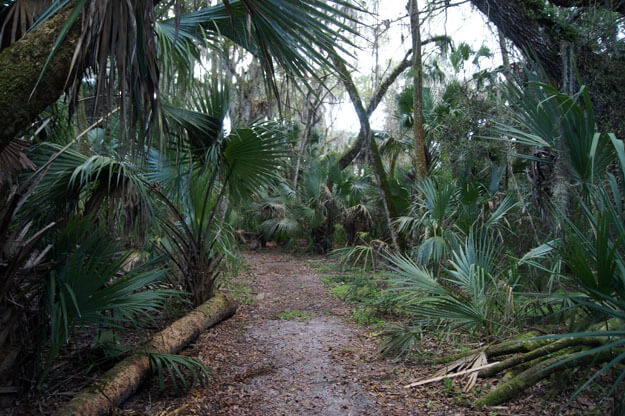 Hammock Trail
If you don't want to ride a horse, the hiking is superb. The palmetto-lined trails are well shaded by oak trees but open fields are abundant. Wildflowers burst with color and deer leap through the grasses and between shrubs. A popular birding destination, the Prairie is home to more than twelve endangered or threatened species flying above or between the palmettos. Butterflies float amongst the wildflowers and if you are there in the Spring or Fall, you are in for a showcase of Florida's floral finest. A favorite hike is the Five Mile Prairie Trail but there are plenty more trails to choose from.
If you are a stargazer, this park is one of the best places for viewing the night sky. With little competition from the light of surrounding cities, gleaming rivers of stars course through the heavens. Or, on a full moon night, a visitor can even walk the trails without a flashlight.
No matter what you choose to do, this is a Central Florida park well worth an off-the-beaten-path visit. Do yourself a favor and take in a little "Old Florida" and experience it like the earliest cowboys once did.
Westgate River Ranch
For accommodations, the Westgate River Ranch, a family style dude ranch, is one of the most convenient places to stay while visiting the Kissimmee Prairie Preserve. Once a stopping point for the Cracker Cowboys while they drove their cattle across the Florida, Westgate Ranch is located off Highway 60 and offers the weary travel a restful stay. More than 400,000 acres of state and federally protected wetlands surround the Ranch, so there is plenty to explore nearby or within the 1,700 acres of property.

Ride horses at the Westgate River Ranch
Guests can choose lodging from a selection of rustic alternatives such as cottages, cabins or even tent camping. A unique offering called "glamping" or glamour camping is available, featuring well-furnished and comfortable outdoor canvas dwellings.

Westgate Ranch features airboat rides 
If you are looking for things to do at Westgate, you don't have to look very far. Ideal for the family getaway, guests can choose from a wide range of amenities running the gamut from horseback riding to a kid's petting zoo, trap and skeet shooting, swamp buggy rides, boating and plenty in between. Our favorite was the one-hour guided airboat ride on the Kissimmee River. It was a refreshing glide over the Kissimmee River while admiring spectacular birds and wildlife.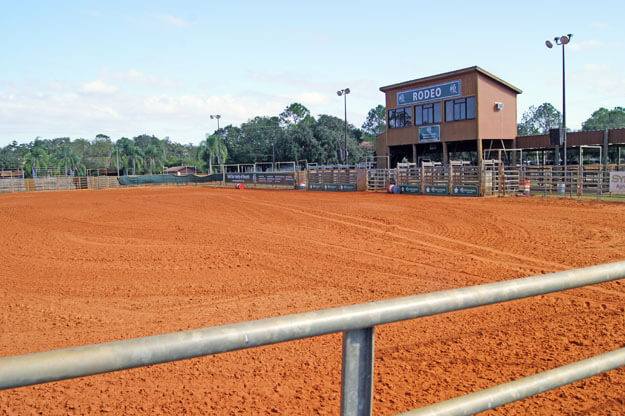 Saturday is Rodeo night
If you are there over the weekend, Saturday night's Championship Rodeo is a draw with real Central Florida cowboys and cowgirls competing in trick riding, calf roping, bull riding and barrel racing.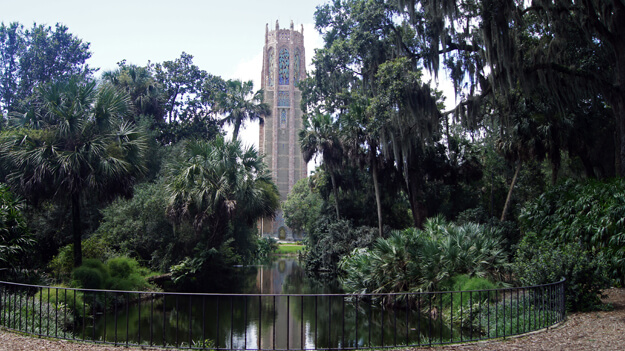 Bok Tower Gardens
Other things to do while in the area: One of my favorite things is head into the town of Lake Wales to visit the Bok Tower Gardens. For sheer garden beauty and delightful music and reflection, don't miss this Florida classic. Also, check out Struther's Honey, in business since 1935 on Highway 60, selling local honey with a self-serve honor system.
For a day trip, a weekend away or even an extended stay, a visit to Kissimmee Prairie Preserve State Park may become one of your most treasured Authentic Florida memories. I know it has for me.
To receive Authentic Florida's free ENEWs, featuring travel and living updates, delivered weekly, sign up on the home page Authentic Florida.
---
One response to "Cowboys Once Roamed: Kissimmee Prairie Preserve"