THE 2020 ANNUAL KUMQUAT FESTIVAL WILL TAKE PLACE ON SATURDAY, JANUARY 25, 2020.
As soon as the holiday madness subsides, we know the annual Dade City Kumquat Festival is just around the corner. The FREE Festival that takes place in the heart of historic downtown Dade City honors its distinction as the world's leading supplier of the kumquat, tasty petite fruit with a funny name.  This year's event will be held on Saturday, January 26th from 9 am – 5 pm. There will be over 400 vendors in attendance featuring arts and crafts, food from local restaurants as well as food trucks, and live entertainment.
Be sure to arrive early because each year this festival gets more and more popular. In fact, the 2019 Kumquat Festival was selected as the highlight of the day on CBS Sunday Morning, a popular national news show. 
Amidst green hills and pastures, about an hour north of Tampa and a little over an hour west of Orlando, you'll find groves dedicated to Florida's "golden gem," also known as the kumquat.
So what exactly is a kumquat? Orange in color, this small bite-sized fruit can be eaten – skin and all, providing a flavorful, pungent sweet and sour taste. It is a member of the citrus family and often baked into desserts and used as a glaze or flavoring for main dishes.
The kumquat is believed to be a native of China and has long been a symbol of prosperity during the Chinese New Year celebrations. It was brought to the U.S. where two species are grown, the Nagami and the Meiwa. The more common Nagami (oval-shaped) kumquat is tart and ideal for marmalades and jellies, while the Meiwa (round-shaped), is sweeter and ideal for snacking, lacking the tartness of a Nagami.

Slice kumquats in threes, then remove the seeds
Kumquats have been called "the little gold gem of the citrus family". The kumquat has a thin, sweet peel and a zesty, somewhat tart center. The kumquat tastes best if it is gently rolled between the fingers before being eaten, as this releases the essential oils in the rind. Eat kumquats as you would eat grapes (with the peel). While consumed skin and all, the peel is the sweetest part of the fruit and the sourness comes from the kumquat pulp of seeds and juice. Many insist the best way savor this dainty fruit is by removing the stem, cutting it into small slices, and eliminating the seeds. While others prefer it whole.
The Kumquat Festival
Headlining Sponsor:  Advent Health Dade City – Zephyrhills
The Kumquat Festival is a homegrown family event that provides fruit tastings of every imaginable combination including kumquat pies, cookies, smoothies, ice cream, marmalade, marinades, vinaigrettes, and also salsa.

Florida Kumquat Pie,

courtesy Dade City Chamber
There is also plenty of fruit to purchase for creating your own signature dishes at home.

Take home fresh kumquats from the Festival
Lots of wonderful vendors and sponsors come together to make this a fun-filled day of celebration.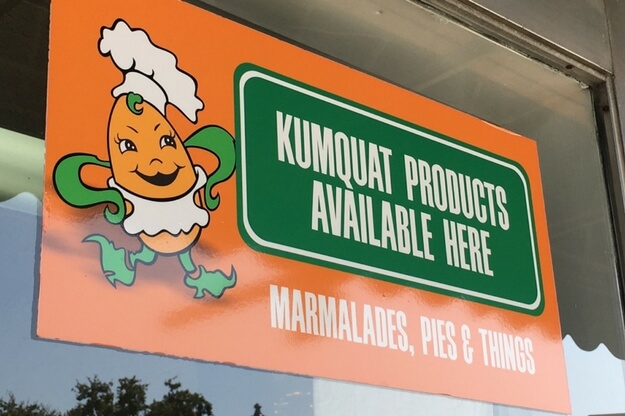 Don't miss Mr. and Ms. Kumquat, the arts and crafts exhibition, the antique car show, and the downtown storefronts dressed in "kumquat themes."
Admission is FREE, transportation from two satellite parking areas is FREE, city-owned public parking downtown is FREE and the experience of a unique, authentic, and fun-filled festival is unforgettable.
Local entertainment also gives the event a special homespun feel.
Entertainment on the Historic Courthouse Steps
9:30 am – 9:50 am – Saint Leo University – Totally TABS
10:00 am – 11:00 am – Calvary Assembly of Dade City – Christian Contemporary; National Anthem/Prayer
11:15 am – 12:00 pm – Melissa Lee Zenker – Country
12:15 am – 12:45 am – Strawberry Express Cloggers
1:00 pm – 2:00 pm – Frank Savers with Influence of Music
2:15 pm – 2:45 pm – Folkloric Company Totecatl/Dancers
3:00 pm – 4:00 pm – Emmet Stevent, Jr. & Seventeenth Street – Contemporary/Country
4:15 pm – 4:45 pm – Frank Iversso & Pasco Talent

Kumquat Grower and expert, Frank Gude
One of the best-kept secrets occurs before the Festival. The Kumquat Growers Cooperative hosts a two-day Open House prior to the Festival. This is a smaller event and also a great opportunity to meet the kumquat growers in person.

St. Joseph is the Kumquat Capital of the World
Held in nearby St. Joseph at the Kumquat Growers Packinghouse, local growers welcome guests, discuss the origin and history of the kumquat, tips for growing the fruit while also providing tours of the packing house where the fruit is processed and shipped.

Ride through the kumquat groves on a tram tour
To experience the agricultural side, tram tours take visitors on a ride through the kumquat grove as growers explain the nuances of growing. Kumquats, including tasty baked treats and gift items, are for sale, and lunch is also included.
Tours and event schedule are also subject to change so make sure to check their Kumquat Growers official website for the latest info.
Florida kumquats are available in the produce section of larger food stores or citrus, fruit, produce, and vegetable markets from November until April. Gift fruit boxes of nagami kumquats can be ordered direct … use this link: http://www.kumquatgrowers.com/retail.

Kumquat season is from November through March
While In Dade City …
One of our favorite Authentic Florida destinations is Dade City. This unhurried, laid-back Florida town with immense southern charm combines history, hospitality, and also farm-to-table cuisine to deliver visitors a tasty dose of authentic Florida. It's truly like going back in time, but with wifi and other present-day amenities. Whether you experience Dade City during the Dade City Kumquat Festival or another time after the event, there are some things you won't want to miss.

Historic Dade City Courthouse
The centerpiece of the town square is the classic 1909 revival-style beautifully restored courthouse. On the National Register of Historic Places, the courthouse's neoclassical dome and its clock proudly proclaim the city as the County seat.

Downtown Dade City is known for its antique shops
Adjacent to the square, visitors can browse the local antique shops including Antiques on Main, specializing in folk art and primitive antique treasures, and also Ivy Cottage Antiques & Wine Shop.
Charming local gift shops include The Dade City Magnolia House and Lori Ann's and for another quaint experience, also stop in at Quilts on Plum Lane.

Lunch on Limoges is a classic for delicious Southern food
Historic downtown Dade City is also the place to take advantage of several excellent restaurants. Consider starting your gastronomic tour at local classic, Lunch on Limoges (14139 7th St). This southern restaurant, gift shop, and women's clothing shop offers chalkboard menu items with a southern flair as ladies lunch and also catch up on the town news. The gastronomic display of cakes and pies including the seasonal kumquat cake will tempt anyone who loves old-fashioned, homemade desserts. We recommend the Pecan Chicken, Pecan Grouper, or also their signature Chicken Salad.

Seared Ahi Tuna Encrusted with Black and White Sesame Seeds and served with Seaweed Salad and Spicy Asian Mayo. Photo credit: Kafe Kokopelli
Kafe Kokopelli (37940 Live Oak Ave) is also another local favorite. Once a Model T salesroom for the Florida Motor Company, the restaurant is adorned with old Florida relics, photos, and art. Chef Steven Queen offers a sumptuous dining menu including local Florida favorites of fried green tomato napoleon, fried gator, catfish sandwich, ahi tuna, and also mixed organic salads.
Another favorite, off the square, especially for down-home cooking, is Steph's Southern Soul Restaurant (14519 5th St.) with a local fresh menu of fried chicken, meatloaf, ribs, greens, and fresh fruit desserts. Dade City (and also nearby communities) most definitely serves up a cornucopia of good food.

Dade City Pioneer Museum & Village
And for some fascinating history on the area head north of Dade City to the Pioneer Florida Museum & Village. This walking village portrays a complete real-life look at Florida pioneer "Cracker" living. Actual buildings, many saved from demolition, were also brought to this site to create a living history exhibit. Visitors can experience a wide range of old Florida life through this experience while walking into Florida's past.

Joy-Lan Drive-In Theatre in Dade City
At night, Dade City is home to one of just a few remaining drive-in movie theatres in the Sunshine State. The Joy- Lan screen is the largest digital screen in Pasco County and shows first-run movies. The refreshment center is authentically decorated with photos of their staff and guests over the years. You also won't want to miss a night out at the movies … old school style.
 
Lunch on Limoges homemade Kumquat Cake
All it takes is one interesting small fruit, a down-home festival, farm-to-table dining mixed with small-town charm, and you'll have all of the ingredients for an authentic Florida adventure in Dade City.

AuthenticFlorida.com was named Best Travel Blog two-times at the Florida Sunshine Awards.
To receive Authentic Florida's free weekly ENEWs, sign up on our Authentic Florida home page.
To inquire about partnerships/advertising, please contact info@authenticflorida.com 
Proud Member of: 

---
Comments are closed.