Discover Charming & Authentic Lodging on Florida's East Coast
Take an East Coast road trip to discover charming and authentic lodging from cottages, to bed and breakfast inns and vintage motels that go above and beyond the norm.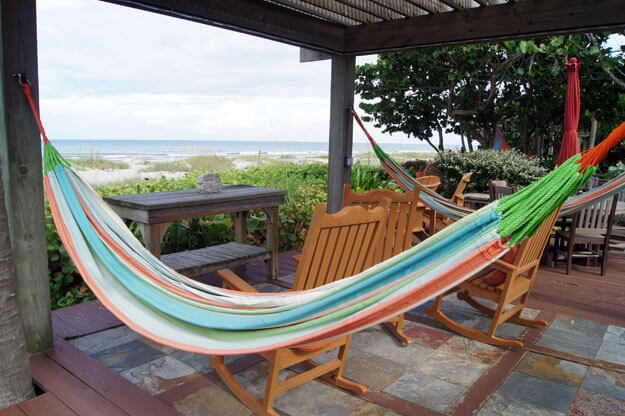 Beach Place Guest Houses, Cocoa Beach
Florida is a vacation paradise. Some would say it is America's playground, with miles and miles of beaches, refreshing cool Florida springs, outdoor trails filled with wildlife winding through wetlands, hammocks and shady tall pine forests, and everything in between.
Authentic Florida embarked on an East Coast road trip and scouted out a selection of favorite small accommodations while enjoying authentic Florida "things to do" along the way.
Visitors to the state can easily find accommodations, but to find a place that matches an "authentic Florida" travel experience it's helpful to know where to look. By adventuring beyond chain hotels you might want to consider some charming alternatives for an ideal and memorable Florida trip. Cottages, vintage motels, bed and breakfast inns, all fit this profile and do exist.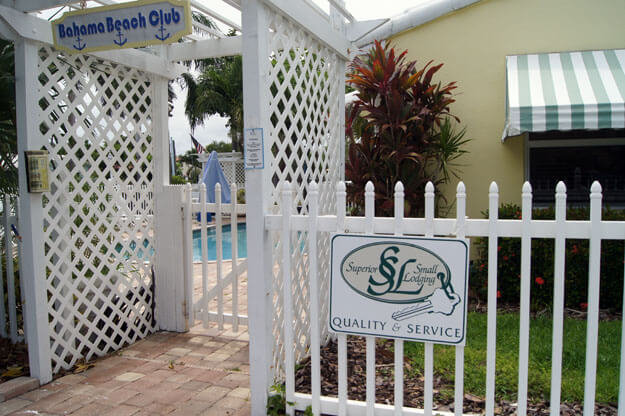 Bahama Beach Club, Pompano Beach, a Superior Small Lodging Property
As you set out on your quest the Florida's Superior Small Lodging Association (SSLA) is a good place to start. Privately owned, these SSLA properties are enchanting accommodations for your next Florida vacation experience. The organization does all the groundwork by "vetting" its members, many have even earned the organization's prestigious  "white glove" housekeeping award. These member properties provide lodging that will remind you of days gone by, but are handsomely updated boutique properties that will both comfort and a add special ambience to your trip.
 Charming Lodging on Authentic Florida's East Coast Road Trip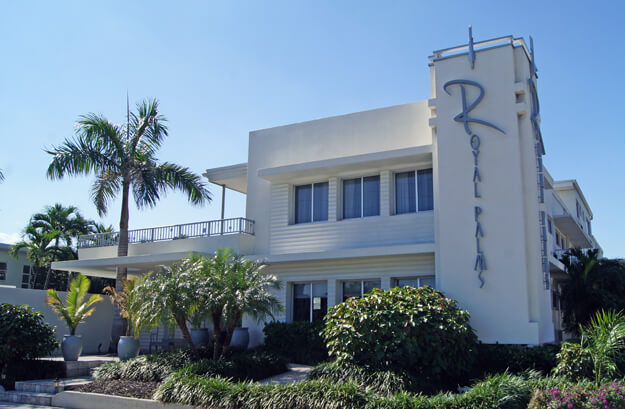 Ft. Lauderdale's North Beach Village
Ft. Lauderdale's North Beach 
Ft. Lauderdale, with its famous beach, has long been a favorite vacation destination. Through the years many of the smaller beach motels and resorts have yielded to newer, larger and taller high rises. But with a little research and exploration you can still find a way to enjoy the area like it used to be.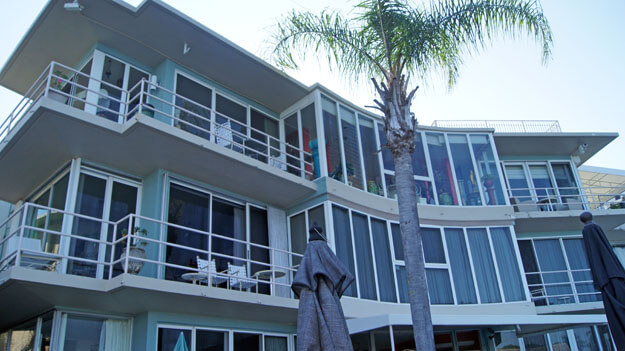 Manhattan Tower was built in 1952 as a corporate retreat for GM executives
South of Sunrise Boulevard and north of Las Olas Boulevard, North Beach has one the largest collections of mid-century modern architecture in Fort Lauderdale. This 1950-60's collection of small motels and apartment buildings will transport you into Florida's past where you can admire the architecture and imagine life during that period. The simplistic and minimalistic designs use whimsical angles, geometric architecture and curved stairways to create artistic attractive "retro" accommodations. 
Manhattan Tower, North Beach Village
The Manhattan Tower is a perfect example of the mid-century modern design. And, despite the name, it is not a "tower" but a low-rise beauty overlooking the Intracoastal Waterway in North Beach. Combining tropical ambience with "Miami Modern" architecture, it was built in 1952 as a corporate retreat for General Motors executives. Today's Manhattan Tower retains its original design and offers 13 roomy apartment accommodations (some with private terraces), with sleek, eclectic furnishings, full kitchen, pool and easy parking. Five minutes from Ft. Lauderdale beach and restaurants, Manhattan Tower is accessible by water taxi that picks you up steps away from your room. You'll be mesmerized watching boats cruise up and down the waterway, and some will amaze you with south Florida opulence, but this retreat is really all about relaxation and fun. Co-owners Russel Dion and Joseph Caffey are perfect hosts with insider tips to make your stay even more special. And now is the time to enjoy the summer specials.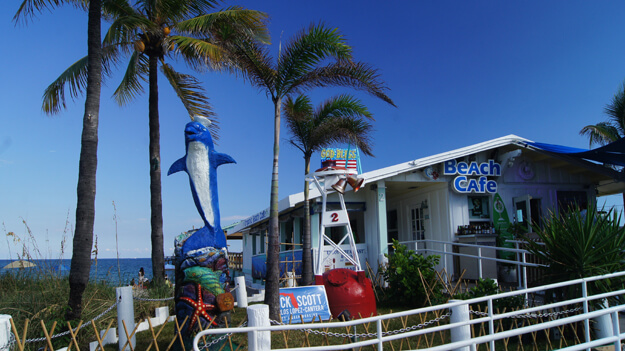 Quaint and charming Lauderdale-by-the-Sea
Lauderdale-by-the-Sea
Driving north on A1A from Fort Lauderdale, you'll find the small, charming coastal community of Lauderdale-by-the-Sea. You may be surprised as you discover the contrasts of the two "Lauderdales" that seem worlds apart. In Lauderdale-by-the-Sea you won't see towering condominium complexes; instead, you'll experience a small walking village with public plazas, quaint outdoor restaurants, shops, beaches and a fishing pier, all within easy access of charming mid-century motels and hotels nearby. Authentic Florida reigns here eliciting a sense of nostalgia and paying homage to the past while welcoming travelers to this special slice of paradise. 
Windjammer Resort & Beach Club, Lauderdale-by-the-Sea
Owner John Boutin is a leader in this town where he promotes the area with unbridled enthusiasm. When he is not promoting Lauderdale-by-the-Sea he is greeting customers to his oceanfront Windjammer Resort & Beach Club. Here guests can stay in modern suites – studio, one or two bedroom apartments with full kitchens directly on the Atlantic Ocean, steps away from the beach, with two sparkling blue swimming pools surrounded by gently swaying palm trees. The property is located in the heart of this charming sea village where restaurants, bars and shops are close by. The Windjammer also caters to snorkelers and divers who can swim to the nearby Florida coral reef, a place where lobsters hide out during Florida's lobster season.
Here are some more accommodations to consider while in Lauderdale-by-the-Sea:

Driftwood Beach Club, Lauderdale-by-the-Sea
This iconic accommodation will tickle your fancy with its signature retro blue outside décor. Revisit the past while enjoying the updated guest suites, heated pool, private beach and the friendly vibe. Coffee get-togethers and karaoke sing-alongs keep guests coming back for more at this popular tropical Lauderdale-by-the-Sea hangout.

Beachside Village Resort, Lauderdale-by-the-Sea
Hidden, but not tucked too far away, this luxurious resort will command your attention with its magnificent furnishings, intimate outdoor areas, lovely pool and cabanas just a short distance from the beach. The charming New England style coastal inn includes a rooftop deck and a range of rooms – from hotel suites to guest houses – available for your next plunge into total tropical splendor and self-indulging relaxation.

High Noon Beach Resort, Lauderdale-by-the-Sea
The name fits. You won't want to rise until noon at this charming intimate ocean front resort, with newly renovated apartments and hotel rooms. It's another lush property that feels miles away from the outside world, and it's perfectly suited for those who want to escape from it all. You can sit by the pool overlooking the Atlantic Ocean and find serenity under palms swaying in a gentle breeze. Listen to the waves as you drift off into the next world.  A gathering place for families and couples, the property is owned by the Novak family who also own the adjoining motels, the Nautilus and the Sea Foam.

Pompano Beach Cottages by the Ocean, Beach Vacation Rentals
Owner Elaine Fitzgerald is not only a premier innkeeper, she is one of the driving forces in the redevelopment of Pompano Beach, transforming it into one of Florida's up and coming destinations. Fitzgerald acquired five separate properties under her Beach Vacation Rentals business. Fitzgerald's forte is her discriminating taste and eye for quaint and charming properties that she has personally updated. All of the Beach Vacation Rental properties have everything a traveler could need: full kitchens, beautifully appointed rooms, private bedrooms, and immaculate interiors – mostly tucked into quiet neighborhoods, near the beach. Her properties include: Cottages by the Ocean, Sunny Place, Bahama Beach Club, Pelican Place, Yacht & Beach Club Condo. All are impeccably kept and perfect for your next Pompano Beach getaway.

Bahama Beach Club, Pompano Beach, Beach Vacation Rentals
While in Pompano Beach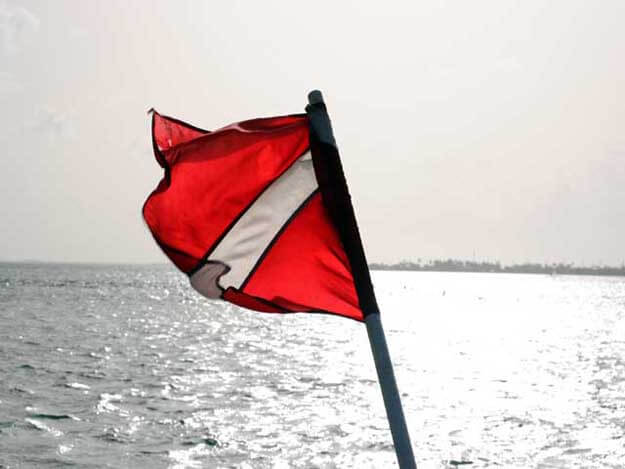 Just off the coast of Pompano Beach, a new underwater Shipwreck Park will be created and open to divers July 2016 with the sinking of Lady Luck, a 324-foot tanker vessel. The ship will be sunk one mile off shore and will become a major dive attraction with the captain's deck, 20 staterooms, and engine room to explore, plus underwater artwork by artist Dennis MacDonald. The underwater cultural arts park will become a significant marine life attraction with the goal to reduce the pressure on natural coral reefs.
 Things to do in the Ft. Lauderdale, Lauderdale-by-the-Sea, Pompano Beach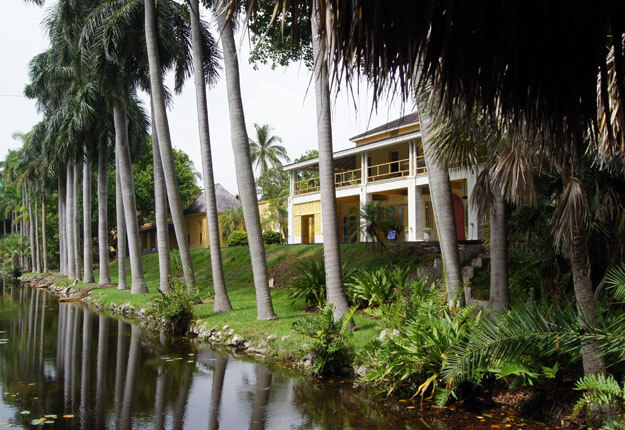 Bonnet House & Gardens, North Beach, Ft. Lauderdale
Take a drive around Ft. Lauderdale's North Beach neighborhood and admire the iconic retro hotels and inns; tour the Bonnet House and Gardens; visit the historic Stranahan House; have lunch at the Riverside Hotel on Las Olas Blvd; take a Jungle Queen Riverboat Cruise; check out Ft. Lauderdale's Swap Shop for an eclectic flea/farmer's market experience; walk the downtown Lauderdale-by-the-Sea and pier; attend the (Lobster) Bugfest July 26-30; Dine at the iconic Cap's Place Restaurant in Lighthouse Point, Lunch at Lauderdale-by-the-Sea's Village Grille; admire the Hillsboro Inlet Lighthouse from the Hillsboro Inlet Park. Visit and eat pizza at Pompano Beach's Phil's Heavenly Pizza.
Delray Beach

Crane's Beach House, Delray Beach
Crane's Beach House is a luxurious resort with 28 distinctive suites and four luxury villas. The stunning, sleek, contemporary island-style guest villas are just the beginning of an adventure in paradise as it is surrounded by a tropical garden oasis. Full kitchens, flat screen TVs, ultra-modern amenities make this getaway a true gem. Recipient of many distinguished travel awards (Trip Advisor, Expedia), the Key West inspired inn provides a perfect vacation spot whether for a romantic getaway, a family vacation or an escape from the mundane. Combining the old and new – with a new $1.2 million facelift, guests will feel like they have traveled far away, but are actually just minutes away from the seaside village of Delray Beach. Grab a bike and head to the wide Atlantic beach and let the surf melt away your worries. Return with sand between your toes, and then enjoy a cocktail under the Tiki hut next to the pool listening to the sound of the waterfall. Luxury is the key word here, in furnishings and amenities as well as service with staff attending to every need.

Crane's Beach House outdoor patio
A few blocks away enjoy the vibrant Atlantic Avenue area, welcoming visitors with fabulous restaurants, boutiques, and the artsy Pineapple Grove Arts District. When you return to Crane's at the end of the day you'll sleep well in comfy beds, after enjoying the quiet atmosphere with a glass of wine under the stars or on your private patio.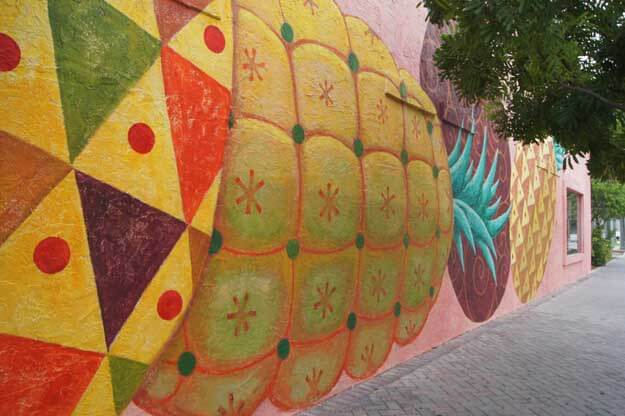 Delray Beach Pineapple Grove Arts District
Some things to do while in Delray: Bike to Delray Beach; Walk Atlantic Avenue and the Pineapple District; Visit the Old Colony Hotel; have a hamburger and milkshake at Doc's All American; Visit the Green Cay & Wakodahatchee Wetlands; Dine at the Old Lime Tree Inn in Lantana.
Florida's Space Coast: Indialantic, Melbourne and Cocoa Beach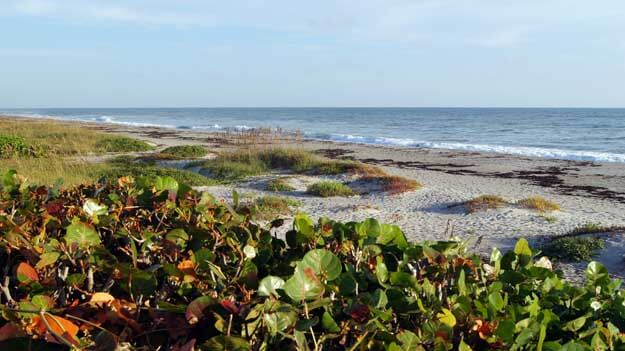 Beach view from Indialantic's Tuckaway Shores
Driving further north, towards Melbourne on Florida's Space Coast, you'll find Indialantic's Tuckaway Shores Resort. Here, enjoy a comfy, authentic, and memorable experience for those who desire "old" Florida charm. Reminiscent of the 1960's, but updated for comfort and directly on the Atlantic Ocean, individual units have been tastefully decorated and include spacious rooms, full kitchens and waterfront views. Place your toes in the sand and enjoy the miles of stunning world-class beach that will quickly transport you into a "no worry zone."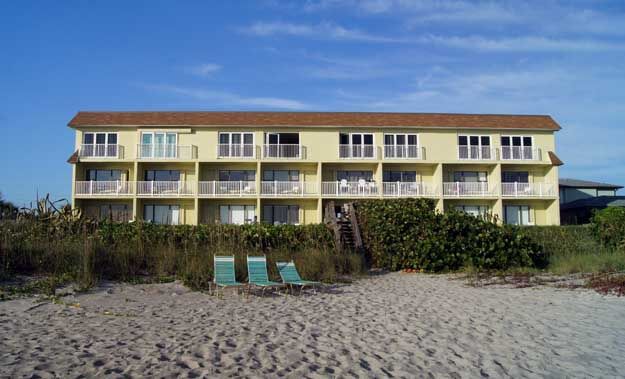 Tuckaway Shores Resort from the beach
If you need pool time, there's a large pool is ideal for families with kids. You might even enjoy an evening barbecue with the Green Egg grill available to guests. While there, enjoy the charm of Indialantic, an old beach town and a rare find in Florida with a locally owned specialty grocery, good restaurants, and beach shops. Need more ideas? Tuckaway Shore's innkeeper, Jacqui McPhillips, and her staff, provide pleasant, friendly service and expert insider tips for enjoying the area.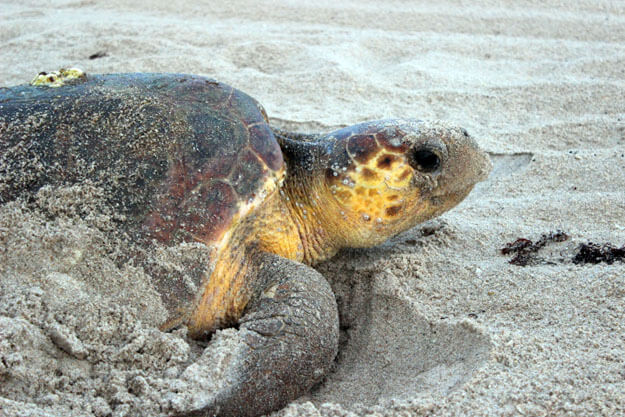 Sea Turtles nest on the beach from May through October
Things to do while in Indiatlantic/Melbourne: Take a nighttime turtle walk with the Sea Turtle Conservation Society; Check out Honest John's Fish Camp; Visit San Sebastian Inlet State Park; Visit the Melbourne Beach Barrier Island Sanctuary for sea turtle exhibits; shop for groceries at the Melbourne Beach Market, walk historic downtown Melbourne; take a kayak ride through the Brevard Zoo.
Cocoa Beach

Beach Place Guest Houses nestled over the Atlantic, Cocoa Beach
Situated directly on the Atlantic Ocean in historic Cocoa Beach, Beach Place Guest Houses provides "boutique" accommodations with a magnificent view of the Atlantic Ocean. Sea grapes line the courtyards with outdoor sculptures and colorful artwork as you overlook the ocean blue. Wooden decks provide the perfect perch for the seascape equipped with chairs, hammocks and fire pits for a relaxing visit. Comfortable accommodations make this a relaxing retreat with full kitchens, comfortable beds, and spacious rooms. During the evening, enjoy the starry night while the sea turtles climb on to the beaches to lay their eggs before heading back in the ocean. Rise early morning for a walk on the beach where you may discover the tracks and nests of mother turtles entrusting nature to send hatching baby turtles back to the sea. And for anyone in the surfing mode, this is the place to catch a wave and hang ten.
Things to do while in Cocoa Beach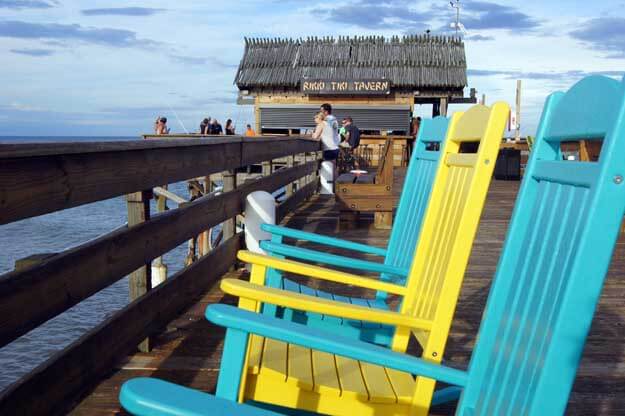 Cocoa Beach Pier 
Take an early morning walk on the beach; Visit the Cocoa Beach pier; Stop at the world famous Ron Jon's Surf Shop; Take a kayak tour through the Amazon mangrove tunnels with Cocoa Beach Kayaking; Take surf lessons from SoBe Surf; Enjoy a seafood dinner at Jazzy's or tacos at Taco City, a surfer hangout; Coffee at Juice & Java; shop at Cocoa Village.
To receive Authentic Florida's free ENEWs, featuring travel and living updates, delivered weekly, sign up on the home page Authentic Florida, voted Blog of the Year and Best Travel Blog at the Orlando Sunshine Awards.  
---
Comments are closed.