The Authentic Florida bookshelf is stocked with eight recommended books for your summer reading pleasure that include a range of topics for the season.
We're going with a non-fiction theme that will enable you to deepen your knowledge of the sunshine state. The range of books is all about Florida with topics that include springs, famed artists, and writers of Key West to Cuban cooking, wild edibles, and wildlife to the state's best craft breweries. And even a book about how Elvis, "the King of Rock n' Roll" connected to our state.
Take your pick of these eight books, find a hammock, and enjoy your summer while relaxing with a good book. And if you want more ideas be sure to check these articles featuring Authentic Florida classics: A Land Remembered, Authentic Florida Classics, Authentic Florida Books for Summer Chilling, The Barefoot Mailman, and Six Classic Books for Summer Reading.
When Andrew Furman left the rolling hills of Pennsylvania behind for a new job in Florida, he feared the worst. He'd heard much of the fabled "southern charm,"! However, he wondered what could possibly be charming about fist-sized mosquitoes, oppressive humidity, and ever-lurking alligators. But it wasn't long before he began to notice that the real Florida was very different from the stereotypes. In Bitten, Furman also realizes that falling in love with Florida is a fun and sometimes humbling process of discovery. Each chapter highlights a fascinating aspect of his journey into the natural environment he once avoided, from snail kites to lizards and cassia to coontie. Sharing his attempts at night fishing, growing native plants, birding, and hiking the Everglades, Furman will inspire you to explore the real Florida.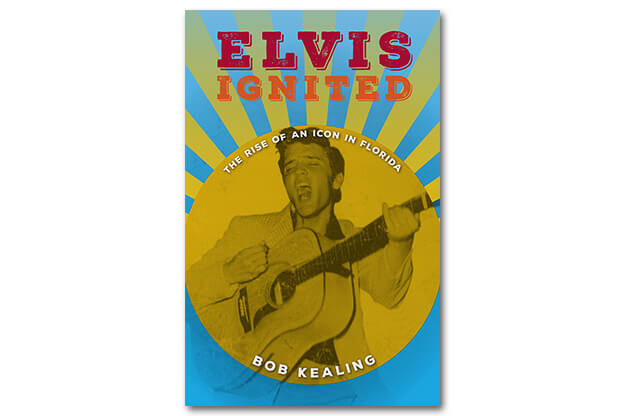 Elvis Ignited tracks the rising star through his tours of Florida! From 1955 when Presley was an unknown to 1956 when he played more concerts in Florida than in any other state. People were struck by a new kind of music and performances so different from anything they had known before. Floridians saw how special Elvis was before the rest of the world caught on. Before their very eyes, he transformed from Hillbilly Cat to the King of Rock and Roll.
Bob Kealing interviews people who saw the King up close! He recalls the time-stands-still memories of hearing his iconic songs for the first time. This book is a roadmap to Elvis's time in the Sunshine State! The book is also a guide to the many small and large venues he played up and down the peninsula, and a spotlight on the people who witnessed, supported, and even opposed his meteoric rise to fame.
The Great Florida Craft Beer Guide is all you need to find local, distinctive beer wherever you are in the Sunshine State. Longtime craft beer columnist Mark DeNote takes you on a tour from Destin to Key West! He features award-winning breweries to hidden tasting rooms, from hefeweizens and pale ales to saisons and stouts. Through exclusive interviews with brewers and owners, he shares the stories of their foundings, their brewing philosophies and methods, and insider tips about each brewery's staple and seasonal beers. DeNote not only provides unparalleled access to the breweries but also offers an enlightening history of Florida brewing! This also includes forgotten establishments like Jacksonville Brewing Company, Orlando's Atlantic, and Miami's Flamingo. Turn the page and pour a cold one!
Mile Marker Zero tells the story of how a league of great American writers and artists found their identities in Key West. It also talks about how they maintained their friendships over the decades in that bohemian paradise. Here are true tales of a generation that invented, reinvented, and found itself at the unending cocktail party at the end—and the beginning—of America's highway.
Florida Animals for Everyday Naturalists contains fun and illuminating facts about Florida's furry, feathered, scaled, and shelled friends. With lively personal essays and stunning photographs, Larry Allan introduces the array of wildlife Floridians might encounter in their backyards. They can also find this wildlife at the park, or on a jaunt at one of the state's many wildlife refuges. Each chapter is dedicated to a specific animal. For example, the bobcat, the river otter, and the caracara! Each animal is paired with vivid photos to help readers identify these creatures in the wild. Perfect to have in the home for budding animal enthusiasts, ideal for armchair adventurers, and great for Florida transplants! This book will help readers appreciate the abundance of life right outside their doors.
Authentic Cuban cooking is fresh, aromatic, and delicious. Cuban Home Cooking will inspire you to stock your kitchen with cumin, oregano, saffron, and peppers. Then you can put on your apron, and fire up your stove! You'll learn how to make a variety of appetizers and sides; delicious entrees featuring chicken, beef, pork, and seafood; delectable sweets; and even the perfect Cuban sandwich. Most ingredients can be found in your local supermarket! A useful glossary provides ideas for substitutions if you don't have some of the ingredients on hand. These recipes are simple and easy-to-follow! They include caldo gallego (a luscious soup with chorizo and greens), plátanos dulces fritos (fried sweet plantains), ropa vieja (shredded beef), flan (Cuba's most popular dessert), and of course, real café Cubano—the finishing touch to any home-cooked Cuban meal.
In Florida's Edible Wild Plants, Peggy Lantz helps you discover the wonder of finding and eating wild plants that grow right in your backyard. She shares her fifty years' experience studying and gathering wild edibles and bringing them to her family's table. This practical knowledge is interspersed with recipes, preparation tips, and fun stories about searching for and finding new plants with her children! She even talks about serving "weeds" to curious friends. From acorns to wild sorrel, from duck potato soup to elderberry champagne, this easy-to-use guide also provides general information about the most common wild edibles in Florida. They are not only good for you but also good to eat. Lantz offers specific advice for locating and harvesting the different edible parts of each plant! For example, gathering walnuts in the panhandle or making jelly from Keys coco plums.
Lastly, in this visual tour of Florida's five largest springs, collector-extraordinaire Tim Hollis brings together postcards, advertisements, brochures, signs, flyers, and souvenirs from the early days of these popular roadside attractions. Since tourists first started visiting the Sunshine State, they were drawn to these liquid gems. Silver Springs, Wakulla Springs, Rainbow Springs, Weeki Wachee Spring, and Homosassa Springs! Commercially owned, the springs toed the line between mini theme park and natural attraction; today they are protected as state parks and continue to lure tourists and also nature lovers alike. Sit back and take a tour of these unique and beloved features of the state's natural landscape! You can see it through eye-catching photographs and memorabilia.
Looking for even more fantastic Florida books? Check out our recommendations here!

AuthenticFlorida.com was named Best Travel Blog two-times at the Florida Sunshine Awards.
To receive Authentic Florida's free weekly ENEWs, sign up on our Authentic Florida home page.
To inquire about partnerships/advertising, please contact info@authenticflorida.com 
Proud Member of: 

---
Comments are closed.